CCSD, teachers union reach tentative deal on potential reopening
Updated December 16, 2020 - 3:47 pm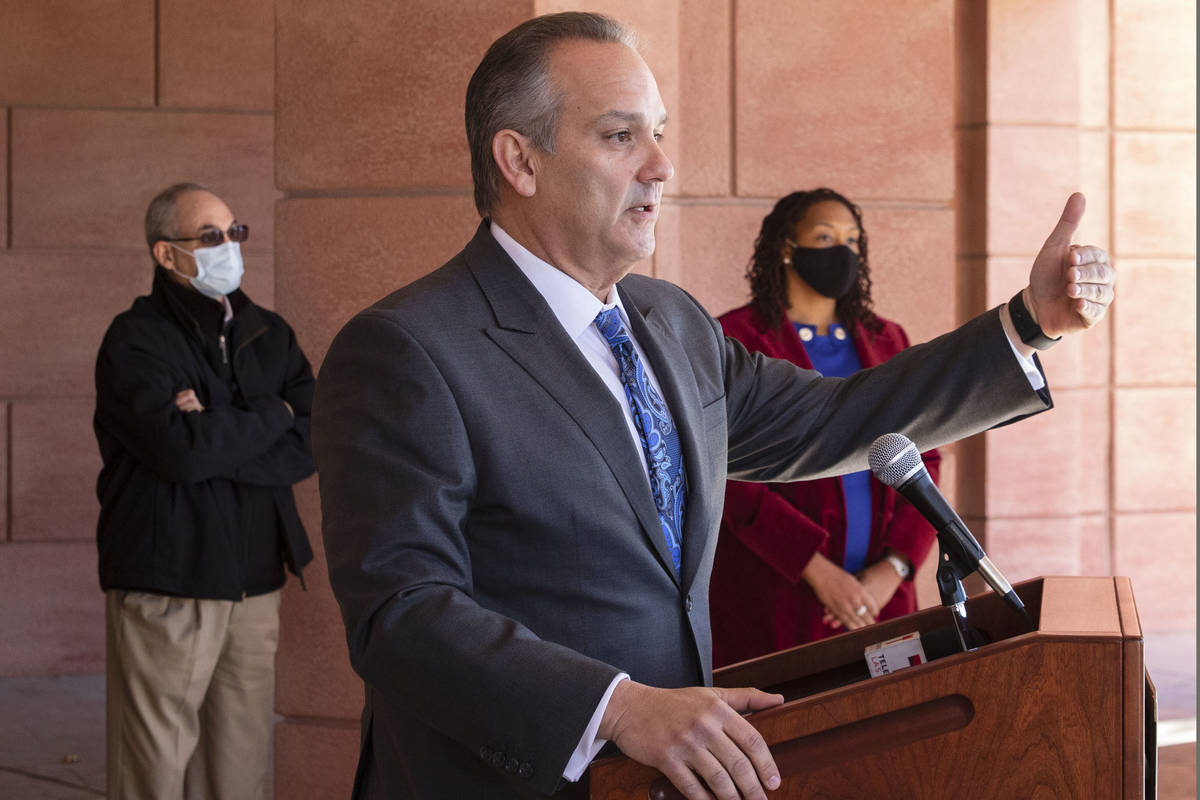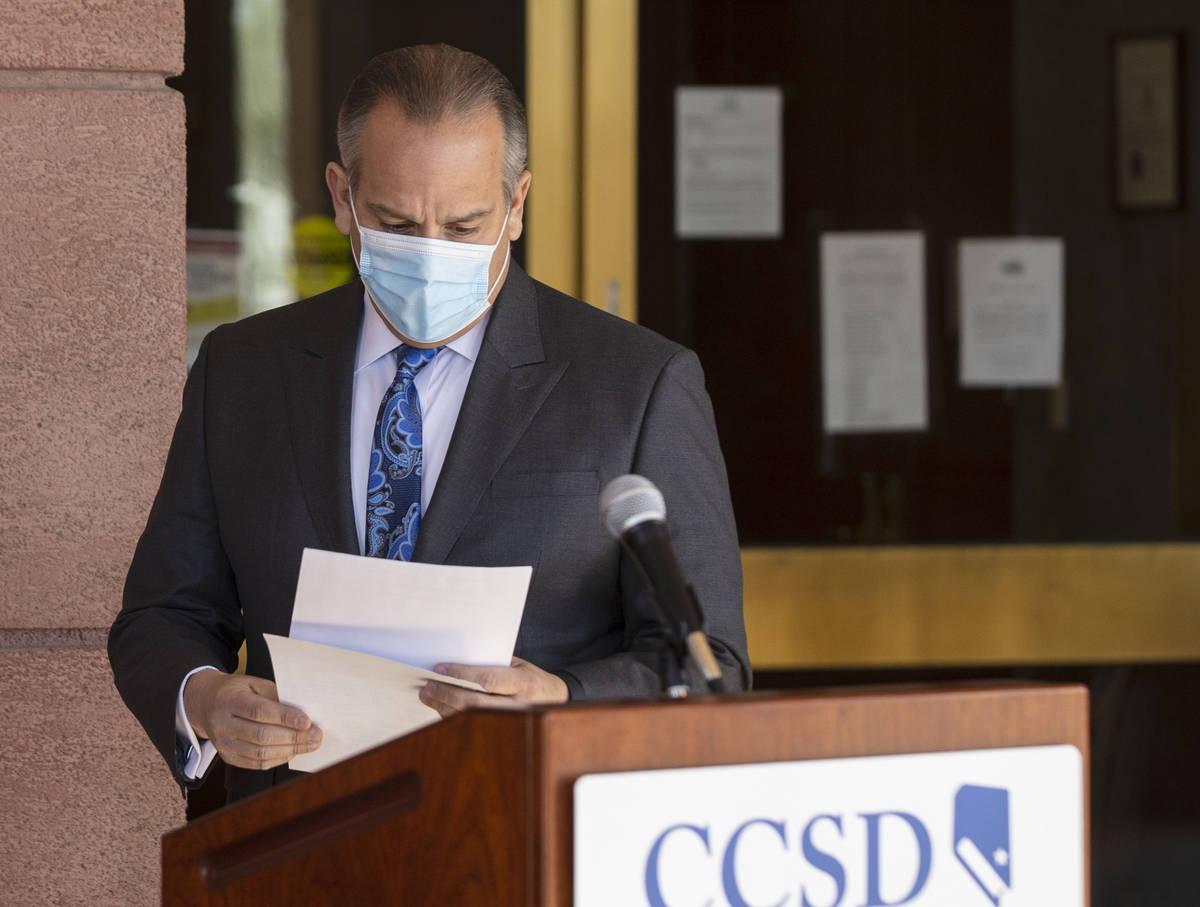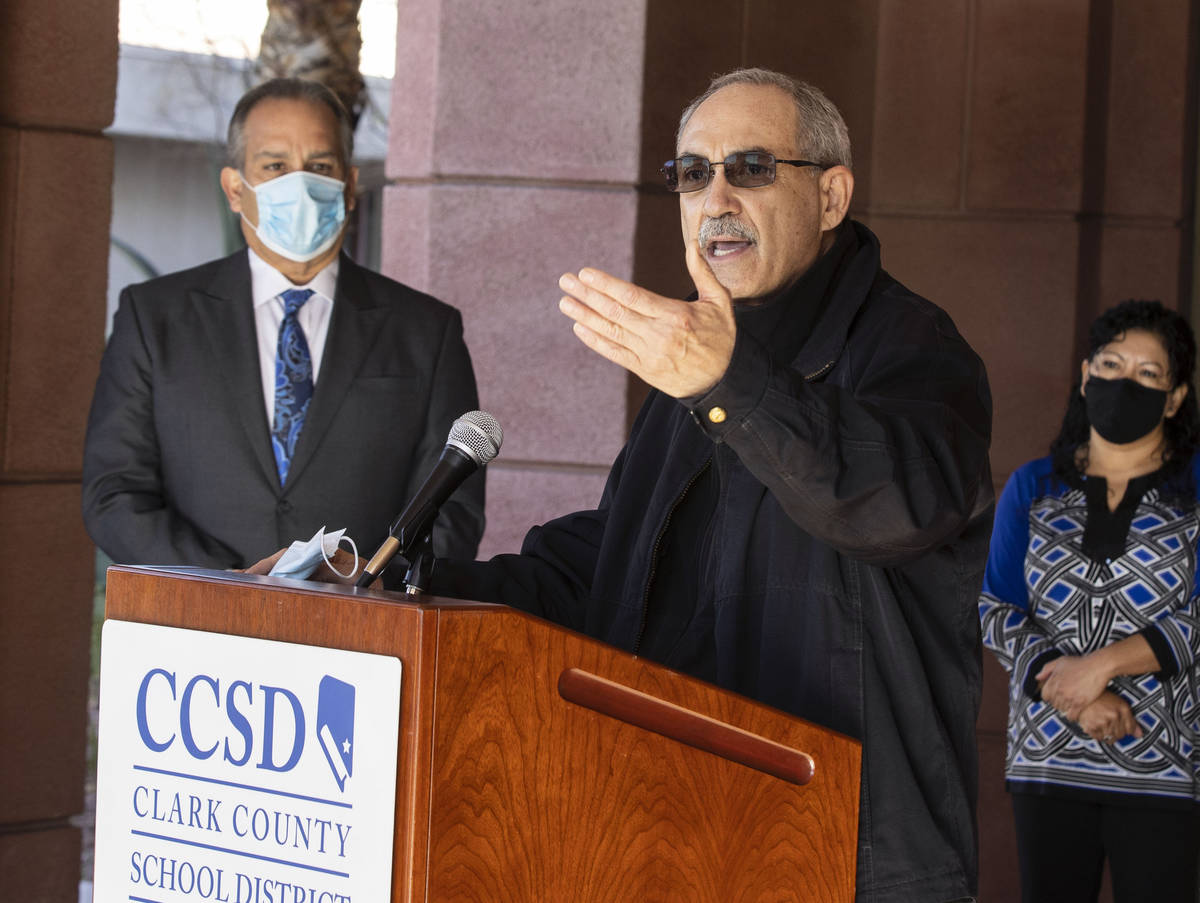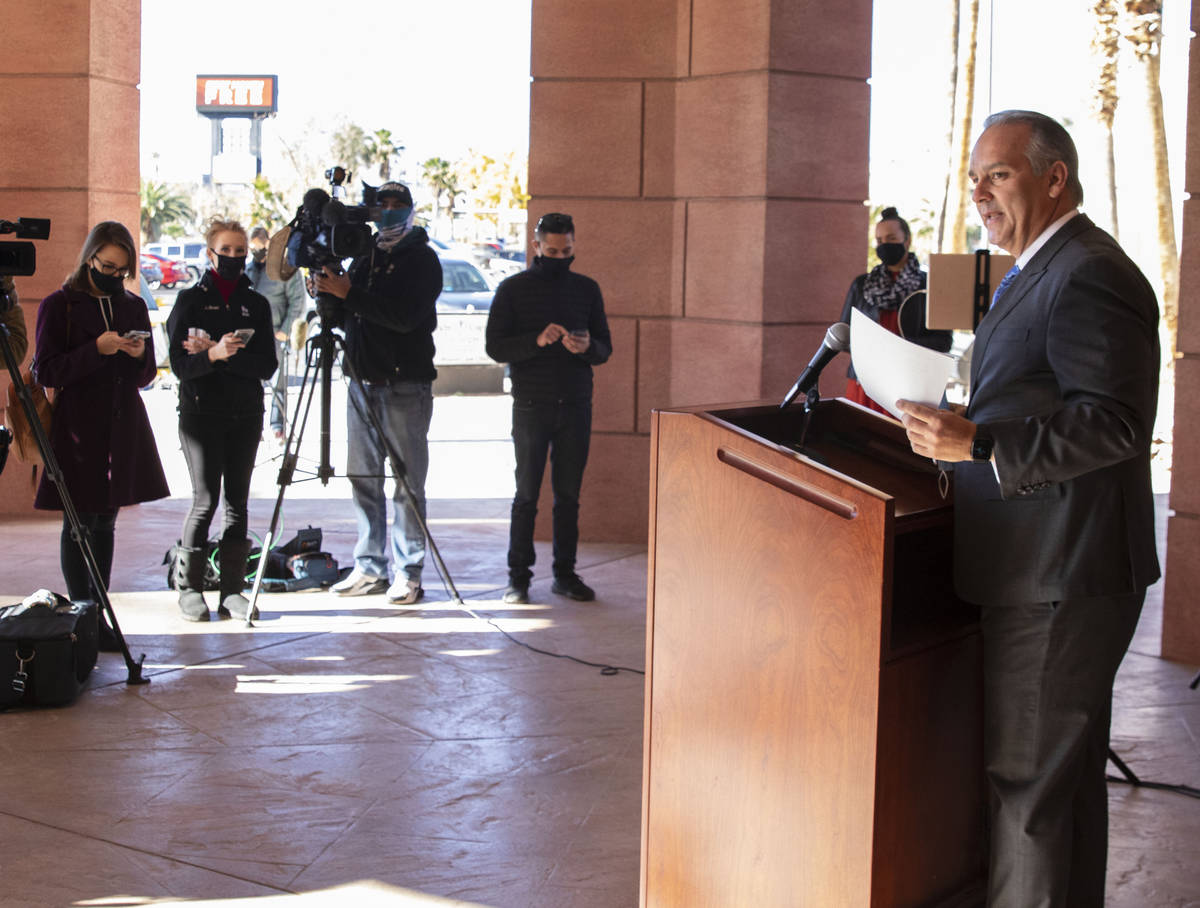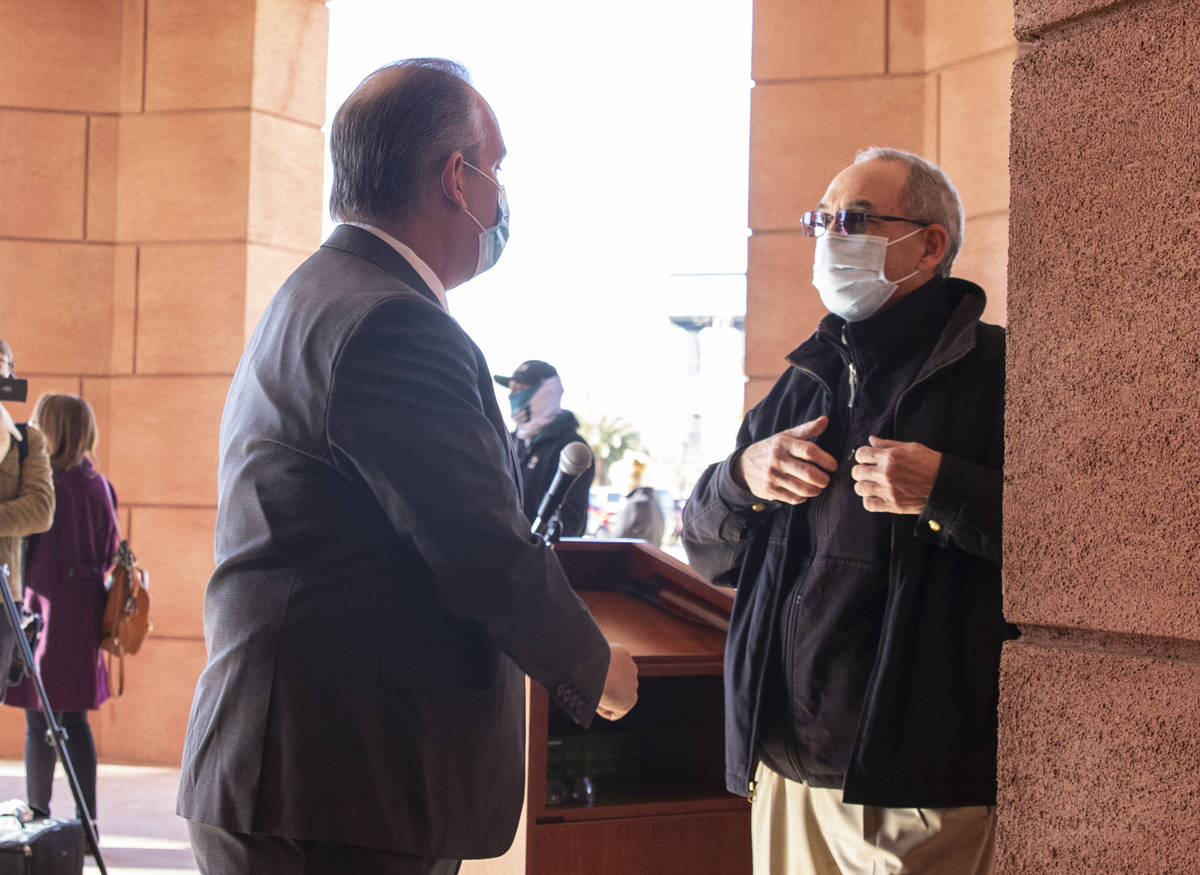 The Clark County School District and the teachers union have reached a tentative agreement on a staggered reopening of schools and plans for COVID-19 testing, screening and protective equipment for teachers.
The Memorandum of Agreement between the district and the Clark County Education Association announced Wednesday will be presented to the school board on Jan. 14, along with the district's proposed reopening plan that would return prekindergarten to 3rd grade students to classrooms first, followed by older students.
There is no set date for a return to school buildings, which have been closed since March 13, Superintendent Jesus Jara said at a news conference. He noted that district employees who telecommute are allowed to continue to do so at least through Jan. 15, per Gov. Steve Sisolak's orders.
"This is laying the groundwork," he said. "This does not mean we're opening schools on January 14th."
A reopening date will ultimately be dictated by science, Jara said. In the best-case scenario, if the board approves the plan at its next meeting, the district would likely begin reopening schools sometime in February, he added.
'An incremental approach'
John Vellardita, executive director of the teachers union, said the flexibility of the reopening model would allow the community to test a limited reopening, then expand or reduce the effort depending on the outcome.
"We think the agreement we have reached with the school district makes sense, because it's an incremental approach to reopen the schools," he said. "The decision on when to open up is … going to be made on the part of the school district. But being ready with a plan is absolutely critical."
The agreement with the union includes health and safety protocols like daily symptom screening, contact tracing through the Southern Nevada Health District and mandatory monthly COVID-19 testing for employees, according to a district news release. It also covers classroom and building sanitation and personal protective equipment for staff, who will receive face coverings, shields, disinfectant, hand sanitizer and paper towels.
The district hasn't yet decided whether to recommend that its youngest students return under a hybrid learning model — with some online instruction and some done in-person — or for full-time in-person instruction, Jara said.
If adopted, the memorandum will prioritize telecommuting requests for teachers who are members of a "vulnerable population" as defined by the State of Nevada's Phase 2 Reopening Plan, including those 65 and older and the immunocompromised.
CCEA President Marie Neisess noted that the agreement also clarifies that teachers who continue to telecommute will be responsible for teaching students who elect to remain in the full-time distance learning mode. Those matches will be made at the school level depending on need, she said.
A terrifying prospect
"Initially the idea was a classroom teacher was going to teach cohorts A, B and C," Neisess said, referring to the district's rotating cohort model. "And as a former classroom teacher, that terrified me, because I was worried about whether I could be as effective as possible.
Neisess also clarified that the percentage of employees who are tested for COVID-19 each month will be proportional to the number of students and staff on a school campus.
Two details still being worked out is where to put on-campus "sick rooms," where kids with symptoms of illness would be sent to await a ride home, and how to staff them, she said. At one school, Neisess said, a class of kindergartners was being moved in order to allow the classroom to be used as a socially distanced sick room.
The district will not require students returning to campuses to get tested for COVID-19, according to the district's chief negotiator, assistant general counsel Fikisha Miller.
There's no timeline yet for expanding the reopening model to older grades, according to Jara. Students in special education who are in grades pre-K to third also will be part of the initial phased reopening plan, he said.
Rebecca Dirks Garcia, a parent and head of the Nevada PTA, said she was surprised that there was not more consideration to accommodate students in special education across all grade levels.
As a parent, Garcia said her heart sank when she heard the cutoff for a possible return was third grade.
'That was hard'
"I wasn't surprised, as that's been a consistent break point nationwide for extra support," she said. "But having a fourth grader who is struggling, as a mom, that was hard."
Garcia said that with details on reopening still limited, many parents are still taking a "wait-and-see" approach before making their plans.
The Education Support Employees Association — the union representing district workers in offices, cafeterias and maintenance units — took umbrage at Jara's assertion that talks were ongoing with all the district's other bargaining units.
"Despite what was stated … today, no negotiations have occurred or have even started with CCSD," said ESEA President Jan Giles. "With (education support professionals) having been back in buildings since August, the health and safety of our members is just as important."
Asked what the district's next step would be if the board does not approve the reopening plan, Jara said he believed the district was delivering what trustees had asked for in terms of a provisional, small-scale reopening plan.
The Jan. 14 vote on the agreement and the reopening plan will fall to a reshuffled School Board, with three new trustees to be sworn in on Jan. 4. In November, the board as currently constituted voted to table a reopening vote until December, then pushed the decision into the next year as COVID-19 cases in the state were quickly rising.
Contact Aleksandra Appleton at 702-383-0218 or aappleton@reviewjournal.com. Follow @aleksappleton on Twitter.