CCSD to consider COVID-19 vaccination mandate for employees
Updated August 27, 2021 - 6:13 pm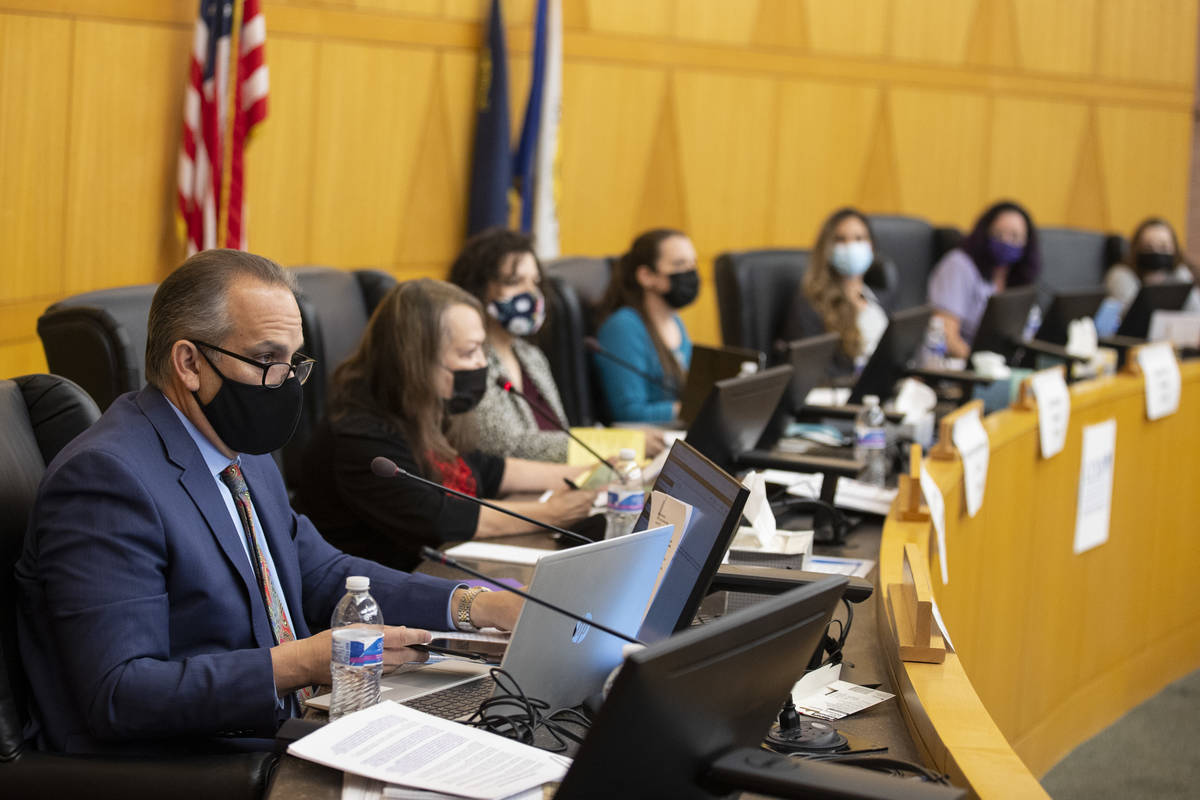 The Clark County School District next week will consider a proposed mandate that would require all employees to be fully vaccinated against COVID-19.
The School Board is holding a special meeting at 5 p.m. on Sept. 1 at the Clark County Government Center to consider the matter.
The board will consider approving a resolution that would authorize Superintendent Jesus Jara to establish a vaccination policy, according to online meeting materials.
A draft resolution of a vaccine mandate included in the agenda states that the goal of the mandate is to decrease the risk of contracting COVID-19 at schools or other district facilities, which should result in fewer missed school days and more in-person learning days and "consequently, improved student achievement."
The district said in a statement Friday that requiring COVID-19 vaccinations is the "responsible, commonsense course of action we've seen many other government agencies, companies, institutions and organizations pursue."
A mandate for employees is particularly important in protecting children younger than 12 who aren't yet eligible to be vaccinated, it said.
"By vaccinating all educators and staff we further protect and shield our unvaccinated students thereby helping to ensure schools can remain open and safe," the district said. "Again, the health of our students, staff and the entire community are of paramount importance in fighting this virus, and it takes all of us working together to ensure our success."
One union mum, one supportive
The Clark County Education Association teachers union declined to comment, but indicated it would issue a statement on the move on Monday.
The National Education Association of Southern Nevada and Education Support Employees Association, however, issued a statement saying the vaccine requirements and other accommodations are "an appropriate, responsible and necessary step to ensure the safety of our school communities and to protect our students."
Evidence shows COVID-19 vaccination among those eligible is "one of the most effective ways to keep schools safe, and they must be coupled with stringent testing and other proven mitigation strategies," it said.
The draft resolution states that the district would consider exemption requests and "potential accommodations, which may be based on certain documented medical circumstances or sincerely held religious beliefs."
The draft does not include a proposed timeline for when employees would have to be vaccinated.
The district also would identify categories of "contracted personnel and service providers" who must be fully vaccinated in order to work in district facilities or in the presence of employees or students, the resolution states.
The district, which has more than 42,000 employees, has been operating this school year with full time in-person learning, as well as distance learning options for families who want it.
The resolution says that despite the district's efforts that have "stressed the importance of and helped to facilitate access to the COVID-19 vaccination for employees, families and age-eligible students," several thousand employees are believed to not yet be vaccinated "which is a public safety concern."
The resolution says the district will "develop and carry out appropriate strategies to reach full vaccination compliance," which could eventually lead up to progressive discipline for those who don't comply.
Vaccination rate near 60 percent
About 25,000 school district employees out of approximately 42,000 have uploaded a completed COVID-19 vaccination card into the emocha Health platform, a district spokesman said Wednesday. That's nearly 60 percent of employees — up from 41 percent earlier this month.
Currently employees who don't provide proof of vaccination are required to undergo weekly testing at school district sites or community sites such as pharmacies.
"I'm proud of Clark County School District for taking steps to vaccinate their educators and staff," Gov. Steve Sisolak said in a Twitter post. "The best way to protect our students against COVID-19 and keep them in school — especially those who are ineligible for a vaccine — is for the adults around them to be vaccinated."
But Ryan Omlie, who's in his 13th year as an elementary school teacher for the district, spoke in opposition to a vaccine mandate during the public comment period at Thursday's School Board meeting.
"I know a vaccine mandate is coming," he said. "I don't know who gets the final decision over this, but it is wrong."
People are being told the COVID-19 vaccines are safe and effective, but many health care professionals have data that suggests otherwise but are concerned they'll be discredited if they share it, Omlie maintained.
'I'm going to lose my job'
He urged the School Board to think critically about the information they're using to make decisions that will lead to hundreds of teachers losing their jobs and students suffering as a result.
"I'm going to lose my job because the government told you medical advice." Omlie said before being cut off as his allotted speaking time expired.
UNLV epidemiologist Brian Labus challenged Omlie's assertion.
Repeated studies in different populations worldwide keep coming to the same conclusion, he noted in an email to the Review-Journal: "COVID vaccines are effective in preventing disease and excellent at preventing hospitalization and death.
"While breakthrough cases can occur, you are still much less likely to be infected if you are vaccinated. We have given nearly 4 billion doses of COVID vaccines worldwide, and they have all been shown to be very safe. The most dangerous part of being vaccinated is driving to the appointment."
So far, courts around the country have largely sided with businesses and schools that have faced legal challenges to COVID-19 vaccination mandates, including decisions in favor of Indiana University and Houston Methodist Hospital in Texas.
Contact Julie Wootton-Greener at jgreener@reviewjournal.com or 702-387-2921. Follow @julieswootton on Twitter.