Air traffic controller at concert warned airport during Las Vegas shooting
October 12, 2017 - 7:09 pm
Updated October 12, 2017 - 10:54 pm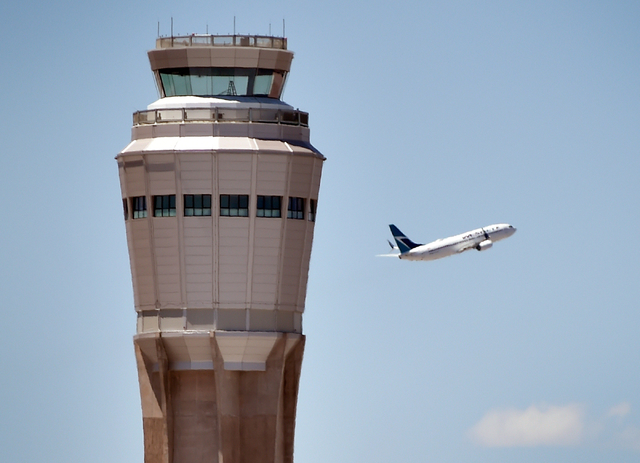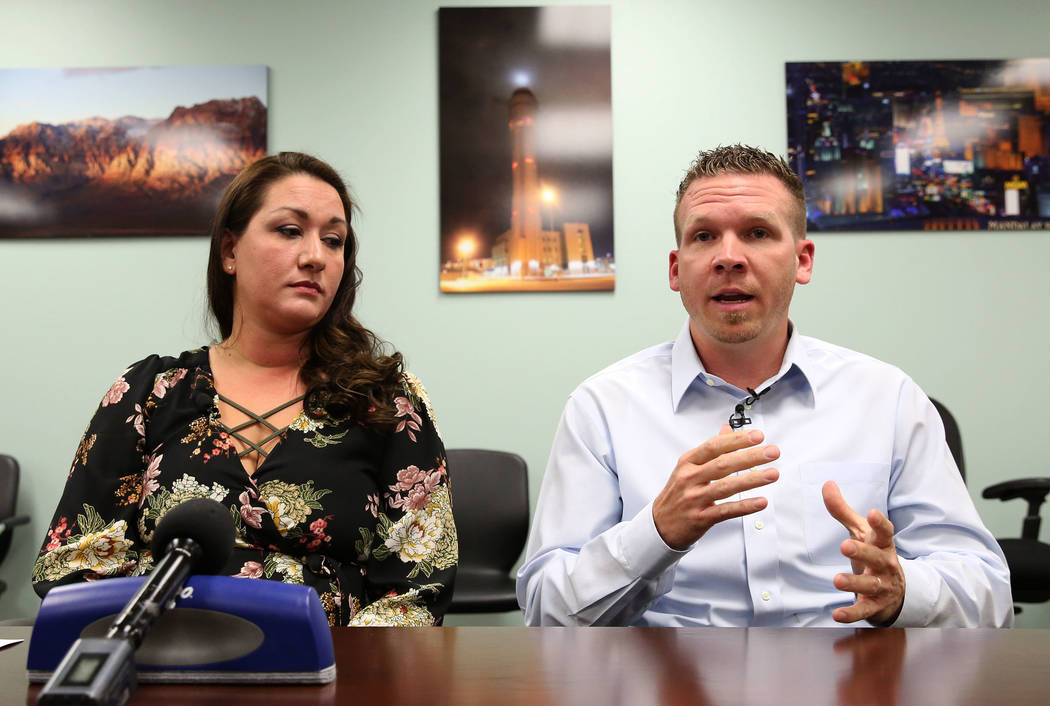 Christina Stewart had only two things on her mind as rapid-fire bullets rained down on the Route 91 Harvest Festival.
First, get out alive. Second, warn her fellow air traffic controllers to halt helicopters and jetliners from landing at nearby McCarran International Airport.
Thankfully, she managed to do both.
"I didn't know what exactly was going on or how big the attack was," said Stewart, a nine-year veteran of the Las Vegas tower.
"I just knew something in close proximity to the airport was happening," she said. "It seems like he was really out to hurt as many people as he could, and an aircraft or a helicopter make a pretty good target."
Stewart and her fiance were 75 feet away from the country music festival's stage, there specifically to watch Jason Aldean perform on Oct. 1. Throughout the night, she watched helicopters whirring to stop at the airport after flying tourists over the Strip and the Grand Canyon.
The couple started looking for fireworks when the popping started. Then, the screams came as Aldean abruptly stopped singing and rushed off the stage.
Stewart grabbed her fiance's hand and laid low as crowds of people ran for the nearest exits.
"There was a shocked realization that people were getting shot around us," Stewart said. "I was kind of freaking out."
Alerting her colleagues
After ducking out a staff entrance at Las Vegas Village, Stewart repeatedly told her fiance that she needed to alert her colleagues working inside the air traffic control tower at the Las Vegas airport.
Bullets were still flying when Stewart hid behind a concrete building and pulled out her cellphone. Her hands shook so hard that she couldn't dial the number.
With no televisions, radios, personal cellphones or outside communications permitted within the tower, the controllers were unaware of the chaos unfolding 352 feet below.
The crucial seconds felt like an eternity until someone in the tower answered the phone.
"I screamed at him that there was an active shooter, that he needed to keep the helicopters away from the Strip and to stop planes from landing on the western runways."
Stewart's colleagues, the air traffic controllers union and the Federal Aviation Administration credit her dedication and efforts to changing the helicopter departure paths that fly right over Mandalay Bay.
"The fact she would think about the safety of the flying public under those conditions is incredible," said Anthony Borgert, who works within the tower's base for Terminal Radar Approach Control, or TRACON, to manage airborne planes within a 40-mile radius of McCarran's airspace.
Planes diverted
Planes preparing to land in Las Vegas were directed to circle a safe distance away over Boulder City, Borgert said.
Then, traffic came to a standstill at the nation's eighth-busiest airport, prompting the diversion of 25 flights to airports in Phoenix; Los Angeles; Ontario, California; Bullhead City, Arizona; Salt Lake City and Denver.
It was unclear how many, but "a majority" of those planes eventually reached Las Vegas shortly after flights resumed at 12:40 a.m. Oct. 2, airport officials said.
"You look at what they did, how they performed under very challenging circumstances and you say 'yeah, that's extraordinary,'" FAA spokesman Ian Gregor said.
"But if you ask them what they did, they'll tell you they were just doing their job," he said. "That attitude is really representative of the kind of controller workforce we have."
Stewart and her fiance eventually found their car and drove to the control tower. After taking a moment to compose herself, Stewart spent the night answering phone calls within the safety and familiarity of the air traffic control tower.
From high above, she could see the flashing red and blue lights of police cars and ambulances arriving at the concert venue she had just fled.
"I wanted to make sure that we did everything we could to keep people as safe as possible," Stewart said. "I just couldn't believe someone would do this."
Contact Art Marroquin at amarroquin@reviewjournal.com or 702-383-0336. Follow @AMarroquin_LV on Twitter.
Airport fence breached
Christina Stewart and her fellow air traffic controllers watched hundreds of people break holes in the airport's security fence, stream onto the tarmac and scatter for cover.
"There were so many people running," Stewart said.
The Transportation Security Administration is reviewing the security breach at McCarran International Airport. While breaking through the airport's fence is not a criminal offense, TSA officials would not say whether civil penalties will be levied.
"The events of Oct. 1 were unique and unprecedented," TSA spokeswoman Lorie Dankers said while declining to comment further.