Las Vegas police update policy on neck restraint tactic
Updated July 8, 2020 - 9:17 pm
The Metropolitan Police Department announced Wednesday that it changed its policy on a neck restraint technique to only allow it in life-threatening situations.
"The LVMPD prides itself on being responsive to community concerns," Clark County Sheriff Joe Lombardo said in a statement. "We are constantly evolving and looking for ways to improve our Use of Force standards. In this case, a national conversation about this technique showed us that we had room for improvement."
The policy change comes after weeks of protests sparked by the killing of George Floyd in Minneapolis police custody on May 25. An officer held his knee on Floyd's neck for nearly nine minutes while the man pleaded for his life. Before Wednesday's change, Metro updated its use of force policy on May 15.
Metro previously permitted the neck restraint technique, known as the Lateral Vascular Neck Restraint, in any instance when an officer was confronted by "an assaultive person," the department's statement said. The change to the department's use of force policy is effective immediately.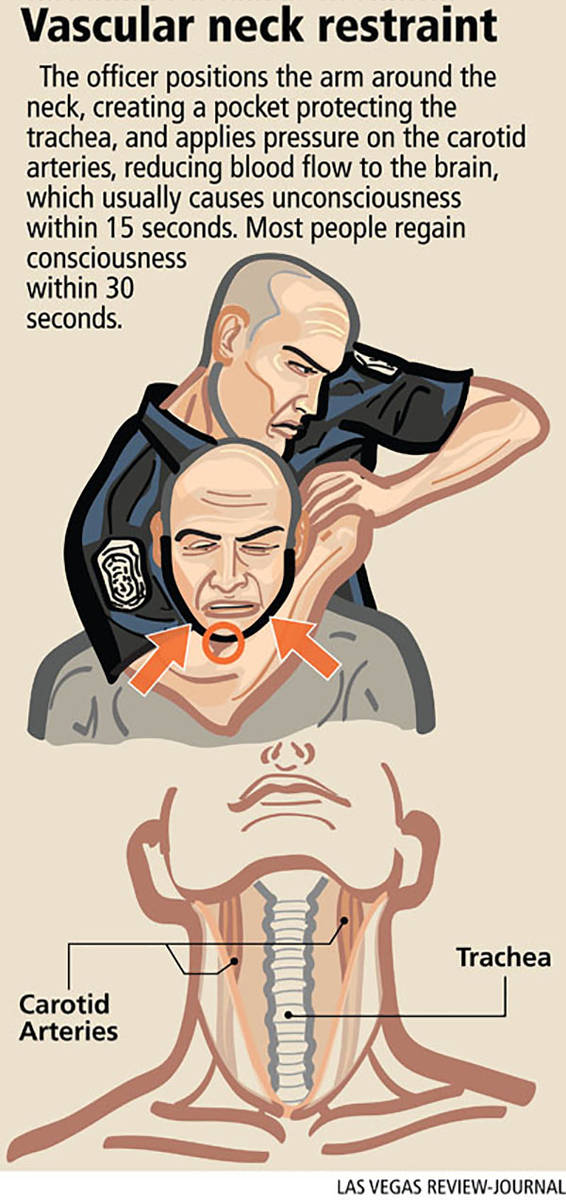 The technique restricts blood flow to the brain by compressing the carotid arteries. Metro said it is not the same as a chokehold, which restricts breathing. Such holds have never been allowed by the department, according to the statement.
But state law's definition of "chokehold" includes the lateral vascular neck restraint.
Metro previously reclassified the neck restraint as intermediate or deadly use of force in 2017. The department insisted the change was not sparked by any one case.
Tashii Brown
Months before that revision, a Las Vegas police officer, Kenneth Lopera, stunned Tashii Brown on the Strip with a Taser seven times, repeatedly punched him and placed him in what Lopera described as a rear naked choke for more than a minute, according to police records.
The same police report said, "Officer Lopera then performed a Lateral Vascular Neck Restraint (LVNR) and rendered (Brown) unconscious."
The rear naked choke is not approved or taught by Metro.
A Metro detective who investigated Lopera's use of force later said at a public review of the case that the difference between a rear naked choke and Metro's approved neck restraint is the placement of the hands. He acknowledged both holds compress the carotid arteries.
Lopera faced criminal charges, including involuntary manslaughter. The case was referred to a grand jury, which decided not to indict the former officer. His criminal case was later dropped.
Brown would not have faced charges had he survived, police said.
"I think it's finally a proper decision to allow it (the neck hold) only in a deadly force situation," said attorney Andre Lagomarsino, who represents Brown's mother, Trinita Farmer, in a federal lawsuit against the department and Lopera.
Wesley Juhl, spokesman for the ACLU of Nevada, said the neck restraint is a lethal technique, "but reclassifying it is not near far enough." Juhl said the ACLU of Nevada has been calling for a total ban on the hold at least since Brown's death.
Juhl said the Legislature should pass a statewide ban on the hold immediately. The governor's office has said topics for policy changes such as police reform will be pushed to a later special session; the current special session will focus on the state's budget hole.
Contact Blake Apgar at bapgar@reviewjournal.com or 702-387-5298. Follow @blakeapgar on Twitter. Contact Alexis Ford at aford@reviewjournal.com or 702-383-0335. Follow @alexisdford on Twitter.