Number of homeless drops in Clark County, census shows
Updated July 11, 2019 - 8:21 pm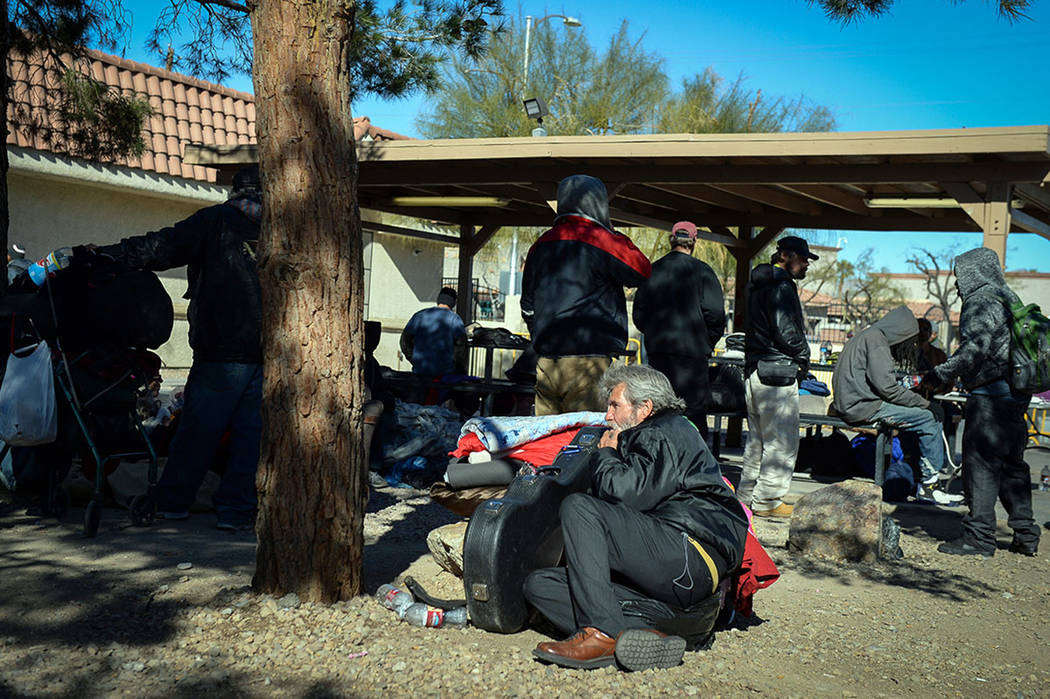 The annual Southern Nevada Homeless Census counted 5,286 people living in shelters and on the streets in Clark County this year — the fewest since the county began counting the homeless 12 years ago.
Sixty-three percent of the homeless counted were living without shelter and almost half had experienced homelessness for the first time, Clark County Social Service Manager Michele Fuller-Hallauer said.
"As a community, for our regional efforts to end homelessness, we know the pieces we need to have a healthy system to meet the needs of the folks in our community," Fuller-Hallauer said. "We just need more resources and more affordable housing available."
In a statement that accompanied the numbers announced Thursday, Clark County Social Service Director Michael Pawlak said that almost 14,000 people will experience homelessness in the county at some point during the year, down from last year's estimate of nearly 16,650.
The census also estimates that almost all emergency shelters were nearly full on the night of the count.
Hundreds of volunteers conduct the search over two days and nights each January.
This year's count continued a downward trend, with 797 fewer people tallied than last year. The 2018 census total of 6,083 homeless individuals was itself down about 6.7 percent compared with 2017.
Fuller-Hallauer, who coordinates the Continuum of Care regional approach to homelessness, wrote in a report that 88 percent of the homeless counted were single adults; 22 percent were unaccompanied youth; 10 percent were veterans, and 6 percent were families with children.
The groups were not mutually exclusive.
Also in the report, she wrote that more than 70 percent of those counted were male, and 68.9 percent lived in Southern Nevada at the time they first experienced homelessness.
Last year, there were changes in federal guidelines used to estimate the number of homeless people who lie in abandoned buildings, tents and other locations considered too dangerous to enter.
For example, in prior years officials estimated 3.13 people were in each tent volunteers counted. This year and last year, a tent was estimated to hold 1.21 people.
The county uses that data to secure federal funding. Southern Nevada received about $14 million in grants for homeless programs in each of the past two years.
According to a federal report released in 2018, Nevada has the highest rate of homelessness among youth, and county officials have said that by state, Nevada has the fewest affordable and available rental homes in the country.
To combat that, Clark County commissioners have reserved nearly $9.7 million in projected marijuana fees for homeless initiatives in fiscal year 2020.
Last month, the commission voted to allocate more than $6.1 million to add hundreds more beds for homeless families with children.
In addition, the city of Las Vegas is spending about $15 million to build out its Courtyard Homeless Resource Center, a 24/7 facility where the homeless can sleep and access a range of services.
The city's Chief Financial Officer Gary Ameling estimated in May that the city would spend $35 million on homelessness for fiscal year 2020, excluding capital funds, but less than 10 percent of it is expected to be directed toward outreach.
"We're making progress but we also have a long way to go and it's going to take all of us to work together to make that happen," Fuller-Hallauer said.
Contact Briana Erickson at berickson@reviewjournal.com or 702-387-5244. Follow @ByBrianaE on Twitter.
Related
Volunteers fan out to count Las Vegas' homeless people — PHOTOS
Las Vegas officials want OK to raise fees to pay for homeless services
Clark County sees small drop in homeless count
Las Vegas police step up ticketing of people feeding homeless