More than 2,000 COVID-19 cases, 15 deaths reported in Nevada
Updated November 14, 2020 - 6:32 pm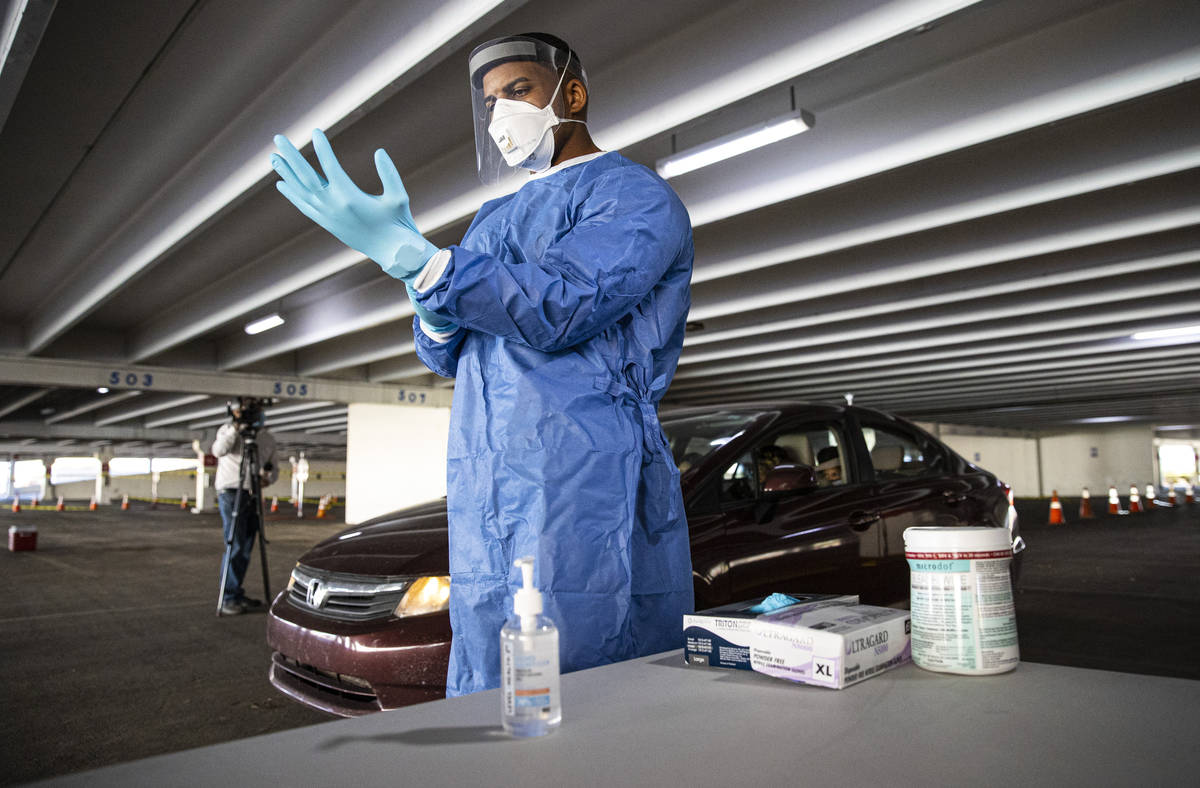 For the first time during the coronavirus pandemic, Nevada on Saturday reported more than 2,000 new coronavirus cases in the state.
It was the second day in a row that Nevada set a record for the number of cases reported in a single day. There were 2,269 cases reported Saturday, along with 15 additional deaths, according to the Department of Health and Human Services' website.
The updated figures brought totals in Nevada to 119,006 cases and 1,908 deaths since the start of the pandemic.
On Friday, the state set the previous record for daily increase in cases when 1,857 were reported. The record prior to that — 1,824 cases — was set exactly a week earlier, on Nov. 7.
The uptick in cases this week came as Gov. Steve Sisolak urged Nevadans to stay home for 14 days to curb the spread of the virus. Sisolak on Friday announced that he had also tested positive for the coronavirus.
"Fellow Nevadans — we are at a critical juncture in our response to COVID-19," Sisolak posted on Twitter on Saturday morning. "Today, we recorded 2,269 new cases, including mine. I again want to underscore the importance for Nevadans to stay home when they can to help protect themselves and our communities."
Sisolak also repeated his pleas to stay home this weekend. "We must take action to change the trajectory now or we will need to implement tougher restrictions and mitigation measures to protect our communities." He ended his tweet thread with, "This is serious, Nevada."
Fellow Nevadans – we are at a critical juncture in our response to #COVID19. Today, we recorded 2,269 new cases, including mine. I again want to underscore the importance for Nevadans to stay home when they can to help protect themselves and our communities. pic.twitter.com/SN6EjNKXQg

— Governor Sisolak (@GovSisolak) November 14, 2020
Biggest 1-day increase in testing
Saturday also marked the largest one-day increase in the number of tests performed, at 25,167 new tests, state data shows. The second-highest increase in tests was reported Nov. 6, with 24,371.
The state's positivity rate, calculated by the Review-Journal as the number of cases divided by people tested since the start of the pandemic, reached 13.56 percent Saturday, an increase of 0.16 percentage points from the previous day
Both the positivity rate and the daily case reports have been rising since mid-September. The number of deaths in the state did not increase at the same time, but death totals tend to lag a month or more behind new cases.
The state is also back above 1,000 COVID-19 hospitalizations.
Thirteen of Nevada's 16 counties are now seeing elevated transmission, according to state data.
New daily cases have been steadily rising since a low in mid-September. On Sept. 15, the state reported 226 new daily cases. On Oct. 15, it was 655.
In mid-October, state officials attributed the surge in cases not only to the easing of pandemic restrictions but also to "COVID fatigue" that is causing people to flout social distancing recommendations.
Hospitals in Northern Nevada have been especially hard-hit in recent weeks. Renown Regional Medical Center in Reno on Thursday opened in its parking garage a medical unit for COVID-19 patients, whose growing numbers have alarmed hospital officials.
Washoe County officials reported surpassing 500 daily cases Friday, breaking a daily record.
Deaths increase
The past two weeks have seen an increase in reported deaths compared with late September and October.
During the first week of November, there were 73 deaths reported across the state, the most since 54 deaths were reported during the week of Sept. 20 to 26. There have been 58 deaths reported in the past seven days.
Most who died have been 60 or older with underlying health issues.
County and state health districts redistribute data on new cases and total fatalities after their daily reports in an attempt to show when someone died or started showing symptoms, as some cases come from delayed reporting.
The state health department calculates a positivity rate over a two-week period, and it remained at 14.9 percent as of Saturday.
The department began reporting the statistic in mid-October, when it stood at less than 10 percent.
The rate is calculated using total "testing encounters," which usually produces lower percentages than the Review-Journal's cumulative rate because the figure includes people who received multiple tests at different points during the pandemic.
In Clark County, there were 1,567 new cases and 12 additional deaths reported Saturday, according to the Southern Nevada Health District.
The updated figures brought totals in the county to 94,640 cases and 1,617 deaths.
Testing options
Drive-thru, throat-swab testing administered by medical personnel is now offered at Texas Station, the third public mass testing site in the Las Vegas Valley.
The other two sites, at Cashman Center downtown and UNLV's Thomas & Mack Center, are indoor, walk-up sites where medical personnel will instruct up to three people at a time how to do their own nasal swabs. The difference in accuracy between the swabbing methods is "not clinically significant," county spokeswoman Stacey Welling said.
The free testing is open to anyone, with or without symptoms, including children.
The site will operate from 8 a.m. to 4 p.m. Thursdays through Mondays. Appointments are not needed but preregistration with the health district is highly recommended to avoid waiting.
Register online at www.snhd.info/covid-texas. Or text COVID to 844-990-0029 to receive a link to the registration form.
Appointments can be booked at the Cashman Center or UNLV Thomas & Mack sites through UMC's website at www.umcsn.com. Those without online access may call UMC at 702-383-2619 to schedule appointments. Testing without an appointment is offered at these locations on a limited basis based on availability of staff.
Review-Journal staff writer Mary Hynes contributed to this report.
Contact Katelyn Newberg at knewberg@reviewjournal.com or 702-383-0240. Follow @k_newberg on Twitter.