Nevada records 227 new COVID cases, lowest daily increase in 2 months
Updated May 26, 2021 - 4:21 pm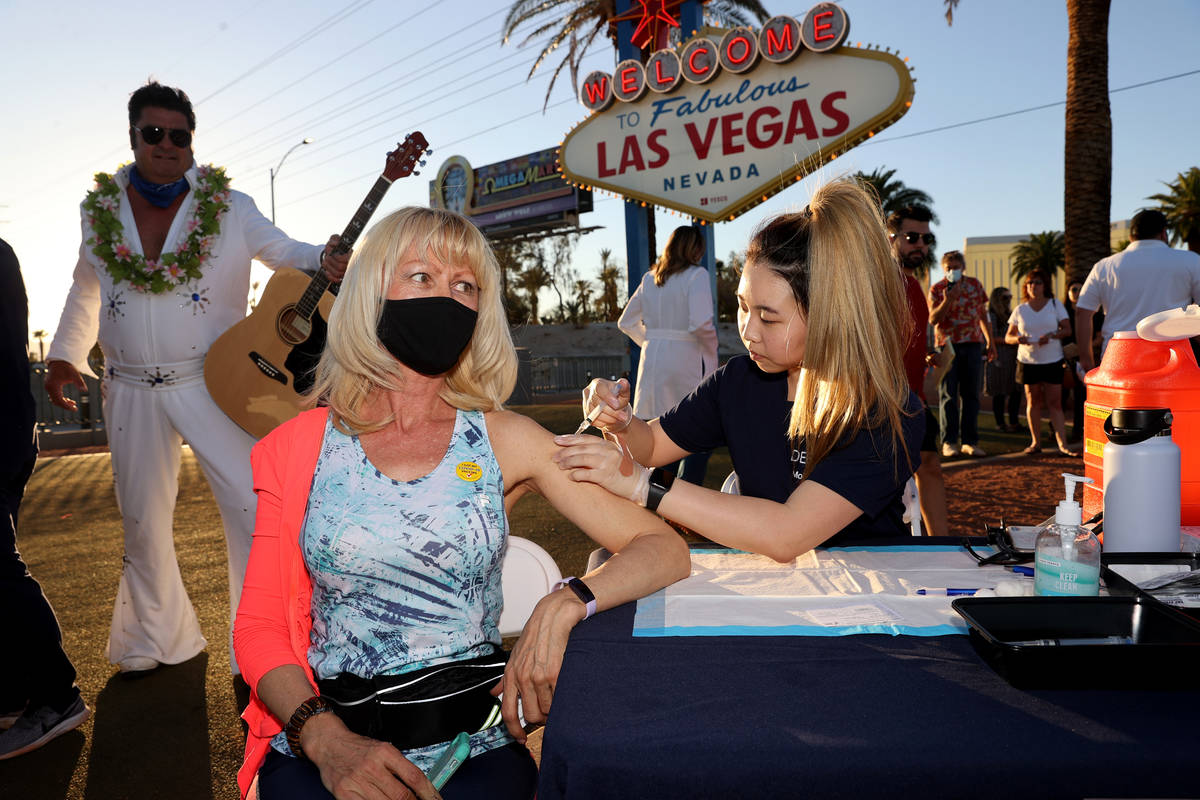 For the second day in a row, Nevada on Wednesday reported the lowest single-day increase of new coronavirus cases in nearly two months, according to state data.
There were 227 new cases recorded on Wednesday, according to data from the Department of Health and Human Services' coronavirus website. Although the state no longer reports daily updates over the weekend, Wednesday's reported cases was the lowest single-day increase since 181 cases were recorded on April 5, according to records maintained by the Review-Journal.
The previous lowest single-day increase since April 5 was recorded on Tuesday, when 265 cases were reported.
Nevada also recorded seven additional deaths on Wednesday, state data shows. Totals in the state rose to 323,249 cases and 5,570 deaths since the start of the pandemic.
The new cases reported Wednesday remain higher than the 14-day moving average of daily reported cases, which dropped to 147. Deaths were also higher than the moving average of two deaths recorded daily during the same time period.
State officials have said that it is normal for daily figures to be higher than the moving averages due to delayed reports and redistributed data. State and county health agencies redistribute the daily data after it is reported to better reflect the date of death or onset of symptoms, which is why the moving-average trend lines frequently differ from daily reports and are considered better indicators of the direction of the outbreak.
As averages continue to trend downwards, state officials on Wednesday said that vaccinations seem to be turning the tide against the virus.
"I would say that we are optimistic, but I would also say that our optimism is based directly on our ability to continue to reach people for vaccination throughout the state," Caleb Cage, the state's COVID-19 response director, said during a call with reporters.
Julia Peek, deputy administrator for the Department of Health and Human Services, said the state is now better prepared to deal with potential future coronavirus surges.
"COVID is going to be one of those disease that's just incorporated throughout our public health response, from prevention to following up on disease outbreaks," she said. "I think we're in a very, very good place now — vaccination right now is entirely what we're pushing."
The state's two-week positivity rate, which essentially tracks the percentage of people tested for COVID-19 who are found to be infected, dropped by 0.1 percentage points, reaching 4.3 percent.
As of Wednesday's report, there are 252 people in Nevada hospitalized with suspected or confirmed COVID-19 cases, which is 22 fewer than the day prior.
Clark County on Wednesday reported 187 new coronavirus cases and six additional deaths, according to updated figures posted to the Southern Nevada Health District's coronavirus website.
Cumulative totals in the county rose to 250,573 cases and 4,393 deaths.
The county's two-week positivity rate decreased by 0.1 percentage points, matching the state average at 4.3 percent.
Contact Katelyn Newberg at knewberg@reviewjournal.com or 702-383-0240. Follow @k_newberg on Twitter.