Las Vegas shooting memorial moves to new home in emotional farewell
November 12, 2017 - 11:18 am
Updated November 13, 2017 - 12:37 am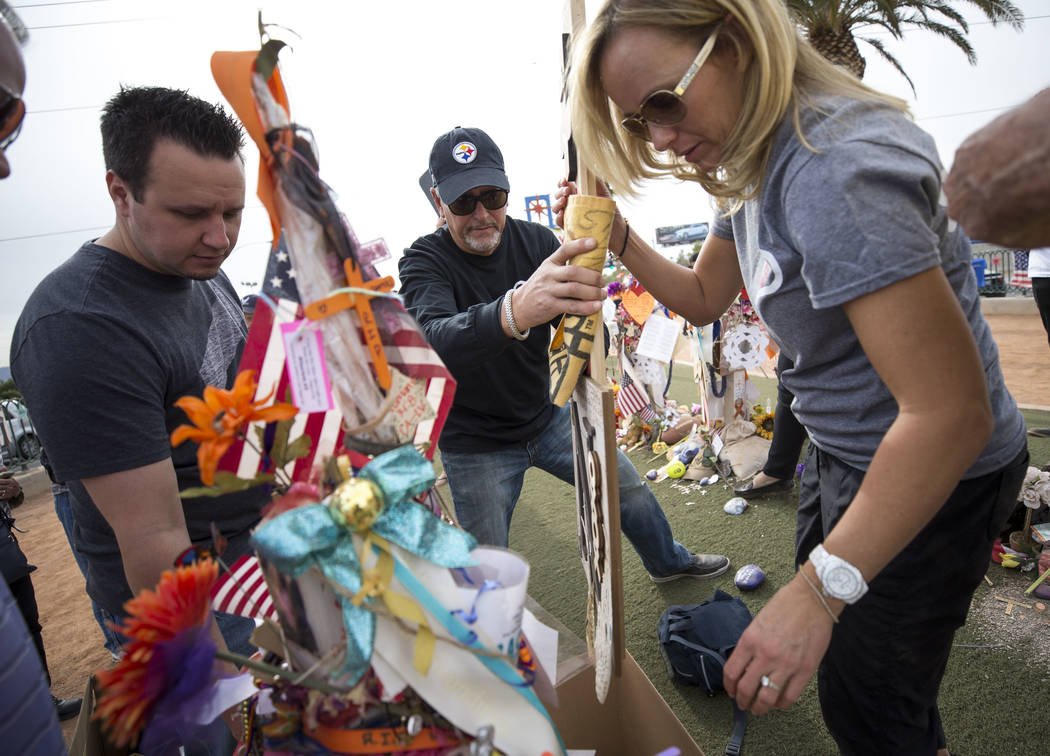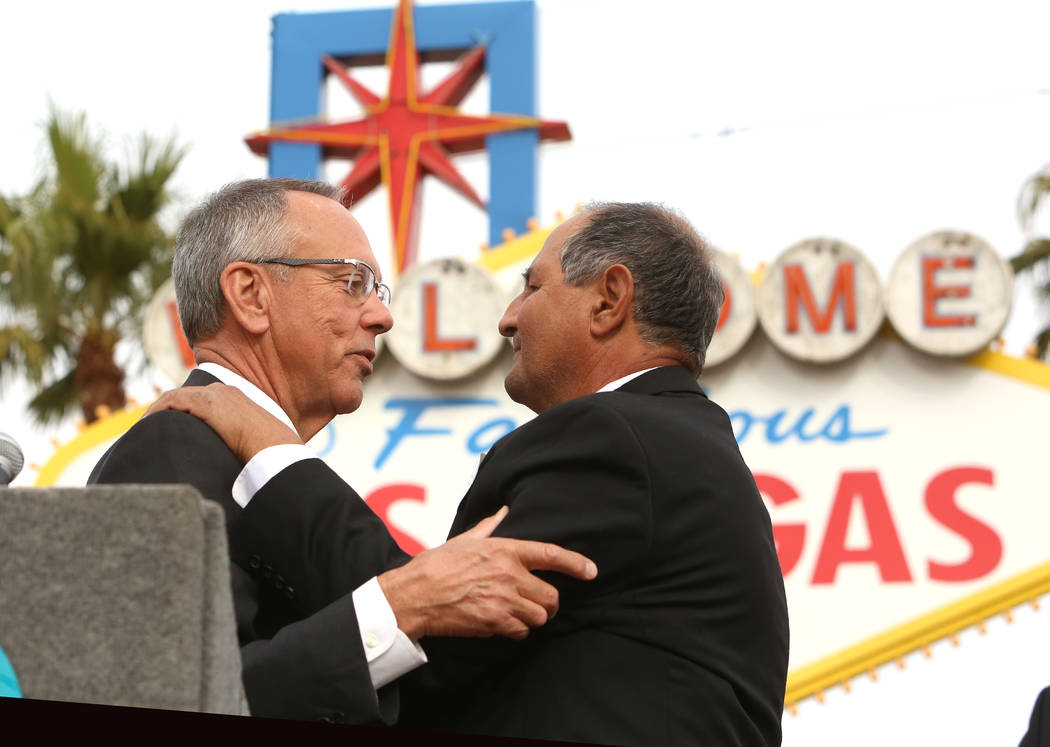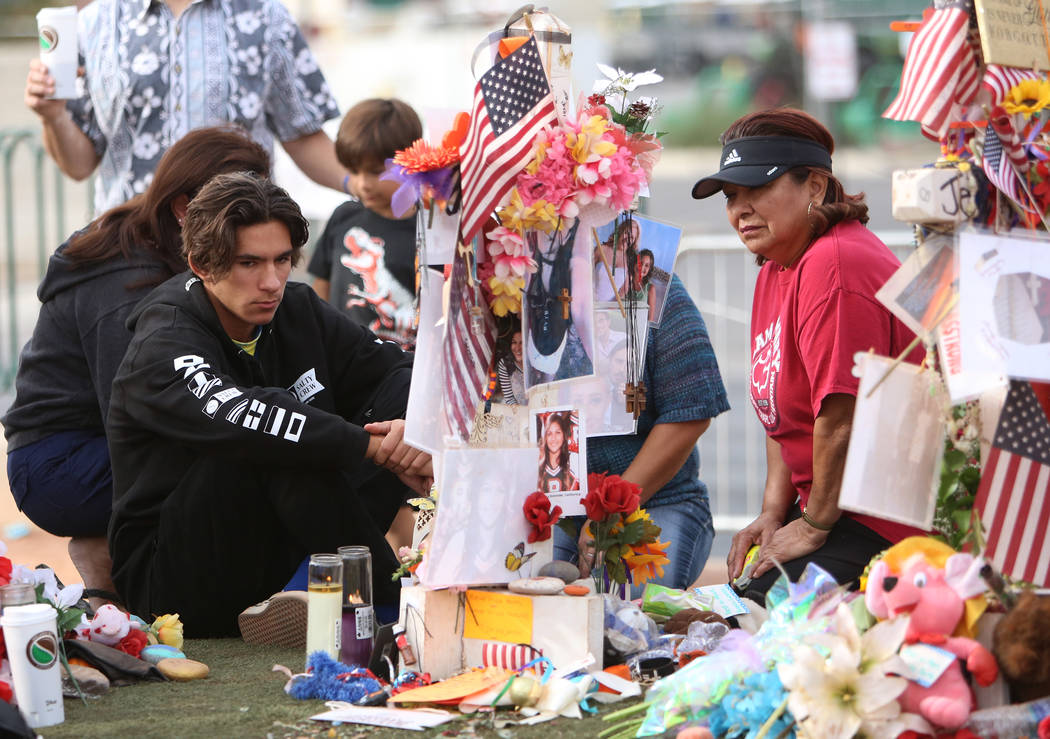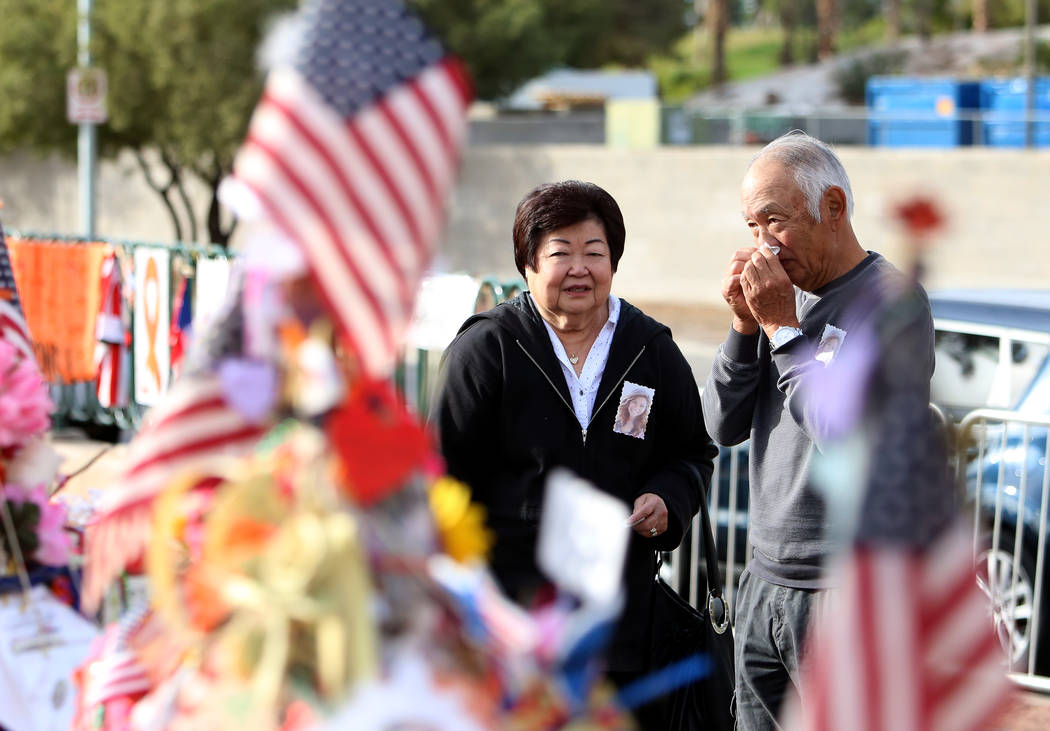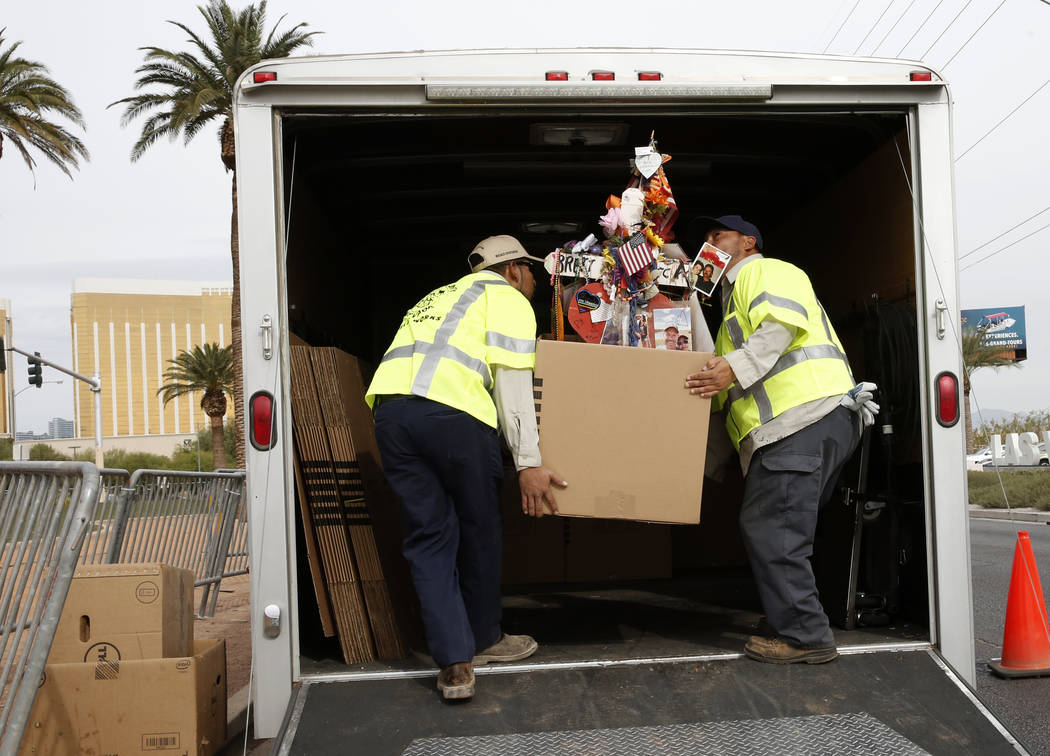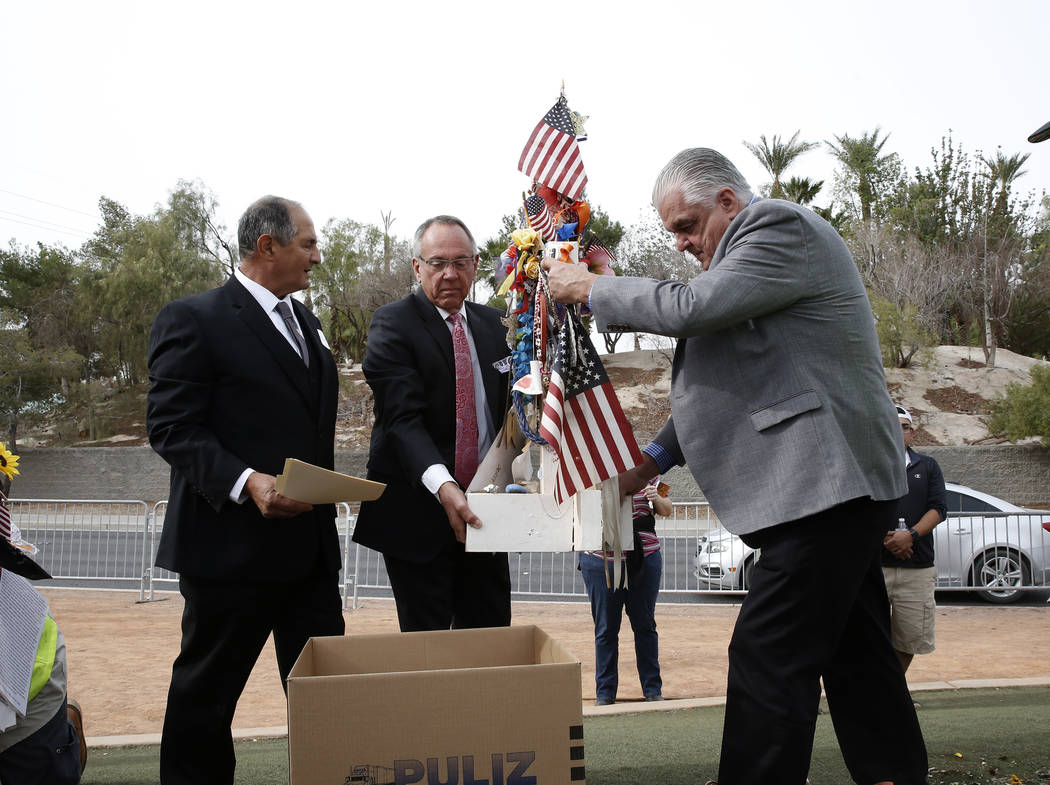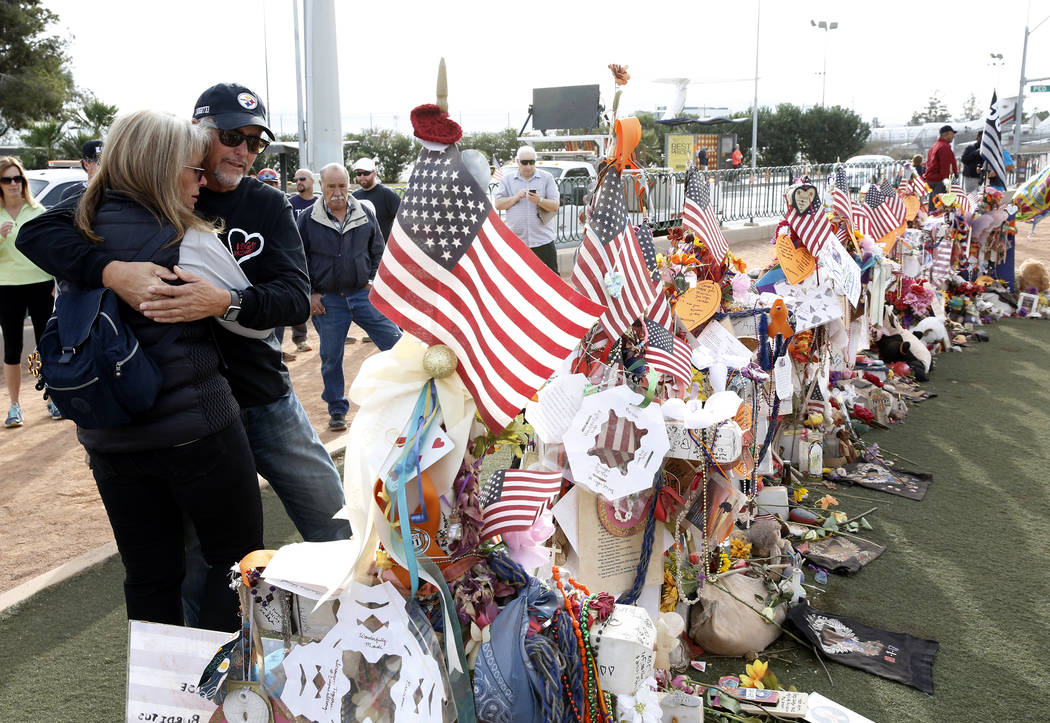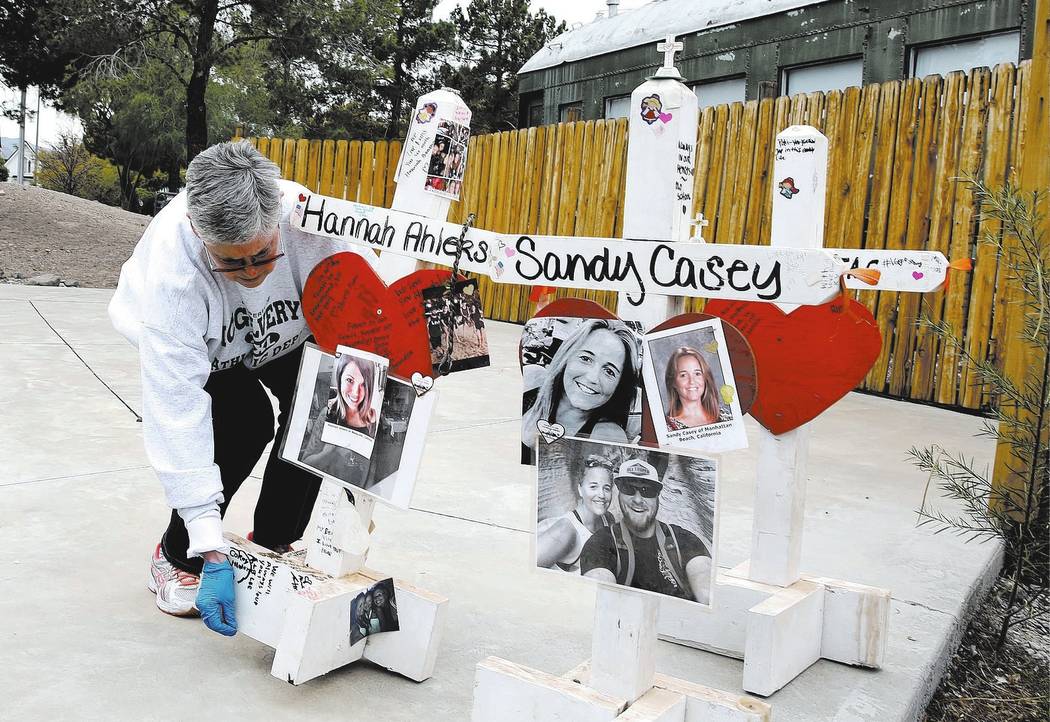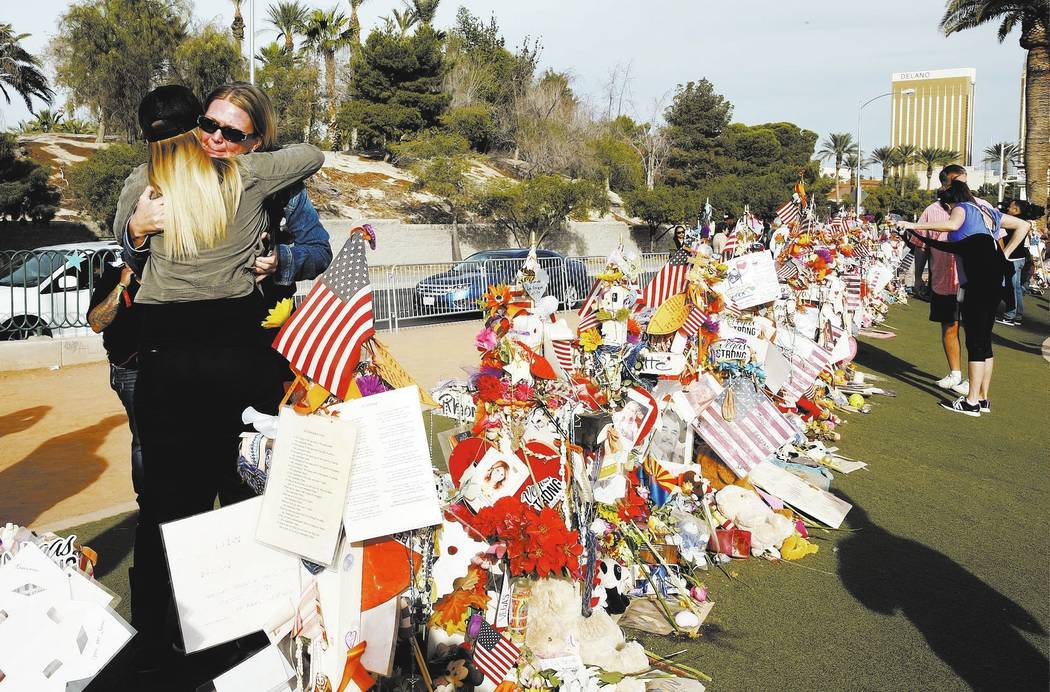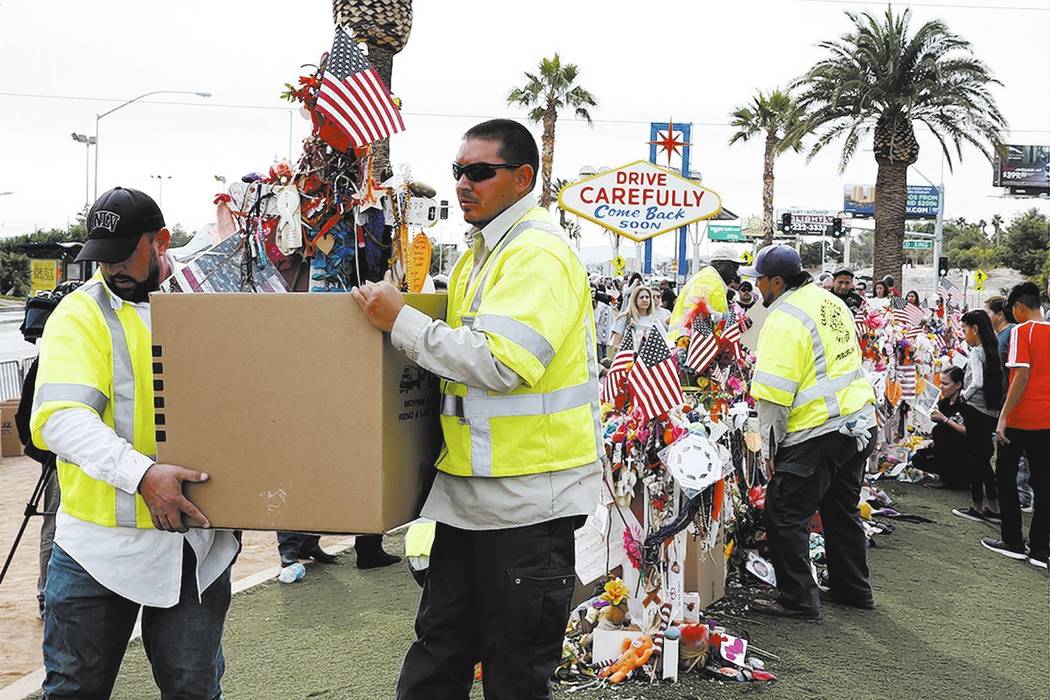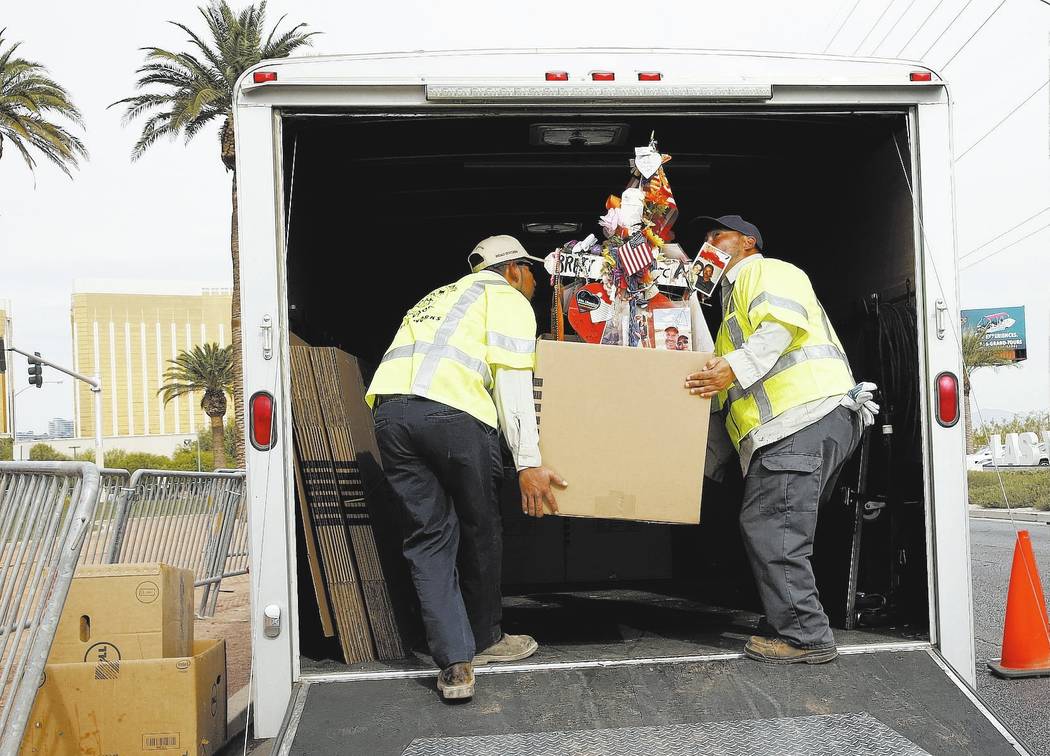 For the past six weeks, the everyday things left on and around 58 white crosses near the Welcome to Fabulous Las Vegas sign served as ever-changing symbols of a community's grief.
Photos, pins, cards, ribbons, caps and T-shirts, even a football and a large doll.
On Sunday, those mementos, and the crosses forming the backbone of what became an unplanned community memorial to the people killed during the Route 91 Harvest festival, became part of history.
They were gathered, boxed and taken to the Clark County Museum, 1830 S. Boulder Highway, to become part of the museum's permanent collection.
The crosses were placed on an outdoor stage at the museum, where they'll be available for public viewing until Dec. 17. The other items await formal cataloging.
About 200 people gathered Sunday morning to say goodbye to the accidental memorial. Among them were Chris and Debbie Davis, whose daughter, Neysa Tonks, a 46-year-old mother of three, died in the shooting. Before the event's start Sunday, they sat at their daughter's cross, examining one more time the items left in her honor.
Chris Davis said the memorial and the people who visited it helped his family deal with their grief.
"Our family probably came down every other day to visit it, so it's a little bit hard today to see it go," he said. "Everybody we've met here has been amazing. And it's a horrible thing, and we keep coming back to where we say all these people were putting a little bit of light into our darkness. And we're hanging on to that."
Also attending was Greg Zanis, the Illinois carpenter who created the 58 crosses. County and state elected officials issued proclamations thanking Zanis.
"It's fitting that a carpenter is what helped bring us together," Clark County Commissioner Steve Sisolak said. "This has been a place of mourning, a place of reflection and a place of healing, and I don't think Greg fully understands the impact these crosses had on our community in the way it was able to bring us together."
Zanis also received an icon of the Virgin Mary from representatives of St. John the Baptist Greek Orthodox Church. A moment of silence included the reading of the name and age of every person killed in the shooting.
Zanis said that Sunday marked "the first time (his) crosses are being honored in a museum" and that he was humbled that his crosses became the basis of the memorial.
Twenty years ago, Zanis' father-in-law was killed in a home invasion. That moved him to honor every homicide victim in America with a cross.
Zanis said he has made 21,136 crosses — "I know exactly how many" — over the past 20 years.
Sadly, he said, after delivering crosses here, he made and delivered more crosses to Texas in connection with last week's church shooting in Sutherland Springs, in which 25 people and an unborn child were killed, and to New York for eight people killed in an Oct. 31 terrorist attack.
After the ceremony, county public works employees began moving the memorial, carefully lifting the crosses — complete with their accompanying flags, photos, ribbons and other adornments — and placing them in 2-foot-by-2-foot cardboard boxes.
The boxes were carried into one of two trucks and taken to the county museum, leaving the suddenly empty mound north of the welcome sign strewn with a curving line of dried flower petal pieces, loose change and ribbons.
Many people stayed after the ceremony to watch. A few dabbed their eyes; others watched silently.
After the half-hour trip to the county museum, the boxes were given to volunteers, who stripped the crosses bare and took them to the outdoor amphitheater stage. The boxes were then marked with the names of their corresponding shooting victim to await cataloging.
Cyndi Sanford, the museum's registrar, said cataloging would take months, a year, maybe longer. Also to be cataloged, she said, are items taken from another impromptu memorial on Reno Avenue and Las Vegas Boulevard and delicate items that, it was feared, wouldn't survive outdoors.
Sunday's effort focused primarily on relocation of the crosses and allied items, said Mark Hall-Patton, Clark County museums administrator. Other items — banners and items hanging on the memorial area's fence, for example — will be removed this week.
Contact John Przybys at reviewjournal.com or 702-383-0280. Follow @JJPrzybys on Twitter.