Site of Las Vegas shooting faces a cloudy future
October 20, 2017 - 3:50 pm
Updated October 21, 2017 - 4:12 pm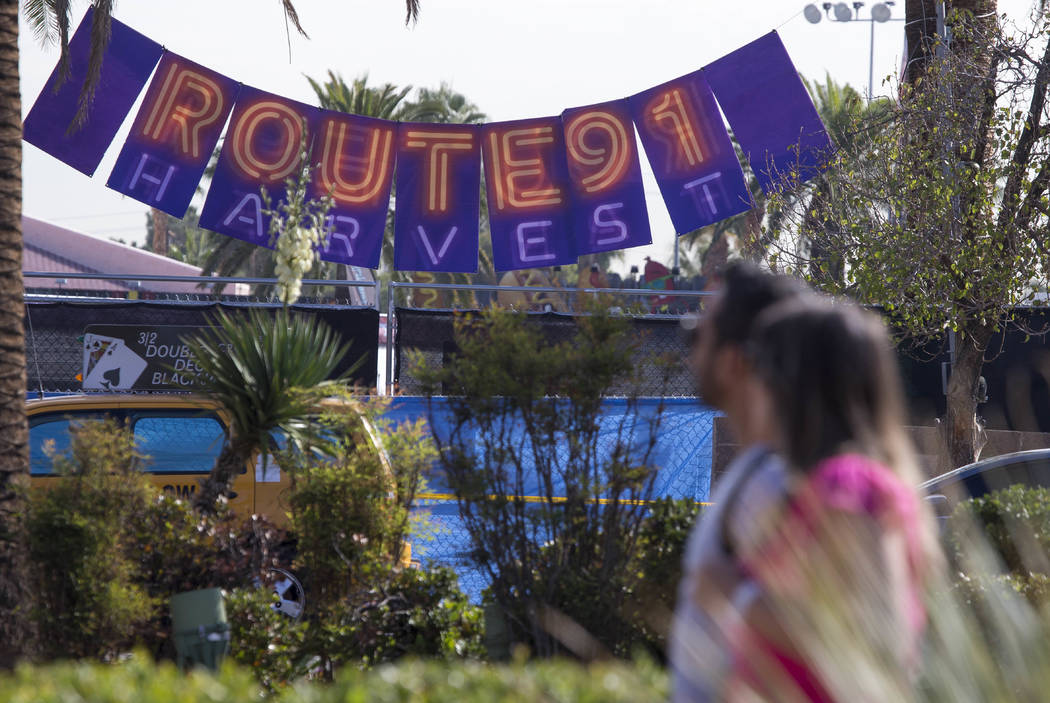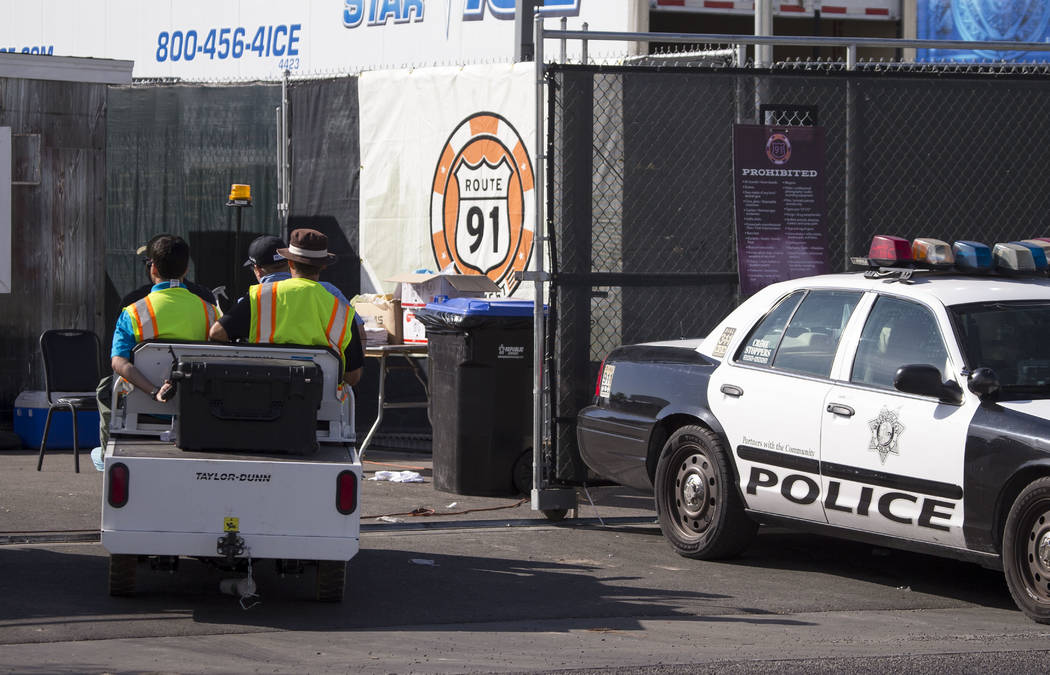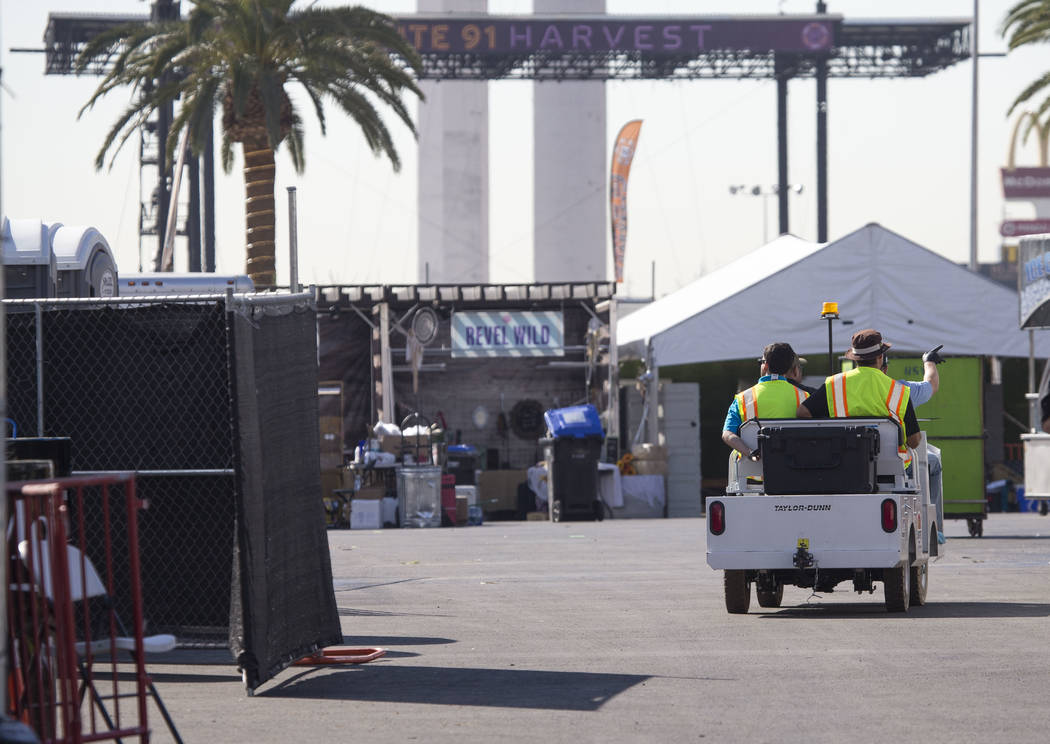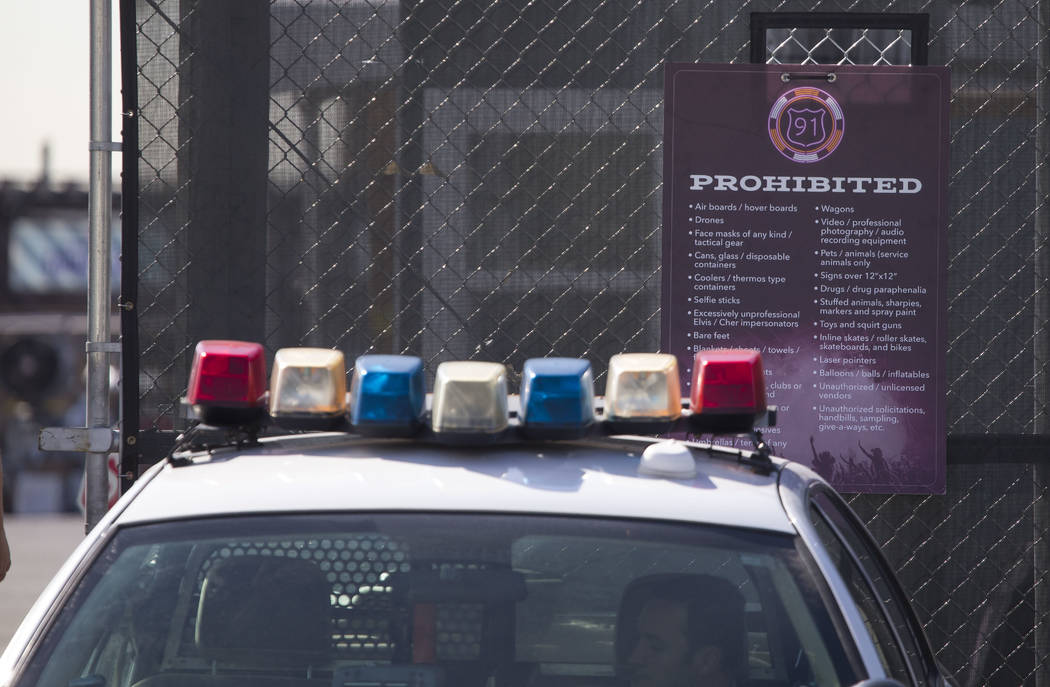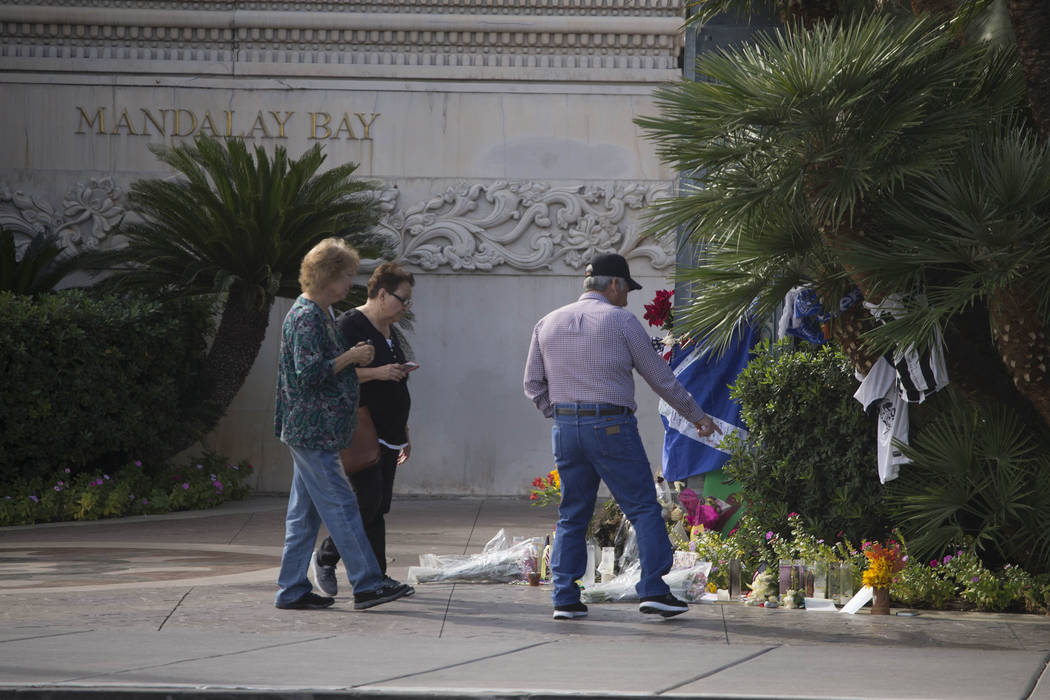 With yellow police tape draped about and squad cars parked outside, the Las Vegas concert venue where 58 people were killed remains an active crime scene nearly three weeks after the shooting.
But when police leave and the Route 91 Harvest festival signage is taken down, property owner MGM Resorts International will have to figure out what to do with the site.
It has a number of options. The open-air venue, known as Las Vegas Village, could hold more shows, have a memorial, be put up for sale, be developed, or reverted to its prior use, a parking lot.
But questions remain. If MGM wants to host concerts, when would it feel appropriate to bring them back? Would concertgoers show up or stay away for fear of another shooting?
If a memorial is built, should it occupy all or part of the 15-acre site? And if MGM tries to sell it, would investors want a property that was the site of the deadliest mass shooting in modern U.S. history?
Real estate broker Michael Parks, whose girlfriend was at the concert but escaped unharmed – other friends of his were there as well, and none were injured – said the question of the site's future has "been a discussion" with friends and colleagues.
A member of CBRE Group's global gaming group, Parks said part of him feels that MGM should keep holding festivals at the south Strip property to show that "one crazy person" — the gunman — can't "ruin things for everyone in the future." But, being sensitive to victims, he added, "Is that the right thing?"
He said a portion of the site could have a memorial but it's probably unlikely that MGM would dedicate the entire property for it.
Land sales on the Strip have been slow, so finding a buyer may have been tough anyway.
Some investors may not want the site because of the massacre, but Parks said others could still be interested in the property, which is walking distance from megaresorts, and that a hotel or retail project could work there.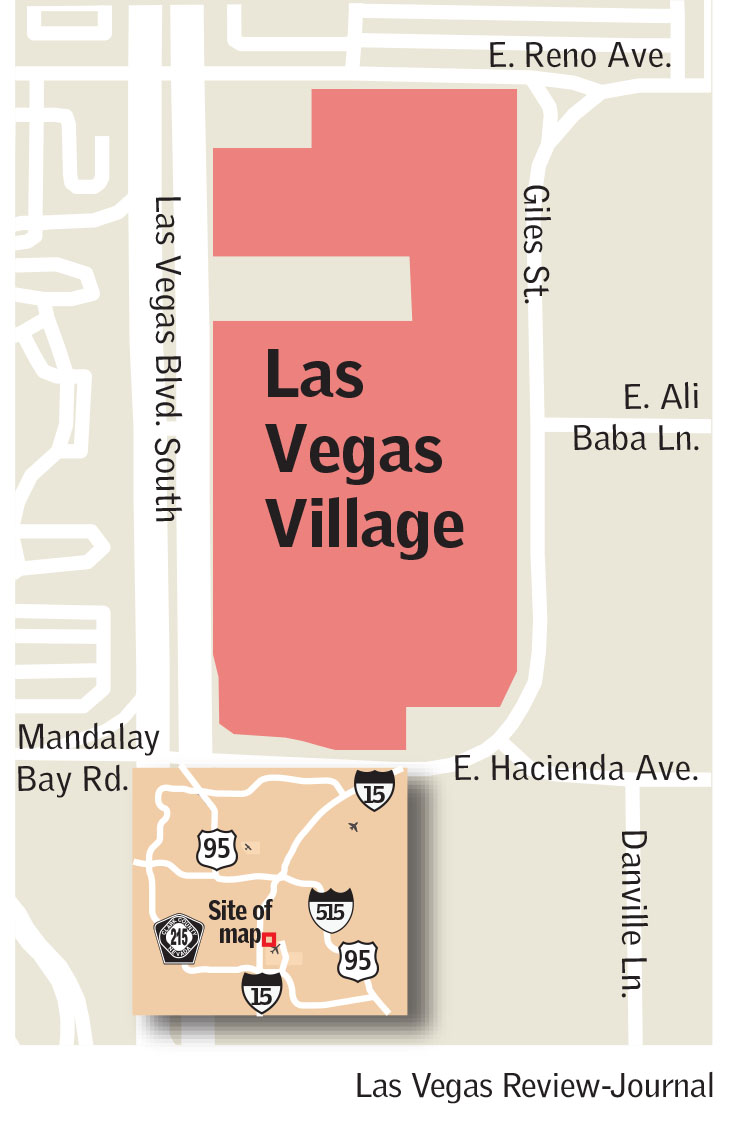 'Kind of on the edge'
Clark County Commissioner Jim Gibson, whose district includes the venue, said people are thinking about the site's future but that it's too early to find an answer.
The investigation still is underway, and Gibson noted that victims remain in the hospital, several of whom are "kind of on the edge."
More than 500 people were injured in the Oct. 1 attack. As of Friday, 10 people still were hospitalized in the Las Vegas Valley, four of whom were in critical condition, local hospitals reported.
Gibson figures MGM executives are "nowhere near focused on the use of this property," adding, "I think I'm fine with that."
MGM also owns Mandalay Bay, the hotel where the shooter, identified as 64-year-old Stephen Paddock of Mesquite, broke through two windows in a 32nd-floor suite and sprayed bullets across Las Vegas Boulevard at the concert.
In a statement sent by public relations firm Joele Frank, MGM said: "We will make decisions regarding the future of Las Vegas Village after careful consideration and at the appropriate time."
It added that its focus continues to be supporting victims and their families, its guests and employees, and "cooperating with law enforcement with their ongoing investigation."
Officer Larry Hadfield, a spokesman for the Metropolitan Police Department, said on Thursday that he had "no idea" how long the concert venue would remain a crime scene, adding it would stay that way "until they're done."
'You can't live in fear'
MGM acquired the property, across from the Luxor, as part of its 2004 acquisition of casino operator Mandalay Resort Group. By 2013, it was seeking county approvals to turn the parking lot into a fairgrounds for concerts, festivals and other outdoor events.
The site was hosting events by 2014, including, that October, when the inaugural Route 91 Harvest country music festival took place.
Felix, who was visiting from California and declined to give his last name, was outside Mandalay Bay on Thursday at a memorial for the shooting. He said there should be a grieving period but that concerts should eventually return.
"We can't let someone like that hold us back," he said of the gunman.
Bruce and Nora Greatrix, visiting from Ontario, Canada, arrived in town Wednesday night. They booked the trip before the shooting but didn't think about canceling.
"You can't live in fear," Nora said.
Bruce, a deputy fire chief in Belleville, Ontario, said a memorial at the concert venue would be great, but he wasn't sure whether it should occupy the whole property.
Back home, he was glued to watching news of the shooting. Weeks later, he and his wife settled into their hotel room in Las Vegas — on the 31st floor of Mandalay Bay.
Contact Eli Segall at esegall@reviewjournal.com or 702-383-0342. Follow @eli_segall on Twitter.