Aggies grind out league title
October 31, 2014 - 12:19 am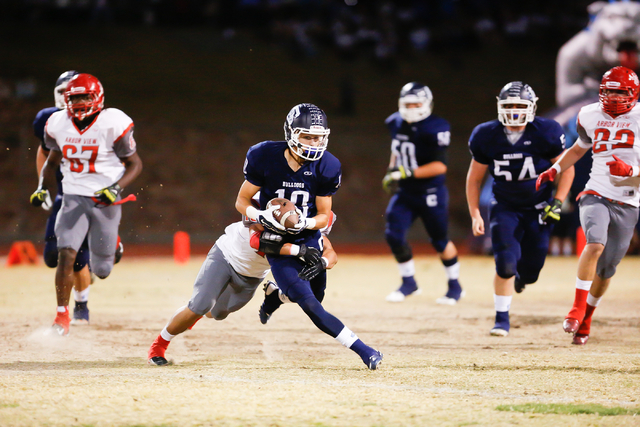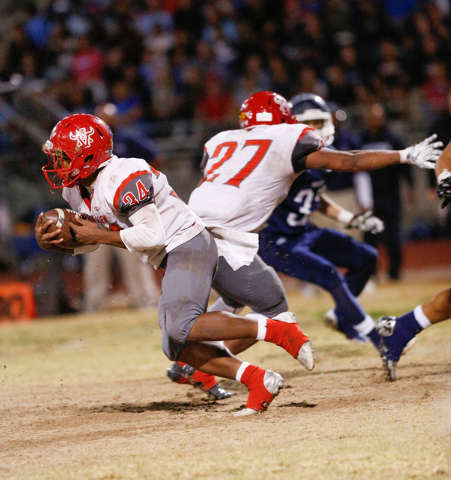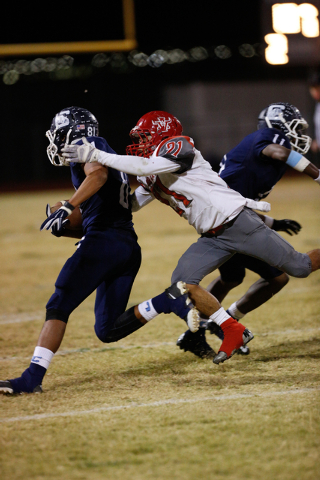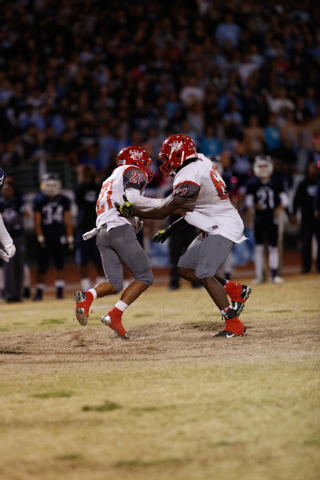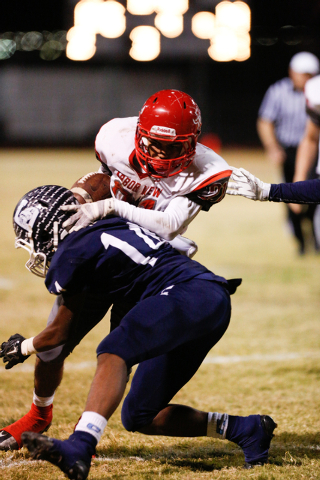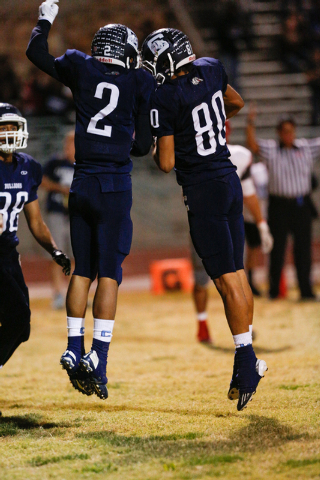 Two big plays accounted for all of Arbor View's offense during the first half Thursday night.
During the second half, it was back to the familiar for the Aggies.
Charles Louch rushed for 174 yards, and Herman Gray capped a pair of clock-eating drives with 1-yard touchdown runs as Arbor View defeated host Centennial 21-16 to close out an undefeated regular season and win the Northwest League title.
"For us to finish undefeated is like a dream come true," said Louch, who rushed for 95 yards in the second half. "I've never had something like this happen, on top of (beating) Centennial, our biggest rival. It couldn't have been any more special."
The second-ranked Aggies (9-0, 4-0 Northwest) trailed 10-7 at the half, but opened the third quarter with a 12-play, 80-yard drive that consumed 6 minutes 15 seconds.
Louch carried four times for 49 yards on the drive, which was capped by Gray's first TD to make it 14-10.
"All we talked about (at halftime) is the offensive line, move the defensive line," Louch said. "Holes started opening up and we started hitting sweeps to the outside. They'd fly up, cut right inside and then it's off to the races."
Aggies coach Dan Barnson said his team was confident at halftime despite collecting all 132 of its yards on two plays.
"It was the calmest halftime we've probably had all year," Barnson said. "There was more craziness in our 50-0 halftime Bonanza game than there was in this game, because we knew our stuff worked."
Arbor View's double-wing offense worked like a charm after halftime, churning out 189 yards on the ground and allowing the Aggies to control the ball. After the 12-play drive that gave them the lead, they added a 15-play, 80-yard drive that took 8:23 that essentially sealed the victory.
Gray's second TD capped that drive and made it 21-10 with 2:48 to play.
"We're a ground-and-pound offense," Louch said. "We chew up clock. We're 10-, 15-play drives eating up six, seven minutes. And that's our offense."
Things got a little interesting after Arbor View's last touchdown. Dieyon Scott returned the ensuing kickoff 36 yards to the Aggies 44, and a personal foul moved it to the 29 to start the drive.
Two plays and 24 seconds later, third-ranked Centennial (8-1, 3-1) scored when Juan Rodriguez hit Brandan Harley with an 8-yard TD pass to cut the lead to 21-16.
But the onside kick attempt went out of bounds, and Arbor View was able to get two first downs and run out the clock. Gray converted on third-and-3 with a 3-yard run, then added a 12-yard run for another first down and the Aggies were able to kneel on the ball.
"To me, that's what our program is about," Barnson said. "We needed one first down and we got two."
Gray, who entered leading the area in rushing with 1,325 yards, was held to 5 yards on eight carries during the first half. But Louch, who also had a 72-yard run in the first half, picked up the slack in the second half.
"That was almost the key plan," Louch said. "We noticed at halftime they were keying on Herman. The first thing we do is sweep right to my side and open some things up for Herman. And as you could see that last side it started opening some things up for him and he was going."
Gray finished with 65 yards on 24 carries for the Aggies, who scored on their opening possession on a 60-yard pass from Bryce Poster to Maurice Harvey. It was one of only two passes the Aggies attempted.
Rhamondre Stevenson rushed for 107 yards, including a 59-yard touchdown, to lead Centennial.
"It's a long journey to go 9-0, it really is," Barnson said. "Besides the big one up on the hill (Bishop Gorman), I don't know who's going to do that. And we're very proud of that. These kids will remember that forever."
Contact reporter Damon Seiters at dseiters@reviewjournal.com or 702-380-4587. Follow him on Twitter: @DamonSeiters.