Judge finds Bishop Gorman's Kenny Sanchez not guilty of domestic violence
Updated May 30, 2017 - 10:29 pm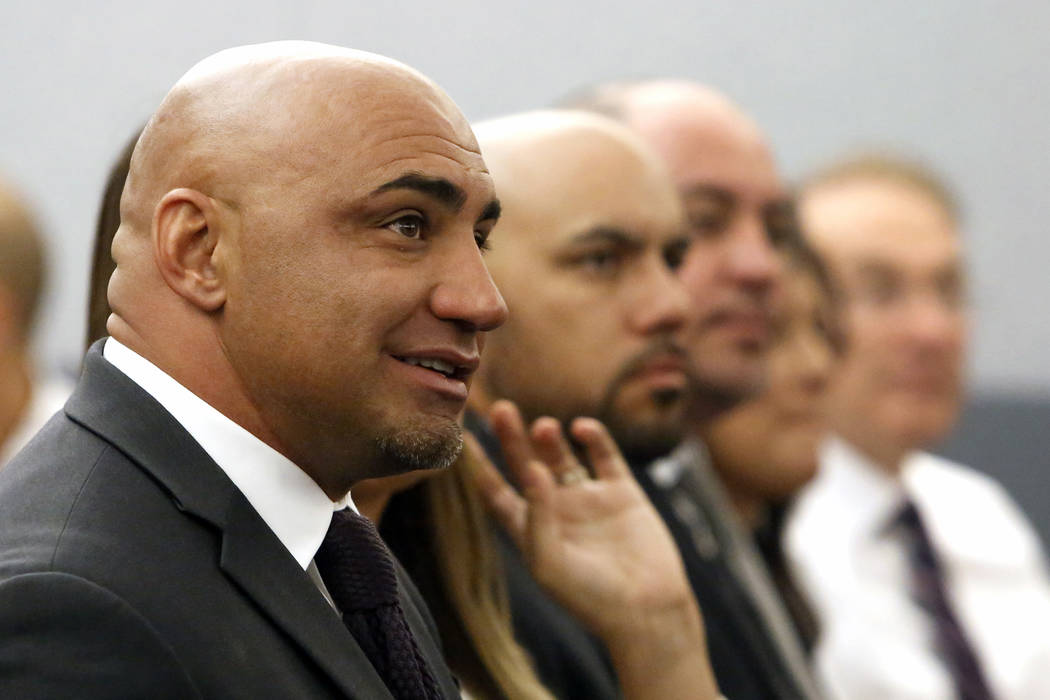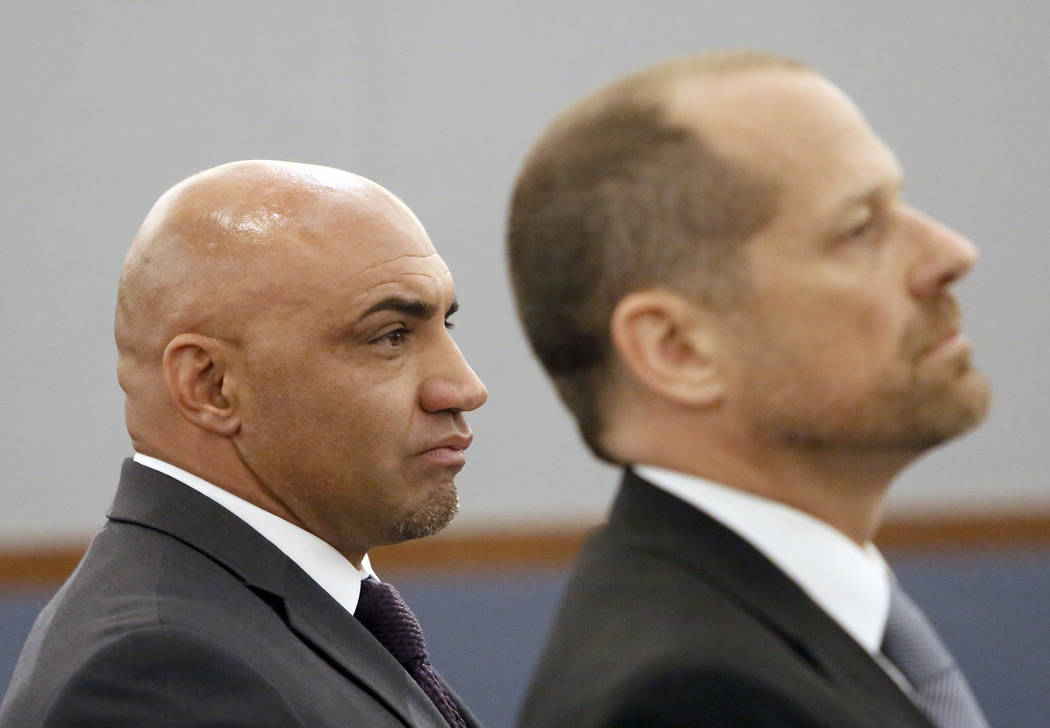 Kenny Sanchez, the head coach of Bishop Gorman High School's state champion football team, was found not guilty Tuesday of domestic violence.
After a short bench trial, Las Vegas Justice of the Peace Amy Chelini said she believed Sanchez was falsely accused by his former fiancee, Brooke Stewart, who testified that she fabricated a story of abuse.
"I don't see any evidence whatsoever of a punch in the face, not even a slap," the judge said. "This, in my opinion, goes right to 'hell hath no fury like a woman scorned.' She was pissed, and she made you pay."
Defense attorney Ross Goodman had argued that there was no evidence of Stewart being attacked during a dispute on Christmas Day at Stewart's home.
"There's no victim in this case except for Mr. Sanchez," he said.
The judge pointed to police photos of Stewart taken after she called 911 and reported that Sanchez had punched her in the face, thrown her to the ground and pulled out her hair extensions at her residence in the southeast valley. Sanchez had gone there to pick up their toddler son under a custody agreement.
Stewart told a 911 operator that Sanchez had left her home about five minutes before the phone call, which was played in court.
"I just got assaulted. … He punched me in the face. He pushed me down to the ground," she said, crying and telling the operator she wanted Sanchez arrested. "I'm going to press charges."
She later recanted the allegations. On the witness stand Tuesday, Stewart testified that she had been drinking and taking medication for depression and anxiety at the time. She was distraught over the anniversary of her mother's death and had hoped to reconcile with Sanchez during the holiday, she said.
Sanchez, who denied ever attacking Stewart, testified that they quarreled verbally before he arrived at her home.
"I handled the situation poorly as far as how I talked to her," he told the judge.
Chelini said she was not convinced beyond a reasonable doubt that Sanchez committed a crime.
"You didn't get away with it just because you happen to coach a good football team," Chelini told Sanchez. "Because I couldn't care less about the football team you coach. I want you to know that."
Sanchez, who remains suspended from his job at the high school, has been the head coach for two years.
Outside court, Sanchez said he did not think Stewart should be punished for filing a false police report.
He told reporters he wanted to return to the gridiron.
"In all essence, I did nothing wrong," Sanchez said. "Hopefully, I get back with my boys pretty soon and get on the field."
He told reporters that he planned to remain in contact with Stewart while raising their son.
"What I learned is that forgiveness is a great thing," Sanchez said. "She came out and recanted right away, and she came in and testified to what the truth actually was. We're going to move on through this together as a family, and I'm going to support her in any way I can."
Bishop Gorman President John Kilduff and Director of Athletics Sally Nieman did not immediately respond to requests for comment on the outcome of the case.
The Rogich Communications Group, a public relations firm representing the school, said Bishop Gorman officials will not comment on the case until they complete an internal review and meet with Sanchez.
Review-Journal staff writer Damon Seiters contributed to this story. Contact David Ferrara at dferrara@reviewjournal.com or 702-380-1039. Follow @randompoker on Twitter.
RELATED
Bishop Gorman football coach faces domestic battery charge
Bishop Gorman suspends football coach Kenny Sanchez
Bishop Gorman response to Kenny Sanchez arrest will show priorities