Roundup: Cynthia Barrientos keys Eldorado shutout
October 18, 2018 - 5:42 pm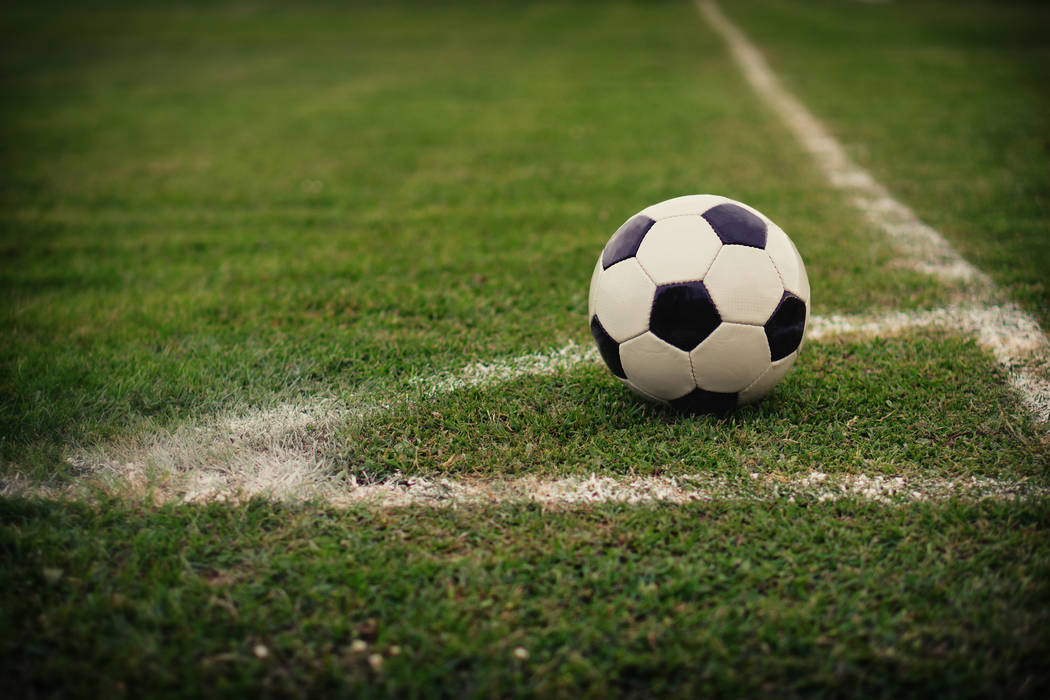 Eldorado's Cynthia Barrientos had 12 saves Thursday as the Sundevils earned a 1-0 girls soccer win over visiting Bonanza.
Isabella Sama scored off an assist from Angelica Lamas with 17 minutes left for the game's lone goal.
Arbor View 2, Las Vegas 0 — At Arbor View, Amber Mallas and Brynn Convington each supplied a goal, as the Aggies blanked the Wildcats.
Abby Casano had an assist for Arbor View, which got the shutout in goal from Krystin Cooper.
Legacy 6, Canyon Springs 1 — At Canyon Springs, Gabriella Lancaster had three goals and an assist to help the Longhorns beat the Pioneers.
Krystal Rodriguez, Isabella Donoso and Karina Reynoso-Parra each scored one goal, and Donoso had two assists.
Shadow Ridge 9, Cheyenne 0 — At Cheyenne, Alexis Ponce and Bella Alacron each scored twice as the Mustangs defeated the Desert Shields.
Alicia Ypina added a goal and two assists, and Taylor Lee had a goal and an assist for Shadow Ridge, which led 8-0 at the half.
Emily Segura, Trinity McDowell and Ivy Roman each added a goal, and Alyssa Belcher had three assists for the Mustangs.
Tieg Simmons was credited with the shutout.
Centennial 9, Cimarron-Memorial 0 — At Centennial, Marcella Brooks scored four goals, had an assist and made school history as the Bulldogs blanked the Spartans.
Brooks now has 27 goals this season. The previous school record for a single single was 25.
Molly Rosas added two goals, Amanda Page had a goal and an assist, and Quincy Bonds and Kayla Combs each scored a goal for Centennial.
Lauren Levoyer had two assists for the Bulldogs.
Amaya Pidsosny had an assist and made seven saves to record the shutout.
Faith Lutheran 7, Desert Pines 0 — At Desert Pines, Amelia McManus supplied two goals and two assists, as the Crusaders routed the Jaguars.
Maggie Shuirman, Riley Divich, Alexia Millero, Zoie Abdo, and Mackenzie Folk each added a goal for Faith Lutheran. Camille Longbardi had two assists for the Crusaders, and Jordan Brown and Naia Mesalic combined on the shutout.
Pahrump Valley 2, Sky Pointe 0 — At Sky Pointe, Hannah McElheny made 21 saves to preserve the shutout a the Trojans beat the Eagles.
Kimberly Ramos scored both goals for Pahrump.
Palo Verde 7, Rancho 0 — At Palo Verde, Carlee Giammona scored three goals to lead the Panthers past the Rams.
Sharlene Schaaf had a goal and an assist, and Kassidy Sayles, Natalia Lopez and Ariana Virela each scored one goal for the Pao Verde.
Sarah Saxe had one save to record the shutout for the Panthers.
Moapa Valley 8, Mojave 0 — At Moapa Valley, Italia Bracamontes had two goals and an assist, and teammate Peyton Schraft scored two goals to lead the Pirates to an easy win over the Rattlers.
Katelyn Hopkins, Makenzie Staheli, Sierra Staheli, and Ashlyn Western each scored once for Moapa Valley. Lainey Cornwall had two assists for the Patriots.
Box scores:
Centennial 9, Cimarron-Memorial 0
Faith Lutheran 7, Desert Pines 0
Pahrump Valley 2, Sky Pointe 0