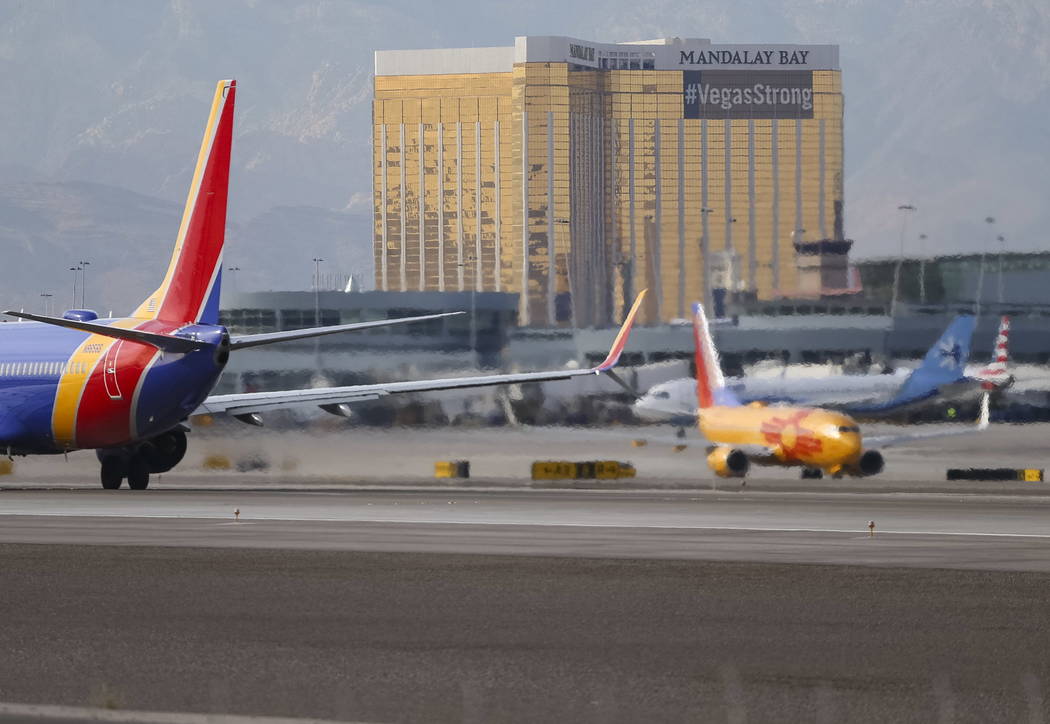 Motorists continued to dodge orange cones and discovered alternate routes amid the multiple road and freeway construction projects in 2017.
Transportation is always a popular topic for discussion in Las Vegas, where ride-hailing companies continued to make severe dents in ridership and revenue numbers for taxicabs, buses and the monorail.
We were finally able to drive along a small stretch of the new Interstate 11 near the Railroad Pass Hotel and Casino, with much larger segments expected to open in phases during the new year.
Las Vegas drove toward the future by testing technology that allows vehicles to "talk" to traffic signals in the Fremont East neighborhood, also known as the city's "innovation district."
While these were all noteworthy, five other topics hit a little closer to home by affecting our daily commutes and, in some cases, the regional economy.
Before driving full-speed into 2018, let's take a glance in the rearview mirror at some of Southern Nevada's most intriguing transportation stories of the past year.
Simultaneous closures
Transportation in Las Vegas came to a halt shortly after a gunman took aim at country music concertgoers on Oct. 1, killing 58 people and wounding more than 500 others.
About 300 people fleeing the shooting breached a nearby airport security fence, ran onto the tarmac and eventually brought takeoffs and landings to a halt for more than two hours, forcing the diversion of 25 flights into Las Vegas.
Additionally, long segments of Interstate 15 and Las Vegas Boulevards were closed to serve as wide passages for police, fire and paramedic crews traveling between hospitals and Las Vegas Village, where the Route 91 Harvest festival was held.
It would take 44 hours for Las Vegas Boulevard to completely reopen to vehicles.
The simultaneous disruption at the airport and closures of the Strip and I-15 were likely a first for Las Vegas, according to several local transportation officials.
Grim milestone
Clark County crossed a grim threshold this year by logging its deadliest year on record for pedestrians.
So far, 76 pedestrians had been fatally struck as of Wednesday afternoon, handily eclipsing the previous all-time high of 60 in 2015, according to the latest figures provided by the state's Office of Traffic Safety.
High-speed roads, a scarcity of crosswalks, poorly lit streets and, in some cases, inattentive drivers and pedestrians contributed to the gradual rise in deaths, said Erin Breen, head of the Vulnerable Road Users Project at UNLV.
Waiting on a record
The final numbers are still being tallied, but McCarran International Airport likely broke a 10-year-old record for passenger traffic in 2017.
More than 44.67 million airline passengers had flown in or out of the Las Vegas airport by the end of November, about 3.2 million shy of the full-year record of 47.8 million passengers set in 2007. Even though the numbers for December 2017 won't be available for a few more weeks, records show that McCarran served 3.7 million passengers in December 2016.
The airport also got some new amenities, including a designated area for pets to take potty breaks, lactation pods where mothers can privately breast-feed their children, and some odd-looking hologram "workers" who provide directions to lost travelers.
Airport officials also completed a $51 million project that doubled the number of international airline gates in the D-Gate concourse, which link a new 995-foot-long corridor to a U.S. Customs and Border Protection station in Terminal 3.
Drivers got pinched
Downtown Las Vegas commuters managed to work through the pain of an eight-month pinch known as the "Big Squeeze."
U.S. Highway 95 lost a traffic lane in each direction between Interstate 15 and Rancho Drive, allowing crews to split the northbound and southbound lanes by roughly 70 feet.
That created enough room to build an 81-foot-tall flyover ramp that will have one lane for drivers headed from southbound U.S. 95 to southbound I-15 and another lane connecting northbound I-15 to northbound U.S. 95.
The Big Squeeze and its predecessor, "Carnado," fall under the larger umbrella of Project Neon, a $1 billion effort to redesign the Spaghetti Bowl interchange and add traffic lanes from it to Sahara Avenue by fall 2019.
A third and final yet-to-be-named monstrous closure is scheduled to start in March, according to the Nevada Department of Transportation.
Surveillance goes live
Before Oct. 1, another shooting on the Strip led to some changes by the Regional Transportation Commission of Southern Nevada.
Even though surveillance cameras are mounted inside local buses, Metropolitan Police Department officers could not see a gunman barricaded inside an RTC bus during a lengthy standoff, which brought traffic along the Strip to a halt March 25.
That's because cameras in local buses were only capable of recording images that could be viewed later.
The Police Department's inability to view the gunman prompted the RTC to install the necessary equipment to provide real-time camera feeds from the agency's fleet of 440 buses by mid-January.
Questions and comments should be sent to roadwarrior@reviewjournal.com. Please include your phone number. Follow @RJroadwarrior on Twitter.
Road work ahead
Downtown
— Main Street is restricted between Bonneville Avenue and Las Vegas Boulevard through May. Crews are working on a storm drain.
— Sections of Bonneville Avenue, Charleston Boulevard, Grand Central Parkway and Martin Luther King Boulevard will have closed or disrupted lanes surrounding the Spaghetti Bowl as crews work on Project Neon through July.
Henderson
— Center Street is restricted between Burkholder Boulevard and Lake Mead Parkway through June. Crews are making various road improvements.
North Las Vegas
— Nellis Boulevard is restricted between Cheyenne Avenue and Las Vegas Boulevard from 6 a.m. to 3:30 p.m. weekdays through July. Crews are installing sewer pipes.
Gasoline prices
The average gasoline price Friday in the Las Vegas Valley was $2.58 per gallon. It was $2.65 in Nevada. The national average of $2.48 is unchanged from a week ago, down 7 cents from a month ago and up 23 cents from a year ago.