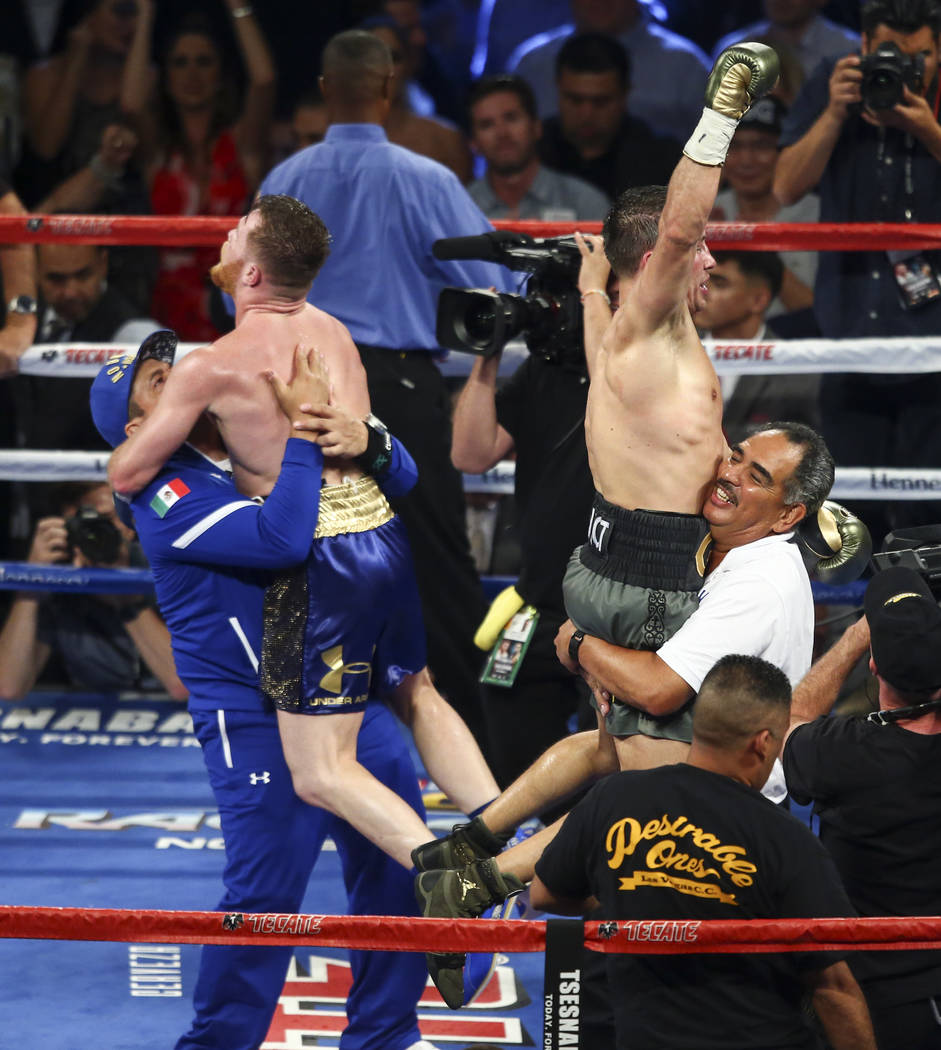 The deadline arrived Wednesday and Gennady Golovkin still said no to Golden Boy Promotions' so-called final offer to fight Saul "Canelo" Alvarez in a highly lucrative boxing rematch.
Golovkin wasn't going to budge an inch more than he already had. And the gamble paid off, as Golovkin came to an agreement to meet Alvarez for an HBO pay-per-view middleweight title showdown Sept. 15 at T-Mobile Arena.
Oscar De La Hoya, Alvarez's promoter and CEO of Golden Boy Promotions, announced the deal Wednesday on his Twitter account.
I'm happy to inform that we have a fight September 15!!!! #CaneloGGG2
Feliz De informar que si tenemos pelea Septiembre 15!!! #CaneloGGG2 pic.twitter.com/gI3QmR0eXe

— Oscar De La Hoya (@OscarDeLaHoya) June 13, 2018
"I'm happy to inform that we have a fight September 15," De La Hoya's tweet said.
On Tuesday, Golden Boy Promotions president Eric Gomez told reporters that Golovkin had until noon Wednesday to agree to a 57.5-42.5 money split with Alvarez taking the bigger share or the fall fight was off for good.
All eyes were on Twitter as the noon deadline approached. De La Hoya tweeted updates, such as, "Half hour to decide if the biggest fight in boxing will take place."
Golovkin rejected the offer and stood firm on a 45 percent split. It's unknown what the sides eventually agreed on, but Tom Loeffler, Golovkin's promoter, said his fighter got more than 42.5 percent.
"It was a dead deal at 12 o'clock noon," Loeffler said. "Eric and I were on the phone all morning, and we tried a few different solutions and we weren't able to come up with anything. It took 45 minutes (after deadline), and Eric came up with a new proposal that satisfied Triple G and that's when we were able to agree on it."
Tickets information wasn't announced Wednesday. Golden Boy is waiting to get approval from the Nevada Athletic Commission on Thursday to use T-Mobile Arena for the Mexican Independence weekend.
Loeffler said he had plans for Golovkin to fight Billy Joe Saunders in a middleweight unification bout if he didn't come to an agreement with Gomez.
De La Hoya told ESPN there was 100 percent no fight as the deadline passed. But minutes later, ESPN reported there was a final effort to get the deal done.
Loeffler provided optimism when asked if a deal with Alvarez had been reached.
"Not yet," Loeffler told the Review-Journal in a text message at 12:23 p.m.
Golovkin took a big financial risk saying no initially, but his principles were more important than money. The middleweight champion has received a series of bad breaks since doing business with the Mexican superstar.
"He stuck to his principles," Loeffler said of Golovkin. "He would have been just as happy fighting Billy Joe Saunders to unify against another undefeated champion. He had no problem saying no until he got what he wanted."
Golovkin took a split draw for the first fight against Alvarez nine months ago at T-Mobile Arena. Many viewed Golovkin as the winner, and it didn't help that Nevada judge Adalaide Byrd had a controversial scorecard of 118-110 for Alvarez.
Abel Sanchez, Golovkin's trainer, called Byrd corrupt during the postfight news conference.
Then there was the initial rematch that was scheduled for May 5 but canceled a month before the bout because Alvarez twice tested positive for the banned substance clenbuterol. Alvarez apologized to everyone but Golovkin.
Golovkin missed out on a massive payday and was put in a tough situation. At age 36, he didn't want to miss an opportunity to fight and wanted to give fans a bout to watch on the boxing holiday.
The Kazakhstan native took a fight with Vanes Martirosyan and knocked him out in the second round, but that eventually led to Golovkin being stripped of his IBF belt for not fighting mandatory challenger Sergiy Derevyanchenko.
With that, Golovkin's goal of unifying the middleweight division is now a pipe dream. So it was understandable when he requested a 50-50 split last month for all the trouble Alvarez has caused him since the canceled bout.
He budged again by coming off his even split demand, realizing that Alvarez is clearly the biggest draw in boxing, and drew his line at 55-45.
Alvarez, 27, also had a lot to lose by not making the rematch happen. He could make more than $40 million for fighting Golovkin. The backup plan was a bout against Daniel Jacobs for less than half of that.
Golovkin (38-0-1, 34 knockouts) has come a long way since agreeing to a 70-30 split for the first fight against Alvarez (49-1-2, 34 KOs). Now, with money no longer an issue, the fighters can settle what they started in the ring.
More boxing: Follow all of our boxing coverage online at reviewjournal.com/boxing and @RJ_Sports on Twitter.
Contact Gilbert Manzano at gmanzano@reviewjournal.com. Follow @GManzano24 on Twitter.
Alvarez-Golovkin timeline
Sept. 16: Golovkin and Alvarez settle for a controversial split draw at T-Mobile Arena with Nevada judge Adalaide Byrd stealing the headlines with a lopsided 118-110 scorecard in favor of Alvarez.
Jan. 29: Alvarez and Golovkin announce their May 5 rematch at T-Mobile Arena.
March 5: Golden Boy Promotions reveals that Alvarez twice tested positive for the banned substance clenbuterol in February in his hometown of Guadalajara, Mexico.
March 20: Golovkin accuses Alvarez of being on performance-enhancing drugs for the first bout.
March 23: The Nevada Athletic Commission temporarily suspends Alvarez and announces an April hearing for the Mexican boxer.
March 29: The MGM offers fans full ticket refunds in the first major sign that the rematch is on the verge of being canceled.
April 3: Alvarez speaks to the media for the first time since the positive drug tests during a Los Angeles news conference and withdraws from the May 5 rematch with Golovkin.
April 11: Golovkin cancels the May 5 bout at the MGM Grand a week after telling fans he plans to fight in Las Vegas.
April 18: The Nevada commission suspends Alvarez six months instead of a year, paving the way for a September rematch.
May 5: Golovkin salvages the boxing holiday date to record a second-round knockout against last-minute replacement Vanes Martirosyan at the StubHub Center in Carson, California.
June 6: Golovkin comes off a 50-50 purse split demand after the IBF stripped him of the middleweight belt. His promoter, Tom Loeffler, and Golden Boy Promotions returned to the negotiation table.
June 13: Golovkin and Alvarez agree to a rematch Sept. 15 at T-Mobile Arena.