3 takeaways from Knights' win: Happy returns push team past Penguins
Updated January 5, 2023 - 11:00 pm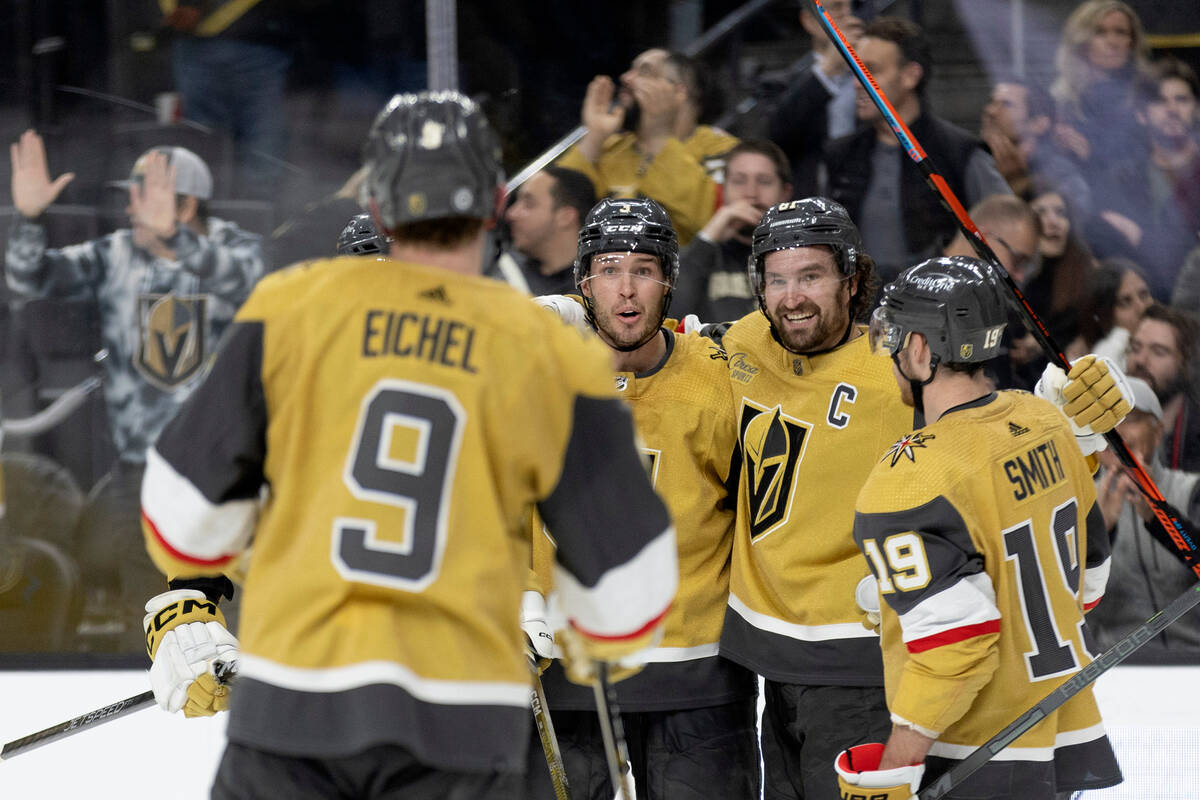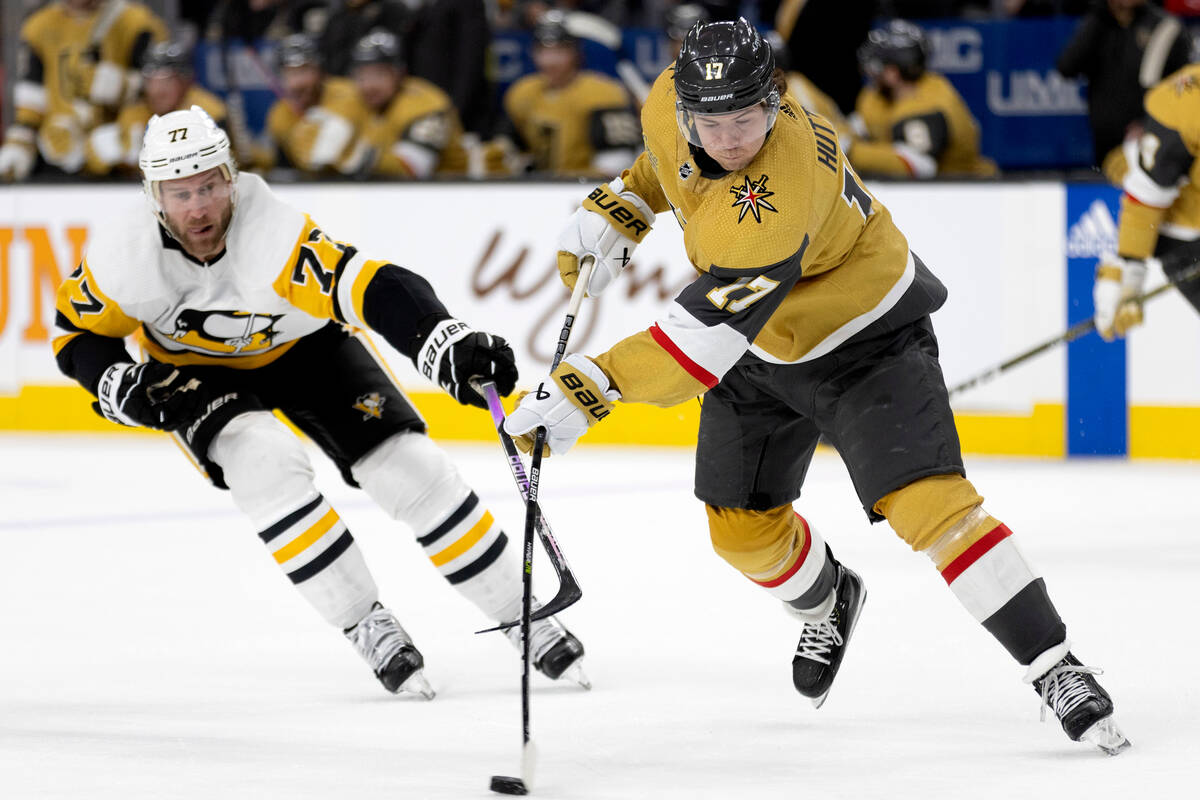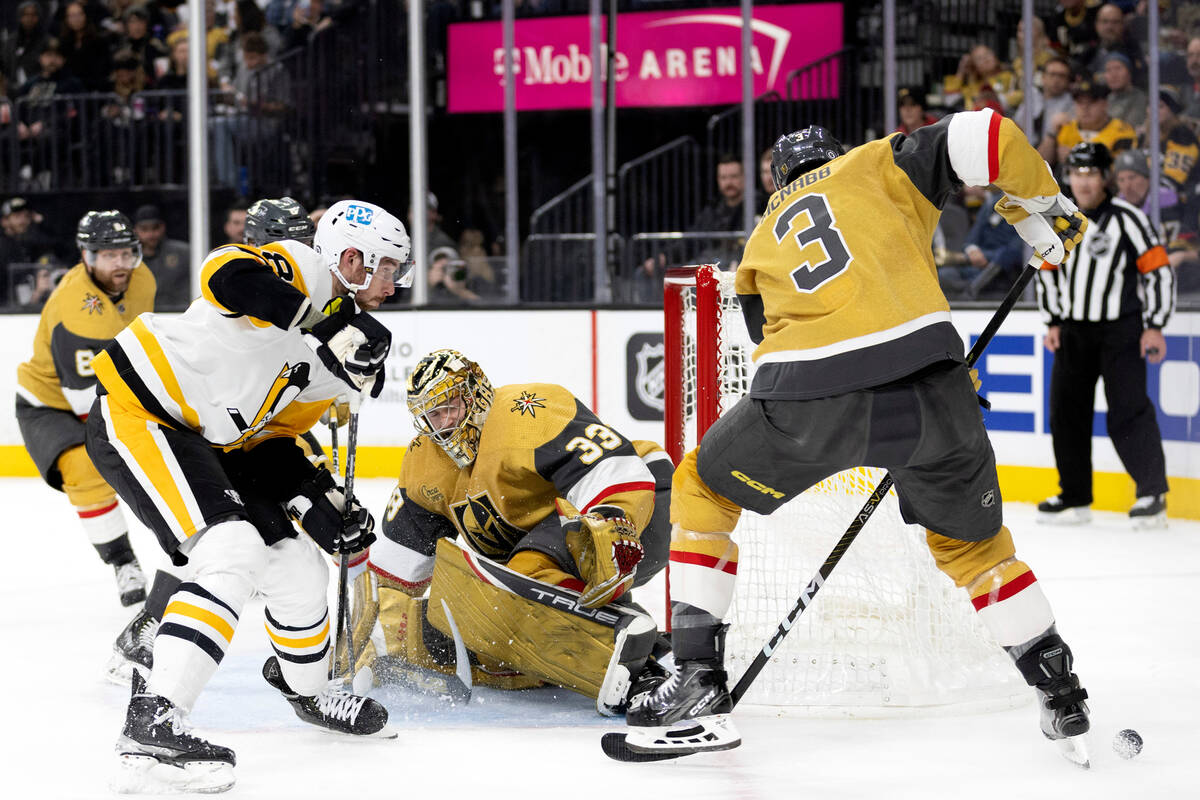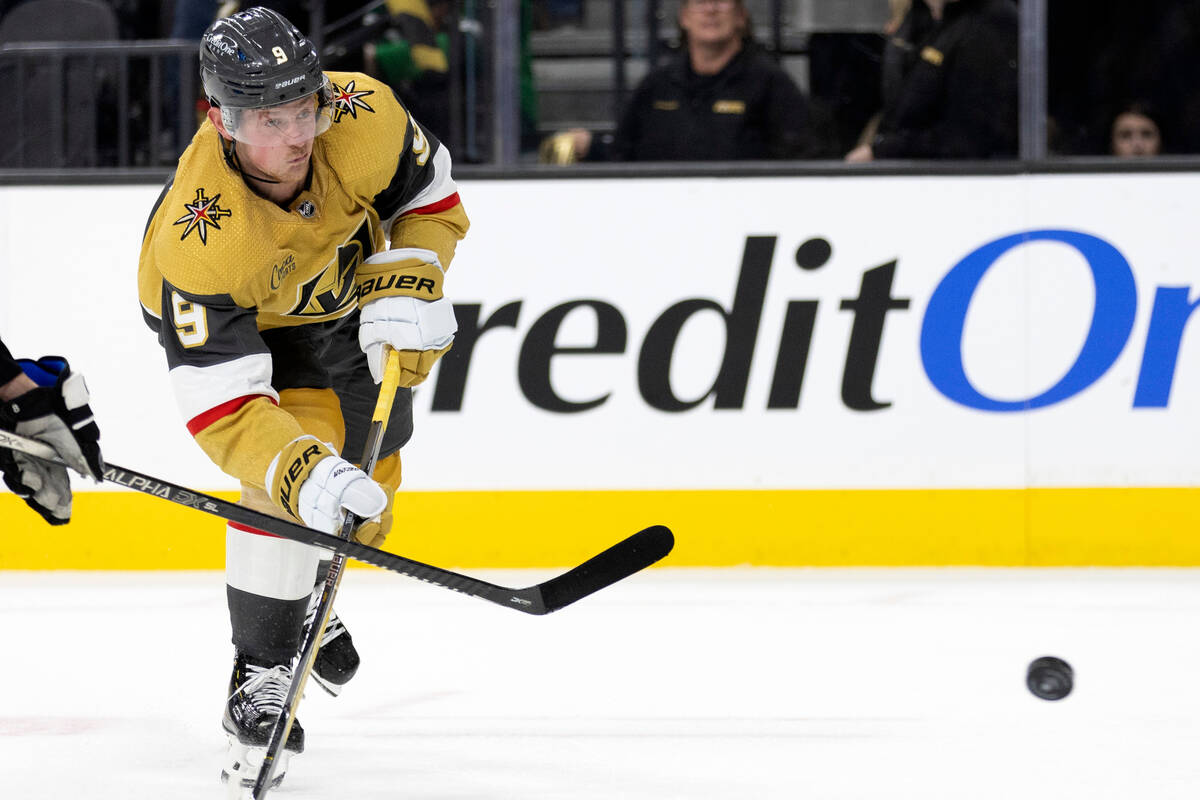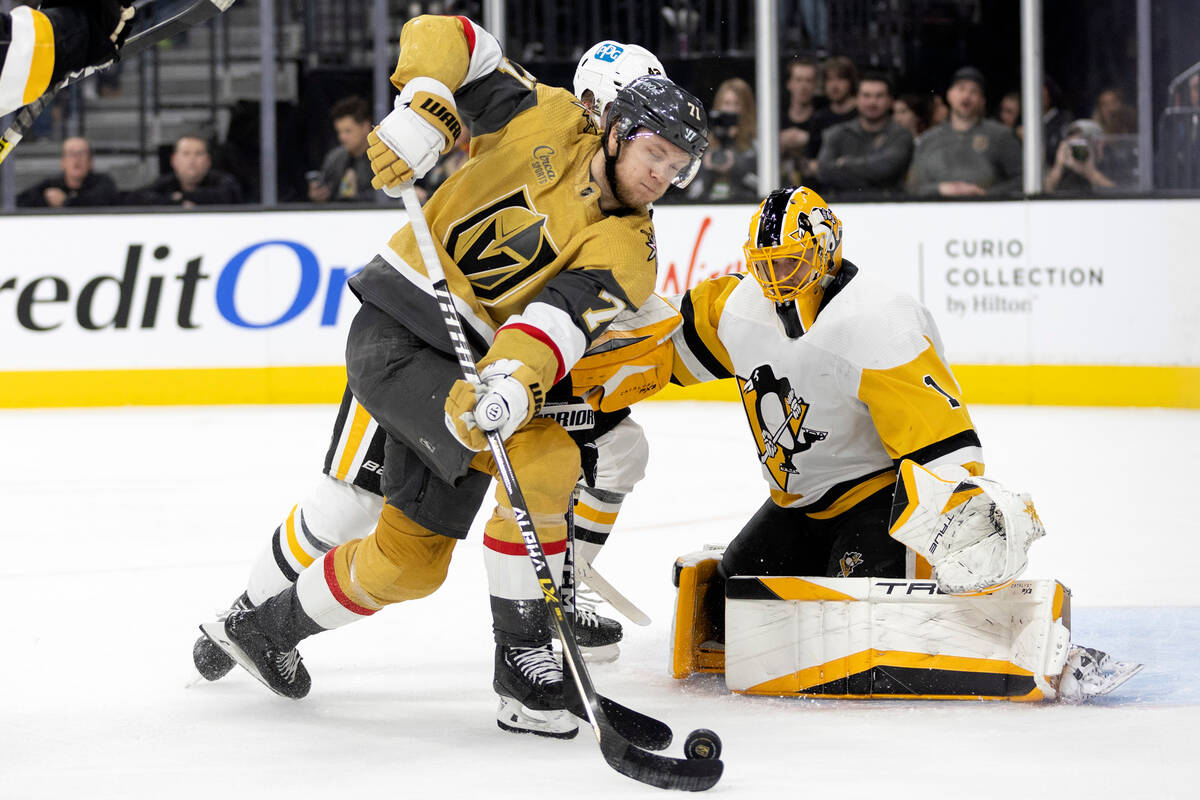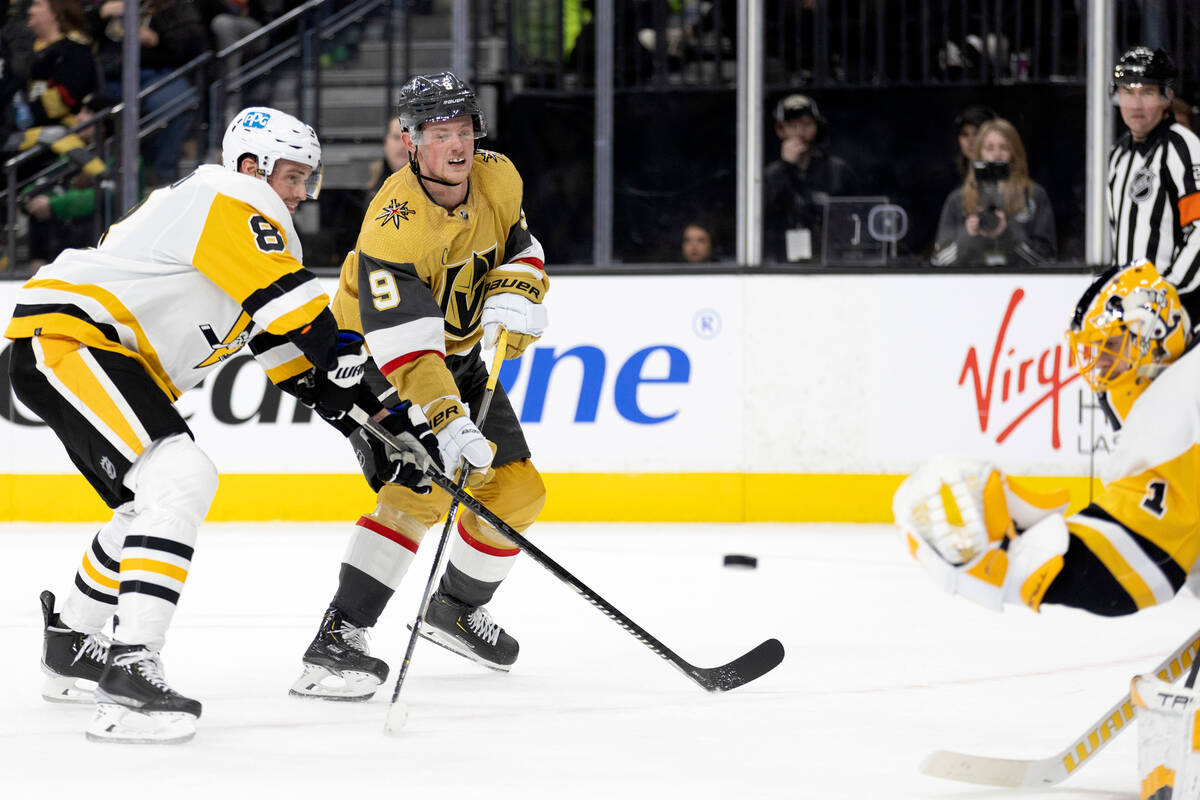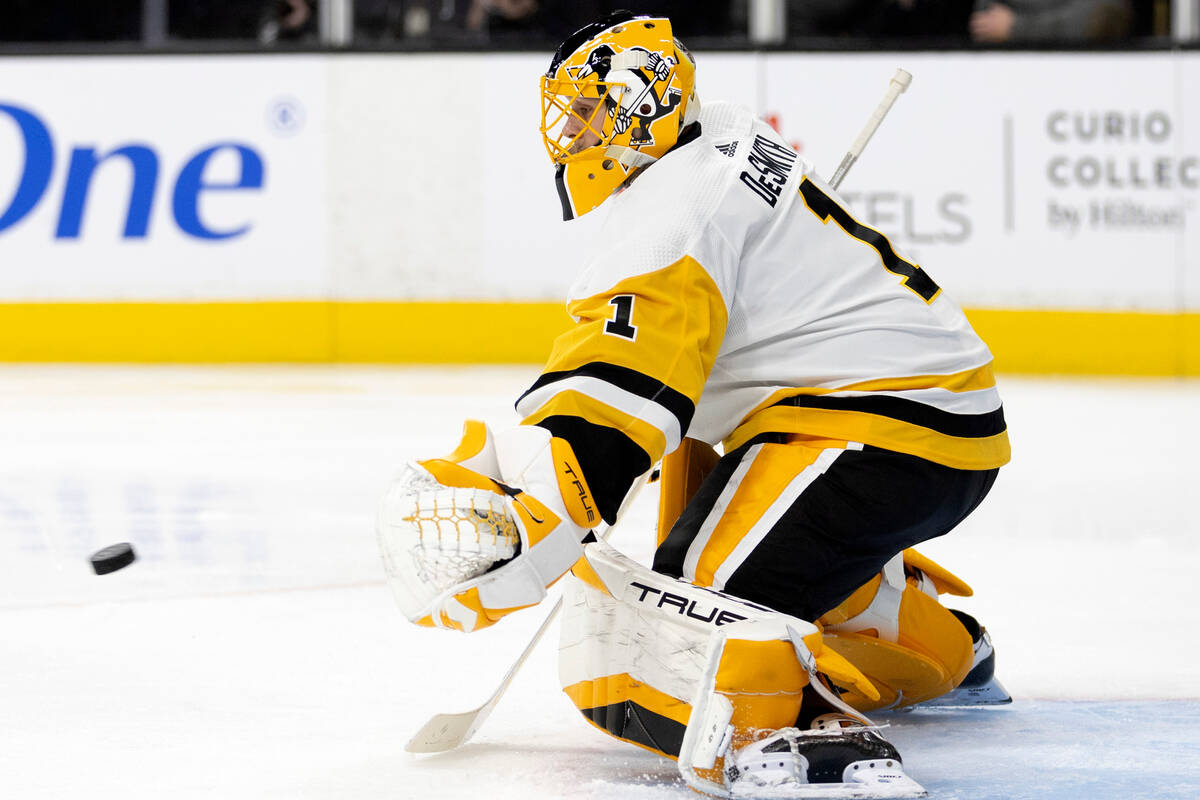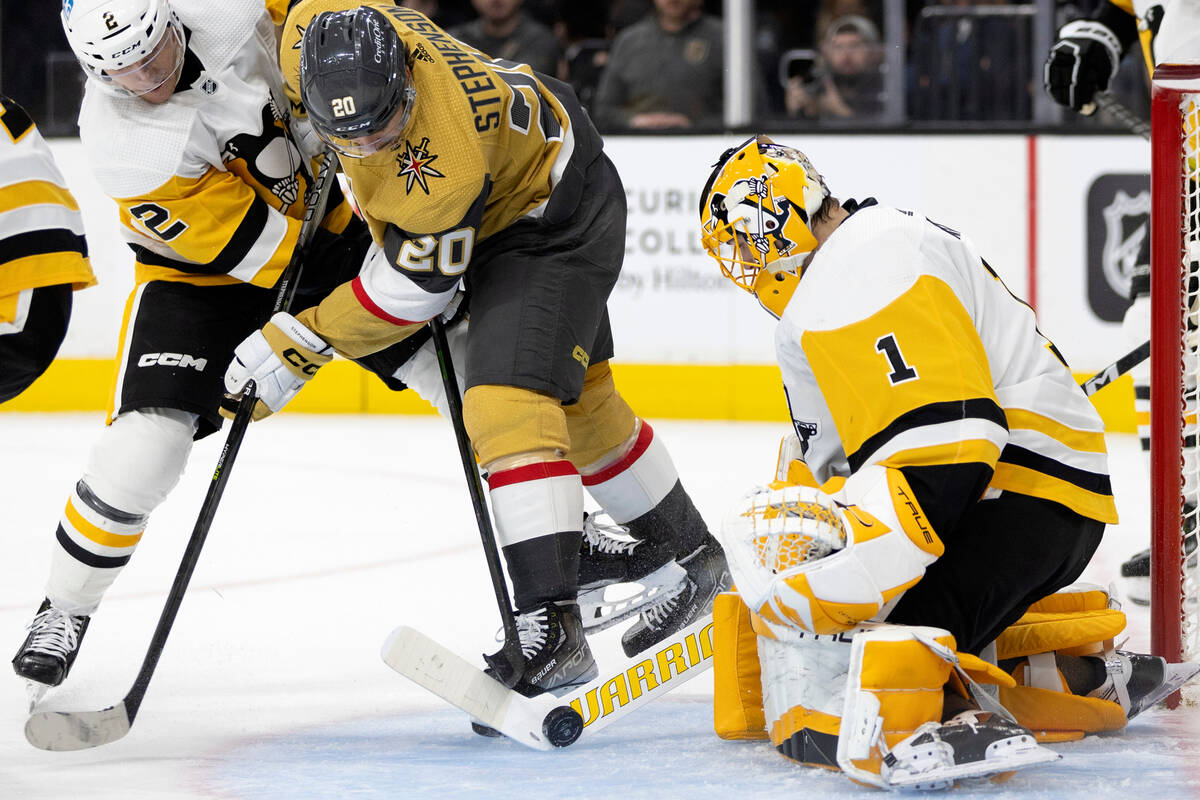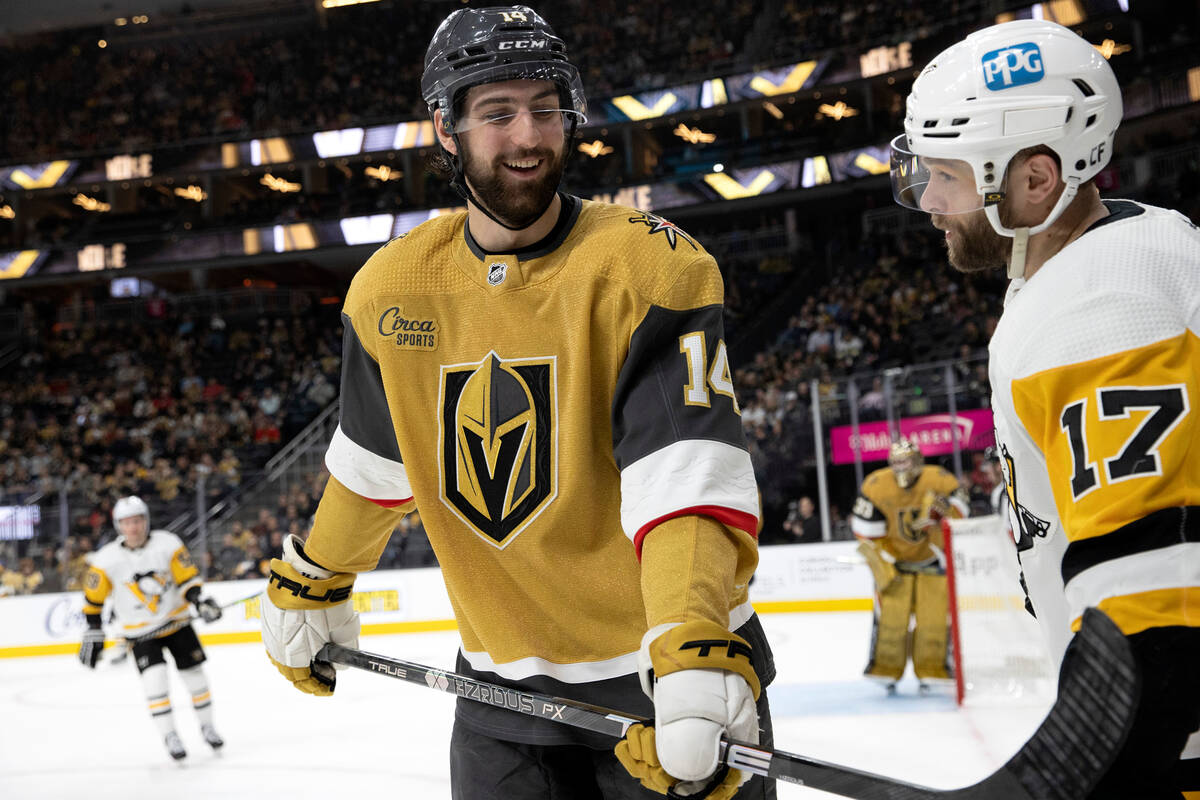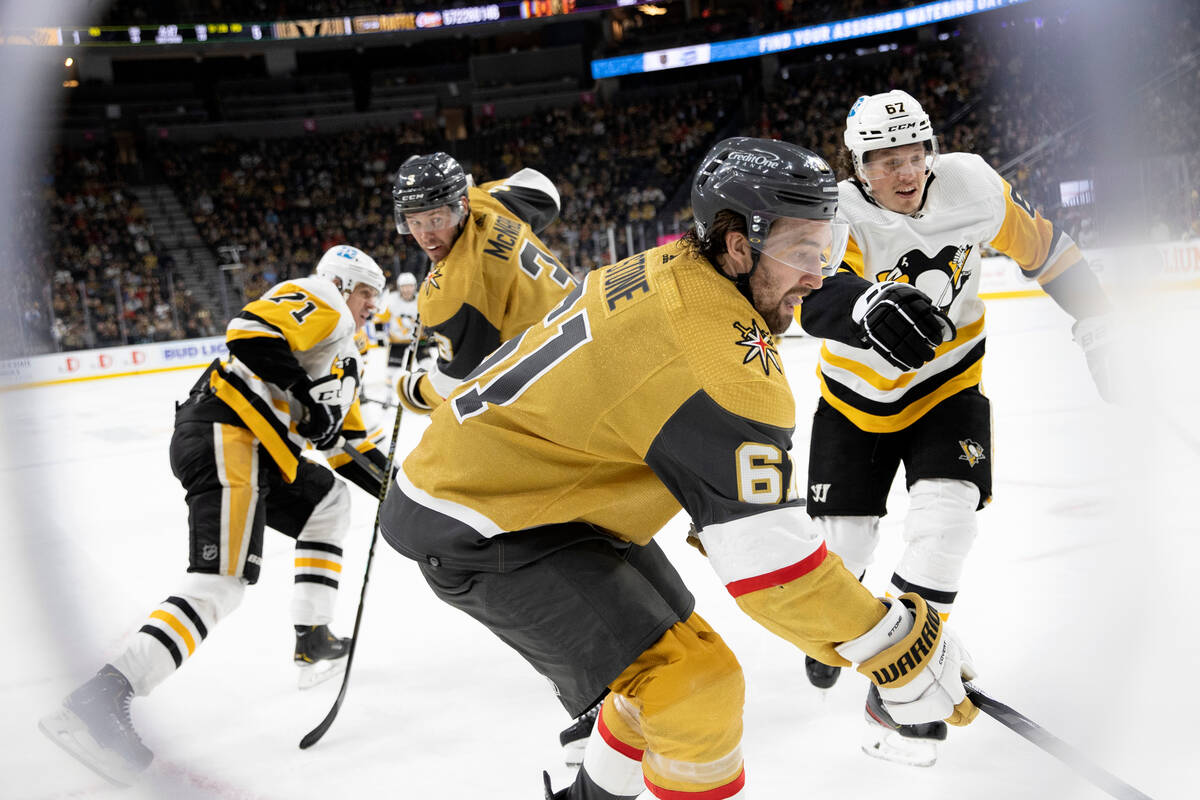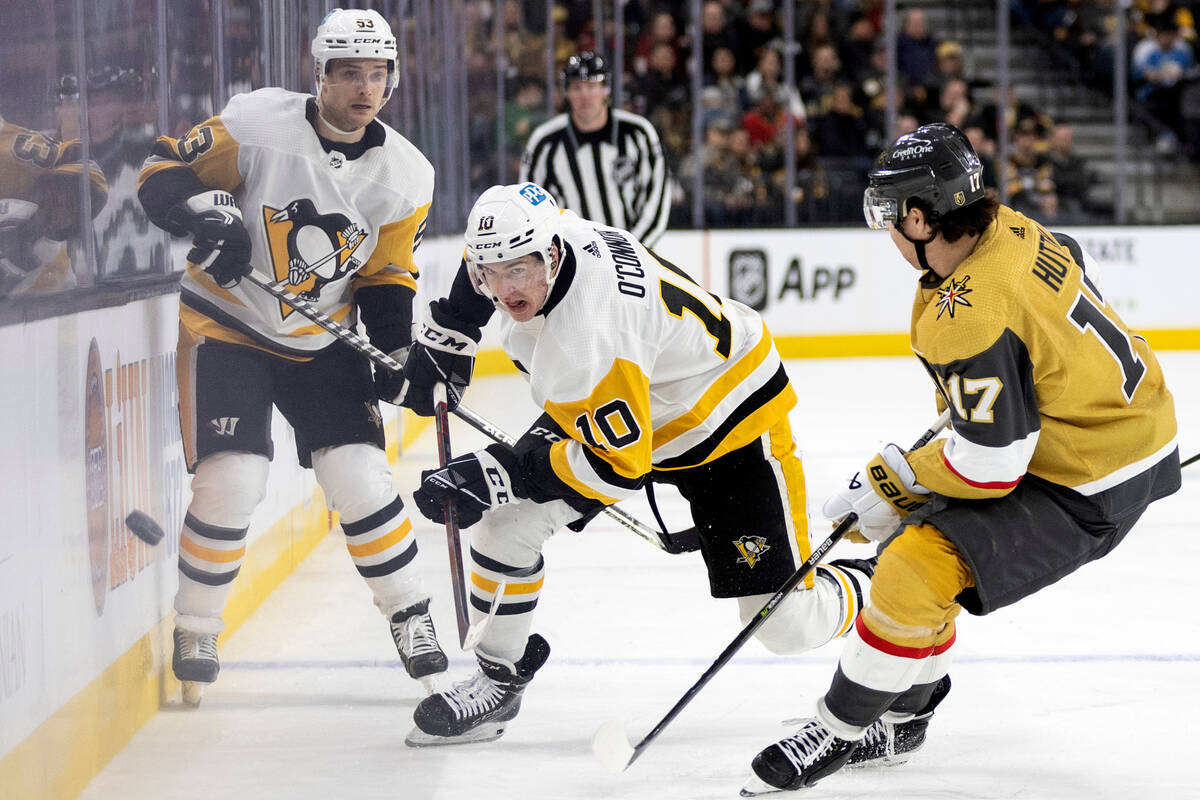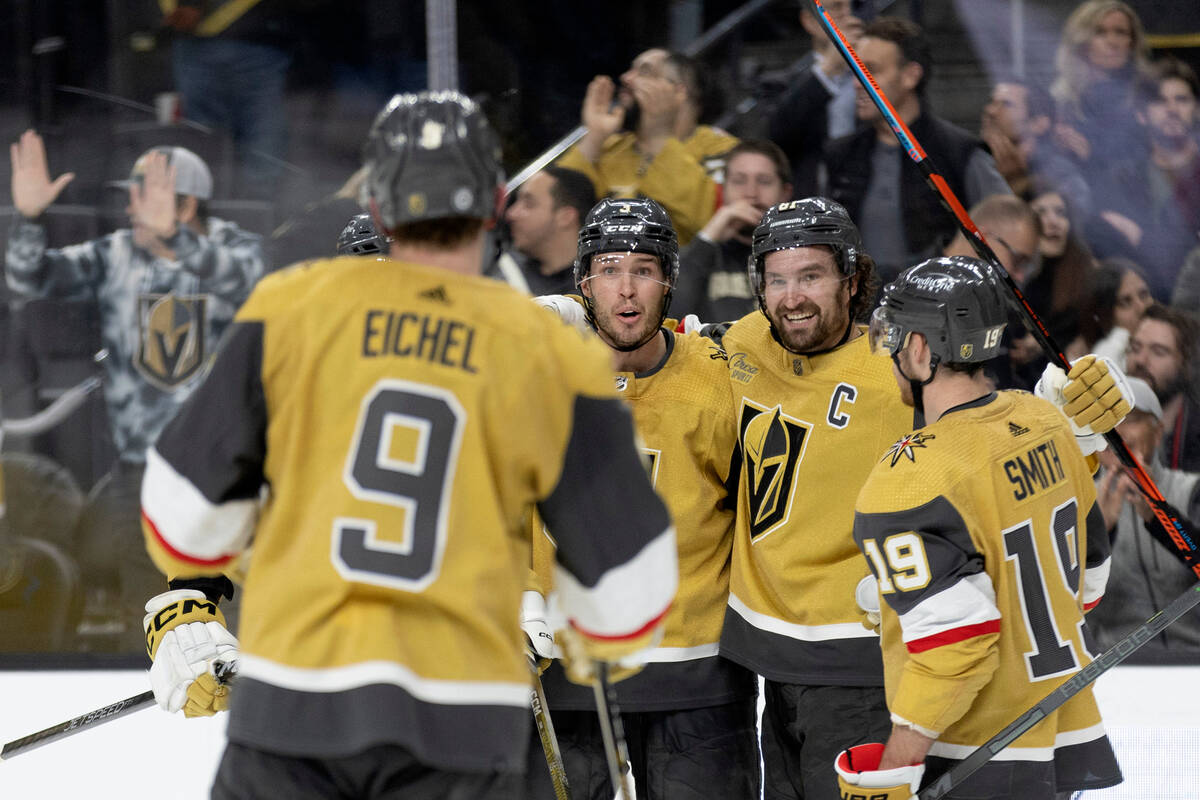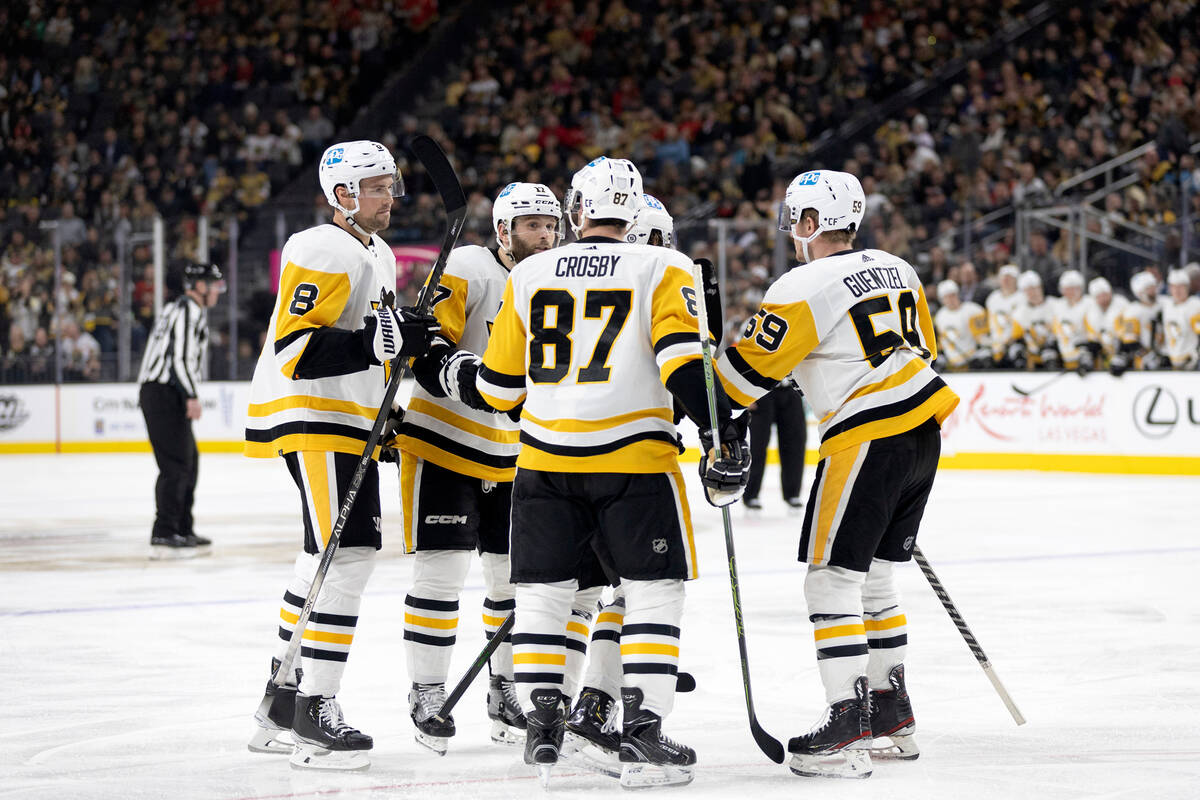 Paul Cotter wagged and pointed the index finger on his right glove as he laughed behind the goal line.
The Golden Knights rookie set up right wing Phil Kessel for a goal 1:52 into Thursday's game against the Pittsburgh Penguins. Now his linemate, in Cotter's first game back from an upper-body injury, had just returned the favor with 7:55 left in the third.
Cotter's two-point night was one of many happy returns for the Knights as they began a seven-game homestand at T-Mobile Arena. Center Jack Eichel had three points after missing 11 straight games with a lower-body injury. Goaltender Adin Hill made a season-high 38 saves after being pulled in the first period of his last start.
It all added up to a 5-2 win for the Knights in front of an announced crowd of 18,149 at T-Mobile Arena, their fourth straight victory at home.
"I was just excited to get back out there," Eichel said. "You never like watching the games, so I thought we played a really good game tonight against a good team."
Eichel and Cotter, who had missed eight games in a row, didn't wait long to make an impact.
Cotter's assist to Kessel came on his first shift. Eichel scored on his third 5:17 into the first period to make the score 2-0. Eichel then assisted on center Chandler Stephenson's power-play goal two shifts later to make the score 3-0 with 8:40 left until the first intermission.
The Penguins (19-13-6) pushed back in the second period but couldn't turn their pressure into goals. Instead, the Knights (27-12-2) increased their lead when Eichel set up defenseman Brayden McNabb for a shot in the offensive zone. Right wing Mark Stone tipped the puck past DeSmith to make the score 4-0 with only 11 seconds left in the frame.
Defenseman Ty Smith cut the Knights' lead to 4-1 early in the third period before Cotter and Kessel connected again. Penguins captain Sidney Crosby got one more goal back for his team with 1:30 left in the third.
Eichel finished with a goal and two assists, his second game of the season with at least three points. Cotter had his third multipoint game. Kessel, who won two Stanley Cups with Pittsburgh in 2016-17, got his second.
The Knights got used to playing with short-handed lineups during a packed December schedule. Thursday showed things might be different in January.
The Knights looked like an energized team with two healthy bodies back in their lineup, and dropped the Penguins to 0-4-2 their last six games.
"Everybody's happy," Cotter said. "It was a good mood all day today, all day yesterday at practice. We just got to keep that up. It's nice to have a couple of the guys come back. Obviously one of the best players in the world (came) back on the team (in Eichel), so that helps."
Here are three takeaways from the win:
1. Hill bounces back
Hill lasted 12:26 his previous start Dec. 28 against Anaheim.
He allowed two goals on five shots before coach Bruce Cassidy made his first goalie pull of the season. Cassidy didn't even need to think about making a similar move Thursday.
Hill was sharp to improve to 9-3-1. He made 20 stops in the second period alone to stifle any hopes of a Pittsburgh comeback.
"It's always nice when your team jumps out to a 3-0 lead in the first period," Hill said. "You know they're going to have a pushback, and we knew that. We withstood it."
2. Rolling Stone
The Knights' captain is in a groove.
Stone, in addition to his goal, got an assist to extend his point streak to seven games. He has five goals and eight assists during that span, giving him 38 points in 41 games this season.
Stone has 11 goals and 11 assists in 21 career games against Pittsburgh.
3. Additional All-Star
Cassidy should start packing his bags for Florida.
The win means his team will be first in the Pacific Division in points percentage when the NHL selects the coaches for All-Star Weekend at FLA Live Arena in Sunrise, Fla.
The coaches of the four first-place teams after next Wednesday's games will go to the event.
Thursday's win means the Knights can't be caught by second-place Seattle or third-place Los Angeles.
Cassidy will join goaltender Logan Thompson, who was named to the Pacific Division All-Star team Thursday.
Contact Ben Gotz at bgotz@reviewjournal.com. Follow @BenSGotz on Twitter.