Golden Knights get 1 representative at NHL All-Star Game
Updated December 30, 2019 - 4:04 pm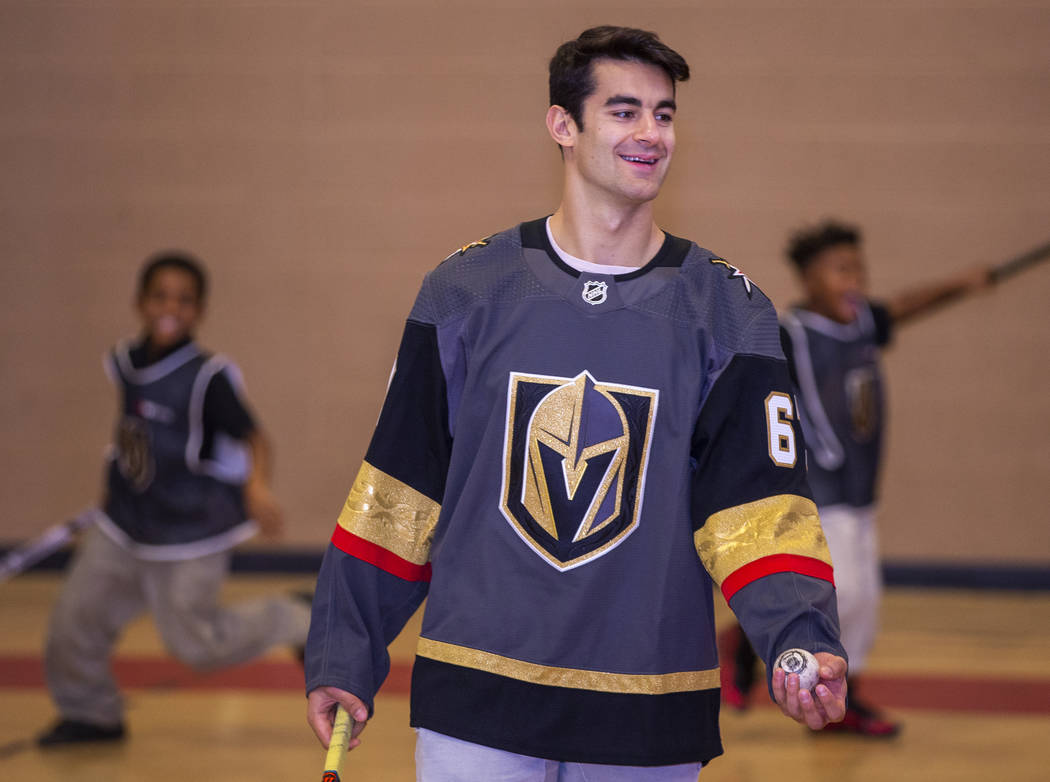 Marc-Andre Fleury was the lone Golden Knights representative named to the 2020 NHL All-Star Game on Monday, but there's still a chance he won't be going alone.
Left wing Max Pacioretty was named a "Last Men In" candidate and could be voted onto the Pacific Division roster. And coach Gerard Gallant has a chance to go if his team leads the division in points percentage at the halfway point of the regular season.
The Vancouver Canucks (.575) hold an edge on the Knights (.571).
Still, it seems fitting Fleury is the team's lone certainty as he climbs the NHL's record books. He tied Curtis Joseph for the sixth-most wins all time (454) against the Arizona Coyotes on Tuesday.
"Obviously an honor, right?" Fleury said. "It's fun to go, to see all the guys from around the league. (I'll) try to do well for the Knights and try to represent (them) the right way out there."
Monday was the fifth time Fleury was named an All-Star, including each of his three seasons with the Knights. The 35-year-old is 15-8-3 with a .912 save percentage and 2.74 goals-against average. He is the only healthy goaltender on the Pacific team. Arizona's Darcy Kuemper, who was selected for the first time in his career, is on injured reserve and considered week to week with a lower-body injury.
That could mean plenty of playing time for Fleury at the Jan. 25 game at Enterprise Center in St. Louis. He also sounded eager to regain his save-streak title at the Jan. 24 All-Star Skills Competition.
Fleury made 14 consecutive saves to win the event in 2018 but finished fourth last year.
"If you go there, may as well try to win it, right?" Fleury said. "Make sure the Pacific is looking good."
Pacioretty is one of eight candidates for the last spot on the Pacific Division roster. The 31-year-old left wing will join Fleury in St. Louis for his first All-Star Game if he wins the fan vote, which runs from 9 a.m. Wednesday to 8:59 p.m. Jan. 10. Fans can vote at NHL.com/Vote.
Pacioretty leads the Knights with 40 points (16 goals, 24 assists), the same total he had all of last season. He is tied for 14th in the NHL in scoring.
Gallant will be there to lead the Pacific team for the second time in three seasons if the Knights continue to play well on their current homestand.
"I've been fortunate to go there and they're lots of fun, so we'll see what happens," Gallant said. "I'm not going to live or die with that; I just want our team to be in first place."
Eakin update
Center Cody Eakin — who is week to week with an upper-body injury — has resumed skating. Eakin hasn't played since Nov. 29.
"He's doing well and he's back on the ice, so that's a real positive for us," Gallant said.
More Golden Knights: Follow at reviewjournal.com/GoldenKnights and @GoldenEdgeRJ on Twitter.
Contact Ben Gotz at bgotz@viewjournal.com. Follow @BenSGotz on Twitter.
Marc-Andre Fleury at the All-Star Game
— 2011: Played one period for Team Lidstrom and allowed four goals on 14 shots in a 11-10 win
— 2015: Played one period for Team Foligno and allowed seven goals on 16 shots in a 17-12 loss
— 2018: Allowed two goals in 12 shots to help Pacific Division win its two games in the 3-on-3 tournament (Also won save streak event at Skills Competition)
— 2019: Allowed three goals in nine shots in the Pacific's 10-4 opening-round loss to the Central