Marvin Menzies fired as UNLV basketball coach — VIDEO
Updated March 15, 2019 - 9:30 pm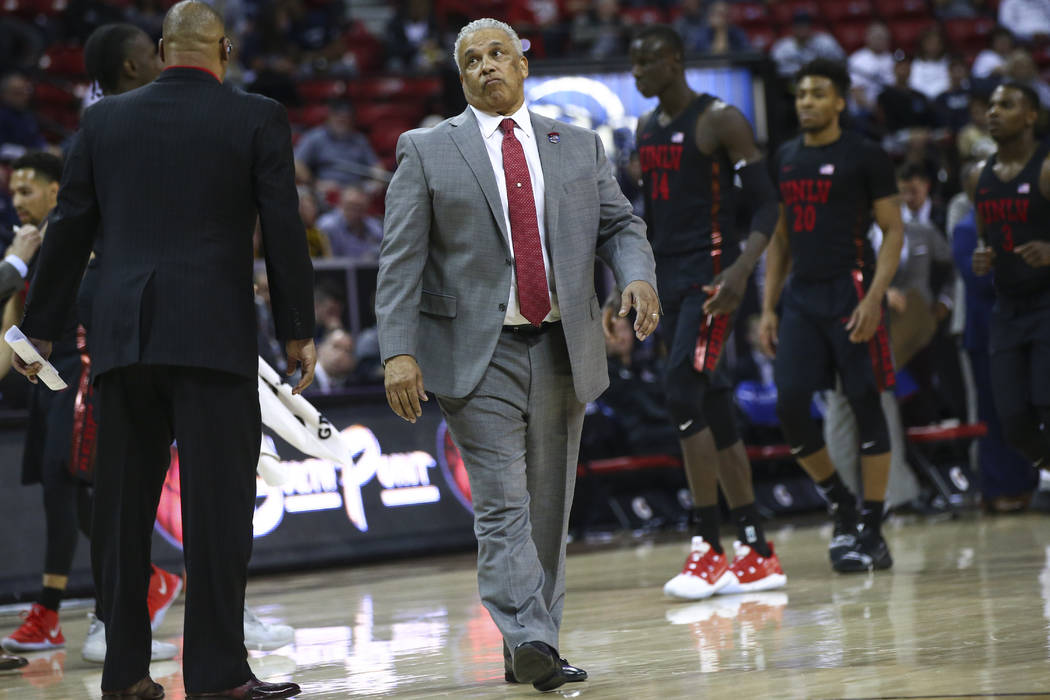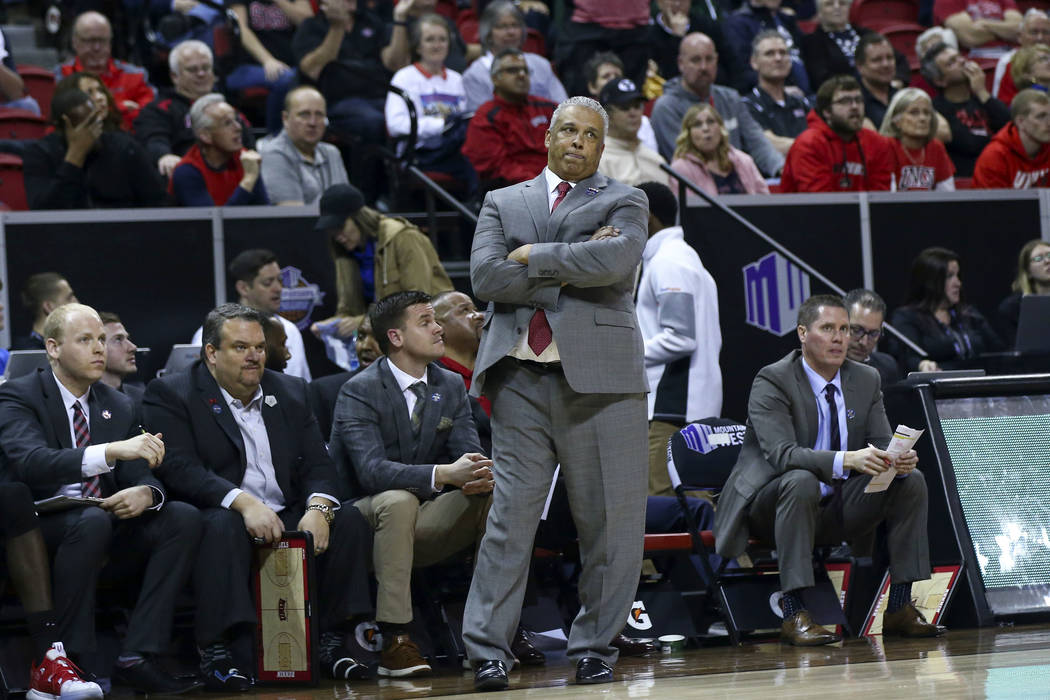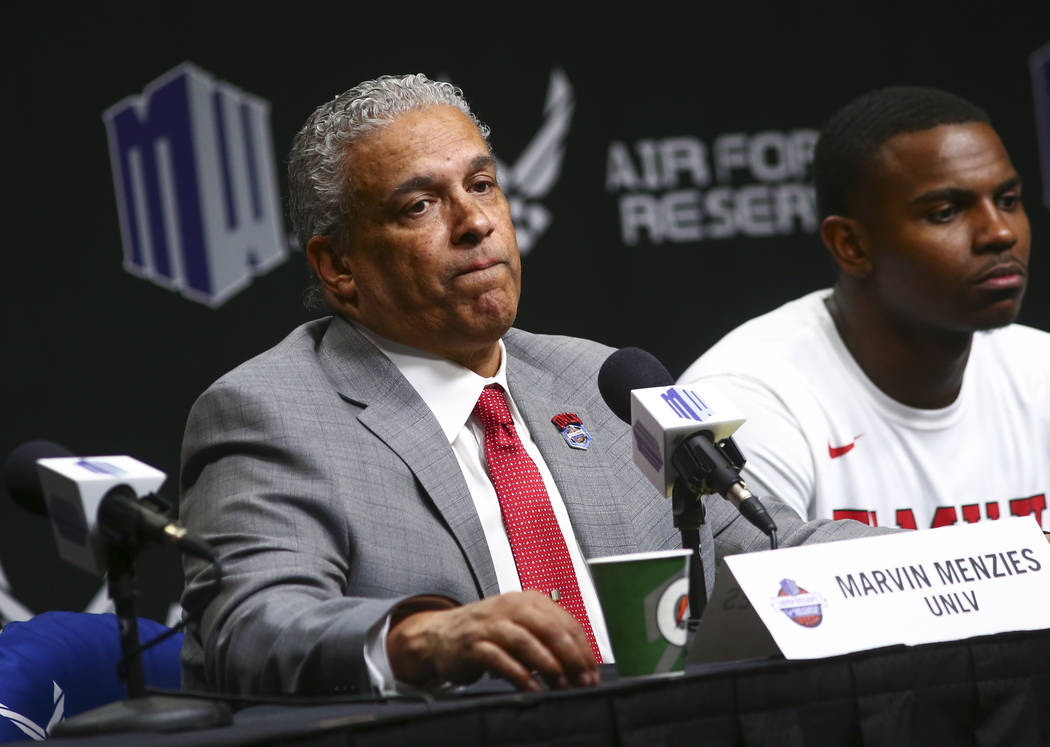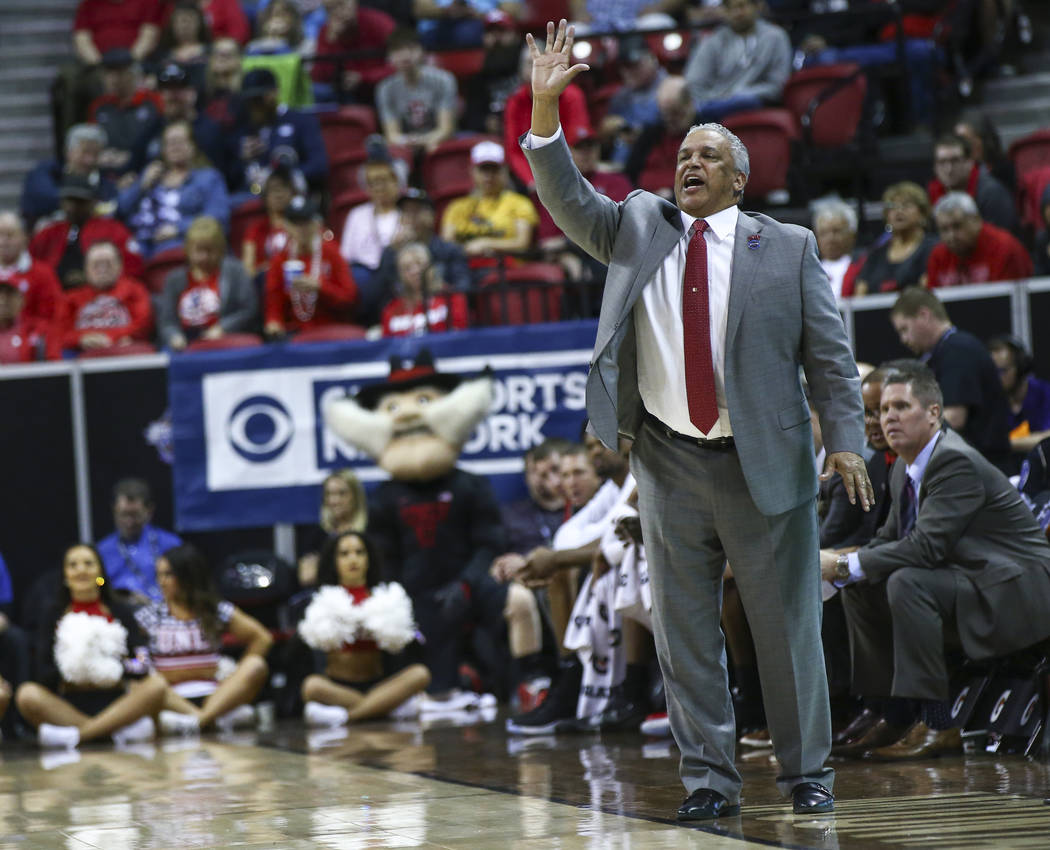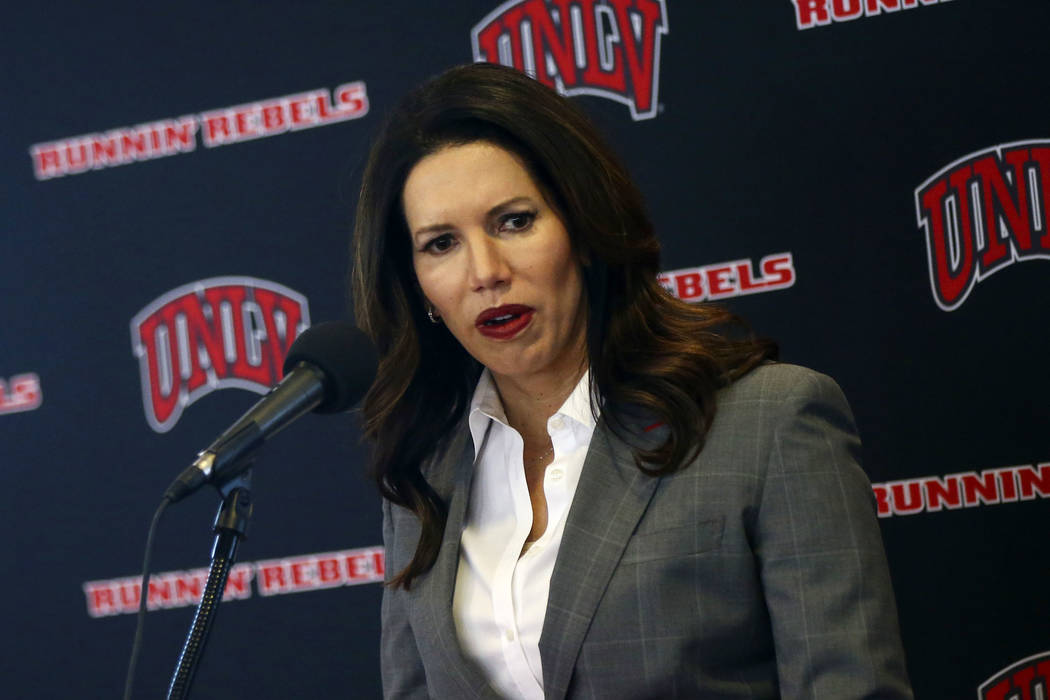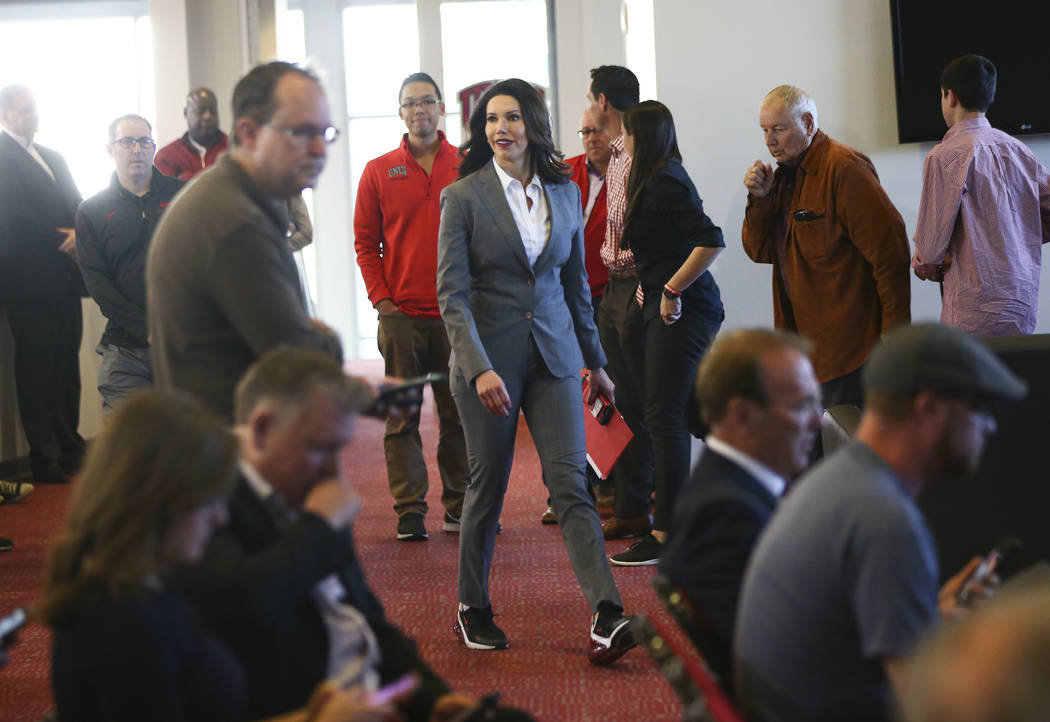 Marvin Menzies, who inherited a chaotic situation three years ago at UNLV but never appeared to energize the program and fan base, was fired as the Rebels' men's basketball coach on Friday.
UNLV athletic director Desiree Reed-Francois said she met with Menzies throughout the day and decided it was in the long-term interest of the program to go in a different direction.
"Quite simply, our men's basketball program needs to win more than we have, and when we look ahead to next season, I'm not bullish on seeing significantly better results," Reed-Francois said. "Basketball is an integral part of UNLV's identity, and our success or failure in men's basketball impacts so many areas of the university and athletics department — national brand, applications, ticket sales, financial stability.
"While I'm a believer in allowing time for coaches and programs to flourish, if I'm not confident in where we're headed, we need to make a change."
Attempts to reach Menzies were unsuccessful.
Menzies, 57, went 48-48 with UNLV. He's owed an $800,000 buyout, after making $700,000 in each of his first three seasons. He will receive a monthly payment over the next two years unless he finds a sport-related or media job, which would void the remainder of the buyout.
Reed-Francois will conduct her first major coaching search since being hired almost two years ago. Coaches who could be on her short list include a midmajor coach such as Virginia Commonwealth's Mike Rhoades, a Power Five conference coach with an uncertain future such as Texas' Shaka Smart, or a coach who long has been enamored with UNLV's program such as South Carolina's Frank Martin.
Reed-Francois said the money is in place for UNLV to aggressively pursue its next coach.
"We expect to be in the top of the Mountain West and in the upper echelons of the Group of Five and beyond," she said of a potential salary that could be offered.
UNLV is using Fogler Consulting, a search firm led by former Wichita State, Vanderbilt and South Carolina coach Eddie Fogler. But Reed-Francois said she has reached out to potential candidates and will conduct in-person out-of-town interviews this weekend.
"I ask our passionate fans to maybe pause before they believe everything that they read or hear about rumored candidates, people leveraging at their current institution and not to buy into the hype of coaches campaigning for the job," Reed-Francois said. "As candidates may be playing in tournaments, we will move quickly but prudently and will not place a deadline on our process."
One coach who won't be considered is Rick Pitino, who won national championships at Louisville and Kentucky. He was fired by the Cardinals in October 2017 after the program was implicated in a federal corruption investigation. Pitino's name has surfaced in the past with UNLV openings.
The decision to fire Menzies could cost the Rebels their two signees in their 2019 class. Point guards Ethan Anderson and Josh Pierre-Louis tweeted that they would reopen the recruiting process.
Im Devastated to hear that my coach Marvin Menzies was fired earlier today but I would like to announce that I have re -opened my recruitment.

— Ethan anderson (@Nolomit_e) March 15, 2019
I'm sad to hear that Coach Menzie and staff has been let go and after discussions with my family and coaches I've decided to reopen my recruitment. God bless Coach Menzie and his family. Keep your heads up guys!

— Josh Pierre-Louis (@mvojet1) March 15, 2019
Menzies was hired by UNLV in April 2016, the first full-time African-American head coach in program history. The school turned to him after a coaching search in which Cincinnati's Mick Cronin turned down the job and Chris Beard accepted it but left for Texas Tech less than a month later.
Three scholarship players were left when Menzies took over, and the Rebels went 11-21 in his first season with the makeshift roster.
But Menzies then put together the Mountain West's top recruiting class, highlighted by the signing of McDonald's All-American Brandon McCoy. UNLV went 20-11 in Menzies' second season.
The Rebels finished 17-14 this season, but in some ways showed progress. They tied San Diego State for fourth in the Mountain West with an 11-7 record, their highest finish since tying for third in 2013-14.
But fans never bought into the program, and crowds often dwindled to about 3,000 in the 18,000-seat Thomas & Mack Center. The lack of fan support overshadowed the occasional high moments, such as last season's upset victory at UNR.
The success of rival UNR also cast a large shadow, especially given the turnaround orchestrated by coach Eric Musselman, who quickly established the Wolf Pack as a nationally ranked team.
UNLV hired Menzies after he went 198-111 in nine seasons at New Mexico State, where he led the Aggies to five consecutive Western Athletic Conference regular-season or tournament championships. They made five NCAA Tournament appearances under him.
More Rebels: Follow at reviewjournal.com/Rebels and @RJ_Sportson Twitter.
Contact Mark Anderson at manderson@reviewjournal.com. Follow @markanderson65 on Twitter.
Who's next?
Coaches who could be considered for the UNLV job:
Nathan Davis, Bucknell — Made the NCAA Tournament the past two seasons. Won Patriot League Coach of the Year in back-to-back seasons.
Fred Hoiberg — Went 115-56 in five seasons at Iowa State before taking over the Chicago Bulls, who fired him in December. Is the leading candidate at Nebraska.
Frank Martin — The South Carolina coach long has been enamored with UNLV and Las Vegas. He participates in Coaches vs. Cancer events in Las Vegas every year.
Thad Matta — Took Ohio State to two Final Fours and five Big Ten Conference championships in 13 years.
Tim Miles — Job is on the line at Nebraska. Coached in the Mountain West at Colorado State, leading the Rams to the 2012 NCAA Tournament.
Wes Miller, UNC Greensboro — Led Greensboro last season to its first NCAA Tournament since 2001, and at 28-6 this season is a bubble team.
Mike Rhoades, Virginia Commonwealth — Named Atlantic 10 Conference Coach of the Year and is 25-7.
Shaka Smart — Questions about his job status at Texas have been raised, but a story in the Austin American-Statesman said he will return for a fifth season. If he doesn't, Smart is owed a $12.9 million buyout. He took Virginia Commonwealth to five NCAA Tournaments, including the 2011 Final Four.
Craig Smith, Utah State — Mountain West Coach of the Year after taking a team picked ninth to a share of the regular-season conference championship.
Mike Young, Wofford — Three-time Southern Conference Coach of the Year who is taking the program to the NCAA Tournament for the fifth time since 2010.
Mountain West basketball salaries
— Eric Musselman, UNR, $1 million
— Brian Dutcher, San Diego State, $805,242
— Niko Medved, Colorado State, $700,000
— Marvin Menzies, UNLV, $700,000 *
— Leon Rice, Boise State, $700,000
— Paul Weir, New Mexico, $675,000
— Craig Smith, Utah State, $650,000
— Justin Hutson, Fresno State, $500,000
— Allen Edwards, Wyoming, $490,004
— Jean Prioleau, San Jose State, $400,008
— Dave Pilipovich, Air Force, N/A (information isn't public)
* Salary in 2018-19 season before being fired.
Mountain West basketball expenses
— San Diego State, $5.9 million
— UNLV, $5.9 million
— Colorado State, $4.5 million
— New Mexico, $4.1 million
— UNR, $3.4 million
— Fresno State, $3.3 million
— Utah State, $3.3 million
— Wyoming, $3.1 million
— Boise State, $2.8 million
— San Jose State, $2.0 million
— Air Force, N/A (information isn't public)
Note: Figures are according to Equity in Athletics.
Mark Anderson Review-Journal