Faraday Future sells North Las Vegas land slated for car plant
Updated September 23, 2019 - 6:46 pm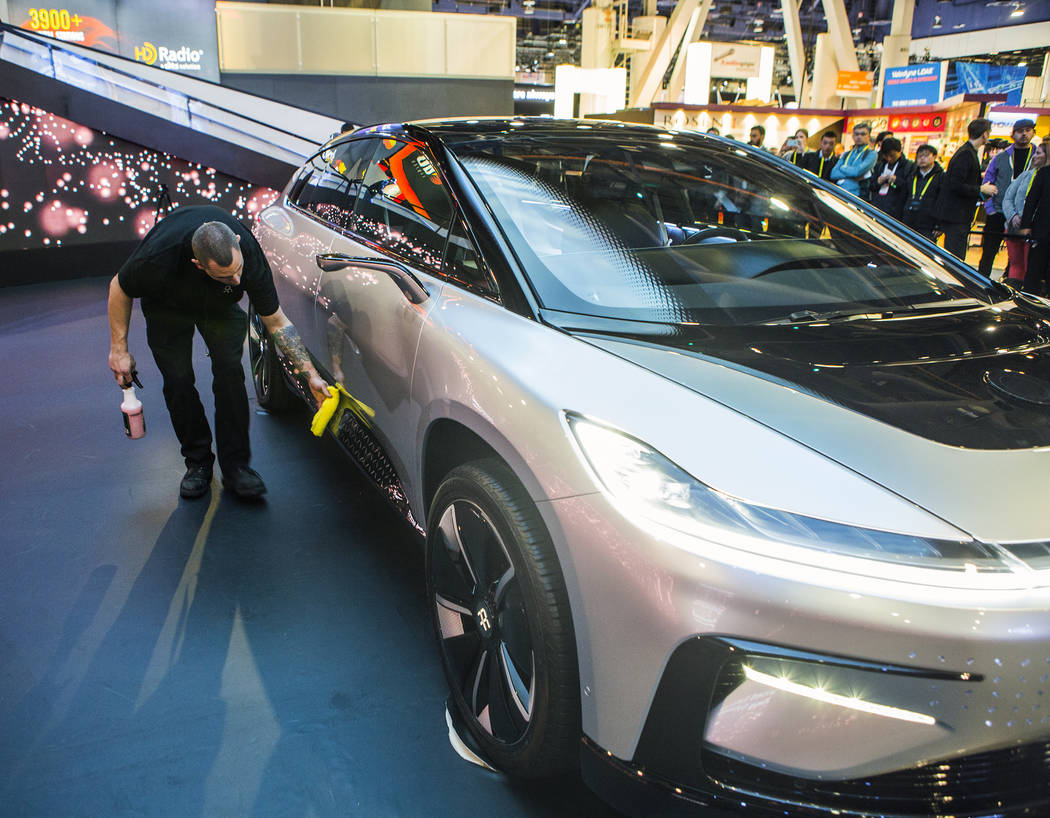 Faraday Future, whose much-hyped car plant in North Las Vegas never came out of the ground, has sold its land for less than half the asking price to a Canadian investment firm.
The electric-car maker sold its land at Apex Industrial Park — spanning 913 acres — to Toronto-based H&R REIT, which plans to develop an industrial park, according to a news release from the city of North Las Vegas.
The $16.9 million sale was recorded with Clark County on Monday, property records show.
Faraday's sale appears to mark the end of its failed venture to Southern Nevada, where the car maker garnered widespread support for a proposed $1.3 billion factory that it ultimately never built.
"The sale of this land represents the end of a major chapter out at Apex and the beginning of the next phase of realizing the Mayor and Council's vision for achieving the full potential of this unique economic diversification asset," City Manager Ryann Juden said in the news release.
Juden told the Review-Journal he expects the city to receive clearer plans of what will happen at the site by the first quarter of next year.
H&R, a real estate investment trust with more than $14 billion in assets, and Faraday, a startup that has had money troubles and describes itself as a "global shared intelligent mobility ecosystem company," did not respond to requests for comment.
Discounted land
Faraday announced in March that it wanted to sell the Apex site, some 30 miles northeast of the Strip near the Interstate 15-U.S. Highway 93 interchange. The asking price was $40 million but dropped to $25 million if a buyer closed by the end of September, marketing materials show.
Faraday faced competition from other sellers in and around Apex who offered smaller, easier-to-digest parcels — all in an area, no less, that has plodded along for years with little development amid a shortage of utility service.
Last summer, when city officials announced a groundbreaking ceremony was held for a 12-mile surface water pipeline to Apex, the news release declared: "Decades-old problem solved: Water coming to North Las Vegas' Apex Industrial Park."
Listing broker Danielle Steffen of Cushman & Wakefield said Monday that multiple prospective buyers looked at Faraday's site and that some offers were close to the $40 million price tag. Ultimately, Faraday wanted to close the sale quickly, which led to a reduced price, she said.
According to Steffen, the H&R deal came together in a little under a month.
"It was a fast transaction," she said.
Big plans
Southern California-based Faraday drew up plans for a 3.4 million-square-foot factory that could produce up to 150,000 electric vehicles annually. The Nevada Legislature approved a $335 million incentive package for the plant at a special session in late 2015, though at the time, Faraday didn't have a publicly identified CEO and hadn't started selling cars.
Faraday broke ground on the project in 2016. But construction stalled amid reports of financial troubles, and Faraday bailed on the factory in July 2017, saying it wanted an existing facility instead. The next month, it reportedly leased a 1 million-square-foot former tire plant in central California.
Faraday had purchased 930 acres at Apex in 2016 for around $29.4 million, property records showed. Its total acreage was shaved because it sold and traded some land, Steffen previously said. Work crews graded 700 acres but didn't build anything.
Last week, the city of North Las Vegas was prepared to hire a law firm to sue Faraday for breach of contract, arguing the company was bound by a development agreement and on the hook for making improvements to the land.
City officials wanted to force Faraday to, among other things, submit a drainage study on the property and complete the early grading activities.
But the city abandoned the law-firm plan at the last minute. The item was pulled from the council agenda without explanation.
The land's new owners will work with the city to ensure drainage is handled properly, Juden said Monday.
Faraday said in October 2018, amid a financial dispute with another company, that it suffered a "serious and unexpected cash shortfall" and had to reduce salaries and shed staff.
It started restructuring late last year and named a new CEO this month.
Contact Eli Segall at esegall@reviewjournal.com or 702-383-0342. Follow @eli_segall on Twitter. Review-Journal staff writer Blake Apgar contributed to this report.
RELATED
Faraday Future repays Nevada, others interested in Apex site
Faraday Future to open manufacturing plant in California