Faraday Future halts plans for car production at Apex site
Updated July 10, 2017 - 6:27 pm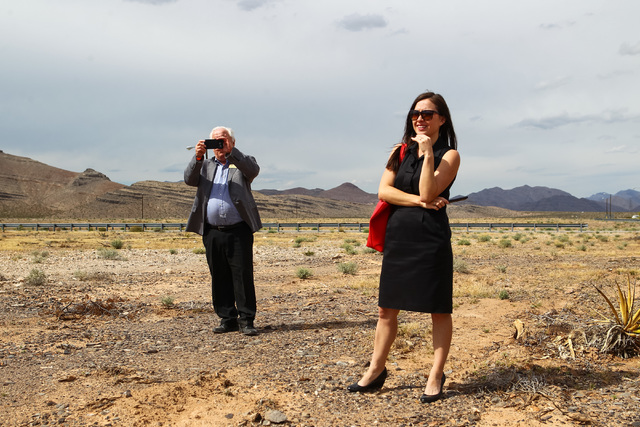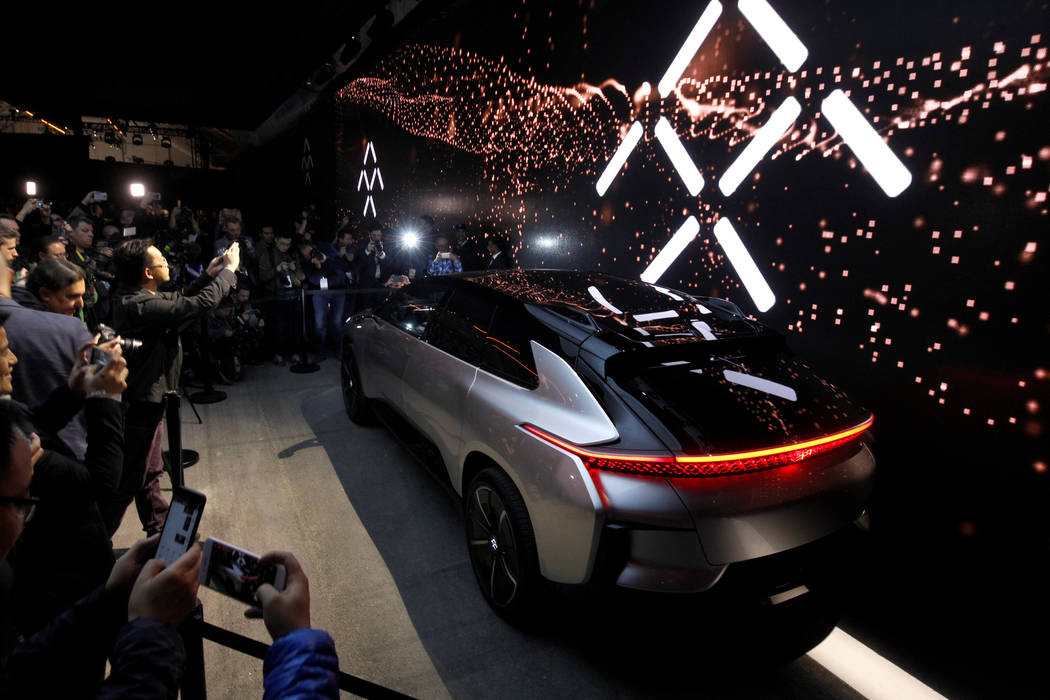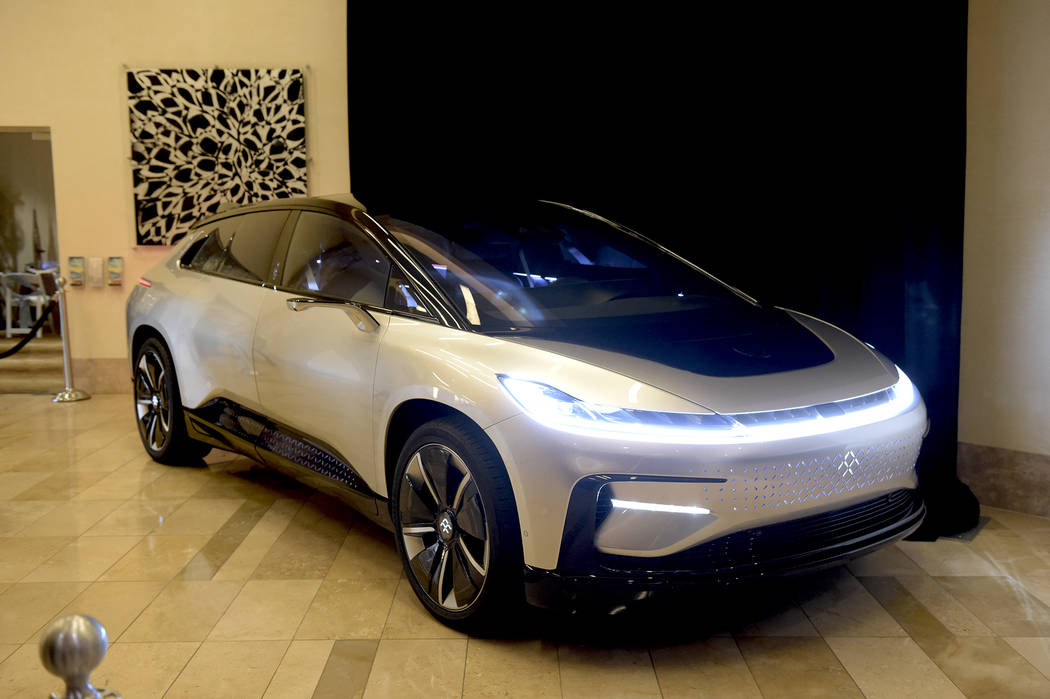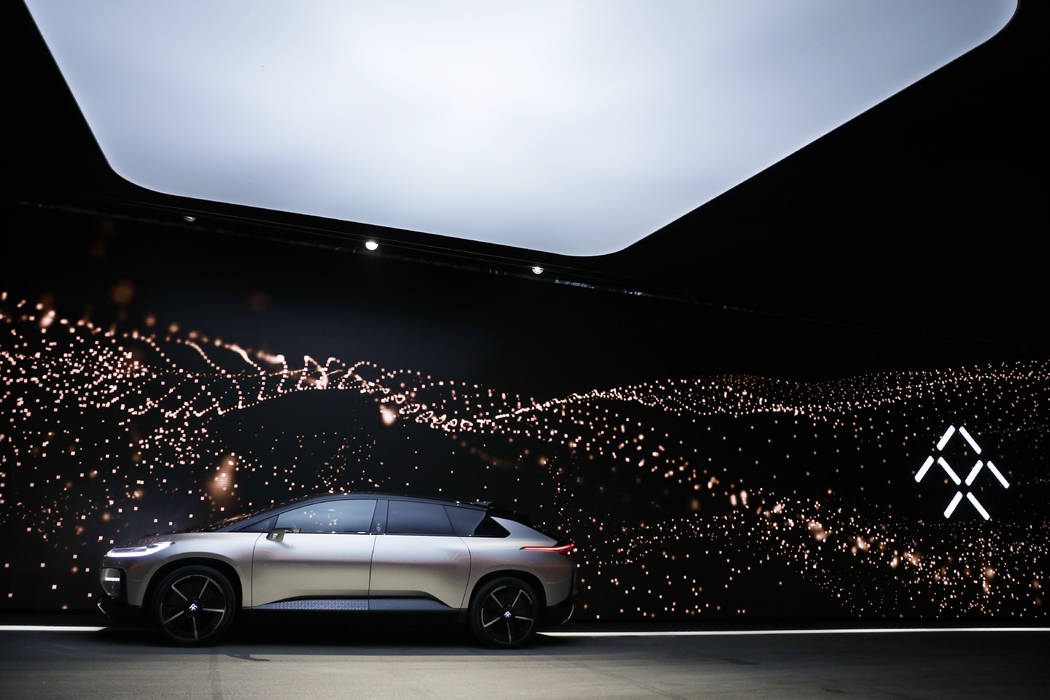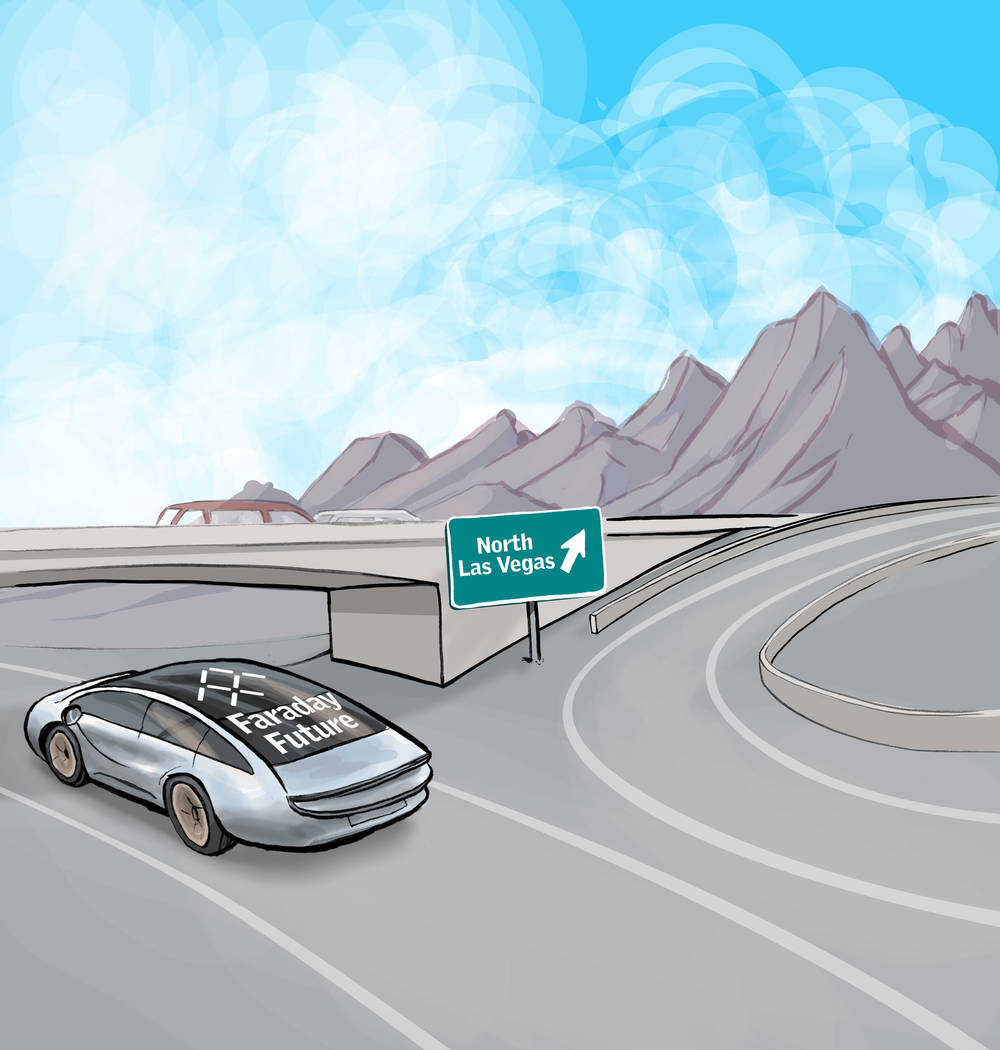 CARSON CITY — Faraday Future on Monday said it is walking away from its planned $1 billion electric car manufacturing factory at Apex Industrial Park in North Las Vegas and will seek an existing building to pursue its futuristic electric vehicles.
Starting production at an existing building is viewed as a way to satisfy potential investors that the company is economically viable. The company is looking for a building of at least 1 million square feetin Nevada or California to start production quicker and cheaper.
The company had originally proposed a 3 million-square-foot manufacturing facility that was reduced to a 650,000-square-foot manufacturing facility.
The announcement brought a strong defense from Gov. Brian Sandoval and other state economic leaders who assembled a package of tax incentives had the project been built. It also elicited a sharp "I told you so" from state Treasurer Dan Schwartz.
Faraday was notifying its North Las Vegas employees of the decision on Monday. Over the past year, about 25 employees from Faraday have worked inside inside a 2,885-square-foot office at North Las Vegas City Hall under a $64,047 annual lease. Last month, the company moved to a month-to-month basis with the same rent "to facilitate local operations," a Faraday spokesman said.
The company will keep its 930 acres at Apex for a potential future facility for car production. It paid $29.4 million, about $32,000 per acre, for the land.
The news that Apex won't be the site of the factory that would have been the site for about 4,500 direct jobs will be a blow to Sandoval and state lawmakers, who in December 2015 approved a $335 million incentive package, including $215 million in tax breaks. Incentives would not have kicked in until there was a $1 billion investment in the project.
Investors roadblock
Faraday is trying to raise $1 billion to start production of its vehicle, a slick four-door electric sedan that can go from 0-60 mph in 2.39 seconds, but attracting investors has stumbled because of developments connected to the company's primary backer, Chinese billionaire Jia Yueting.
A Chinese court last week froze $182 million in assets of Yueting related to another company, LeEco. Yueting, chairman of LeEco, quit his position with that company on Wednesday to focus on Faraday Future. Faraday has also ended talks with the city of Vallejo, California, for a planned second factory on a 157-acre site on the city's Mare Island.
Faraday broke ground in April 2016 on the Apex sitewith grading of land. Work by AECOM, the general contractor overseeing the project, stopped after Faraday missed multiple deadlines for depositing money into an escrow account to pay builders.
In a statement Monday, Sandoval said, "While I am disappointed in today's announcement, I can say with certainty that Nevada's citizens were held harmless financially."
Assemblyman Ira Hansen, R-Sparks, one of a handful of lawmakers who opposed the deal in 2015, said Monday that the original testimony for the Faraday project sounded too good to be true.
"It sounded fantastic," he said. "That was the problem. It sounded too fantastic."
Hansen credited state Treasurer Dan Schwartz for raising concerns early.
Schwartz had repeatedly cited concerns about the Faraday project since the tax incentive package was approved by lawmakers.
"We all make mistakes, but this one was obvious. Long after it became apparent that 'a mysterious Chinese billionaire' and Faraday Future could never build a $1 billion electric auto plant, Nevada state officials continued to insist that Faraday Future would magically create 4,500 jobs in North Las Vegas," Schwartz said in a statement Monday.
In a statement, the Governor's Office of Economic Development on Monday said, "The state recognized both the opportunity a large manufacturing facility could provide as well as the inherent risk associated with a start-up company attempting this endeavor."
Some public funding is going forward, specifically $70 million for a U.S. Highway 93-Interstate 15 improvement project. But another $120 million authorized for water, sewer and flood control work at Apex has not been spent. Total bonding, including anticipated private funding, for these projects, was set at $175 million. To date, no bonding has been issued or approved by GOED.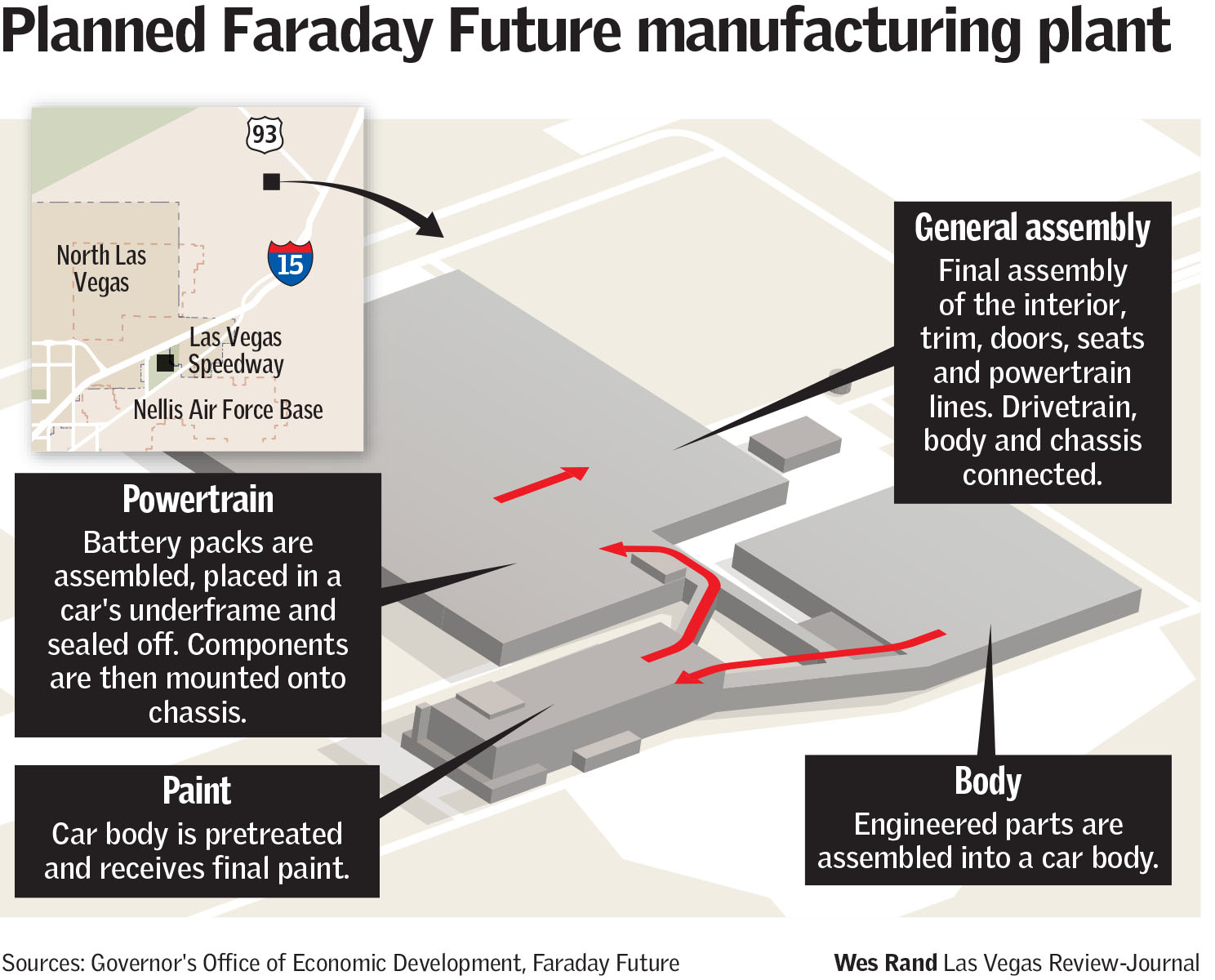 Improved infrastructure
Sandoval said one goal of the special session for Faraday was to improve the infrastructure at Apex, which now has water and power. That allows the state to recruit more companies to Apex than it previously could, he said.
North Las Vegas Mayor John Lee has previously said that he hustled to make a phone call to Faraday in February 2015, setting up a two-hour meeting with executives at the company's Los Angeles-area headquarters. Faraday eventually selected North Las Vegas over sites in Detroit, Georgia, Alabama and elsewhere in the United States.
The buzz of nabbing an electric car company helped to lure manufacturers and distributors to other part of North Las Vegas, including Amazon, Fanatics and The Honest Co. Additionally, city officials recently said they are actively negotiating with companies larger than Faraday Future to move into the Apex Industrial Park.
In addition to the $70 million the state of Nevada spent on infrastructure, Faraday Future spent $10 million on design and engineering for infrastructure and another $47 million to grade the Apex site, city of North Las Vegas spokeswoman Delen Goldberg said.
Review-Journal writers Ben Botkin, Art Marroquin and Nicole Raz contributed to this report. Contact Sean Whaley at swhaley@reviewjournal.com or 775-461-3820. Follow @seanw801 on Twitter.
Faraday Future statement
"We at Faraday Future are significantly shifting our business strategy to position the company as the leader in usership personal mobility — a vehicle use model that reimagines the way users access mobility. As a result of this shift in direction, we are in the process of identifying a manufacturing facility that presents a faster path to start-of-production and aligns with future strategic options.
Accordingly, we have decided to put a hold on our factory at the Apex site in North Las Vegas. As the landowner, we remain committed to the buildout of the Apex site for long-term vehicle manufacturing and firmly believe North Las Vegas is an ideal place for us to be.
We would like to thank our partners in Nevada for their continued support throughout this process: Governor Sandoval and his office of Economic Development, Clark County and Mayor John Lee and the North Las Vegas officials.
More details on Faraday Future's new strategy will be shared in the coming weeks."
Related
Faraday Future may get boost from layoffs at a 'strategic partner'
Faraday Future vows work on North Las Vegas plant to start soon
Inside Faraday Future offices, a startup comes to life