'It cannot be salvaged': Boarded-up Strip motel site sold, to be demolished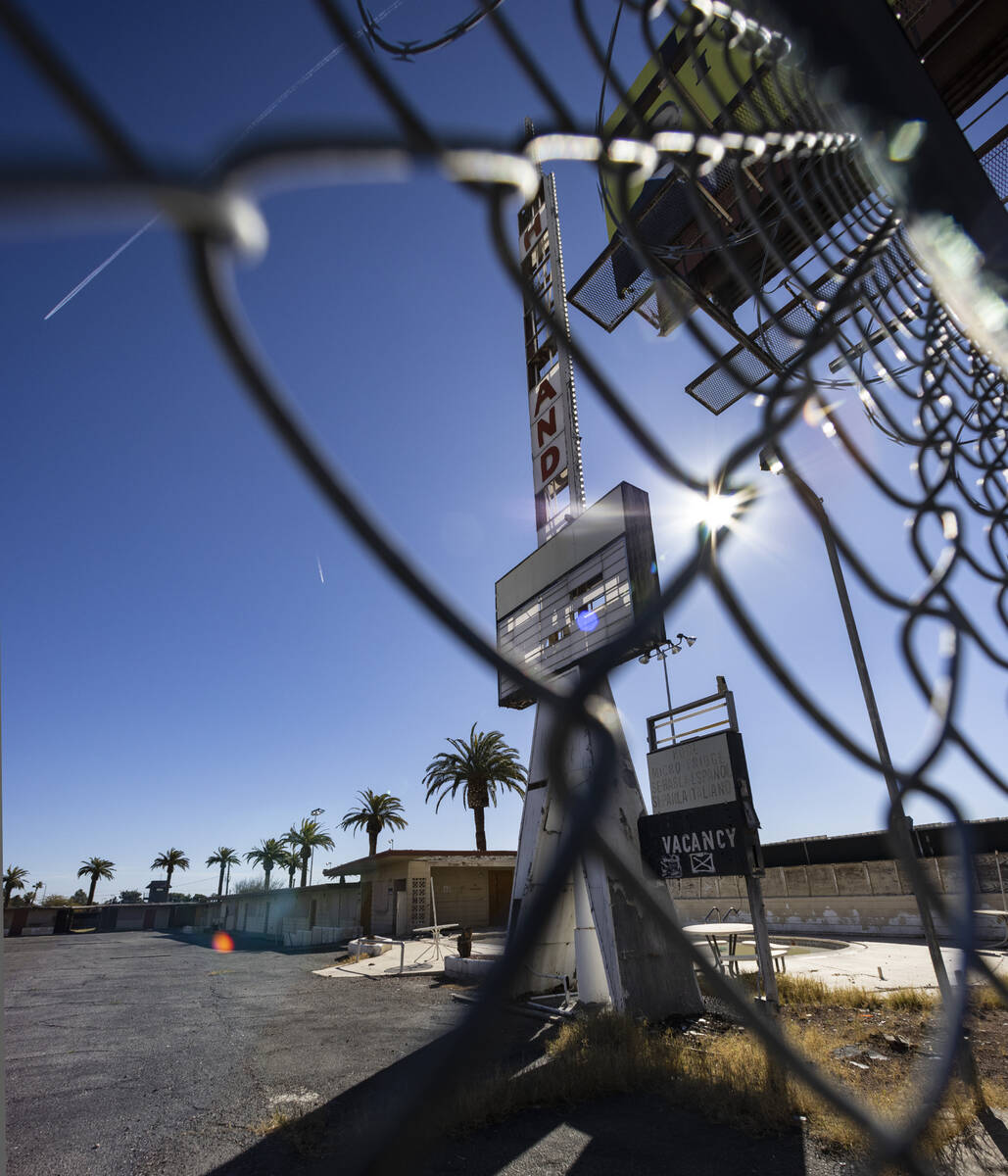 A boarded-up motel property on the Strip with a history of vandalism, vagrants and feral cats is under new ownership and slated to be torn down.
The Three Affiliated Tribes of the Fort Berthold Indian Reservation in North Dakota closed its $10.25 million purchase of the former White Sands Motel site last week, property records show.
The narrow, 1.1-acre parcel is surrounded on three sides by the former Route 91 Harvest festival site, most of which was purchased last year by the tribal group also known as Mandan, Hidatsa and Arikara Nation.
MHA Nation has now bought a total of 23 acres along the south Strip for $115 million combined.
Built in the 1950s during Las Vegas' Mafia days, the White Sands is across from the Luxor but is the kind of property many people likely don't even notice. The one-story motel closed well over a decade ago and sits behind mesh-covered fencing topped with barbed wire and razor wire and secured with multiple locks.
It has also been in rough shape for years and seemed destined for demolition.
"It definitely cannot be salvaged," MHA Nation Chairman Mark Fox told the Review-Journal on Wednesday.
Tribal purchases
Fox said the plan for the motel building is to "tear it down and clean it up." He doesn't have a time frame but figures it would cost at least $1 million to demolish the structure and clean the site.
He also said his team is still formulating a vision for MHA Nation's real estate holdings in Las Vegas, noting their options include developing a casino-resort or flipping the land to new owners.
"We're really going to the drawing board," Fox said.
MHA Nation, owner of the 4 Bears casino in North Dakota, started buying land in Las Vegas in summer 2020, when it purchased an 8.7-acre lot immediately east of the former Route 91 site for $12 million through a bankruptcy case.
It then acquired most of the 15-acre former Route 91 site for about $92.8 million from casino giant MGM Resorts International in December.
The property was the scene of the deadliest mass shooting in modern U.S. history, and MGM set aside 2 acres for a permanent memorial to the Oct. 1, 2017, tragedy.
MHA Nation previously said its purchase from MGM "represents a substantial opportunity for investment and return," and revenue generated would help fund tribal projects and programs.
It also said it "wholeheartedly supports" the memorial site for the Las Vegas massacre.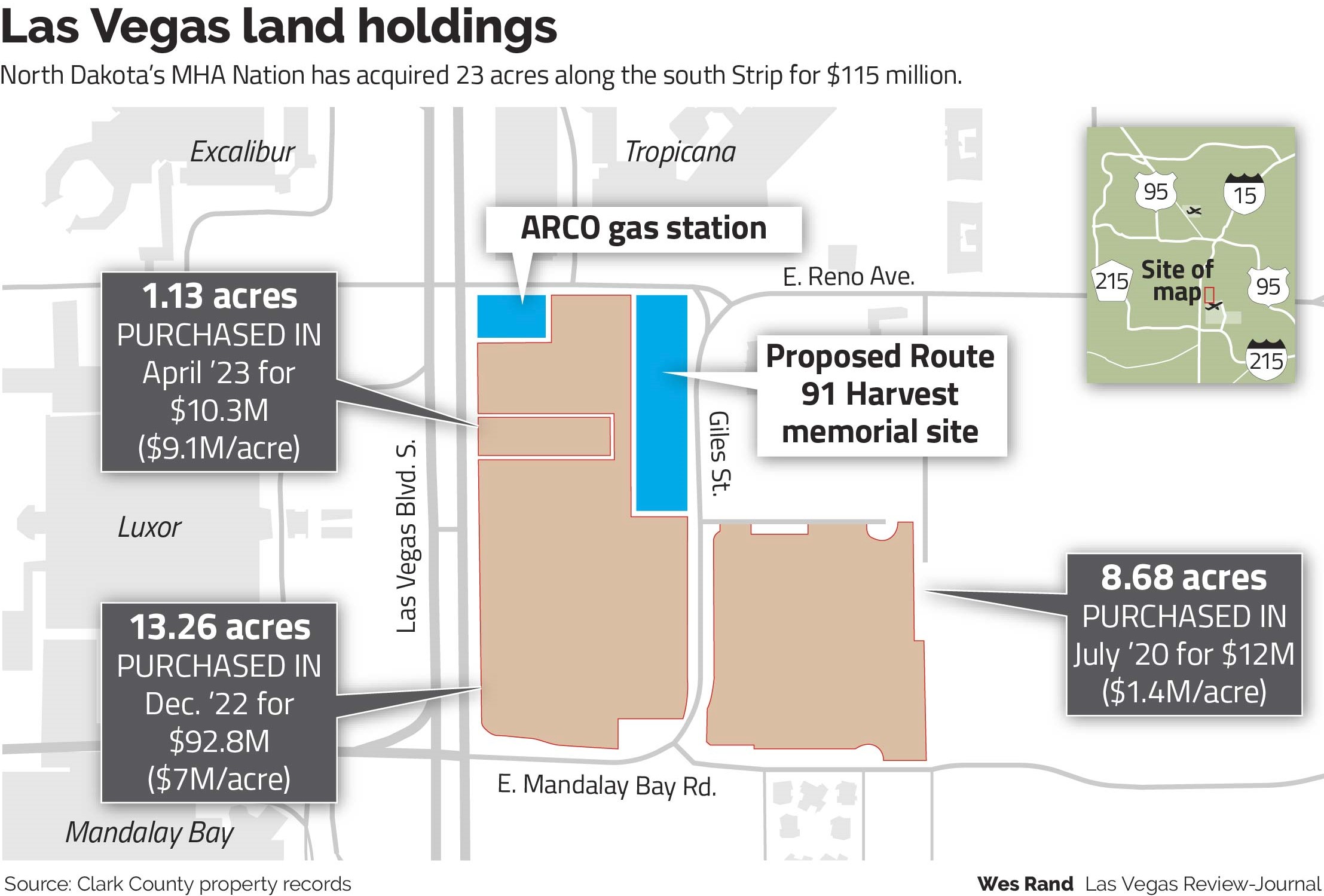 'Destroying the property'
The White Sands, 3889 Las Vegas Blvd. South, opened in 1959 and was promoted as a beautiful place, offering TV, coffee and air conditioning. However, problems there mounted after the motel closed.
In 2013, Clark County officials received a complaint that the shuttered property had some standing water in the pool and a "strong odor" that smelled like a dead animal or body.
No corpse was found, but an inspector spotted around 40 feral cats, records show.
In 2015, a "declaration of imminent danger" from the county stated the "unsafe structure" had criminal activity, and feral cats and kittens "were noted in all units."
"Despite putting up chain link fences and boarding up all doors and windows on the property, it has been very difficult to keep vagrants, trespassers and the animal groups from gaining access to and destroying the property," according to a letter to the county that year.
Last month, District Judge Gloria Sturman approved the property's sale to MHA Nation from the estate of former White Sands owner Spartaco Colleli, who died in 1992. Las Vegas probate lawyer Kennedy "Kenny" Lee sold the property as special administrator of the estate.
Lee's law firm partner Dan Kiefer told the Review-Journal this week there was a lot of general interest in the property. But as far as he knows, the only group that ever put up earnest money for it was MHA Nation.
The Strip is known for its towering, glitzy resorts, and the low-slung White Sands is one of its few remaining motel buildings. As Kiefer sees it, the site evokes thoughts of a "simpler time on the Strip" when a property of that size was "feasible" in the corridor.
He also noted the building is dilapidated.
"It's going to be a complete teardown," he said.
Contact Eli Segall at esegall@reviewjournal.com or 702-383-0342. Follow @eli_segall on Twitter.