New Year's Eve fireworks display on Strip canceled
Updated October 29, 2020 - 9:09 pm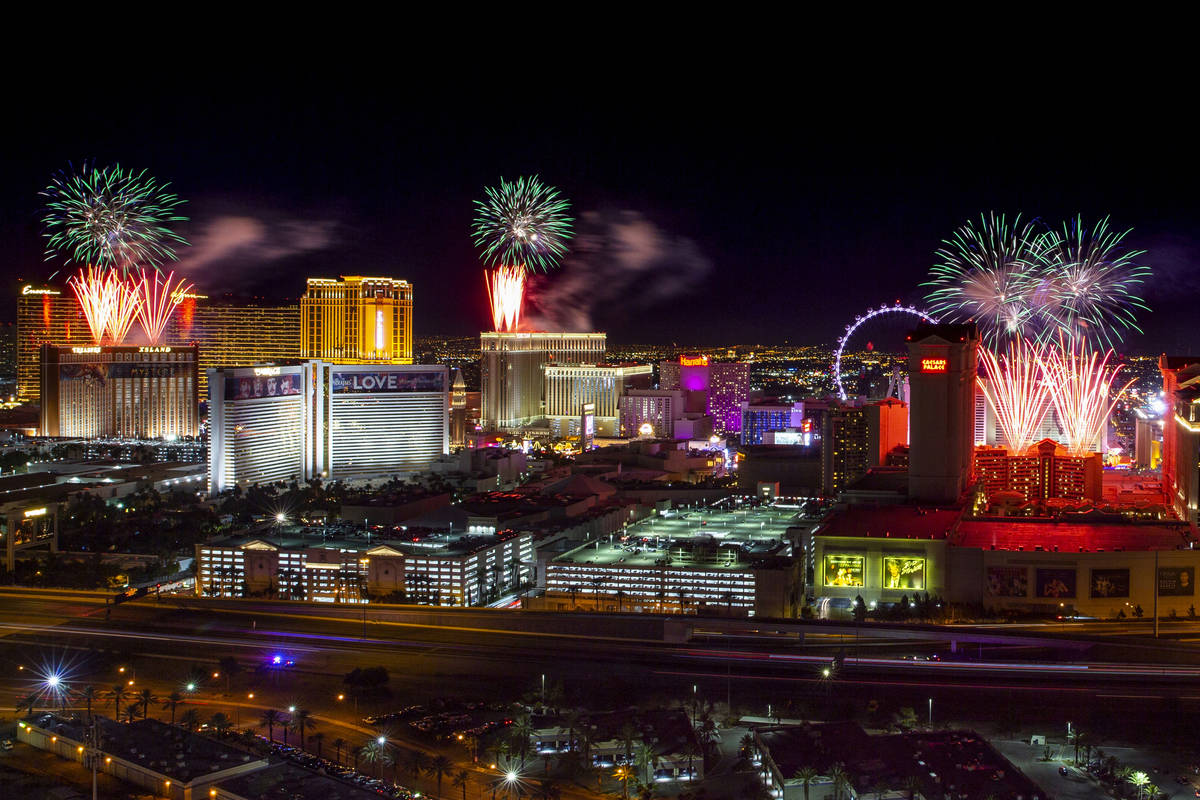 Those who really wanted to kick 2020 in the pants with a fireworks celebration on New Year's Eve are going to have to find another outlet.
The Las Vegas Convention and Visitors Authority quietly announced Thursday afternoon that the annual tradition of a New Year's Eve fireworks display on the Strip has become the latest casualty of the COVID-19 pandemic.
LVCVA President and CEO Steve Hill said the decision to cancel the show was made for the safety and security of guests and employees.
"Las Vegas has always been a bucket list New Year's Eve destination, and we are going to make sure that remains the case — celebrating putting 2020 in the rear-view mirror in an 'Only Vegas' way," Hill's statement said.
Economic impact
A fireworks display lasting up to eight minutes and choreographed to music simulcast over two radio stations has been a staple on Las Vegas' special events calendar for years.
In January, more than 80,000 fireworks illuminated the Strip skyline to usher in 2020. An estimated 318,000 visitors were in Las Vegas for the first special event of the year. Research firm Applied Analysis projected 2020's celebration to have an economic impact north of $250 million.
"NYE is one of the most important dates on the Las Vegas calendar, attracting visitors from around the world and yielding a higher-than-average spend profile," said Jeremy Aguero, principal analyst with Applied Analysis. "Obviously, safety is paramount in a COVID-19 environment, but this cancellation will certainly impact our core industry and its employees."
It's too early to say whether the canceled show will keep visitors away, said Greg Chase, founder and CEO of Las Vegas-based Experience Strategy Associates, but "we all know what New Year's Eve looks like" with its crowds.
He said he is not surprised that the show was canceled in an effort to make sure people are following guidelines and "keeping the city safe."
The Las Vegas New Year's Eve fireworks celebration has become known as "America's Party," and most of it is coordinated by Las Vegas Events, the LVCVA's privately held events partner overseen by President Pat Christenson.
"I think it was the right decision. It's just a difficult time for us to be encouraging superspreading crowds and that's what that fireworks display would do," Christenson said.
Still a celebration spot?
Contractor Fireworks by Grucci has put on Las Vegas' Strip fireworks show since 2001, according to CEO and creative director Phil Grucci.
"We were expecting to perform from seven rooftops, including the Stratosphere to MGM, as we have in the past," Grucci said. "We're extremely saddened by the news, naturally, but it certainly doesn't surprise us because it is following suit in what many big cities are experiencing."
LVCVA spokeswoman Lori Nelson Kraft did not immediately respond to an inquiry on how much money the agency typically spends on New Year's Eve, but Grucci said his company's portion represents "hundreds of thousands of dollars."
Even without the fireworks show, Las Vegas is sure to be a "pre-eminent" celebration spot "on the planet," said Brent Pirosch, the director of gaming consulting services for CBRE's Global Gaming Group.
"Visitors should find plenty to do even minus the outdoor fireworks," he said. "This is a responsible move, and I'm confident the operators will still create memorable opportunities for celebrating."
Resorts and casinos will be working on providing a still-memorable experience for those who traditionally come to Las Vegas to celebrate, Chase said.
Nehme E. Abouzeid, president of consulting firm LaunchVegas, agreed.
"It is just another Vegas element that needs to be reimagined for the time in which we're living," he said. "If the fireworks display went on as usual and became a super-spreader event, then that would have been a terrible outcome. I am confident that organizers will come up with a pivot that will be safe, poignant, and just as fun."
Like many of us, Grucci is ready for this year to end.
"Even without fireworks, let's blast out of 2020 and get into 2021," Grucci said. "In Las Vegas, we're going to come back strong as ever. People are going to want to experience what they've experienced before and more."
Contact Richard N. Velotta at rvelotta@reviewjournal.com or 702-477-3893. Follow @RickVelotta on Twitter.