Pro-police group's role questioned in prosecution of Las Vegas officer
Updated July 22, 2018 - 11:00 pm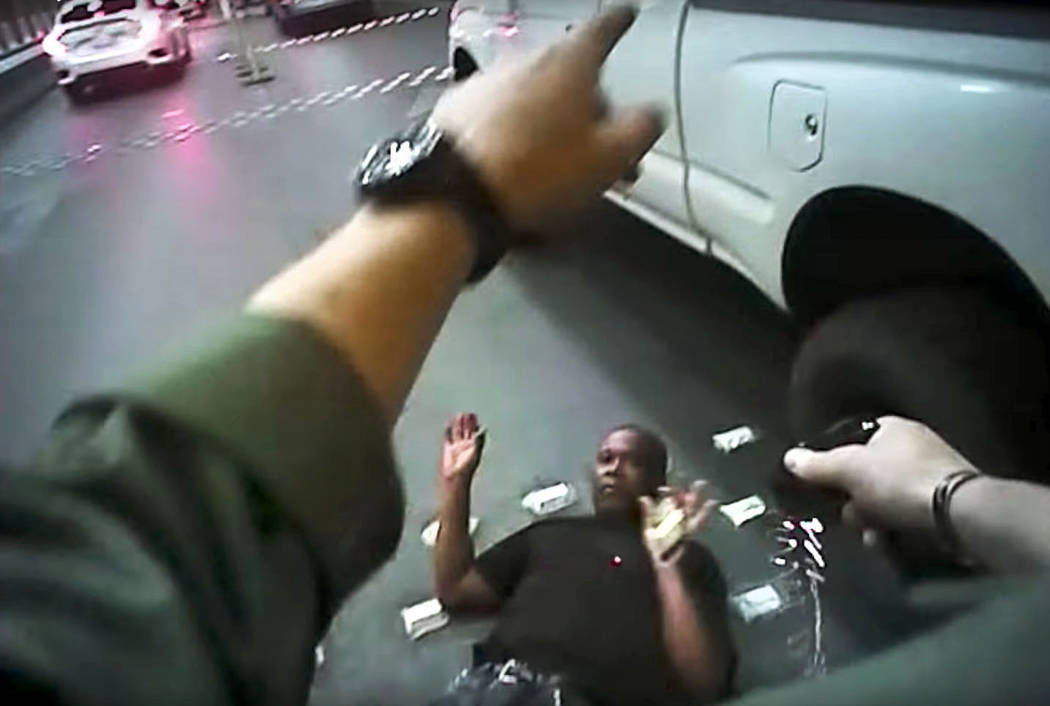 Through the repeated bursts of a Taser, an unarmed Tashii Brown told a Las Vegas police officer that he would comply with his orders outside a Strip resort.
The stun gun crackled seven times, the Metropolitan Police Department said. Then came the punches to Brown's head, and the chokehold that lasted for more than a minute.
The officer, Kenneth Lopera, retired after the encounter. Brown lost his life.
Clark County prosecutors filed charges against Lopera last year, but now the case is in the hands of a grand jury that has been asked to consider a report from Force Science Institute, a Minnesota-based research group that cannot point to a specific time it did not side with police.
"If Force Science is the only one presenting, that is a loaded deck," said University of South Carolina professor Geoff Alpert, who has studied police use of force for more than 25 years.
The institute says it is committed to studying how people react and make decisions in rapidly unfolding situations, but the group's research has been criticized by experts and civil rights advocates.
"There's not a lot of science to it," Alpert said.
Lance LoRusso, a Georgia-based attorney and former police officer who works with Force Science, said the group does peer-reviewed research and is unbiased.
"They're more biased in getting the truth," he said.
Clark County District Attorney Steve Wolfson said he is prevented by law from discussing what is presented to a grand jury. He would not answer questions about the case.
"I don't believe any police officer wakes up in the morning and says, 'I want to go out and kill somebody today,'" Wolfson told the Las Vegas Review-Journal editorial board in May. "That officer reacted in the best way he could, but in my opinion he crossed the line and committed crimes."
It is still not clear whether the district attorney's office is aware of Force Science's reputation and record, said Gary Peck, a longtime Nevada civil rights advocate who has been a vocal critic of police.
"But it would be surprising if they were unaware of what Force Science does, how it does it, and the views of all sorts of professionals with respect to all of that," Peck said.
Cause of death
Brown, a 40-year-old Las Vegas resident, died May 14, 2017, by asphyxia due to police restraint, the Clark County coroner's office said. Methamphetamine use and an enlarged heart contributed to his death, which the coroner's office ruled a homicide.
Steve Grammas, president of the union that represents Metro's rank-and-file officers, said prosecutors sent the case to Force Science after Lopera's attorneys brought in doctors who challenged the official cause of death. A representative from Force Science also testified on Lopera's behalf, Grammas said. The union is representing Lopera in his criminal case.
Grammas said the defense has argued that Brown's enlarged heart and drug use, coupled with the totality of the event, caused his death.
Lopera told police he thought Brown was trying to steal a truck before he used his Taser. Metro later said Brown was trying to pull the Taser probes from his back. Brown would not have faced any criminal charges had he survived, Metro has said.
The case and others influenced Metro's use-of-force policy last year. A department-approved neckhold was reclassified from a low-level use of force to an intermediate or deadly one. Police said Lopera used an unapproved chokehold in the encounter.
Prosecutors charged Lopera with involuntary manslaughter and oppression under color of office about a month after the encounter. A grand jury picked up the case in March, Grammas said.
Randi McGinn, a New Mexico-based attorney who was appointed as special prosecutor in a deadly police shooting in 2014, said use-of-force deaths leave district attorneys, who rely heavily on police to build cases, in an uncomfortable position.
McGinn successfully argued to have most of Force Science founder Bill Lewinski's testimony excluded from the case, which ended with a hung jury.
"DAs, politically, don't want to prosecute police officers," she said.
But taking those cases to a grand jury can be problematic for the public because everything is conducted in secret, she said.
Lewinski and his institute, however, give an out to attorneys in politically inconvenient positions, according to McGinn.
"You send it to him because you know in advance what the outcome is," she said. "He's going to say that it's justified."
Repeated attempts to reach Lewinski for comment were unsuccessful.
Pro-police reputation
The institute has taken on hundreds of cases for review over the years, but LoRusso said he is unaware of any cases in which Force Science has testified against an officer.
Jeff Noble, an expert witness with nearly 30 years of policing experience in California, said Force Science may be dissuaded from testifying against officers because it sells classes to police.
Metro sends its use-of-force investigators to Force Science classes, police spokesman Jay Rivera said. LoRusso said the group's classes draw between 4,000 and 5,000 students annually. A five-day course is scheduled for November in Henderson, and tuition is $1,500 per student.
"There may be something to what he's selling," Noble said. "I'm willing to grant that. I just think the science should be more rigorous."
LoRusso bristled at those who criticize Force Science for not testifying against police, calling the critique "amateurish." He said a lawyer looking to take a case against police would not bring Force Science on as a witness if the group did not provide an opinion that was helpful to the case.
But Peck said Force Science's record of siding with police speaks for itself.
"It is the record that explains why Force Science's reputation is established and precedes it," he said.
Contact Blake Apgar at bapgar@reviewjournal.com or 702-387-5298. Follow @blakeapgar on Twitter.
Timeline of events
May 14, 2017: Tashii Brown dies at Sunrise Hospital and Medical Center after an encounter with Las Vegas police.
June 5, 2017: Officer Kenneth Lopera is arrested by Las Vegas police. Sheriff Joe Lombardo says Lopera will be charged with involuntary manslaughter and oppression under color of office.
June 12, 2017: Lopera is charged in Las Vegas Justice Court.
July 18, 2017: A federal civil rights lawsuit is filed on behalf of Brown's children. The lawsuit accuses the department of excessive force and gross negligence.
Aug. 18, 2017: Lopera files a lawsuit against the Metropolitan Police Department, arguing that he should not have to submit to questioning.
Sept. 15, 2017: Metro use-of-force policy changes go into effect. Among the changes is the reclassification of the Lateral Vascular Neck Restraint, the neckhold police said Lopera did not use in his encounter with Brown. The LVNR was reclassified from a low-level use of force to intermediate or deadly. Brown's case was one of many that influenced the change, police said.
Nov. 1, 2017: Metro Sgt. Travis Crumrine is demoted to police officer. Crumrine was the sergeant in charge of Lopera at the time of the encounter with Brown.
March 2018: Lopera's criminal case is taken up by a grand jury, according to Las Vegas Police Protective Association President Steve Grammas.
May 13, 2018: Brown's mother, Trinita Farmer, files a federal lawsuit against Lopera and three other Metro officers. The lawsuit alleges that the other officers did not intervene during the encounter.
May 24, 2018: Chief Deputy District Attorney Marc DiGiacomo says at a status hearing that the case is being reviewed by the Force Science Institute.