Witness reports give insight into Las Vegas shooting
Updated May 17, 2018 - 12:08 am
In loopy yet neat handwriting, the woman wrote detail after detail about what she saw the final night of the Route 91 Harvest festival.
It was about an hour after sunrise Oct. 2 as pen swirled across paper — not yet a day since she saw her friend die.
Her account is one of hundreds that Las Vegas police released Wednesday, totaling more than 1,200 pages of witness statements from the mass shooting. Her name was redacted from copies released to the media.
Most statements — like the anonymous woman's account — describe the chaos and bloodshed of friends, family and strangers. Many descriptions take up several pages. Some only fill a few lines.
Insane…. this JUST happened. #PrayForVegas pic.twitter.com/RWgjFW7BHy

— Luke Broadlick (@LukeBroadlick) October 2, 2017
"I was standing several feet away from the stage (do not know the distance)," the woman first wrote. Here, her letters stand straight and tall, absent the lean of cursive penmanship.
"I heard pop pop pop pop. …" she wrote. "I turned around to see if anyone shot firecrackers."
A few seconds later, she heard "pop pop pop pop" again.
Her handwriting was still shipshape as she described the moment she realized those sounds were gunfire.
"People started screaming and saying, 'get down, get down, down now!'" she continued. "My friend was next to me, and she was down too."
Together, they waited a few minutes as the gunfire kept popping. Then the woman got up and told her friend to start moving. "But she was not moving," the woman wrote.
Click to see the handwritten statement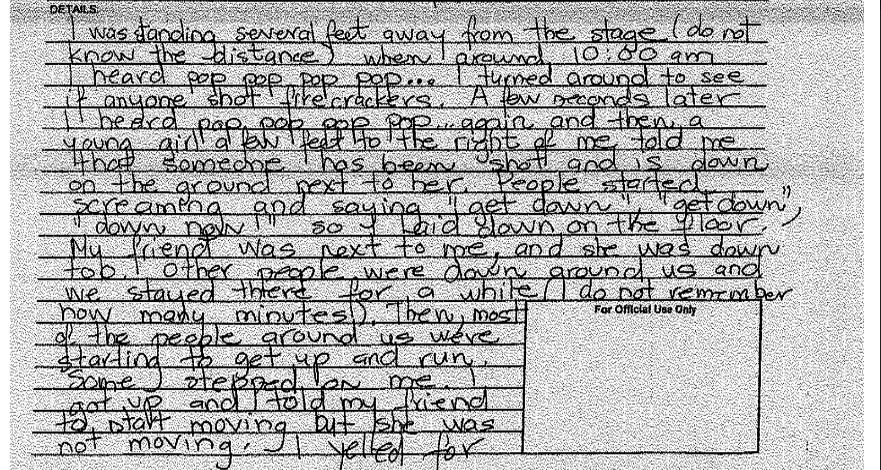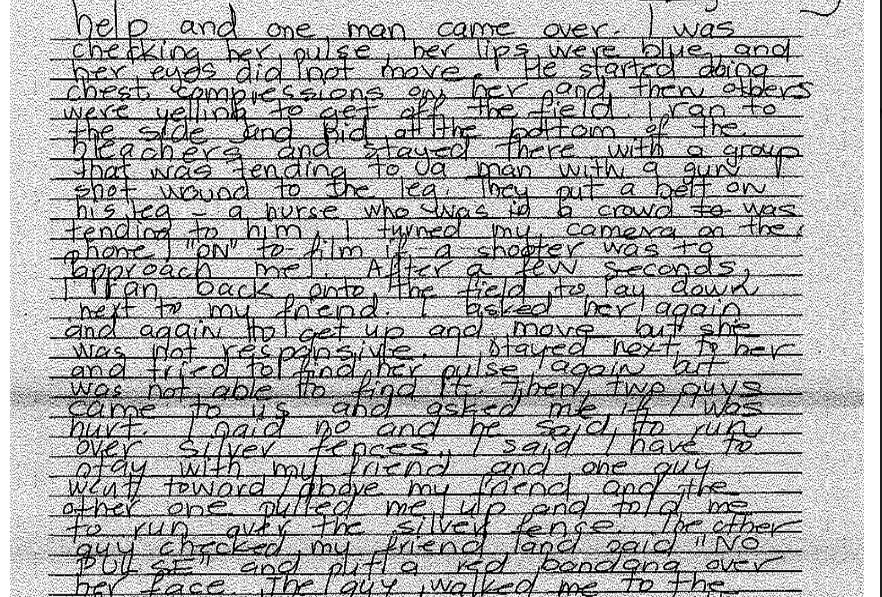 Her handwriting begins to stretch here. Her letters appear a little bigger. Her words are slightly more spaced out on the page.
"I was checking her pulse, her lips were blue, and her eyes did not move," she wrote.
A man nearby "started doing chest compressions" on her friend as others "were yelling to get off the field."
The anonymous author took cover, but after a few moments, she ran right back to her friend.
"I asked her again and again to get up and move but she was not responsive," she wrote. "I stayed next to her and tried to find her pulse again but was not able to find it."
Two men then approached. One checked her friend and said, "NO PULSE," then placed a red bandana over the friend's face.
The woman's handwriting is large now. Some letters take up three lines on the official document, titled "VOLUNTARY STATEMENT."
She tried to find her friend in the "medical area" later that night, she wrote, but did not see her.
"I stayed there for a while," her last line reads, "and then went to my room at Tropicana."
Trauma of thousands
The statements released Wednesday paint a detailed picture of the trauma thousands experienced the night of the mass shooting.
They also mark the first records of their kind released since the Oct. 1 tragedy, which left 58 people dead and hundreds more wounded.
While all the documents came from the Metropolitan Police Department, the source of the material released Wednesday varies.
Some documents are topped with letterheads that read "Federal Bureau of Investigation," "Dignity Health St. Rose Dominican" or "Henderson Police Department."
At least one document lists a police department in Texas, which interviewed a woman who was shot in the foot but managed to fly home and then seek treatment, since many Las Vegas area hospitals were overwhelmed.
One statement, taken by a Henderson police officer, was that of Mandalay Bay security guard Jesus Campos, who was shot in the leg in the 32nd-floor hallway — the same hallway as the gunman's suite.
The document — like all others — is redacted, and Campos' name is not visible. But the details in the handwritten statement match details Metro previously has released about Campos.
"Shots were fired as I was leaving and I got hit on my left calve (sic)," according to the guard's statement, which indicates he then called for backup.
The statement was only a page long. Another document, which appears to be a transcribed interview between Campos and Metro investigators, suggests Campos did not "frequently" work in the Mandalay Bay tower where he was shot.
"It just happened to be that day that I was working those floors," he said, according to the document.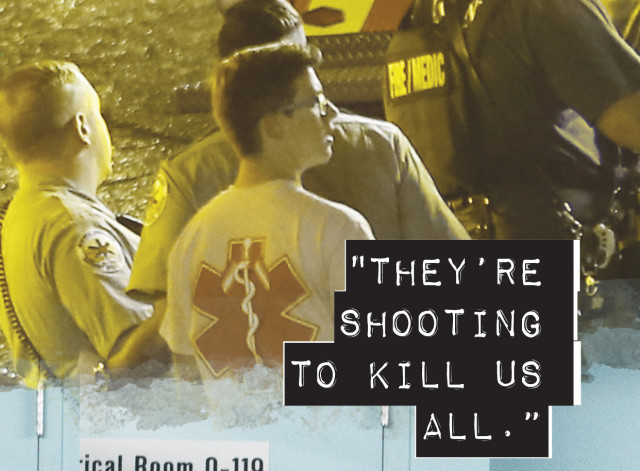 Another employee, described only as "sec dispatch," described coming in to work Oct. 3 and reviewing "any recording of the 'sec/engineering' transmission."
The employee noted that, as he was copying the files onto a disc, he discovered "the time stamp was incorrect."
"Time stamp was 20-30 min ahead of actual time," the employee wrote. He then indicated he "corrected time to match" the rest of the security system.
"No other system time were adjusted at this time," the employee also wrote.
In the first two weeks after the shooting, Metro revised its timeline of events at least twice in a series of news conferences.
According to a separate document, a Metro investigator asked a Mandalay Bay security employee in the days after the tragedy if the hotel had a policy regarding how to handle evidence related to criminal investigations.
"No, we don't," the employee replied.
Small details
It remains unclear how many witness interviews were completed throughout the mass shooting investigation.
The statements released Wednesday were mostly collected in the days immediately after the shooting, according to the dates on the documents. Several include transcriptions of interviews that took place in local hospitals.
Even the shortest of statements reveal small, painful details.
A pregnant woman wrote about running for her life that night with her husband.
"My body wasn't responding well," the woman, who was six months along at the time, wrote. "I was very scared. My whole body felt very heavy."
Several people pointed out they tried to call 911 but could not get through.
When the gunshots started, one woman was using a festival restroom. Her wife pounded on the port-a-potty door.
She bolted out of the bathroom and began running with her wife.
The couple made it all the way to the Tropicana, where they hid behind air conditioners on the roof of the hotel, praying together high above the Strip.
Legal battle
The document dump came about two weeks after Metro released body camera footage from two of the officers who helped breach the gunman's Mandalay Bay suite the night of the shooting. The first officer to breach the room, Levi Hancock, did not activate his camera.
Those clips were the first of many that Las Vegas police must release over the next several months in compliance with a court order.
The order came after a lengthy court battle in which the Las Vegas Review-Journal and other media organizations sued for Metro to release records from the mass shooting investigation, including body camera footage and 911 calls.
It remains unclear when the next batch of records will be released.
Contact Rachel Crosby at rcrosby@reviewjournal.com or 702-477-8301. Follow @rachelacrosby on Twitter. Contact Review-Journal Capital Bureau reporter Colton Lochhead at clochhead@reviewjournal.com or 775-461-3820. Follow @ColtonLochhead on Twitter. Contact Eli Segall at esegall@reviewjournal.com or 702-383-0342. Follow @eli_segall on Twitter. Contact Madelyn Reese at mreese@viewnews.com. Follow @MadelynGReese on Twitter.
Review-Journal staff writers Michael Shoro, Blake Apgar, Michael Scott Davidson and Jeff German contributed to this report.
RELATED STORIES
'Babe, I've been shot': An account of surviving Las Vegas shooting
Gunman's staring bothered housekeeper before Las Vegas shooting
EMT reported credit card fraud after Las Vegas shooting