Revelers ring in 2018 on Las Vegas Strip
December 31, 2017 - 7:44 pm
Updated January 1, 2018 - 1:31 am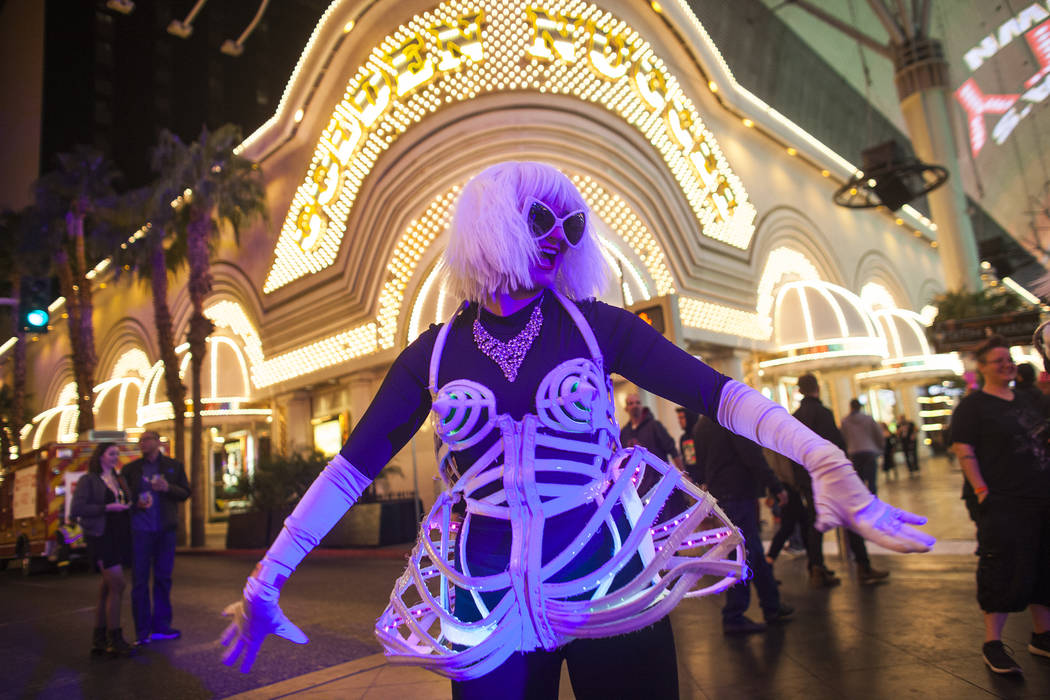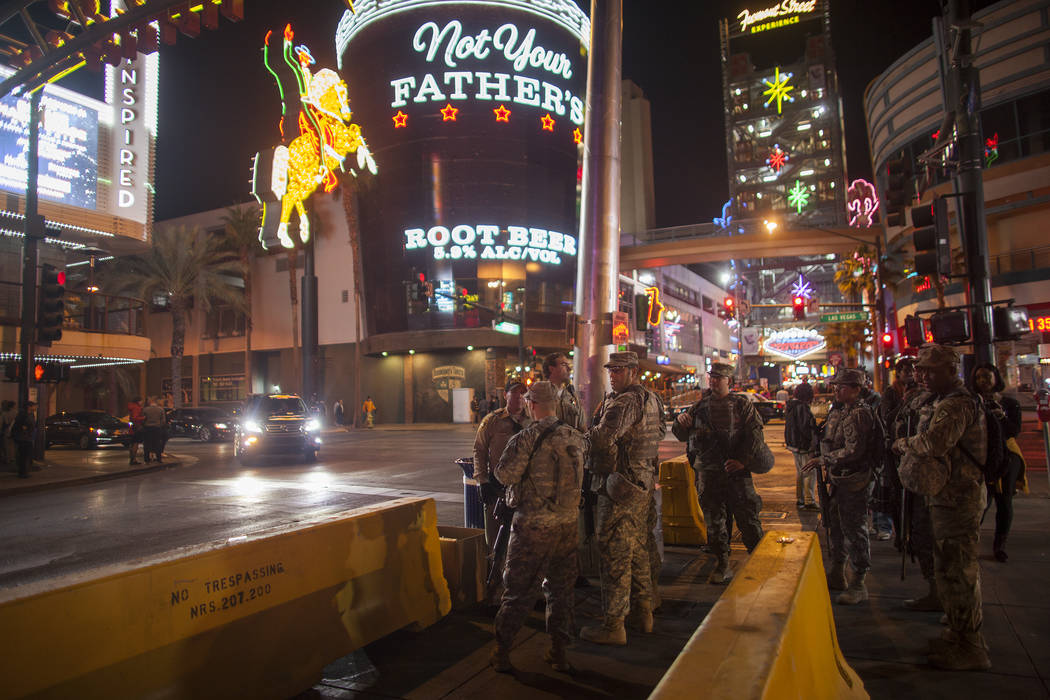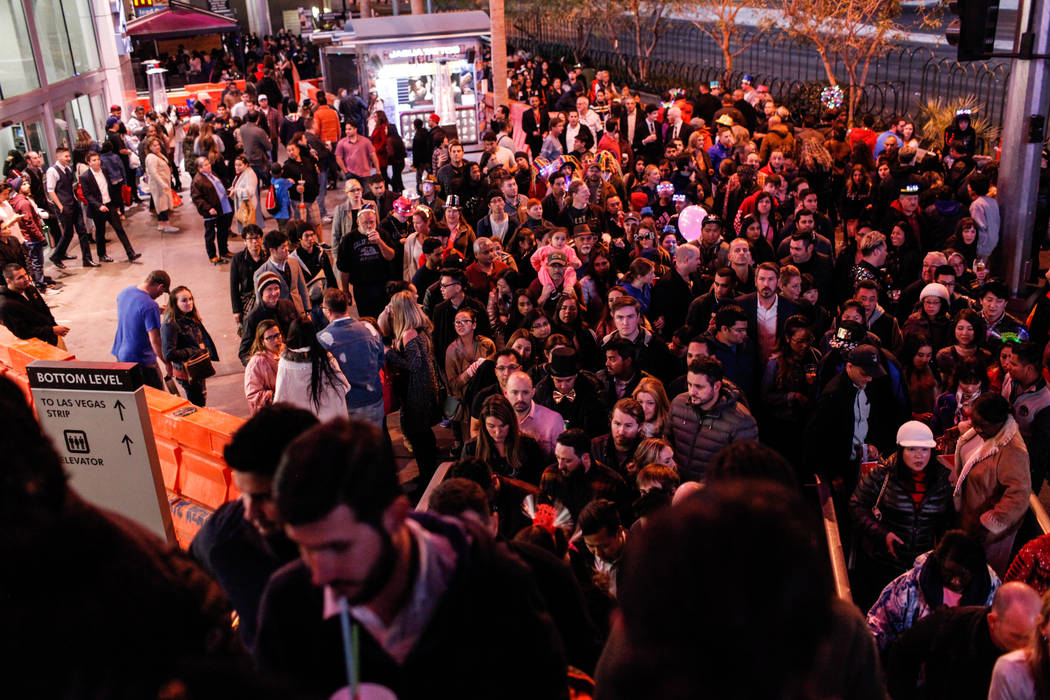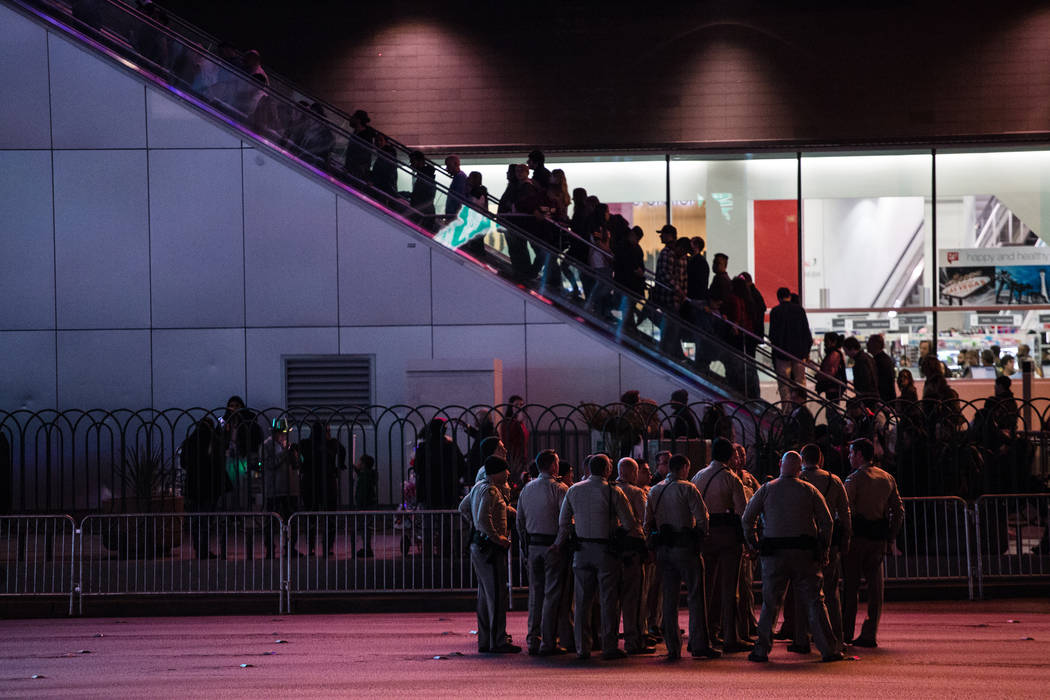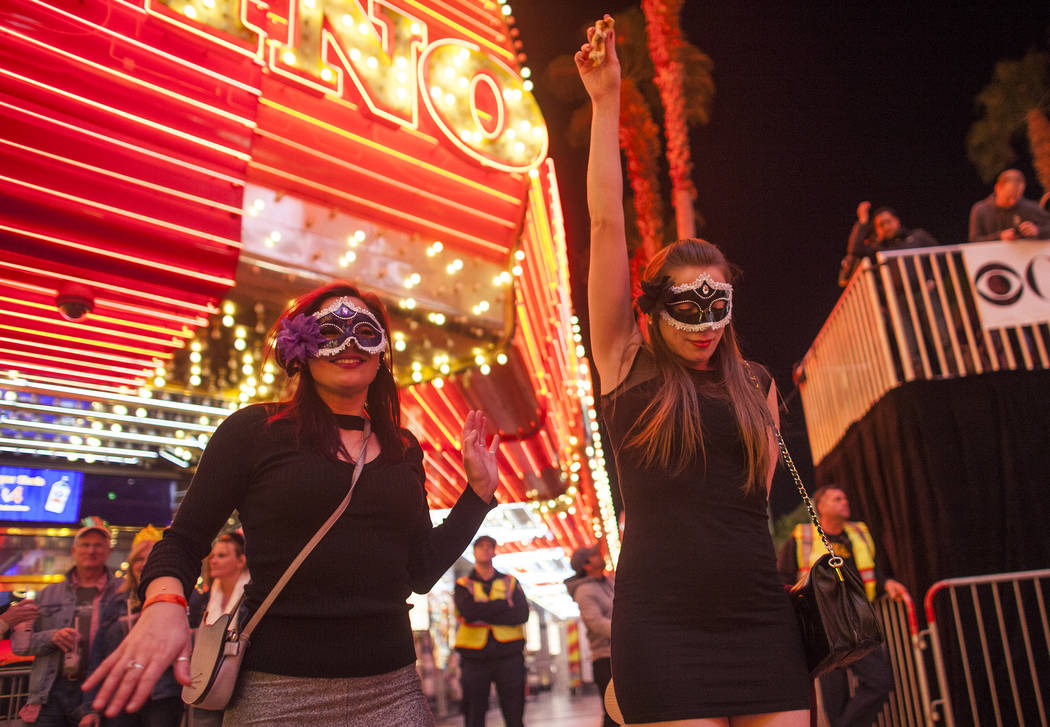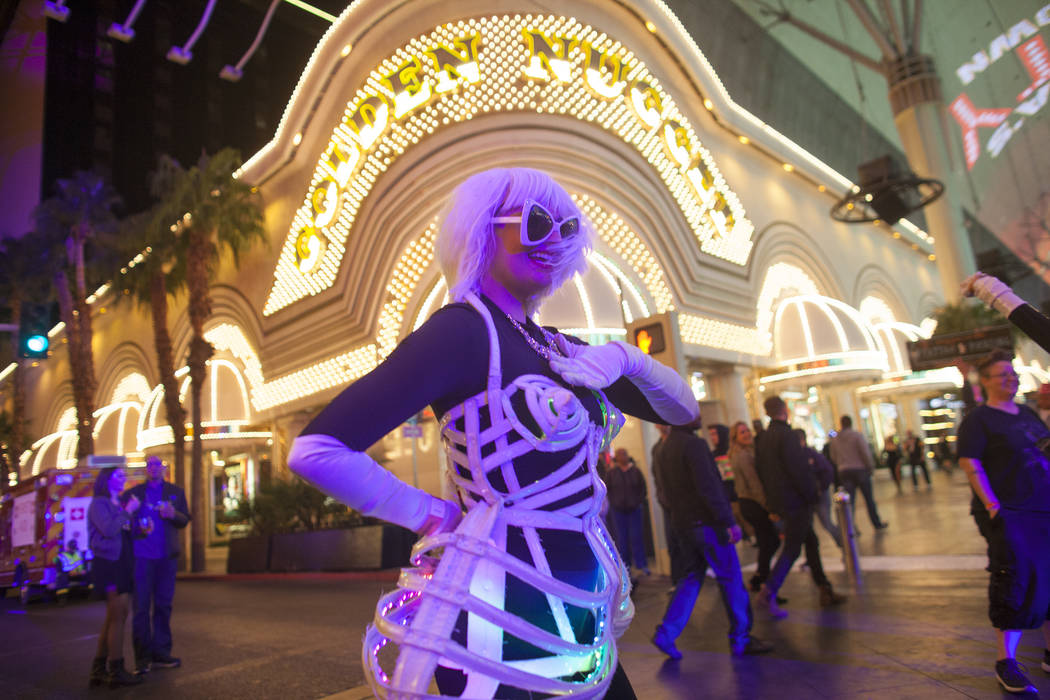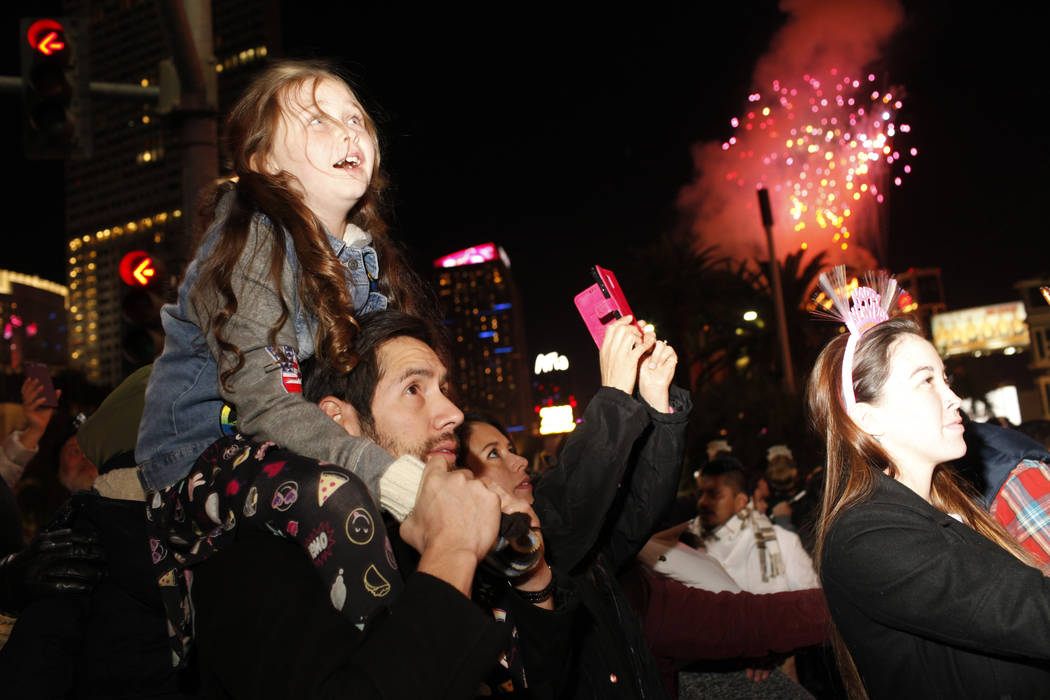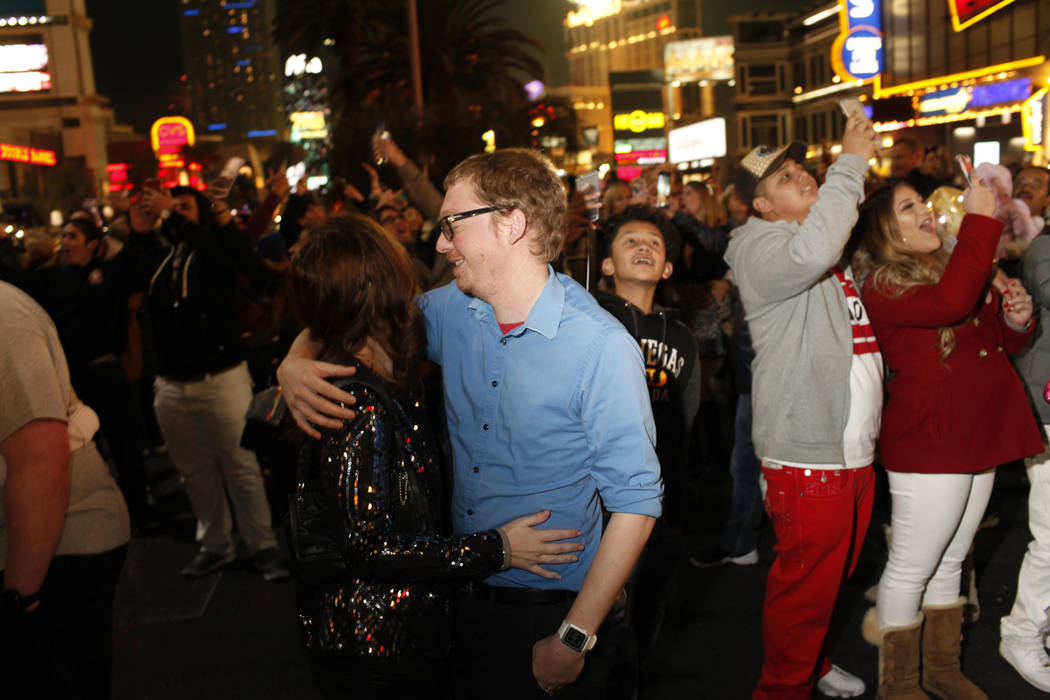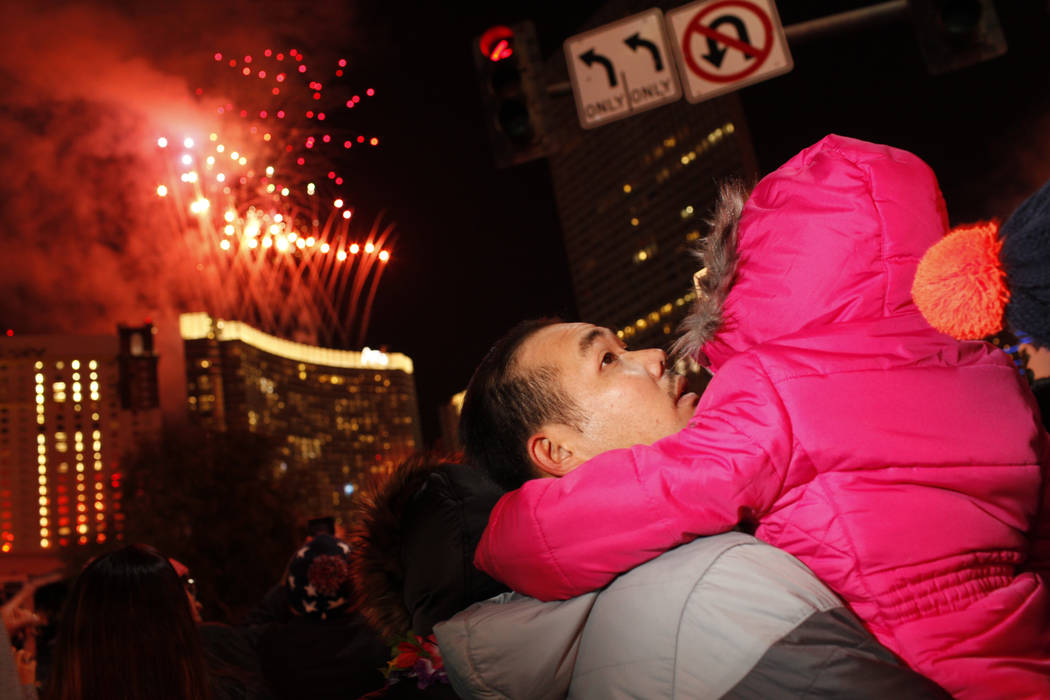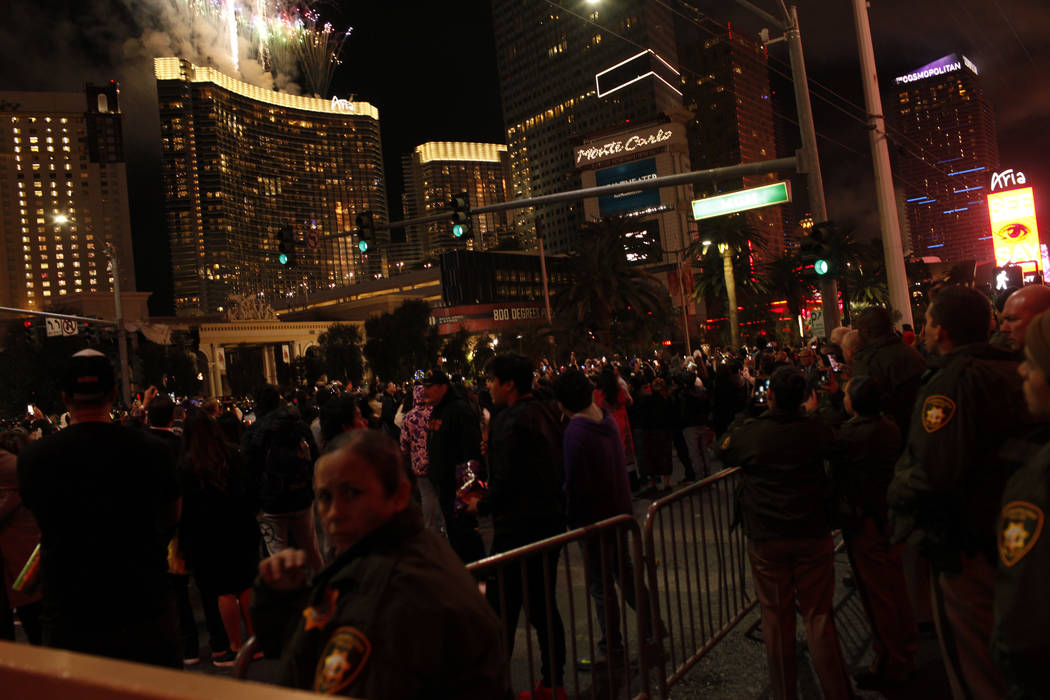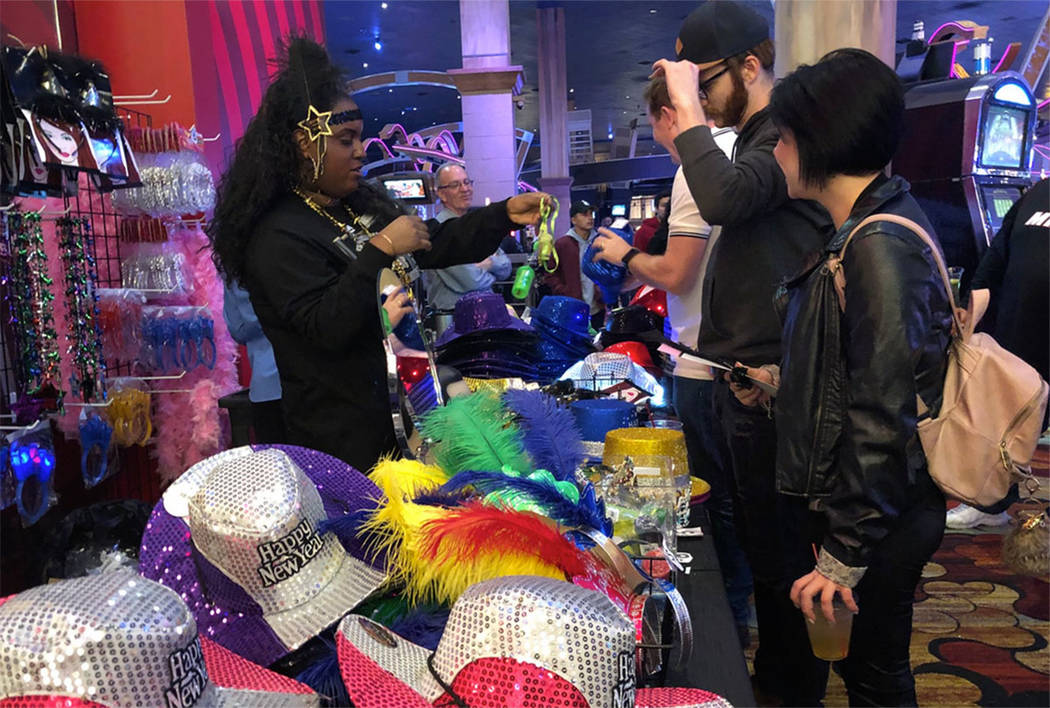 Heavy doses of anxiety, security and elation greeted the imminent arrival of 2018 in Las Vegas.
A crowd of 330,000 visitors was expected to fill the Strip and Fremont Street downtown, as a record contingent of law enforcement officers kept the peace.
This year's massive outdoor party unfolded in the shadow of the Oct. 1 mass shooting that left 58 people dead. In the run-up to midnight, police and national guard units lined Giles Street behind Route 91 Harvest festival fairgrounds, scene of the attack.
Several people said they came to celebrate in spite of what happened three months ago Monday.
"We figured this was probably the safest place anywhere in the world," said Lynn Cherry, 59, as she sat outside New York-New York with Alan Hale, 57.
The Panama City Beach, Florida, couple — in matching 2018-themed party glasses — had set up a digital camera in anticipation of midnight fireworks above the MGM Grand. They also spotted police snipers perched atop Strip hotels.
Bianca Maldonado, 18, of Chino Hills, California, said she wasn't about to let the shooting dissuade her from continuing a family tradition.
"We've been celebrating New Year's Eve on the Strip for years," she said while encamped in front of the Bellagio Fountains shortly after sunset with her aunt, Stella Gomez. "We love everything about this place — the music, atmosphere and the ambience in general. The food is amazing."
She said they also were reassured by the tight security.
"We try not to think about (the shooting), to be honest. We just want to think happy thoughts," Maldonado said. "There's a good amount of police presence here and I know they'll do a good job."
Bucket list trip
Sporting sequined silver-and-red hats outside Harrah's, Vincent and Sharon Martin of Miami described being in Las Vegas on New Year's Eve as a bucket-list trip.
"Being able to drink, walk around and have fun — it's kind of like Disney for us," said Vincent Martin, a 55-year-old mall manager, adding that he and his wife usually visit the city at least twice a year. "If you work hard, you gotta play hard."
He said they were not deterred by the Oct. 1 shooting on the Strip.
"We were here on Oct. 16," he said. "It's going to happen anywhere."
But Sharon Martin said the increased security presence for the New Year's celebration was "really appropriate" in the wake of the shooting.
Highway message boards urged revelers to be vigilant and obey restrictions on backpacks, coolers, large bags, strollers and glass bottles on the Strip. "See something, say something. Call 911," the message boards flashed.
Jiazi Guo, a tourist from San Francisco, stopped to have her picture taken with Ashley Swope of Las Vegas, who was patrolling the Strip with her Nevada National Guard unit.
"I really wanted to take a photo with her because it's so unique to see, not just the National Guard out here, but a woman. It makes me think of girl power," Guo said. "I really do appreciate them all being out here especially in the aftermath of the Oct. 1 shooting. My parents were really worried about me coming here, but seeing them here makes me feel protected."
Strip shuts down
By 6 p.m., all roads leading into the resort corridor had shut down. The 3-mile stretch from Mandalay Bay to the SLS was closed to vehicles and fully open to pedestrians by about 6:45. RTC buses were used as barricades to block several major streets leading to the Strip, as drones and helicopters patrolled overhead.
Sheriff Joe Lombardo and Gov. Brian Sandoval spent time outside Caesars Palace, shaking hands and taking photos with cops.
About 1,500 Metropolitan Police Department officers were on duty over the three-day weekend, including those snipers on Strip rooftops.
Police doubled the number of quick-response teams in the resort corridor, while the FBI deployed 100 people from outside Las Vegas for specialty positions and the Nevada National Guard sent more than more than 300 troops to the Strip, downtown and McCarran International Airport.
.@LVMPD drones are watching the #VegasNYE crowds from above tonight pic.twitter.com/rf8g4oWXZS

— Rachel Crosby (@rachelacrosby) January 1, 2018
Those who chose to ring in the new year in Las Vegas were rewarded with calm winds and above-average temperatures that never dipped below 40 degrees.
Alberto Lemus, whose black-and-gold beads added a garish touch to his cross and Virgin Mary necklaces, was taking turns blowing a vuvuzela horn with his 8-year-old nephew, Thomas Avilas, as revelers strolled past the Palazzo.
Visiting Las Vegas for the first time with 12 other family members, Lemus said he found the atmosphere safe.
"People should feel protected," said the 33-year-old construction supervisor from Los Angeles.
About a block south, Scott Tavis, 53, of San Francisco, admired the police presence. He said he was in Las Vegas to ring in 2018 in part because of a comped room, and the Oct. 1 shooting did not alter his plans.
"I'm not going to let anything like that deter me from flying, coming here or doing anything," he said. "It's not going to deter me. I can't let them win."
People-watching jackpot
The Travis, Durrum and Cross families of Lexington, Kentucky, have been celebrating New Year's Eve in various locations for the past 15 years.
To welcome 2018, they decided on the Las Vegas Strip.
"We wanted to do something new and different this year," said Tammy Durrum, 51.
They were told the best way to experience the city on the holiday — with the streets closed to vehicle traffic — was to be out in the crowds of people.
"We're people watchers," Durrum said.
Among the early sightings: A man dressed in a bright pink outfit that featured a fake bra and a fake butt.
"There's some people you wish you had seen, and others you wished you hadn't seen," said Kim Travis, chuckling.
Less disturbing to the families was the sight of police officers lining the barricades in the middle of Las Vegas Boulevard.
"I think it's great," Travis, 49, said. "At least everyone's aware and ready."
On the Strip outside New York-New York, 23-year-old Scott Dykstra wove in and out of the crowd, swaying his arms and looking dreamily at the Las Vegas night sky.
His friend, 22-year-old Marc Belizario of Las Vegas, followed close behind, filming Dykstra as he danced on the sidewalk, giving high fives to passersby.
"Best of luck to you, my friend," Dykstra said as he slapped the hand of a young man with dreadlocks holding a skateboard. "Happy New Year!"
The filming was for a rap and EDM music video under Dykstra's alias, "Neighbor."
"The combination of the Strip shutting down, the lights, the people, the revelry," he said. "What better music video than that?"
The Southern Californian who once lived in Vegas said he wasn't deterred from celebrating after Oct. 1. "We can't live in fear, but we also got to keep our wits about us," he said.
His resolution? "Keep being goofy," the software engineer said.
Zipping into 2018
Downtown, the SlotZilla zipline was seeing a lot of action as the festivities at Fremont Street Experience got rolling at about 6:30 p.m.
On the street below, revelers clad in glittering hats strolled under the canopy as dancers and bands pumped music into the air.
Lucy Moskoyes jumped in a car at 9 a.m. and drove from Tucson to Las Vegas to meet her husband who was already here.
Moskoyes said she felt safe amid the increased police presence but felt "a little intimidated by it."
She didn't let it cramp her style too much. She danced alone under the canopy as her husband explored Fremont Street. "I'm spontaneous! Let's go!" Moskoyes said.
Duke and Melody Gressett, 62 and 60, respectively, joined the party to celebrate a new chapter in their lives.
The Seattle couple got married earlier Sunday and posed for a caricature amid the loud celebration on Fremont Street in the evening. "We thought with all the added security down here, this would be an outstanding place to come," Duke Gressett said.
Metro officers could be seen posted at the doors of many businesses and walking around Fremont Street Experience with rifles.
Tony Marques, leader of the Tony Marques country band, admitted he felt a few butterflies in his stomach over the past 24 hours.
It wasn't because he was nervous to perform — he had noticed the heightened security in Vegas on the news and on Fremont Street.
"It's sad that it's gotten to that point," Marques said. "You just hope and pray to God that nothing bad happens."
But it's Vegas, and people won't be scared off. "They're going to come out and party and have a good time, which is great,'" he said.
Bobby and Pam Hartley of Oklahoma City spent about six months planning their trip to Las Vegas to celebrate their 11th wedding anniversary. "We're very adventurous so we kinda let the night lead us," Bobby Hartley said.
While he was happy with the security overall, he said he thought the gate where he entered the event was short-staffed.
He said he saw some bags make it around security and reported the issue to police.
"We've all gotta worry about our safety out here," Bobby Hartley said. "Everybody."
Contact Henry Brean at hbrean@reviewjournal.com or 702-383-0350. Follow @RefriedBrean on Twitter. Review-Journal staff writers Blake Apgar, Jessie Bekker, Natalie Bruzda, Rachel Crosby, Meghin Delaney, Briana Erickson, David Ferrara, Colton Lochhead, Sandy Lopez and Amelia Pak-Harvey contributed to this report.
Related
Where you can see fireworks on NYE in Las Vegas
Tips to stay safe while celebrating New Year's Eve
For more coverage of New Year's Eve in Las Vegas