CCSD delays board vote on reopening schools to students, staff
Updated October 17, 2020 - 1:03 pm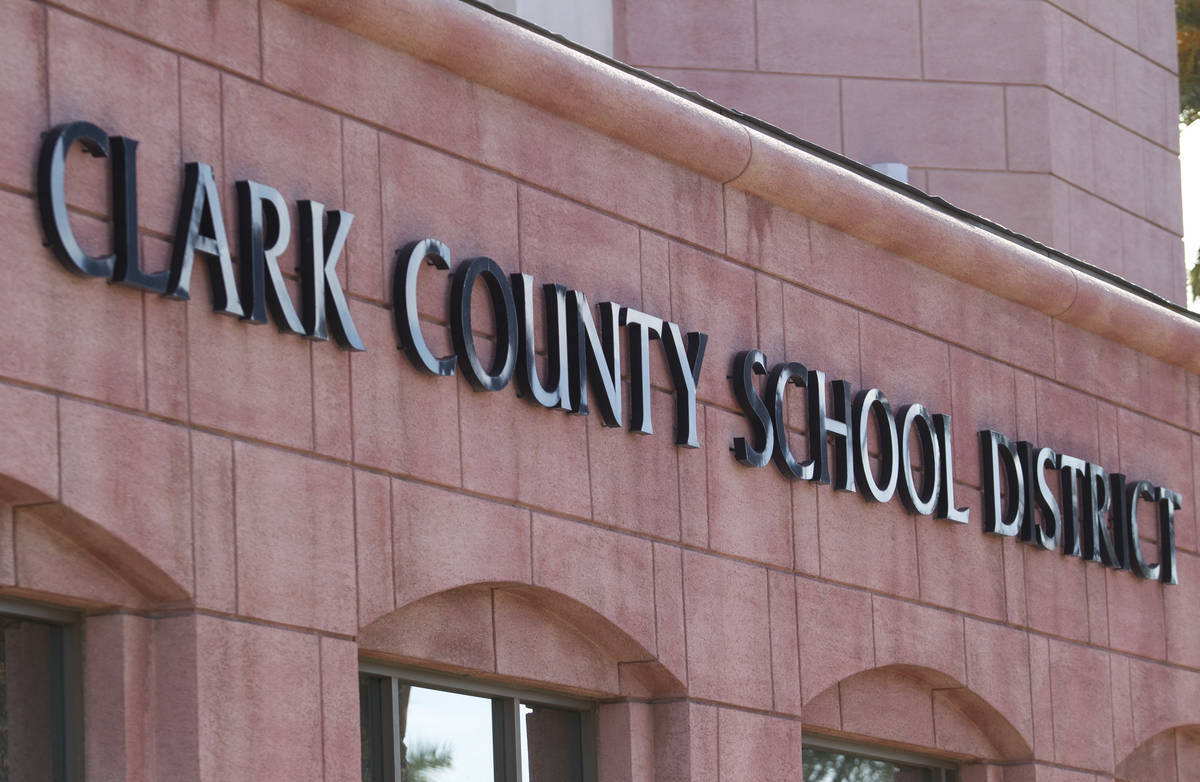 The Clark County school board will not take a vote on a plan to bring students back to classrooms at its meeting next week, dispelling recent rumors of an expedited reopening.
The vote on a final plan to transition to the hybrid learning model in which students attend classes two days per week and learn from home three days a week is now expected at the Nov. 12 board meeting.
A statement from the district Friday said the board would still hear a presentation on COVID-19 health data next week with the opportunity for discussion. That presentation was not included in the meeting materials posted Friday afternoon.
District representatives said earlier in the week that the board would hear a plan at Thursday's meeting to transition the district to a hybrid model over the coming months. The vote on such a plan is now set for Nov. 12.
The announcement came shortly after several schools operating under the hybrid learning model in the Moapa Valley area saw positive COVID-19 cases, with Grant Bowler Elementary School transitioning to full-time distance learning as a result.
However, board president Lola Brooks said the Moapa Valley situation wasn't the deciding factor in the timing of the transition presentation, as she and Superintendent Jesus Jara had already been discussing next week's agenda when they got word of the positive cases.
"Next week's meeting will allow the board and superintendent to have a dialogue about the factors that need to be addressed before staff presents the board with a final transition plan," she said.
Jara said at the last board meeting that he was considering a plan to bring essential staff back to campuses to monitor students' mental health. However, Brooks said Friday she didn't believe additional staff members were returning to campuses at this time.
Board vice president Linda Cavazos said she was personally concerned about the rise in COVID-19 case numbers in Clark County, and had received texts, emails and calls from community members worried about the same.
"All of us have been keeping a very close eye on the numbers," Cavazos said. "Those numbers are very much of concern to us as we consider any kind of transitional plan."
She said she appreciated the superintendent and district staff taking a more cautious approach to reopening, and added that her worst fear would be reopening too soon and seeing an outbreak in schools.
Board clerk Danielle Ford said some members felt more conversation was needed before recommendations on reopening were brought forward. The board is working with a governance trainer, she added, with a focus on how items are added to the agenda.
"Now that we've brought a balanced governance trainer, we want to make sure we're following the model and leading the district as well as possible during difficult times," she said.
The board's officers — including Ford, Brooks and Vice President Linda Cavazos — will hold an officers meeting on Monday, followed by a meeting of the full board on Thursday, after which there are no regularly scheduled meetings until a work session on Nov. 4.
Following the news, the district's bargaining agents representing teachers and support staff each emphasized the need to adhere to health data in any discussions about reopening.
"CCEA's position remains the same," said a statement from Clark County Education Association President Marie Neisess. "In order for us to support any sort of reopening, two things must be in place. A robust testing, screening and contact tracing program for staff and students, and the transmission rate of the virus in the community has to be 5 percent or below. Without those two things, we are not in favor."
Education Support Employees Association Vice President Jan Giles said in a statement that the union would continue to advocate for "a safe and secure reopening that follows CDC guidelines" and for personal protective equipment for students and staff.
"The positivity rate in Clark County is still too high. Per various public health organizations, a 3-5 percent positivity rate (or lower) has a lower risk of transmission, and we are not there yet," Giles said. "Again, we need to rely on scientific data, and nothing else. That data, not simply the superintendent or the trustees, should tell us when we return to school."
Parent reaction to any sort of talk of reopening schools is always mixed, said Nevada PTA President Rebecca Dirks Garcia. One thing parents seem to be grateful for is the certainty of a date that they might expect a vote, she added, given that many families will need to make arrangements for child care, transportation or going back to work in the event of a hybrid reopening.
She said she expects any transition plan to happen in phases given the size of the district, and hopes that a discussion will answer the unaddressed questions about the hybrid model, such as who would be responsible for teaching students in the online-only cohort.
"There is literally not a perfect answer to how to bring kids back in person, but ultimately it's adults making decisions, and the question is whether they're going to put children first in the decisions they make," Garcia said.
Contact Aleksandra Appleton at 702-383-0218 or aappleton@reviewjournal.com. Follow @aleksappleton on Twitter.