Students, teachers in Nevada no longer will need to wear masks
Updated February 11, 2022 - 6:41 am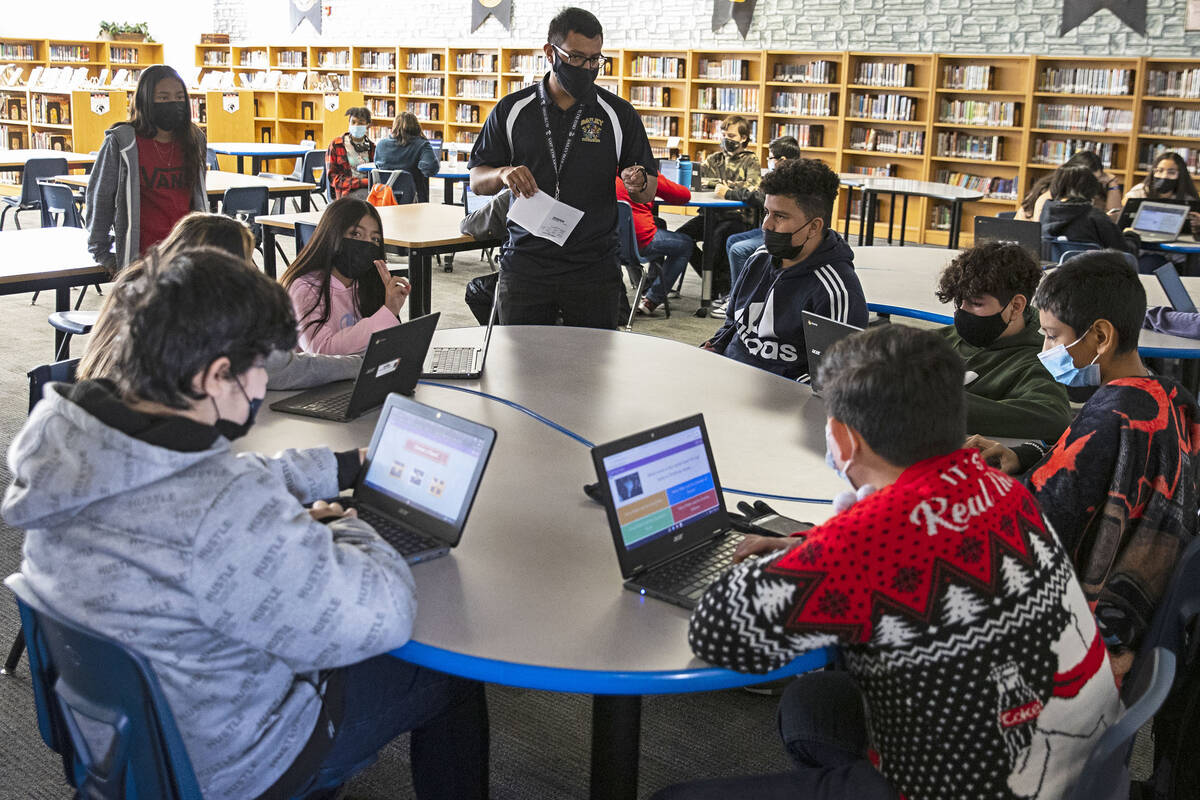 Nevada students and school employees — including in Clark County — will no longer be required to wear face masks following an announcement Thursday from Gov. Steve Sisolak.
Sisolak rescinded the statewide mask mandate, but said school districts may set their own policies.
The Clark County School District — the nation's fifth-largest with more than 300,000 students and 40,000 employees — said it won't require masks at schools and other district facilities beginning "at the end of the school day" Thursday.
"Because COVID-19 continues, students and employees of CCSD can make the individual choice to continue masking," the district said in a statement. "At this time, all other COVID-19 mitigation measures remain in effect."
Under federal rules, masks will still be mandated on school buses.
While the state directive lifting the mask mandate technically went into effect immediately, students and school employees were required to continue wearing a mask Thursday.
"I don't want schools to be disrupted today, so masks will stay on through the rest of the school day, so parents and families can have that conversation together," Sisolak said.
Other schools respond
The Diocese of Las Vegas, which oversees seven private Catholic elementary-middle schools and Bishop Gorman High School, also said Thursday it will lift its mask mandate effective at the end of the school day.
The diocese said that if a COVID-19 outbreak is identified on its property, masks and other mitigation measures may be immediately implemented for all students and employees.
Rebecca Feiden, executive director of the Nevada State Public Charter School Authority, said via email that charter schools will be able to move to mask optional.
"If a school wanted to continue to require masks, that decision would be made at the charter school level," she wrote.
Meanwhile, the Nevada System of Higher Education also said Thursday it will no longer require face masks for students, employees and the public.
NSHE, which has eight public schools and about 100,000 students, says its change will include places such as classrooms and work spaces.
At UNLV, masks are no longer required on campuses "except those areas where healthcare services are being provided," President Keith Whitfield and Executive Vice President/Provost Chris Heavey said in a message to the campus community.
The school will also continue to provide KN95 masks for those who want them, according to the announcement.
About 97 percent of UNLV employees and 91 percent of students are vaccinated, Whitfield and Heavey said. "Our vaccination rate is one of the main reasons why the COVID-19 virus has had less of an impact on the UNLV campuses than in the Las Vegas community at large."
Unions back decision
The Clark County Education Association — which represents more than 18,000 licensed professionals – said Thursday it supports the school district's decision to end the mask requirement, noting the district is keeping other mitigation measures.
"However, CCEA encourages all staff, parents and students to make the best individual choice for them and their family on whether they continue to wear a mask at this time," the teachers union said.
Jeff Horn, deputy executive director of the Clark County Association of School Administrators and Professional-Technical Employees, said in a statement that students and employees haven't had a sense of normalcy in nearly two years.
"With the current trends of declining infection rates and hospitalizations, this is a welcomed decision as we move forward," he said. "Now more than ever, our focus must be on growing a culture and climate that attracts and retains quality employees who feel valued and appreciated."
State Superintendent of Public Instruction Jhone Ebert said in a statement the announcement Thursday "represents a key milestone in Nevada's recovery out of the COVID-19 pandemic."
Sisolak said school districts must work with local health authorities to have "plans in place to deal with an outbreak."
The governor also said he encourages people — including teachers or a student in consultation with their parents — who would feel more comfortable wearing a mask to do so and said they should be free from criticism.
Mixed reaction from parents
Like with everything else during the COVID-19 pandemic, there are differing opinions among parents about lifting the school mask mandate, said Rebecca Garcia, president of the Nevada PTA and an administrator for the "CCSD Parents" Facebook group.
"Some are worried that we'll now see a rise in cases with the change, but then there's many who felt that it needed to be a parent choice for quite some time and they're happy to see that's where it rests now," she said.
On Thursday, a general theme among "CCSD Parents" Facebook group members was that some didn't realize that students will still be required to wear masks on school buses, Garcia said.
Las Vegas parent Kate McLaughlin — who has a high school freshman in the school district — said she's completely understanding of the state lifting the mask mandate, but doesn't support the school district's decision.
Children are in confined classrooms, she said, and she thinks masks are the best protection. "I have an issue with kids not being required to wear masks indoors in school."
McLaughlin already had a conversation with her child — who she says is also upset about the school district's mask requirement being lifted — Thursday via text message.
"They will keep wearing their mask, as will we," she said.
In July 2021, the Clark County School District announced students and employees would be required to wear face masks while indoors and on school buses unless a medical or developmental condition prohibited them from doing so.
The following month, Sisolak issued an emergency directive requiring masks indoors for kindergarten through 12th grade students in school districts, public charter schools and private schools in Clark and Washoe counties.
In other counties, masks were required while riding school buses and for all school employees while indoors.
The Clark County School Board has heard from parents during public comment periods for months who opposed the student mask mandate. And it has faced a handful of District Court and federal lawsuits seeking to overturn the requirement.
The district has reported 21,229 COVID-19 cases since July 1, according to its online dashboard.
Last month, the school district called a five-day "pause" due to "extreme staffing shortages" spurred by a surge in COVID-19 cases due to the more contagious omicron variant.
Employee and student absence rates have improved since then, according to district data.
But the district has consistently faced a staffing shortage, with about 850 licensed vacancies and hundreds of support staff openings, throughout the school year.
And with a shortage of substitute teachers, some classroom teachers have been selling their prep periods to cover day-to-day vacancies and multiple classes have been combined into large spaces such as a school gymnasium or auditorium.
Contact Julie Wootton-Greener at jgreener@reviewjournal.com or 702-387-2921. Follow @julieswootton on Twitter.