Unfinished Fontainebleau on Las Vegas Strip becomes Project Blue
December 13, 2017 - 6:24 pm
Updated December 13, 2017 - 7:12 pm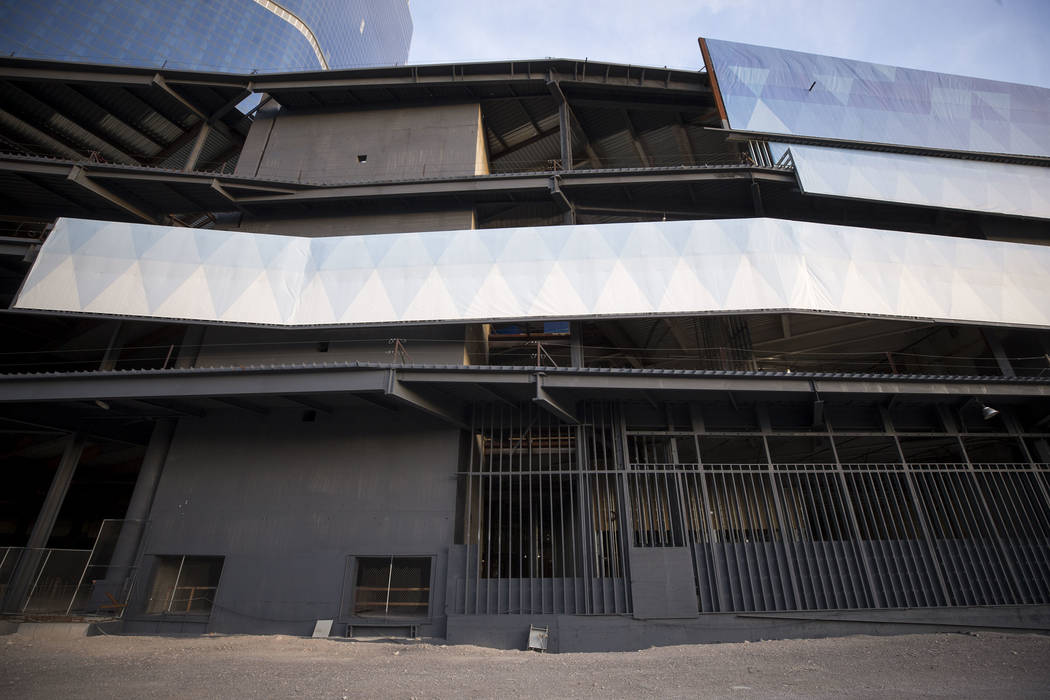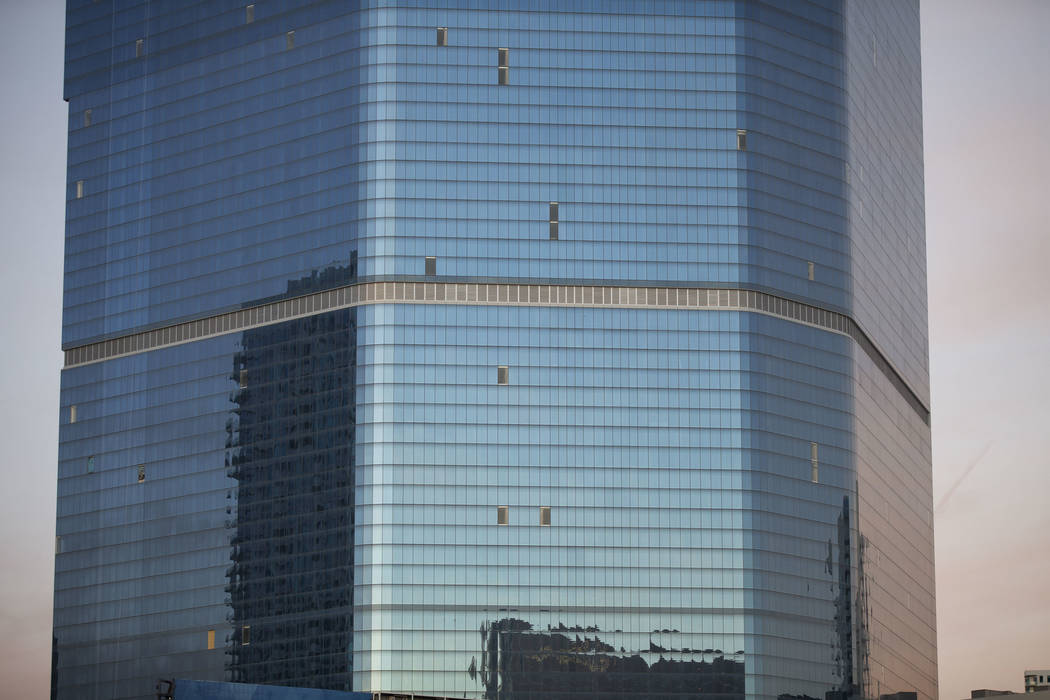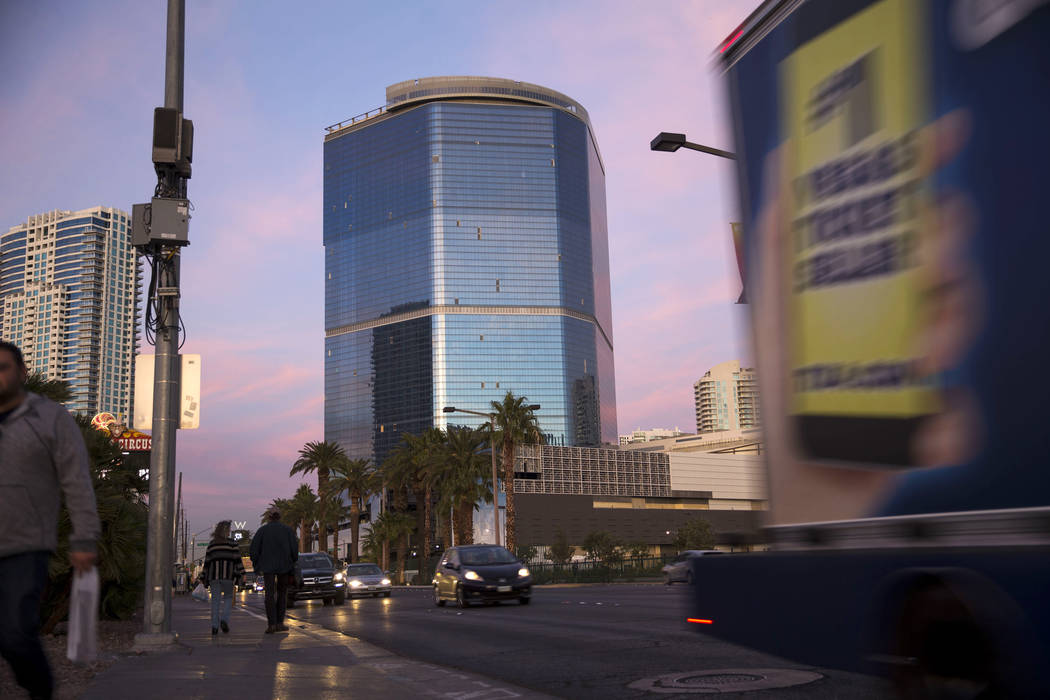 It has been more than three months since the Fontainebleau sold for $600 million, and there's still no word from the buyers on what they will do with it.
But they've taken steps to resume construction and have a new name for the undertaking: Project Blue.
The Clark County Building Department issued permits in November for the mothballed hotel's garage and a permit this month for a temporary trailer.
Contractor Penta Building Group was hired to finish the north Strip project, which is now being called Project Blue, county records show.
New York developer Steve Witkoff and Miami investment firm New Valley bought the partially built, blue-tinted tower on Aug. 29 from billionaire Carl Icahn, who acquired it out of bankruptcy during the recession for around $150 million and left it largely untouched.
In a news release announcing its purchase, Witkoff's namesake company said it "identified numerous ways to unlock the significant underlying value of the property" but did not provide any details.
The new owners still haven't announced plans for the tower, one of the tallest buildings in Las Vegas at 60-plus stories.
Efforts this week to speak with Witkoff and New Valley, a subsidiary of cigarette maker the Vector Group, were unsuccessful.
Penta's marketing manager did not respond to a call and an email seeking comment.
'Tight-lipped'
Jackie Robinson, developer of a planned arena and hotel project next to the Fontainebleau site, said he heard the new neighbors would resume construction next year.
Pathfinder Partners co-founder Lorne Polger, whose San Diego firm bought dozens of condos in the Sky Las Vegas tower across from the Fontainebleau two years ago, said he hasn't heard what will become of the unfinished project.
"They have kept it pretty tight-lipped," he said.
He figures there is enough demand for another high-end resort on the Strip and noted that just because the owners didn't announce their plans doesn't mean they don't have any.
Polger also said that his own group, when it bought the condos, figured Icahn would tear down the Fontainebleau or sell it to buyers who would finish it. Either way, the eyesore would be gone.
It's unclear how another megaresort would fare on the Strip. The SLS Las Vegas, which opened in 2014, has stumbled, with investors alleging it's on the "verge of bankruptcy."
Visitor levels also have dipped in Las Vegas this year. Some 35.7 million people visited Las Vegas this year through October, down 1.4 percent from the same period last year.
But room rates and gambling revenue are rising. The Strip generated $5.4 billion in gambling revenue in that time, up 2.6 percent, and the corridor's average daily room rate, $142, was up 3.6 percent, according to the Las Vegas Convention and Visitors Authority.
Scrap the name
The Fontainebleau was envisioned as a $2.8 billion, 3,815-room project. The original developers broke ground in 2007, but the economy crashed and the project flopped, going bankrupt in 2009.
Since then, even as other failed projects in town were bought and finished, it has been a towering reminder of Las Vegas' bloated real estate boom and devastating crash.
Michael Parks of CBRE Group, a former listing broker for the Fontainebleau, said the Strip could handle a big influx of hotel rooms. As he sees it, the corridor is ready "for a new resort or two to open up."
He also said the Fontainebleau's new owners don't have concrete plans and believes they're looking at a number of options.
There has been talk that Witkoff's group would look to rebrand the tower, possibly as a Marriott. The hotel giant does not "have any information to share at the moment," spokeswoman Connie Kim said Wednesday.
But at least one thing seems certain: Parks said the new owners are ditching the old name.
In its news release on the sale, Witkoff's firm said the hotel was "formerly known" as the Fontainebleau and referred to it by its address.
Contact Eli Segall at esegall@reviewjournal.com or 702-383-0342. Follow @eli_segall on Twitter.