2 of Nevada's 4 major COVID-19 metrics show slight improvement
Updated September 17, 2021 - 5:35 pm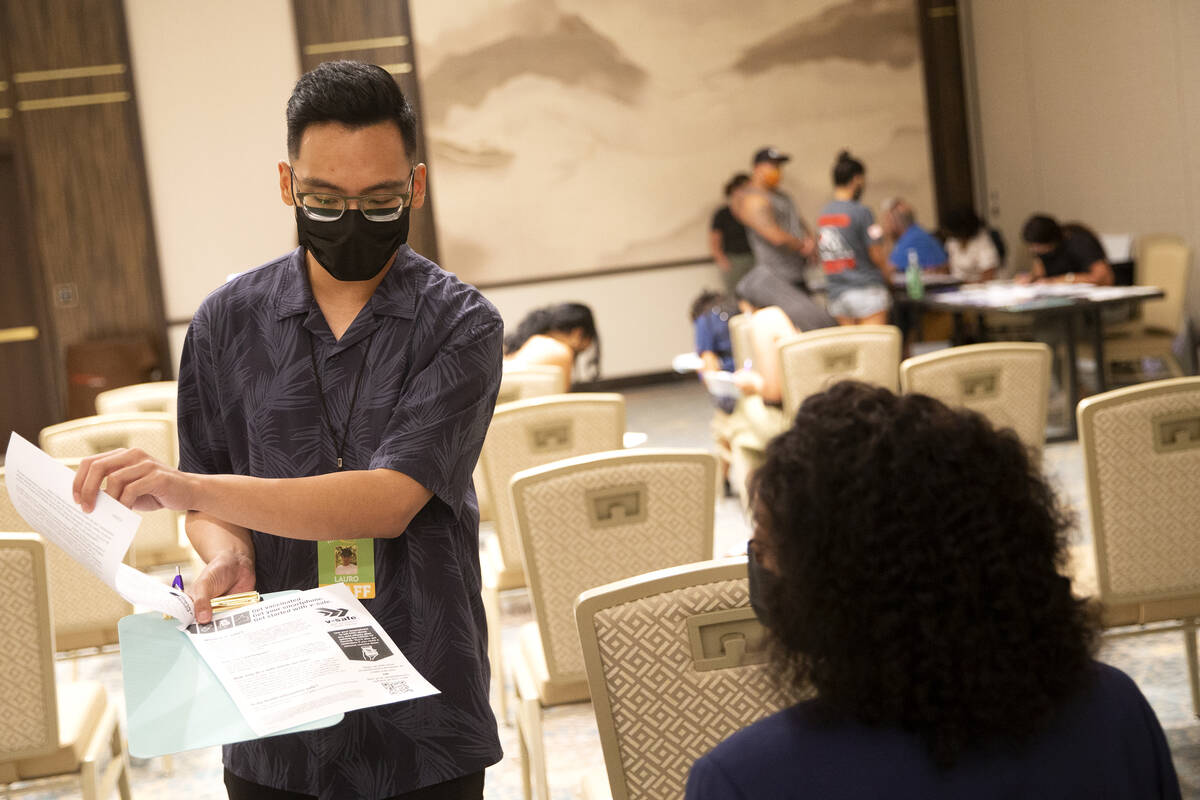 Nevada on Friday reported 1,371 new coronavirus cases and 24 deaths over the preceding day as other key COVID-19 metrics improved slightly.
New cases were well above the two-week moving average, which increased for a second straight day and fourth time in the last six reports to 877 per day.
The rate has declined substantially from its recent high of 1,125 new cases per day on Aug. 17, though that progress has slowed as the over the past two weeks. Friday's average was only 15 cases per day below the 892 reported two weeks earlier, on Sept. 3.
Deaths from the disease caused by the new coronavirus were more than double the two-week average of 11 per day, which was unchanged from Thursday's report. The average has been fluctuating for weeks but remains below its recent high of 17 per day on Aug. 18.
State and county health agencies often redistribute daily data after it is reported to better reflect the date of death or onset of symptoms, which is why the moving-average trend lines frequently differ from daily reports and are considered better indicators of the direction of the outbreak.
With one day remaining in the week, the state has reported 143 deaths, well above the 119 recorded from Sept. 5-11, according to records maintained by the Review-Journal. The weekly death totals reached a recent peak of 155 the week of Aug. 8-14.
Data guide: COVID-19's impact on Nevada
The state's test positivity rate, which essentially tracks the percentage of people tested for COVID-19 who are found to be infected, declined by 0.2 percentage points, to 11.3 percent. The rate has dropped significantly from its recent peak of 16.4 percent on Aug. 13, but the progress also has slowed over the past week.
State data showed that 1,037 people were hospitalized with either confirmed or suspected cases of COVID-19, a decrease of 36 from Thursday's report. Though the number of hospitalizations in the state has dropped slowly over the past month, concerns remain about capacity and staffing issues, especially in the state's northern and rural counties.
A weekly update from the Nevada Hospital Association stated that rural Nevada has seen record numbers of hospitalized COVID-19 patients recently and was "experiencing difficulty" transferring patients to urban medical centers.
"This overcrowding is further exacerbated as people go to (emergency departments) to seek rapid COVID-19 tests to return to work or school," the association said. "The NHA is now encouraging everyone to avoid hospital emergency rooms for COVID-19 testing and instead visit one of the many other available options."
The state also reported Friday that 53.95 percent of eligible Nevadans are fully vaccinated.
The Southern Nevada Health District, meanwhile, reported 681 new COVID-19 cases on Friday and 17 additional deaths over the preceding day in Clark County.
Remembering those we've lost to COVID-19
That pushed county totals to 314,282 COVID-19 cases and 5,446 deaths.
The county's test positivity rate remained unchanged at 8.8 percent, according to state data.
As of Thursday, Clark County has recorded 425 breakthrough cases requiring hospitalizations for people who tested positive for COVID-19 after receiving a vaccine. The county did not report breakthrough cases last week due to a technical difficulty, but the total stood at 362 two weeks ago, according to the health district's website.
There have been 137 breakthrough cases resulting in death in Clark County, up from 112 two weeks prior.
The health district also said Friday that more than 74 percent adults in Clark County have received at least one dose of the COVID-19 vaccine, as have more than 69 percent of the eligible 12 and older group. More than 61 percent of adults in Clark County are now fully vaccinated against COVID-19, it said.
Contact Mike Brunker at mbrunker@reviewjournal.com or 702-383-4656. Follow @mike_brunker on Twitter. Contact Katelyn Newberg at knewberg@reviewjournal.com or 702-383-0240. Follow @k_newberg on Twitter.
Nevada vaccinations
— 12+ population: 2.64 million.
— Doses administered: 3.02 million
— Vaccinations initiated: 1.71 million.
— Vaccinations completed: 1.44 million.
— Eligible Nevadans vaccinated: 53.95 percent.
Sources: U.S. Census Bureau; Department of Health and Human Services