Compliance appears widespread as masks go back on Las Vegas
Updated July 30, 2021 - 9:45 pm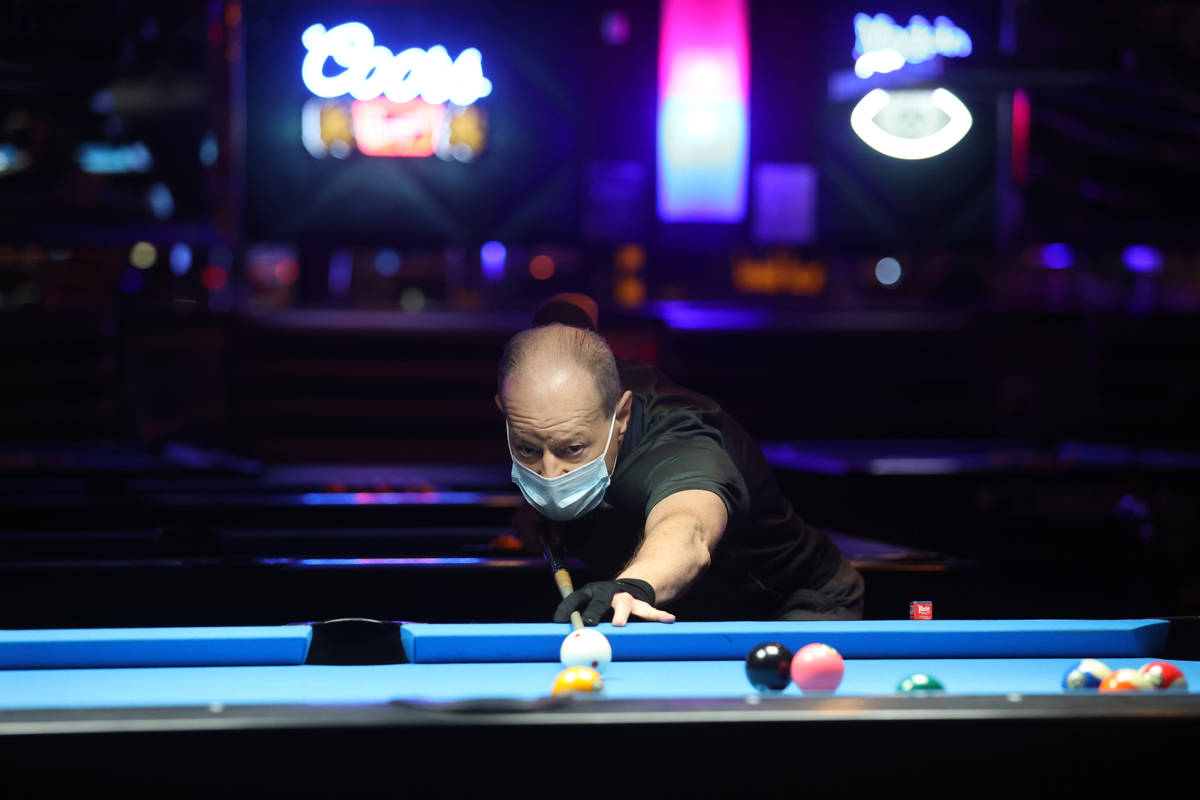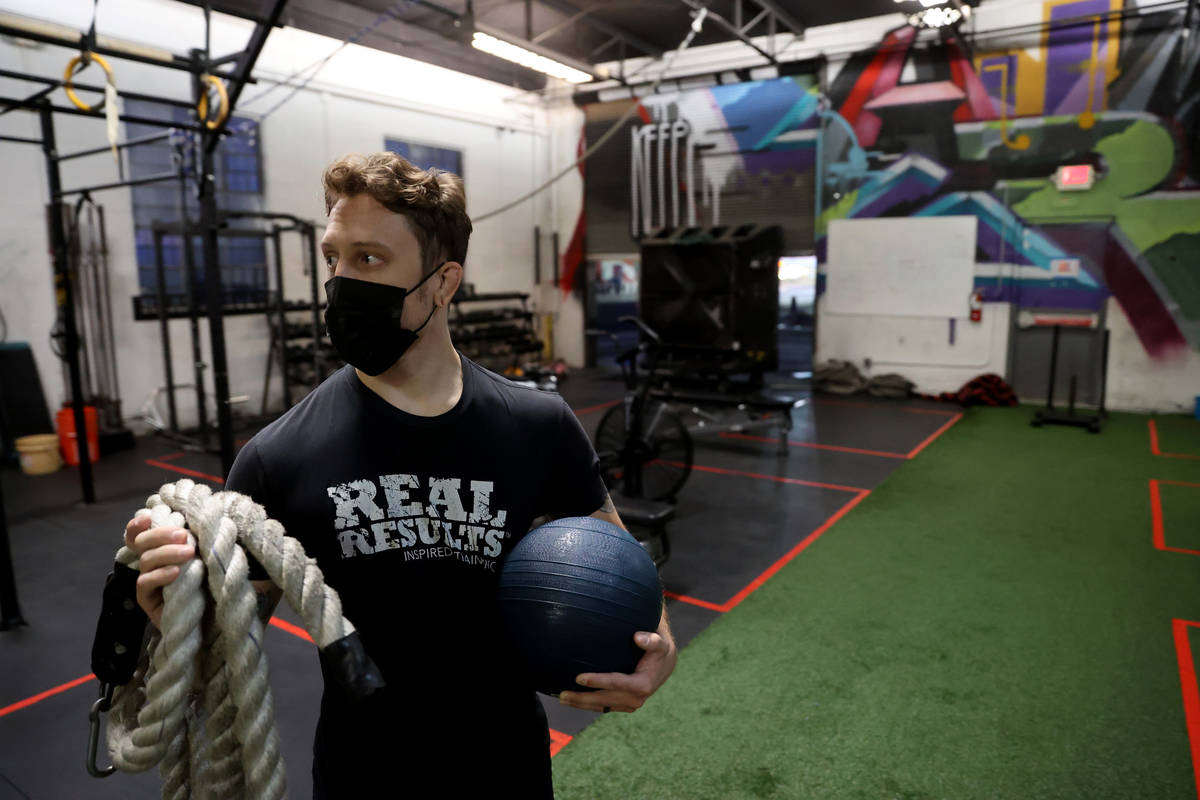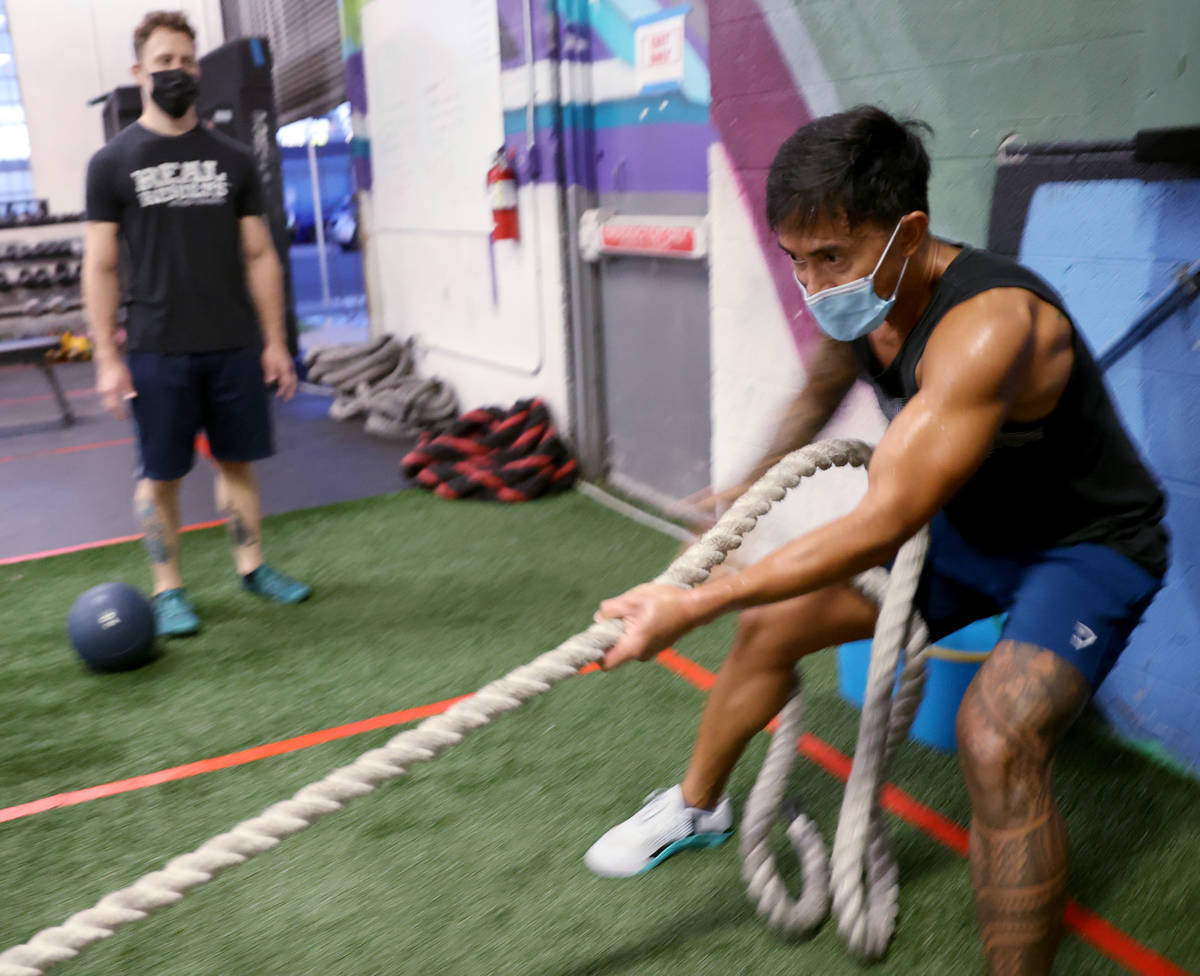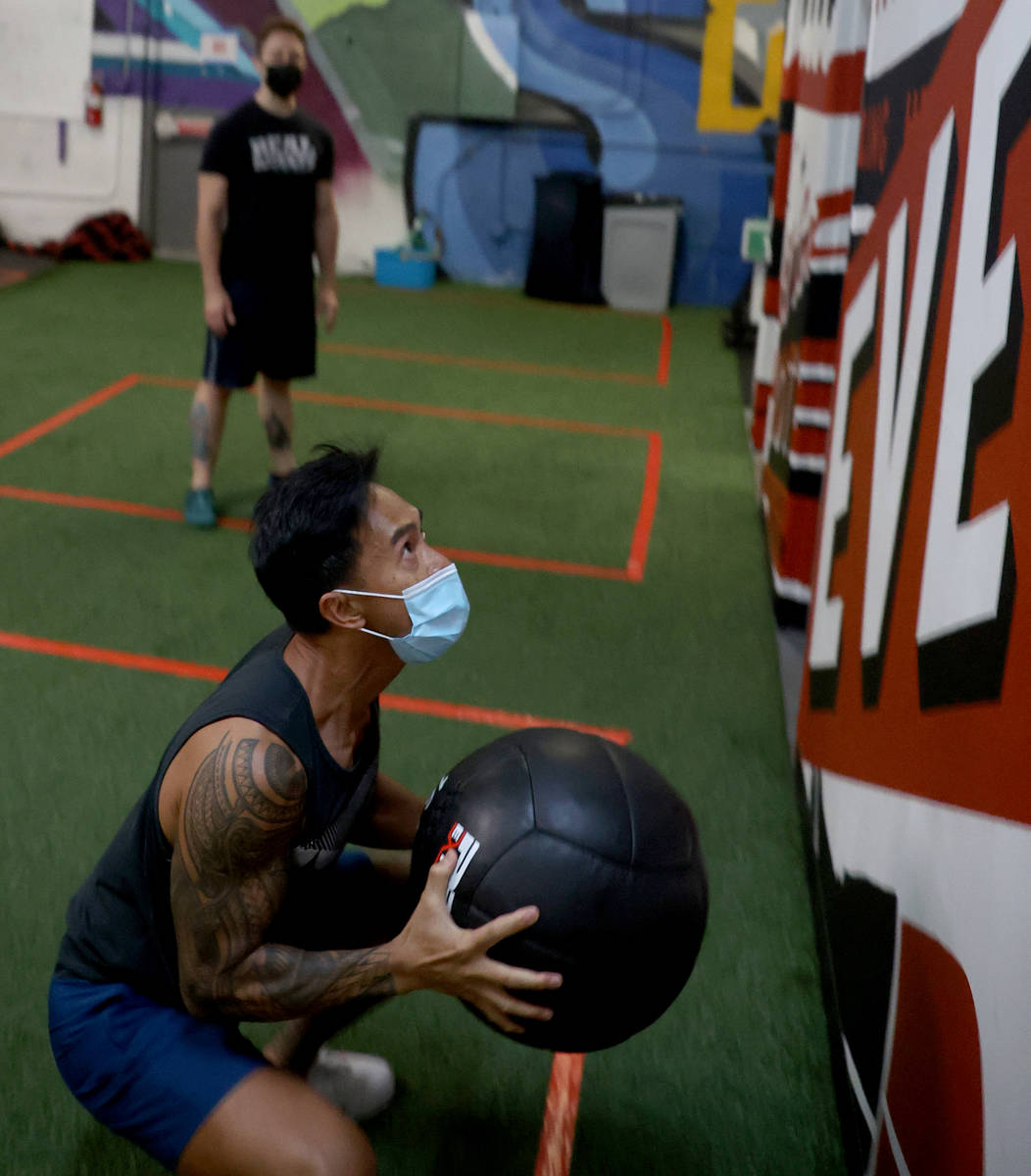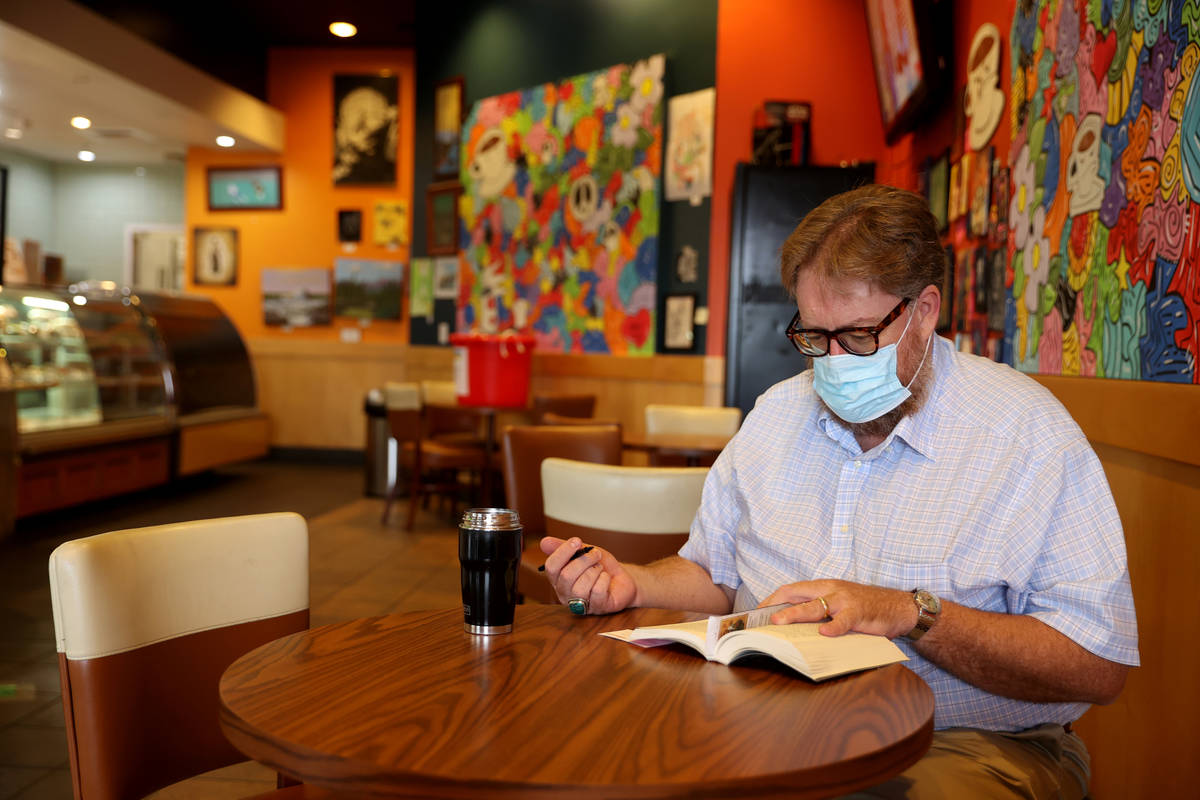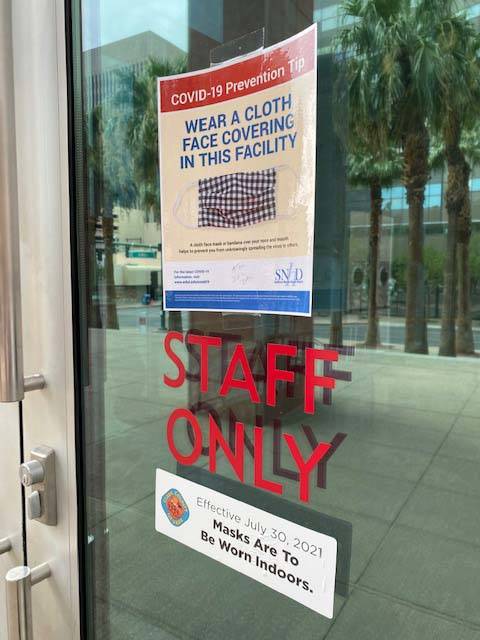 Las Vegas Valley residents, visitors and business owners woke up to a new requirement to wear face masks in indoor public spaces on Friday, and most appeared to be complying with the reinstated restriction.
The mandate, re-imposed by Gov. Steve Sisolak nearly two months after previous requirements were lifted on June 1, went into effect at 12:01 a.m. over most of Nevada. The change aligns with revised guidance issued by the federal Centers for Disease Control and Prevention on Tuesday.
Anecdotal reporting from various locations across the valley on Friday indicated that most were abiding by the new rules, though there was some confusion about details of the mandate. A relatively small number of people were observed disobeying the mask-up requirement, though it was not clear whether that was out of ignorance or defiance.
State officials say the mask policy is needed to slow the rise of COVID-19 metrics in Clark County and other parts of the state, a surge they say is being fueled by unvaccinated Nevadans.
Sisolak's office issued final guidance on the new policy late Thursday that included a definition of "public indoor setting," which it described as "any indoor area where other people who are not members of your own household are present." It offered examples of such spaces, which included "gyms, saunas, fitness studios and similar venues," and listed categories of individuals exempted from the requirement, including those with medical conditions.
Indoors, outdoors, off and on
Staff members at the Real Results Fitness gym at 1201 S. Commerce St., off Main Street, had a different interpretation , saying the ability to open the building's large sliding doors to admit fresh air gave them some leeway in allowing customers to go maskless. At least two exercisers who declined to comment were observed not wearing masks.
But Bong Hidalgo, who showed up at the gym at 5 a.m. for a workout, decided it was still an indoor public space despite the breeze and put on a mask before entering and beginning his routine of burpees, weight lifts, bicycle crunches, ball slams and sled pushes and pulls.
"It's hard with the mask, but if it's what's required, I do it," Hidalgo said in between heavy breaths. "I'm a health care worker. I'm a nurse. So, I follow what needs to be done. It's harder with the mask, definitely."
When the pandemic started, lead coach Michael Hayden said, the boutique-style gym had to close for roughly three months, transitioning to virtual workouts with clients. The gym implemented social distancing and enhanced cleaning protocols upon reopening.
"We did this before and clients are familiar with it," Hayden said. "I'm sure it is not ideal but they are going to come and get their workout in. If they need to catch a breath, they can, then put it back on."
Nearly all patrons inside Fremont Street casinos were wearing masks Friday morning, sometimes after receiving reminders or warnings from employees.
One maskless man was seen walking through Golden Gate before a casino worker stopped him and reminded him of the mandate.
At the Golden Nugget, about a half-dozen guests walked up to the hotel's front desk to pick up masks. The hotel-casino had a drawer full for those who needed them.
Outside on Fremont Street, about half of the visitors remained masked while others took theirs off or dropped them down to their neck after stepping outdoors.
Andrew Powell of Southern California, who was staying near Fremont Street with his girlfriend, said the couple arrived on a trip they planned months ago Thursday evening, just hours before the mask mandate took effect.
Powell said he is complying, but it's an annoyance he'd rather get past.
"Anything to keep people safe, but I just want this pandemic over with, like everyone else," he said.
At Sunset Station at lunchtime Friday, all employees observed were wearing masks. As for guests, compliance hovered around 98 percent, with a few wearing one dangling from an ear or leaving their noses exposed.
At the Miracle Mile Shops on the Strip, large red signs stood at each entrance to remind shoppers that "masks are required for everyone." Most also had a hand sanitizer dispenser nearby and available masks. More than 75 percent of shoppers wore face coverings as they trickled in and out of stores. But mask enforcement did not appear to be aggressive, leading to some maskless customers.
Two visitors from Florida, Tony and Deana Monte, who were smoking cigarettes out the shopping area, said they were abiding by the state edict despite preferring not to wear masks.
"I feel like the initial anger is over," said Deana Monte. "Now, everyone is like, 'It is what it is.'"
On the casino floor of Planet Hollywood Resort, a security guard doled blue surgical masks from a box of 50 to anyone who asked. Nearly all the Friday morning gamblers around him complied with the mandate, though a few chose to wear the masks below their chins.
"People don't want to take them, but I gotta force it on them," said the yellow-shirted guard.
A few minutes later, two maskless men walked by the guard without being stopped.
Businesses hand out masks
An employee stationed at the front door of the Target near Rainbow Boulevard and Spring Mountain Road handed out blue disposable masks. A paper sign taped to the front door instructed shoppers that they needed to wear masks in the store.
Several shoppers seemed surprised to hear of the new mandate.
"Can't believe I have to put up with this (expletive) again," one grandmotherly type exclaimed. "Those people are so stupid."
It was unclear whether she was referring to those responsible for the mandate or those who haven't gotten vaccinated.
One man, who wore a clear face shield, said he was "mad as hell" about the new mandate. He said he has been fully vaccinated but wears the face shield because it's required.
"I was told to get fully vaccinated and it will go back to normal," said the man, who declined to give his name due to fear of backlash.
A Walmart across the street had no signs at either entrance alerting customers to the mandate as of midday Friday.
The vast majority of people inside the Walmart wore masks, but others walked in without them. One man approached an employee by the entrance with a mask in his hand, asking if they were necessary.
The employee nodded and gestured to other customers, saying the store was "encouraging" people to wear them. The man pulled the plain black mask on and kept shopping.
Back-to-school shoppers scoured a Famous Footwear on Tropical Parkway on Friday afternoon. Just about every parent was wearing a face mask, and so were many children, who didn't let the face coverings dampen their excitement of planning a first-day-of-school wardrobe.
At a Target near Grand Canyon Drive and Flamingo Road, customers donned masks, but with a Starbucks in front of the store, many of them bought coffees and then shopped, removing their masks with drinks in hand.
A scattering of storefronts in a shopping plaza at Rancho Drive and Charleston Boulevard reminded customers of the renewed masking requirements through signs on the doors and windows.
A handful of patrons in delis and coffee shops wore masks while ordering or sitting at tables. Health-care professionals were masked while ordering their lunches, but other patrons during the lunch rush were not.
At the Smith's several storefronts down, however, nearly all customers and employees were masked. Signs reminding patrons of the mask mandate were posted at the entry.
Around 10 a.m. Friday at Mothership Coffee Roasters, inside Ferguson's Downtown, all but one customer complied with the new mask mandate.
When a woman dressed in powder-blue medical scrubs entered without a mask, the barista behind the register quickly handed her a disposable mask.
"New mandate," the barista said in a forgiving tone.
The woman apologized, slipped the mask over her nose and mouth and ordered a coffee.
Contact Glenn Puit at gpuit@reviewjournal.com or 702-383-0390. Follow @GlennatRJ on Twitter. Contact Mike Shoro at mshoro@reviewjournal.com. Follow @mike_shoro on Twitter. Contact Mathew Miranda at mmiranda@reviewjournal.com. Follow @mathewjmiranda on Twitter. Contact Katelyn Newberg at knewberg@reviewjournal.com or 702-383-0240. Follow @k_newberg on Twitter. Review-Journal staff writers Dylan Svoboda, McKenna Ross, Chris Lawrence, Rio Lacanlale, Jason Bracelin, John Przybys and Heidi Knapp Rinella contributed to this report.