Nevada sportsbooks shatter state record for Super Bowl handle
Updated February 14, 2022 - 4:13 pm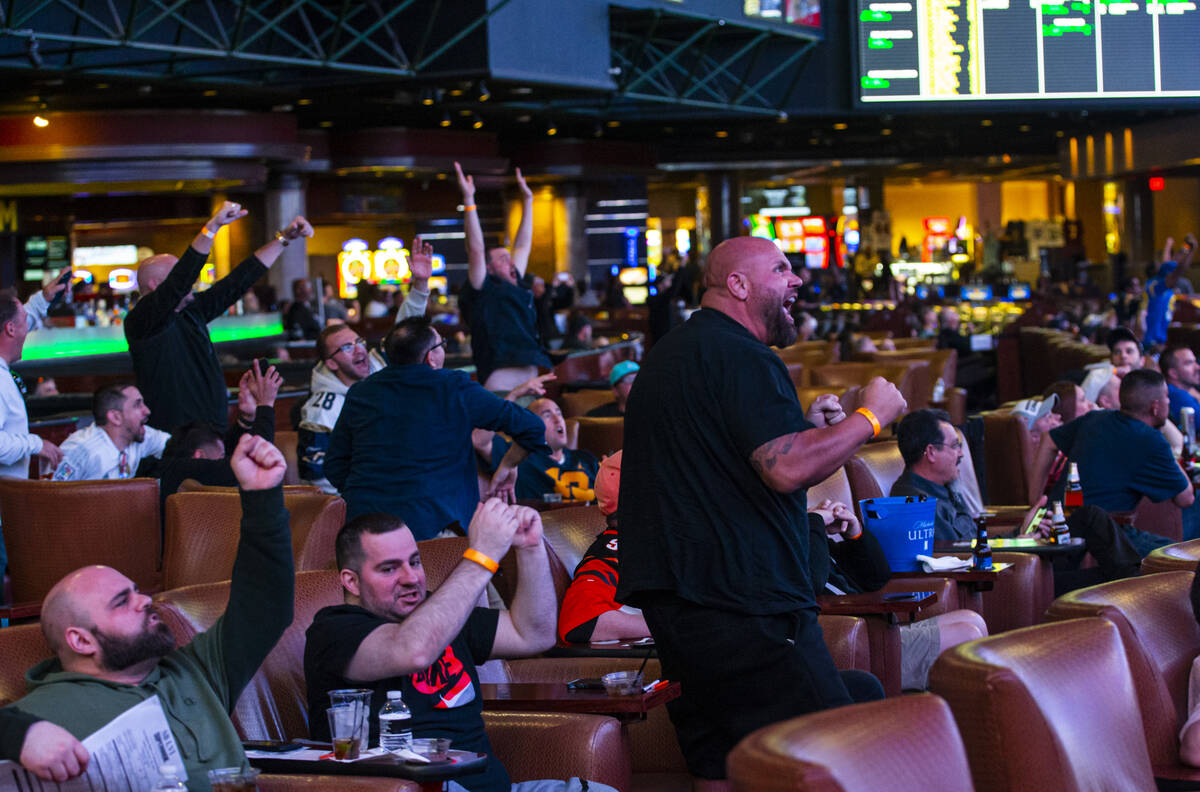 The Los Angeles Rams rallied in Sunday's 23-20 comeback win over the Cincinnati Bengals and so did Nevada sportsbooks, which shattered the state record for Super Bowl betting handle.
The state's 179 books took $179.8 million in wagers in Super Bowl LVI, obliterating last year's handle of $136.1 million and soaring past the previous record of $158.6 million set in 2018 in Philadelphia's 41-33 upset win over New England.
The books won $15.4 million on Sunday's game for a hold (or win) percentage of 8.6.
Red Rock Resort sportsbook director Chuck Esposito said a confluence of factors contributed to the surge in handle, or amount of money wagered.
"Overall, I think the general acceptance of sports wagering is a big part of it," he said. "The increased volume on both in-play (betting) and props; the continued growth of mobile; the restrictions on masks lifted; the 100 percent occupancy compared to 50 percent last year; and the willingness industry-wide to take higher limits."
Nevada set records for Super Bowl handle in three consecutive years from 2016 to 2018. But last year's handle, which was intercepted by COVID-19, was the lowest since 2016.
"This year's total continued the trends we have been witnessing in sports wagering during 2021, where the state saw three consecutive months of over $1 billion in wagers and an all-time annual record was established with $8.1 billion," NGCB senior economic analyst Michael Lawton said in an email. "The catalysts for this year's record was that (Sunday's) game had two very distinct betting options for customers due to the spread being at -4½ and the money line wagers, which attracted healthy action on both sides.
"Furthermore, this year there was a normal Super Bowl party environment with COVID-19 restrictions, including mask requirements, being lifted. … in addition to the continued acceptance of mobile sports wagering by customers, which allow the books to offer a wider variety of betting options with proposition bets and increased in-play wagering."
Almost four years after the U.S. Supreme Court struck down the federal ban on sports betting, it's now legal and offered in 30 states and Washington, D.C. But Las Vegas remains a sports betting destination.
"I guess the expansion of sports betting isn't hurting Las Vegas," Westgate SuperBook vice president Jay Kornegay said. "The popularity of sports betting is skyrocketing around the country. Eventually, these players want to come to Las Vegas for the Super Bowl.
"Another factor is the rise in larger bets we've been seeing in recent years. We've seen an increase in million-dollar wagers across town."
Nevada books broke the record without the $9.5 million in bets placed by Houston furniture store owner Jim "Mattress Mack" McIngvale, who made his wagers on the Caesars Sportsbook mobile app in Louisiana.
Caesars took three $1 million-plus bets in Las Vegas and BetMGM took three $1 million bets at Bellagio.
Having a California team in the Super Bowl also helped boost the handle, Caesars vice president of trading Craig Mucklow said.
"Outside of the Raiders being in the Super Bowl, whenever a California team is a participant, Nevada will always see an astronomical handle," he said. "If the Raiders ever make it, that will be the record I doubt we ever see beaten."
Contact reporter Todd Dewey at tdewey@reviewjournal.com. Follow @tdewey33 on Twitter.
Super Bowl betting handles
Score; Wagers; Win (percentage)
LVI — 2022
Rams 23, Bengals 20; $179.8 million; $15.4 million (8.6)
LV — 2021
Buccaneers 31, Chiefs 9; $136.1 million; $12.5 million (9.2)
LIV — 2020
Chiefs 31, 49ers 20; $154.7 million; $18.8 million (12.1)
LIII — 2019
Patriots 13, Rams 3; $145.9 million; $10.8 million (7.4)
LII — 2018
Eagles 41, Patriots 33; $158.6 million; $1.17 million (0.7)
LI — 2017
Patriots 34, Falcons 28 (OT); $138.5 million; $10.9 million (7.9)
50 — 2016
Broncos 24, Panthers 10; $132.5 million; $13.3 million (10.1)
Courtesy of Nevada Gaming Control