Blockbuster trade alters Golden Knights' salary cap future
Updated November 4, 2021 - 3:57 pm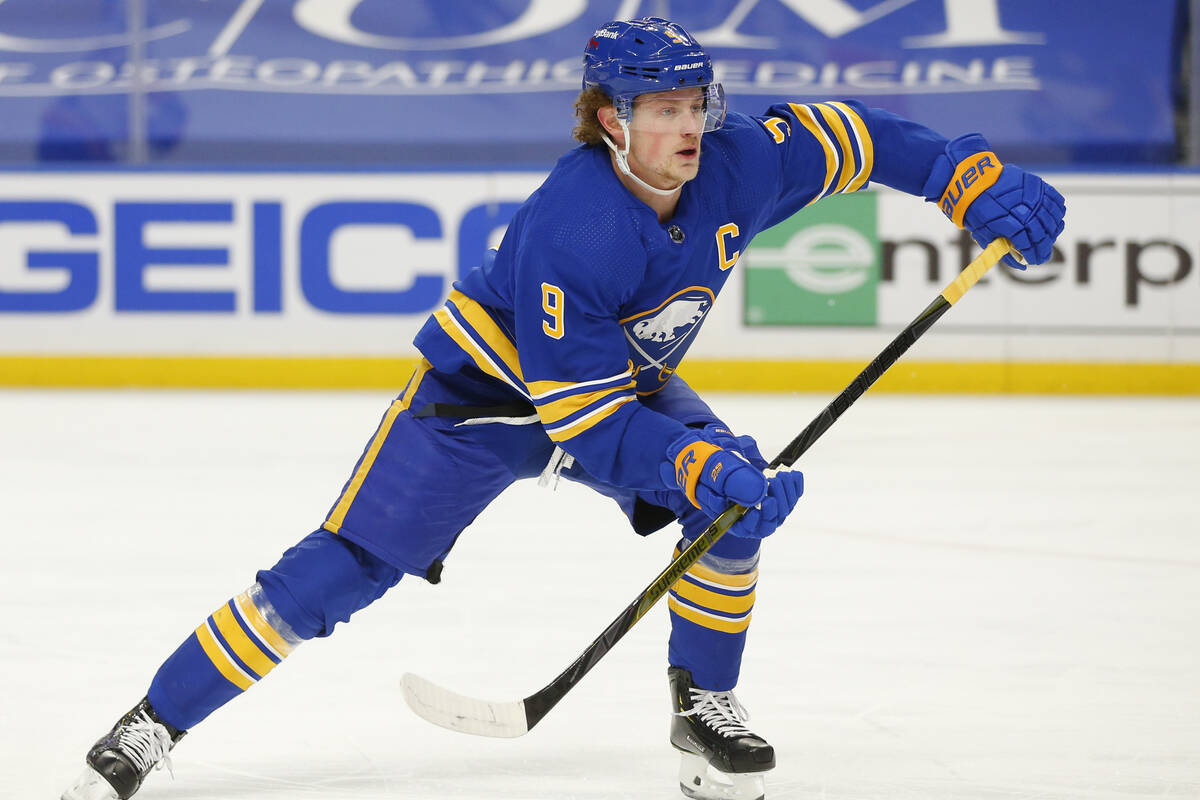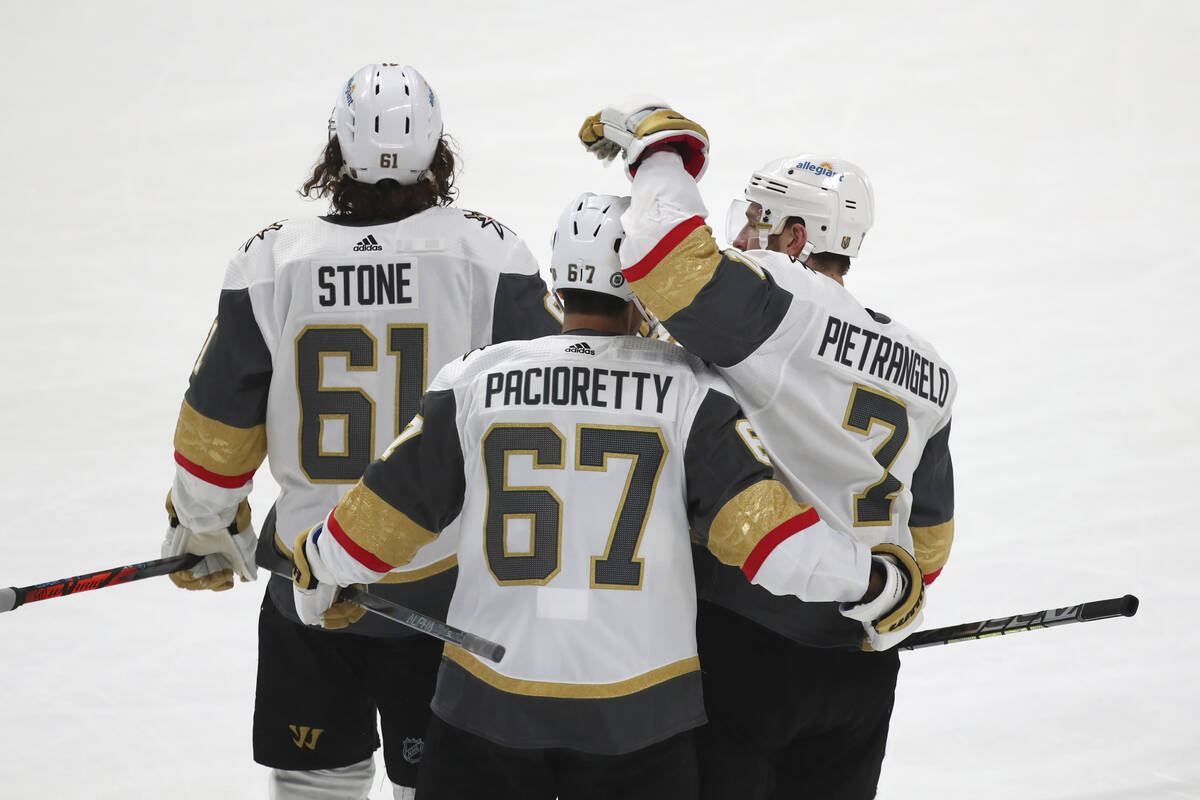 The Golden Knights could look down the Scotiabank Arena boards and get a glimpse of their potential future Tuesday.
No, Jack Eichel, acquired in a blockbuster trade Thursday from the Buffalo Sabres, was not staring back at them. But a team that has a similar salary cap situation was.
The Toronto Maple Leafs, who defeated the Knights 4-0 Tuesday, have become infamous for their star-heavy approach to roster building. They have the most expensive quartet in the NHL in centers Auston Matthews ($11.64 million) and John Tavares ($11 million), and right wings Mitchell Marner ($10.9 million) and William Nylander ($6.96 million). Their combined $40.5 million cost is 49.69 percent of the league's $81.5 million salary cap limit.
The NHL's second-most expensive quartet? It belongs to the Knights in Eichel ($10 million), Mark Stone ($9.5 million), Alex Pietrangelo ($8.8 million) and Max Pacioretty ($7 million) at $35.3 million (43.31 percent of the limit).
That could force the team to make tough decisions if its roster gets healthy. Eichel, Pacioretty and Stone are on long-term injured reserve, giving the Knights flexibility for now.
"That takes any immediate pressure off our salary cap," general manager Kelly McCrimmon said. "You do have to ask yourself what happens when we return to full health, and yet sometimes you never return to full health. … If and when that poses a challenge for us, we'll address it at that time. All things considered, we're happy to have Jack Eichel as part of our organization and prepared to deal with that if need be."
The acquisition of a true No. 1 center in Eichel fills a massive hole for the franchise. It also creates other ones. The Knights have leaned on their depth in recent postseason runs, with right wing Alex Tuch's size and speed terrorizing bottom-pair defensemen who were forced to match up with him.
Tuch was sent to Buffalo in the Eichel trade, so the team will need new players to create mismatches down the lineup. Who that could be depends on what the Knights do with their roster the rest of the season.
If Eichel, Pacioretty and Stone return before the playoffs, the team would need to clear about $10 million of salary cap space. It's possible more subtractions are coming. They're even more likely in the offseason, when the Knights will have $78.395 million worth of cap commitments to 16 players.
The Knights aren't worried about that right now. They will let the season play out and make whatever moves are necessary when the time comes.
"These things are always evolving," McCrimmon said. "We're like a lot of teams. The salary cap is a real tight process to manage. It will continue to be a tight process for us to manage."
First-round fallout
Knights rookie Peyton Krebs, selected 17th overall in 2019, was a key part of the Eichel deal. Buffalo general manager Kevyn Adams said Krebs "was someone we had targeted and worked extremely hard to get."
His exit means the first four first-round picks in Knights history were traded before they established themselves in the NHL. Center Nick Suzuki, drafted 13th overall in 2017, was traded to Montreal before the 2018-19 season for Pacioretty. Defenseman Erik Brannstrom, 15th overall in 2017, was sent to Ottawa for Stone at the 2019 trade deadline.
Center Cody Glass, sixth overall in 2017, was traded to Nashville last offseason for center Nolan Patrick. Glass appeared in 66 games for the Knights, Krebs played in 13, and Suzuki and Brannstrom never suited up for the franchise.
The Knights didn't have a first-round pick in 2018, so the remaining first-rounders in their system are Michigan right wing Brendan Brisson (29th overall in 2020) and Gatineau Olympiques center Zach Dean (30th overall in 2021).
Misfits dwindling
Tuch's departure means six players from the Knights' inaugural season remain with the team.
They are center William Karlsson, right wing Reilly Smith, left wings William Carrier and Jonathan Marchessault, and defensemen Brayden McNabb and Shea Theodore.
"It's not easy (losing guys)," Pietrangelo said. "That's the hard part about this thing, right? They're people, and they like the city and they like the team. It's not a fun thing to go through."
Contact Ben Gotz at bgotz@reviewjournal.com. Follow @BenSGotz on Twitter.
NHL's most expensive quartets in 2021-22
1. Maple Leafs: $40.5 million
2. Golden Knights with Jack Eichel: $35.3 million
3. Stars: $34.8 million
4. Sharks: $34.5 million
5. Blackhawks: $34.4 million
6. Kings: $32.675 million
7. Lightning: $32.625 million
8. Oilers: $32.138 million
9. Rangers: $31.808 million
10. Penguins: $31.45 million
11. Knights pre-Eichel: $31.2 million
Golden Knights' first-round picks
1. Center Cody Glass (No. 6 in 2017): Traded to Nashville
2. Center Nick Suzuki (No. 13 in 2017): Traded to Montreal
3. Defenseman Erik Brannstrom (No. 15 in 2017): Traded to Ottawa
4. Center/left wing Peyton Krebs (No. 17 in 2019): Traded to Buffalo
5. Right wing Brendan Brisson (No. 29 in 2020)
6. Center Zach Dean (No. 30 in 2021)