Derek Carr says players tried to meet COVID-19 protocols
Updated October 1, 2020 - 5:40 am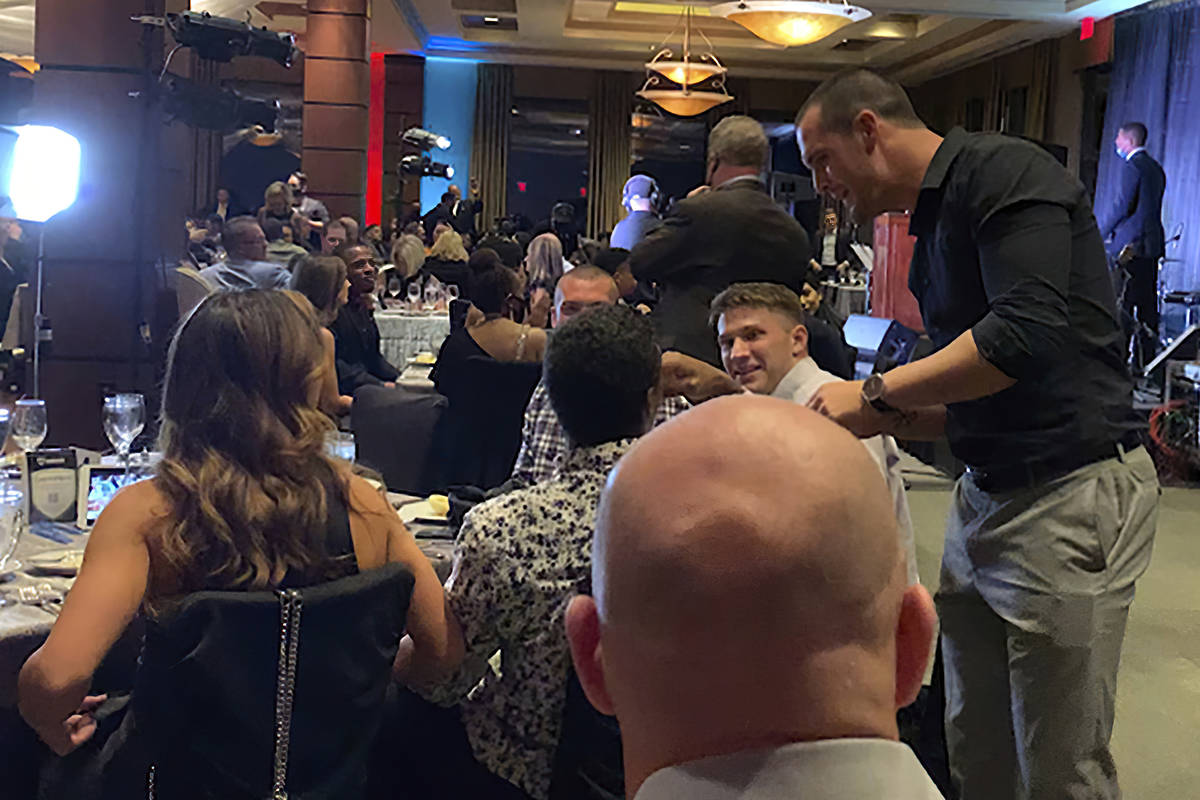 Raiders quarterback Derek Carr expressed regret Wednesday that a lapse in judgment by some of his teammates and him Monday night overshadowed the efforts of Raiders tight end Darren Waller to raise money for a worthy cause.
The players attended an event hosted by Waller's foundation to fight drug addiction among young adults. Video footage showed the players mingling with attendees at the event, with neither the players nor the attendees wearing masks.
The NFL and NFL Players Association, which mutually agreed to strict COVID-19 protocols before the start of the season, have been in contact regarding the situation as the players appear to have violated some of the agreed-upon stipulations.
Failure to follow those guidelines, NFL Executive Vice President Troy Vincent has said, could result in the "suspension of persons involved, and/or the forfeiture of a draft choice." The Raiders await word from the NFL on potential penalties.
Meanwhile, Nevada Occupational Safety &Health Administration spokesperson Terri Williams said Wednesday that the agency had launched an investigation into the gala event, which was held at the DragonRidge Country Club in Henderson.
The agency, which investigates alleged workplace safety violations, fined the Ahern Hotel in Las Vegas almost $11,000 last month for hosting a Trump campaign event and beauty pageant that both failed to follow Nevada's COVID-19 safety guidelines.
Carr addressed the situation before his weekly talk with the media on Wednesday.
"I feel like, one, we've done a fantastic job here, and I hate that a few moments without our masks on led to a story about our team," Carr said. "So we felt terrible about that. We addressed it. We talked with coach. We talked with our trainers about what really went down."
The Raiders, like all 32 NFL teams, adhere to stringent protocols intended to make sure players remain healthy throughout the course of a season unfolding during a global pandemic. The protocols extend beyond their workday, and head coach Jon Gruden has made it a point to stress he wants his team to dominate the COVID-19 virus when they are away from the team facility.
Gruden addressed the situation with his players on Tuesday.
"They're aware of their mistake," Gruden said. "But we've done an excellent job using our masks and taking care of each other and everybody."
Added Carr: "We've been doing our very best. We had a few moments where we slipped up, took the masks off so people could see our face," Carr said. "We signed waivers, used hand sanitizer like crazy … We tried our best, even at the event. We weren't perfect but … we weren't trying to be careless or reckless."
A spokesperson for the Darren Waller Foundation said in an email on Wednesday that the foundation followed all protocols as laid out by the venue. On Tuesday, the DragonRidge Country Club was fined $2,000 by the city of Henderson for four violations of the state's COVID-19 emergency directives. The country club has not responded to requests for comment.
Waller's event raised more than $300,000 for his foundation.
"I appreciate our players being there in support of him," Gruden said.
Nevertheless, the Raiders' lapse in judgment and the situation unfolding in Tennessee, where four players and five staff members have tested positive for COVID-19 leading to the postponement of Sunday's Titans-Steelers game, has caught the attention of the Buffalo Bills, who play the Raiders on Sunday at Allegiant Stadium.
"It was definitely something that guys were mentioning in the locker room. It raised a lot of antennas," said Bills cornerback Tre'Davious White. "But I feel like if we continue to take the precautions and do all the things we're supposed to do and go in the places we're supposed to go and not be selfish with it, I think we'll be fine."
Meanwhile, in a memo sent to all 32 teams, Vincent urged teams to remain diligent in adhering to all protocols to help ensure the NFL season is completed safely.
In the memo, Vincent wrote:
"We are only through Week 3 of the season. If we are to play a full and uninterrupted season, we all must remain committed to our efforts to mitigate the risk of transmission of the virus. Inconsistent adherence to health and safety protocols, such as wearing face coverings and observing physical distancing requirements will put the 2020 season at risk.
"A failure to adhere to the negotiated protocols or to government directives can have an adverse impact on both other players or staff members of your club, and of other clubs as well. Selective or inconsistent compliance threatens to undermine fan confidence in our health and safety protocols and the competitive fairness and integrity of the NFL season."
Las Vegas Review-Journal reporter Michael Scott Davidson contributed to this report.
Contact Vincent Bonsignore at vbonsignore@reviewjournal.com. Follow @VinnyBonsignore onTwitter.