Caesars mandates guests wear masks
Updated June 24, 2020 - 3:52 pm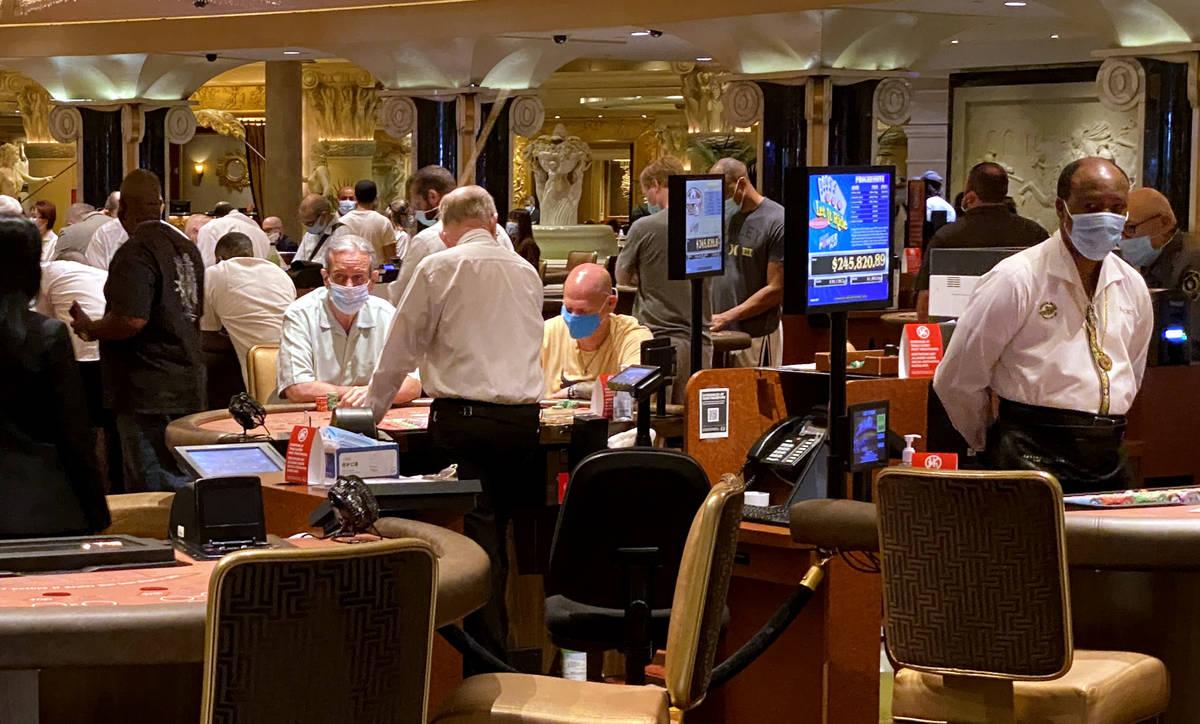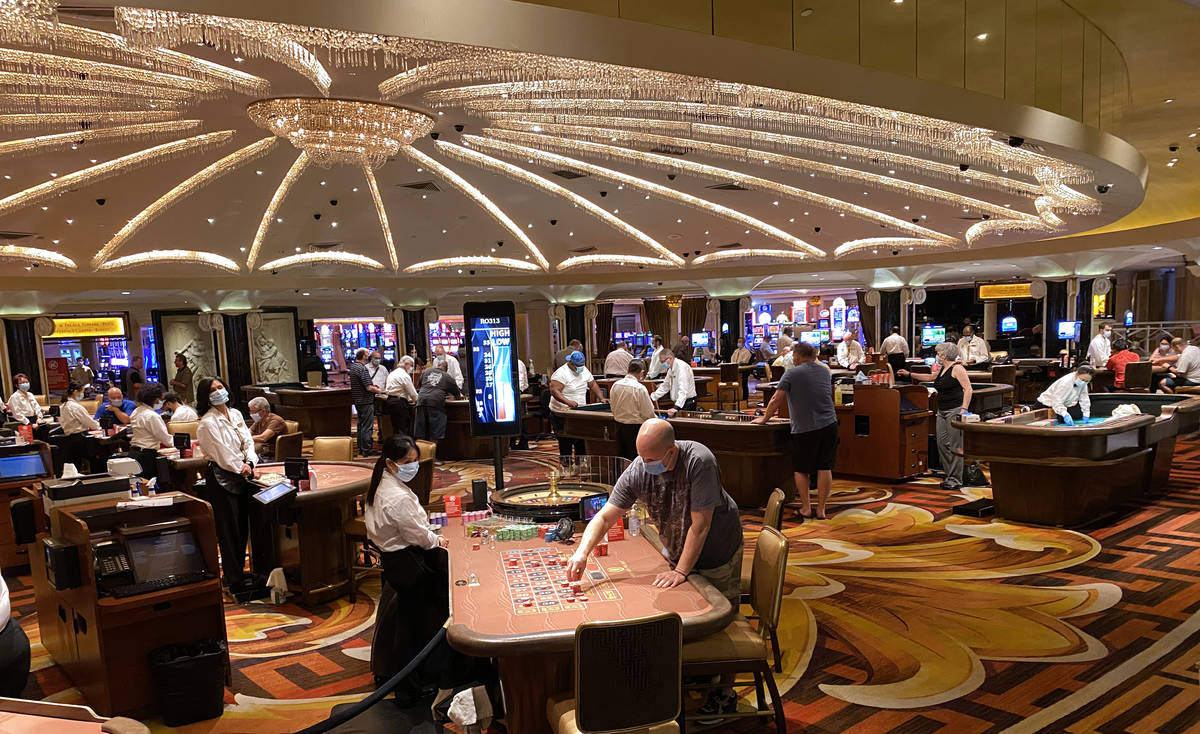 Guests at Caesars Entertainment Corp. properties will be required to wear masks while inside its properties, effective immediately.
Caesars previously required masks only among staff and table game players, and had been offering free slot machine play to select loyalty card customers wearing masks.
That all changed with a company statement released at noon Wednesday.
"We are immediately requiring everyone in our properties to wear masks, because the scientific evidence strongly suggests that wearing masks and practicing social distancing may be the most important deterrents to spreading COVID-19 from person to person," CEO Tony Rodio said in the release.
Updated policies
The updated policy applies to all employees, vendors, contractors, guests and passersby inside the properties. Those who refuse to wear a face covering will be directed to leave the property.
The only exception is when employees or guests are eating or drinking. A company spokesperson said casino customers who want to drink or smoke are advised to lower their mask, drink or smoke, then lift their mask back into place.
The new policy applies to Caesars' Nevada hotel-casinos as well as its properties in Louisiana, Mississippi, Iowa, Missouri, and Indiana, as well as tribal properties in Arizona, California and North Carolina. It will also go into effect at properties in Maryland, Pennsylvania, New Jersey, Illinois and Ontario once they reopen.
As of Wednesday, the company has reopened Caesars Palace, the Flamingo, Harrah's, Paris Las Vegas and The Linq Hotel's casino in Las Vegas.
The announcement comes just hours before Nevada Gov. Steve Sisolak's 5 p.m. update on Nevada's response to the COVID-19 pandemic. Last week, the governor said he had asked his team of COVID-19 medical advisers to review enhanced face covering policies for the state.
Nevada's COVID-19 cases have been on the rise since it reopened casinos June 4. On Tuesday, the state saw a record one-day jump of more than 400 new cases. As of Wednesday, there have been about 14,000 cases of the virus in Nevada and 492 deaths.
Policies in other states, including California and Washington, have recently been updated to require face coverings when in public indoor venues.
Nevada Gaming Control Board spokesman Michael Lawton declined to comment when asked if the control board was considering making masks mandatory inside all Nevada hotel-casinos.
Visitor reaction
Tracy Lawson of Ontario, Canada, said she would feel much safer visiting Las Vegas if all hotel-casinos required masks indoors.
"You'd still have fun. It's not like they're asking you to wear a hazmat suit," she said.
Lawson is planning to visit an MGM Resorts International property on July 26, just a few weeks after her last Las Vegas trip the week of June 6. She estimated only a quarter of the people she saw then were wearing masks.
"It kind of just made me angry. … Obviously the virus is a real thing, and they're not bothering (to stop it from spreading)," she said. "They want everything open, (but they don't want to wear a mask). You can't have it both ways."
Las Vegas resident and frequent South Point visitor Gene Gilligan said he is "all in favor" of everyone wearing a mask indoors.
I "hope and pray that all casinos follow Caesars' example," he said. "My wife and I have been disappointed to see the lack of masks among slot players as well as at stores in our area."
Other visitors said they find the new policy unnecessary.
Cliff Johnson of Glendale, Arizona, said he's not happy about the new mask requirement. He believes social distancing and proper hygiene is enough.
"A mask still makes it hard to breathe, and cigarette smoke still gets in," he said. "I hope that other casinos keep mask wearing optional, but I imagine they will get public pressure (to require them)."
Chris Frusci of Dallas said some customers may not like the new rule, but he doesn't think mask policies will affect visitation.
"People go to casinos and gamble because they enjoy risk. … Gamblers won't let this law stop them," he said. "I gamble often and that wouldn't stop me, although I do feel like people should have a choice (on wearing masks)."
He added that he didn't see many masks during his stay in The Cosmopolitan of Las Vegas two weeks ago and said it was "nice to escape reality and feel like there's no pandemic."
More action to come?
A Wednesday statement from Culinary Workers Union Local 226 said Caesars' new mask policy is "a victory for workers" and "a good step towards protecting workers and the hospitality industry in Nevada." The union has been advocating for stricter mask rules among patrons and guests since May.
On Monday, the union hosted a videoconference to discuss casinos' policies. Members — including Diana Thomas, a guest-room attendant at the Flamingo — said they would feel safer at work if guests and patrons were required to wear masks.
Last week, at least nine Strip casino workers tested positive for COVID-19.
"Now, all other Nevada casinos must adopt the same mandatory mask policy and Governor Sisolak should mandate that they do so as well," the Wednesday statement said.
The union is demanding a handful of other health policies in casinos, including daily cleaning of all guest rooms, as well as mandatory testing of all employees for COVID-19 before returning to work, and regular testing thereafter.
Contact Bailey Schulz at bschulz@reviewjournal.com or 702-383-0233. Follow @bailey_schulz on Twitter.