Las Vegas Sands reports 51% revenue drop in first quarter
Updated April 22, 2020 - 6:31 pm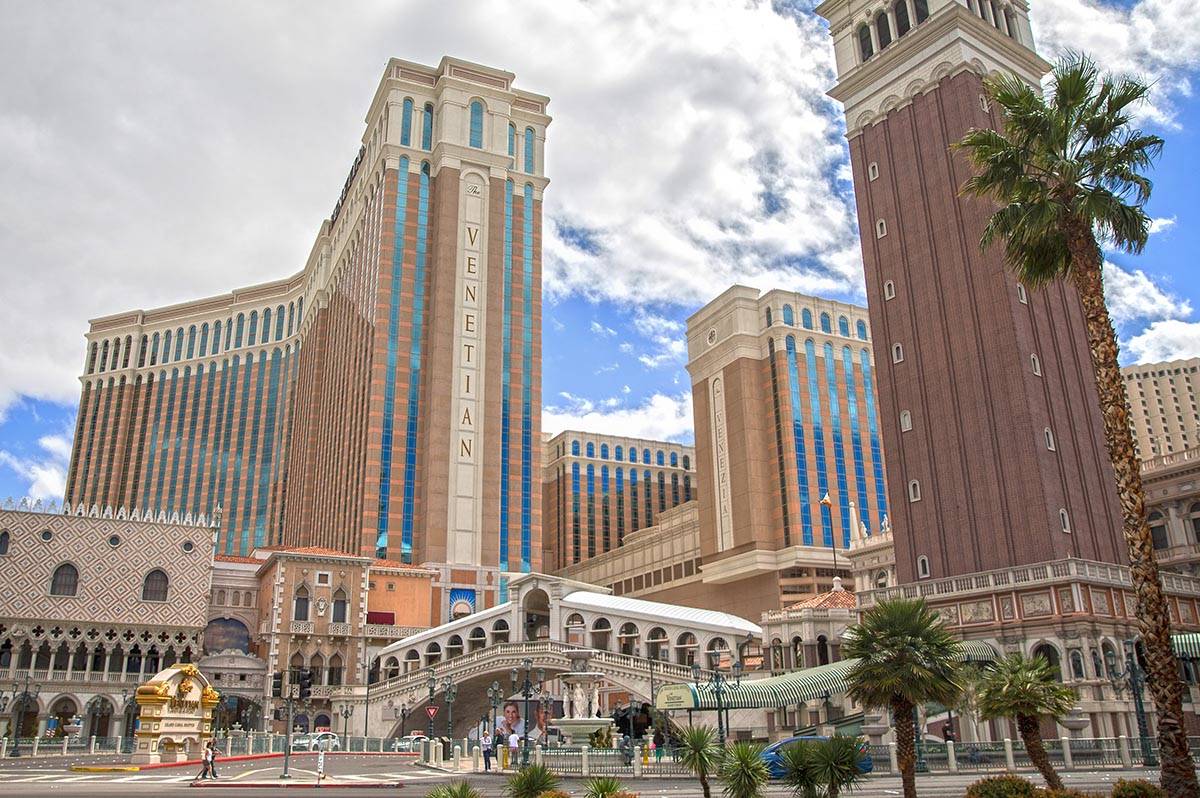 Revenue plunged 51.1 percent in the first quarter for Las Vegas Sands Corp. as the Southern Nevada company weathered casino closures in Macao in February and Nevada in March, the company reported Wednesday.
Sands was the first gaming company to report first-quarter earnings. Other operators are expected to report similarly depressed numbers in the coming weeks following nationwide COVID-19-related casino shutdowns.
Sands swung to a loss of $51 million in the first quarter compared with a profit of $744 million a year ago and reported revenue of $1.782 billion compared with $3.646 billion for the same period a year earlier.
The company closed its Las Vegas Strip properties, The Venetian and Palazzo, in mid-March and pledged to pay all salaried, hourly, tipped, seasonal and on-call employees during the closure. Sands also had to shut down its properties in the Chinese territory of Macao in February for 15 days.
Its casino in Singapore, Marina Bay Sands, has been closed since April 7 and is slated to stay closed until June 1. The financial impact of that closure is not reflected in the results for the first quarter, which ended March 31.
'Different path'
Sands Chairman and CEO Sheldon Adelson and other executives told investors pent-up demand is growing in Macao and Singapore and most conventions booked in Las Vegas are rescheduling rather than canceling.
Chief Operating Officer Rob Goldstein said he expects Las Vegas to rebound slower than Macao and Singapore, mainly because he doesn't expect airlines in the United States to be able to deliver passengers to Southern Nevada as rapidly as the resorts will be able to gear up for customers.
"We see a different path in Vegas," Goldstein said. "I don't know how airlift will look in the next 90 days. I don't know the economic impact of how Americans will spend money. But group business appears to be out there for August and into the fall."
He added that he doesn't expect getting groups back to be a problem "if we have the proper social distancing and proper etiquette in place to protect people. It'll look like Asia, which is a lot of social distancing and control to make it as safe as we can make it."
Upbeat call
Despite the depressed earnings numbers, Adelson and other executives were upbeat, saying work on construction projects in Macao is continuing.
Adelson said there are 3,000 workers on Sands' makeover of Sands Cotai Central into the Londoner on Macao's Cotai Strip.
Adelson also said he's even considering new investments in Asia and that the company's 79-cent quarterly dividend, suspended by the company last week, will be restored by the board of directors as soon as profitability returns.
"I assure you that I have not said, 'Yea dividends,' and 'Yea buybacks,' for the last time," Adelson said. "I look forward to seeing them again and hopefully very soon."
He said the company would consider "acquiring or building" in Asia because customers in those markets have grown more accustomed to the types of health protocols that will be new to most Americans — temperature monitors at the doors, social distancing and people wearing facemasks.
Sands is a contender for being awarded a license for an integrated resort in Japan, a process that also has been slowed by the pandemic.
One of the analysts on the call thanked Adelson for supplying personal protection equipment to health-care workers in New York and Nevada. Adelson responded that with jet fuel at historically low prices, he expects more trips to China to acquire more equipment to return to the United States.
"We have sent four more (Boeing) 747 trips to go to China to pick up more of the masks and PPEs," Adelson said. "It'll save lives. The cost of fuel is nothing so we can fly over there and come back at a very low cost."
The Review-Journal is owned by the family of Las Vegas Sands Corp. Chairman and CEO Sheldon Adelson.
Contact Richard N. Velotta at rvelotta@reviewjournal.com or 702-477-3893. Follow @RickVelotta on Twitter. Review-Journal staff writer Bailey Schulz contributed to this story.
By the numbers
First-quarter revenue and earnings for Las Vegas-based Las Vegas Sands Corp., operator of The Venetian and Palazzo on the Strip and resorts in Macao and Singapore. (NYSE: LVS)
Revenue
1Q 2020: $1.782 billion
1Q 2019: $3.646 billion
Change: -51.1%
Net income/(loss)
1Q 2020: ($51 million)
1Q 2019: $744 million
Change: —
Earnings/(loss) per share
1Q 2020: —
1Q 2019: 75 cents
Change: —