Some casino workers can now get the COVID vaccine at work
Updated March 29, 2021 - 7:46 pm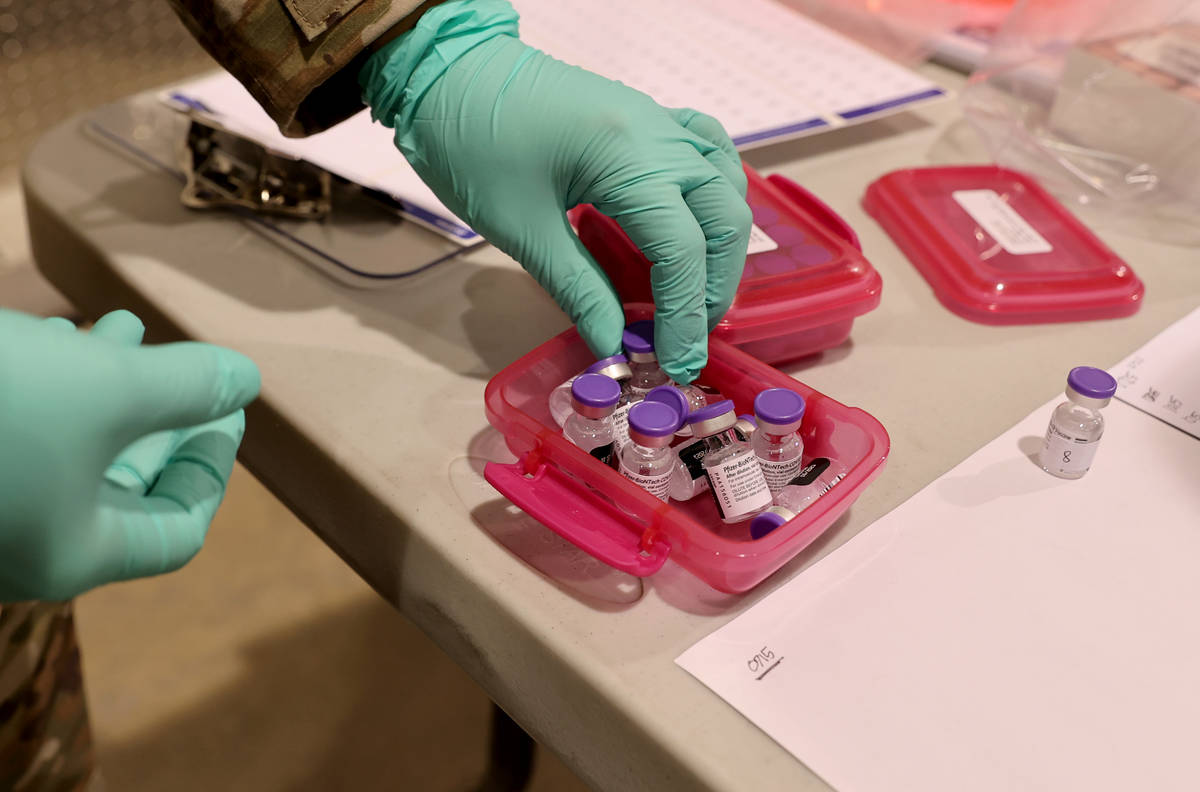 Public health officials have earmarked half of Southern Nevada's weekly COVID-19 vaccine allocation for public events to inoculate hospitality workers, including casino employees, in the workplace, according to a state official.
On Tuesday, MGM Resorts will begin to offer vaccinations at one of its Strip properties to all its local employees. At least two other casino companies are preparing to launch similar programs by early next week, a county public health official said.
Increasing vaccination rates in employees of Nevada's dominant industry is a priority for state and county leaders.
"Our economy is based on gaming and entertainment and restaurants and all the things that are associated with that," said Greg Cassell, incident commander for the Southern Nevada Health District's vaccination rollout. "Having a healthy workforce is key to them being able to provide those services and get us back up to speed as a community with our primary industry."
Local and state health officials agreed last week that almost 28,000 of the county's 54,850-dose allocation for public vaccination events would be prioritized for the hospitality industry, Nevada Department of Health and Human Services spokeswoman Shannon Litz wrote in an email Monday.
"Some events may only be open to a venue's employees, but many of the strike team and other large events will be open to any food service/hospitality worker who can prove their employment status," Litz wrote.
It was unclear how long the allotment for hospitality workers would continue.
The shift in strategy comes after the health district acknowledged that thousands of vaccination appointments have gone unfilled in recent weeks. Earlier this month, the health district said some 300 thawed doses expired before they could be used.
Interest in vaccines saw a temporary rebound after state officials opened eligibility to the region's hospitality and food service workers on March 11. However, it quickly fell again.
Health district officials have said that their vaccine centers' limited hours of operation could be preventing more workers from getting vaccinated. Cassell said that should be less of a problem at the casino sites.
"They can facilitate vaccines to swing shift, graveyard," he said.
MGM takes a site
MGM Resorts, the state's largest private employer, initially will be allotted enough vaccine to administer 700 vaccinations each day for five days, or 3,500 doses, Cassell said. In a pilot program last week, the resort company vaccinated 400 employees on the first day and 600 on the second.
Vaccinations will be provided from 7 a.m. to 2 p.m. every Tuesday through Saturday at the Mandalay Bay Convention Center, said MGM spokesman Brian Ahern.
"We're committed to doing all that we can to help get as many people vaccinated as quickly as possible by removing barriers to access and bringing vaccination clinics directly to our employees," Ahern wrote in an email.
The company did not disclose how many workers it has in Southern Nevada, but it employs thousands of workers across nine major resorts on the Las Vegas Strip: the MGM Grand, Bellagio, Mandalay Bay, Aria, The Mirage, Park MGM, New York-New York, Luxor and Excalibur.
Cassell said he'd like every large casino company to take part in the new program. He envisioned as many as 50,000 vaccinations per week through hotel-casinos, an industry he estimated to have 140,000 to 180,000 local employees.
"If everybody was willing to get vaccinated … I would think we would have a very large dent in this in a three- to four-week span," he said.
The companies must first submit their clinic plans to the Nevada Gaming Control Board, which are then approved by the health district. A gaming control board spokesperson declined to comment Monday.
Since Jan. 18, Wynn Resorts has been offering vaccinations to eligible employees from at a vaccination site at Encore, spokesman Michael Weaver said in an email. About 3,000 Wynn employees have been vaccinated at the site operated by University Medical Center, along with many thousands of other eligible workers.
Vaccination eligibility, which has expanded in tiers, will open to all Nevadans age 16 and older on April 5.
Contact Mary Hynes at mhynes@reviewjournal.com. Follow @MaryHynes1 on Twitter. Contact Michael Scott Davidson at sdavidson@reviewjournal.com or 702-477-3861. Follow @davidsonlvrj on Twitter. Review-Journal staff writer Richard N. Velotta contributed to this report.