Steve Wynn 'warehousing' former Alon site in $336M purchase
December 14, 2017 - 6:54 pm
Updated December 14, 2017 - 7:08 pm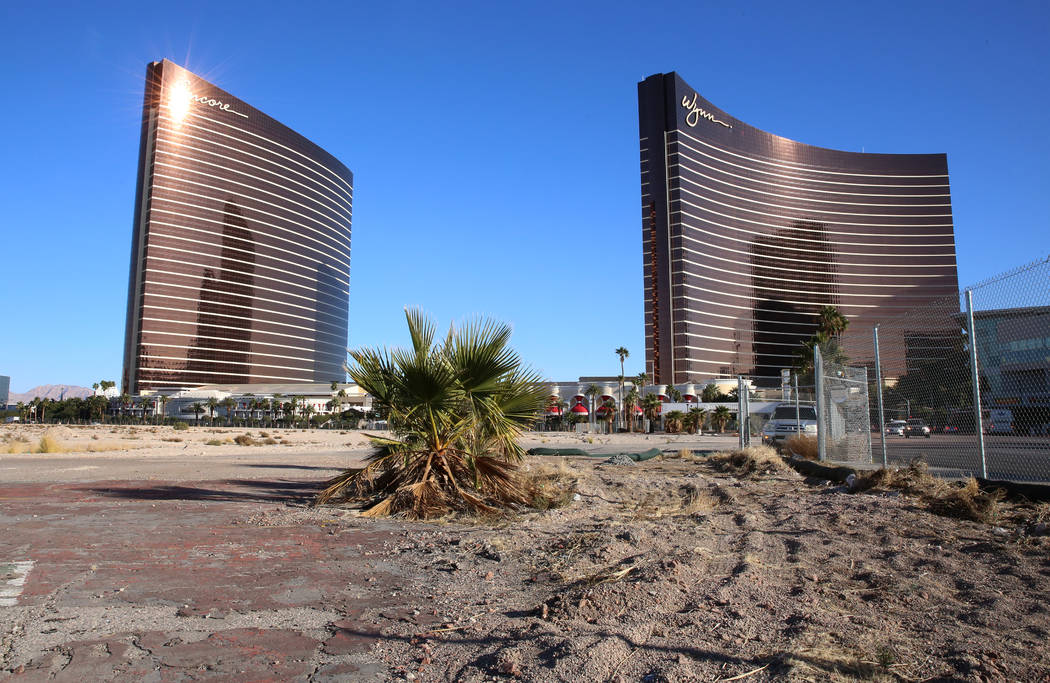 Wynn Resorts' announcement that it is buying the Alon project site could raise hopes that a long-awaited revival of the sleepy north Strip is in the cards.
But analysts say it might be years before construction crews show up at Wynn's new site, which was home to the New Frontier and has seen big plans come and go over the years.
Casino developer Steve Wynn's namesake company announced late Wednesday night that it reached a deal to acquire about 38 acres of land across Las Vegas Boulevard from the Wynn Las Vegas for $336 million. The sale is expected to close in the first quarter of next year.
It's unclear what the 75-year-old billionaire plans to do with the site, located just north of Fashion Show mall. His company — which is acquiring the 34.6-acre Alon casino site and some adjacent property — said in a news release that it's buying the spread for "future development" but did not elaborate.
Wynn Resorts spokeswoman Deanna Pettit-Irestone declined to say what the plans are for the site.
Wynn, chairman and CEO, is likely to give some insight during the next earnings call, traditionally scheduled for the end of January.
'Warehousing' land
Land sales on the Strip have been slow since the recession, and hotel projects have had plenty of stumbles. But room rates and gambling revenue on the Strip are climbing, lowering the risk of a major investment.
Wynn, though, already has his hands full with big projects. Early next year, his company will start construction of the $1.5 billion Paradise Park project, which includes a 1,500-room hotel and hourglass-shaped lagoon, on the site of the Wynn Golf Course.
Wynn Resorts is also in the midst of building a $2.4 billion hotel-casino in Boston, scheduled to open in mid-2019, and is lobbying for the chance to build a massive casino in Japan early next decade.
At least one analyst doesn't expect Wynn to build anything anytime soon on his newest property.
"Clearly, they are warehousing this land for future use," Deutsche Bank wrote in a note Thursday.
Wynn Resorts had $9.9 billion of total debt and $2.7 billion of cash as of Sept. 30, according to Deutsche Bank. The Las Vegas-based casino operator booked $345 million in profit this year through September, nearly double from the same period in 2016, a securities filing shows.
While Wynn's debt burden is not excessive, it would rise if the company started significant development of its latest site within a year.
"It is a smart move to be able to control what is across the street from you," said a Wall Street analyst, who did not want to be named because of his bank's media policy. He added that Wynn might not start developing the Alon property until the Boston project is complete.
Shaky ground
The city's visitor totals have bounced back from the recession, reaching new highs. Yet, the last large-scale casino to be built from scratch on the Strip was The Cosmopolitan of Las Vegas, which opened in 2010 in the heart of the resort corridor.
It is not for a lack of projects. The north Strip has had plenty of them, but they have been bogged down with delays and other issues.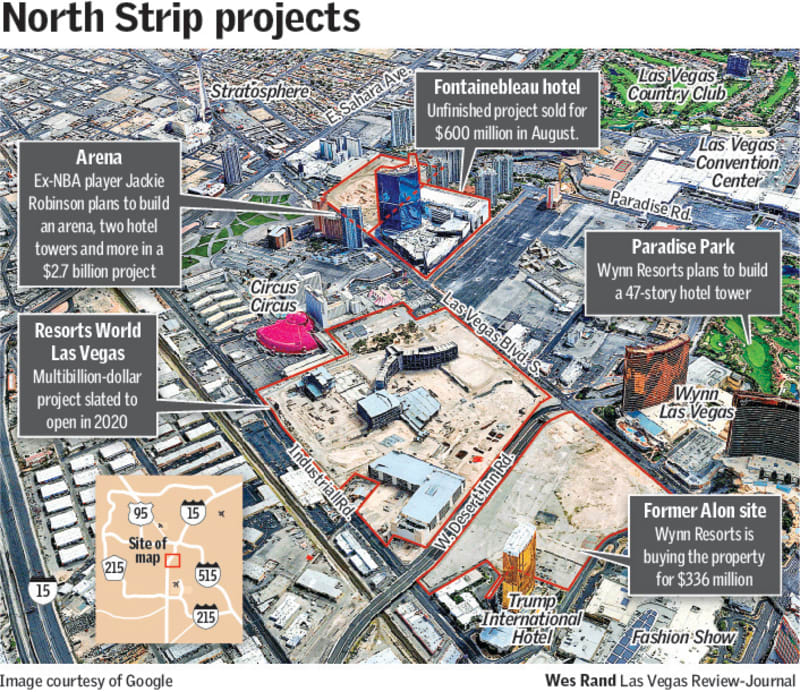 The SLS Las Vegas, which opened in 2014 as the renovated former Sahara on the far end of the north Strip, hasn't instilled hope in the area. The casino has struggled financially since the day it opened, with investors alleging in a recent lawsuit that it's on the "verge of bankruptcy."
Resorts World Las Vegas, just north of the Alon site, is a prime example of the area's struggles. It initially was supposed to open in 2016. After several years of promises but minimal progress, construction finally picked up this summer. It is now slated to debut in 2020.
The Alon site also has a rocky past. Israeli investors bought the New Frontier for $1.2 billion in 2007 and imploded the hotel with plans to develop a luxury resort called Plaza Las Vegas. But the economy crashed, and they never built the project.
Australian billionaire James Packer's company, Crown Resorts, acquired the site through foreclosure in 2014. His group filed plans for the 1,100-room Alon Las Vegas, but Packer reportedly had trouble raising project funds, and Crown bailed on the project late last year.
Crown was Alon's main financial backer and put the site up for sale in May for $400 million.
Overall, investors have been largely ignoring the Strip's empty parcels. Michael Parks of CBRE Group, a listing broker for the Alon site, confirmed that the last vacant land to trade in the corridor was the Alon site itself three years ago.
Parks said he and partner John Knott received "a decent amount" of interest in the Alon site, adding that the buyer pool for a deal of that size was small.
Wynn Resorts is taking control of the Alon site but not full ownership. It is buying 18.4 acres from Crown and renting 16.2 acres from the Elardi family, which leased its parcel to Packer's group.
The other, smaller property that Wynn is buying as part of the 38-acre transaction is being sold by Treasure Island owner Phil Ruffin, Wynn spokesman Michael Weaver said.
North Strip comeback?
Visitor levels are forecast to grow in coming years as convention sizes expand and more space is built to hold them. The Strip also generated $5.4 billion in gambling revenue this year through October, up 2.6 percent from the same period last year, and its average daily room rate, $142, was up 3.6 percent, according to the Las Vegas Convention and Visitors Authority.
Still, the north Strip has plodded along in recent years with lighter foot traffic, delayed projects and sprawling, vacant lots. There has been talk for several years now about a revival, and while that hasn't happened yet, big projects in the neighborhood are showing signs of life.
The LVCVA plans to start construction of a $1.4 billion expansion of the Las Vegas Convention Center next year to add 1.4 million square feet of space by 2021, potentially creating greater hotel demand nearby.
In addition to Resorts World moving ahead, New York developer Steve Witkoff and Miami investment firm New Valley bought the long-mothballed Fontainebleau hotel for $600 million in August. They haven't yet announced plans for the site.
"Many operators are likely sensing the potential for pent-up demand," said Brian Gordon, co-owner of Las Vegas research firm Applied Analysis. "There is limited opportunity for Las Vegas Strip frontage in the balance of the resort corridor. In the absence of a wholesale redevelopment project, future activity will be forced to migrate to the north and south portions of the Strip."
Contact Todd Prince at tprince@reviewjournal.com or 702-383-0386. Follow @toddprincetv on Twitter. Contact Eli Segall at esegall@reviewjournal.com or 702-383-0342. Follow @eli_segall on Twitter.