It'Sugar candy shops files for bankruptcy
Updated September 23, 2020 - 8:42 pm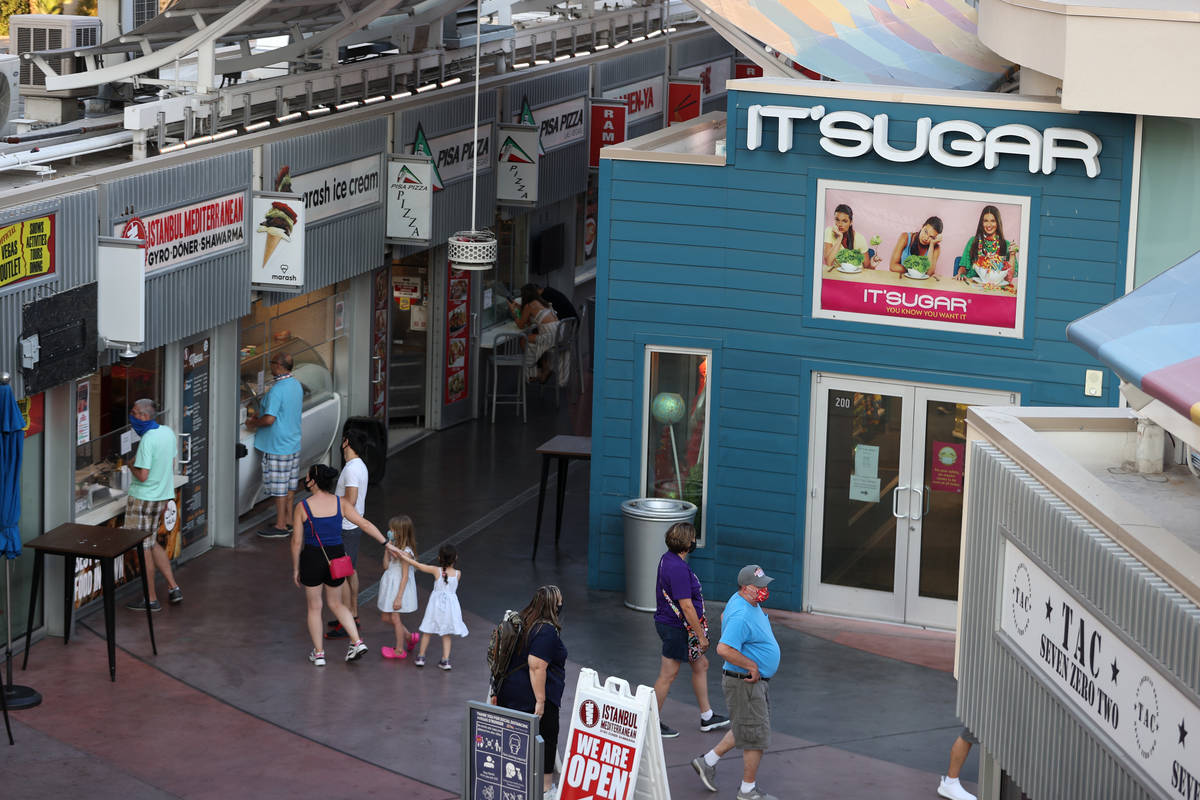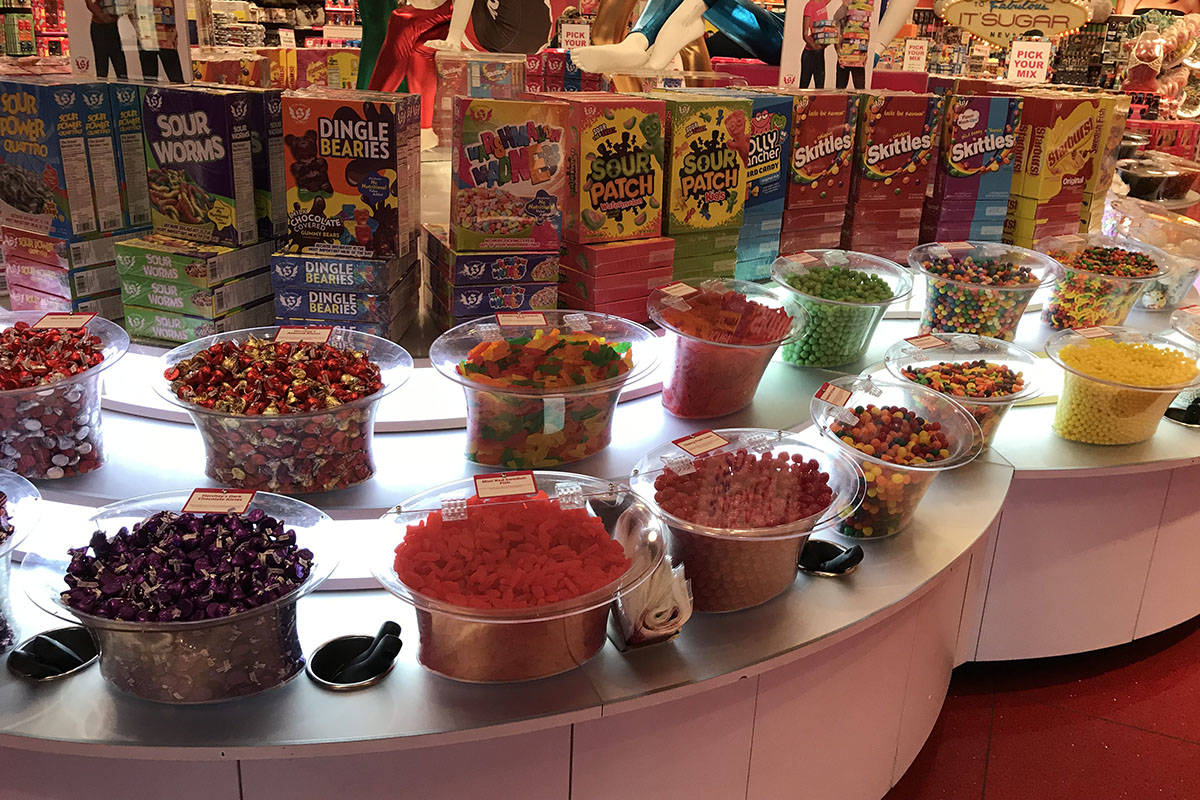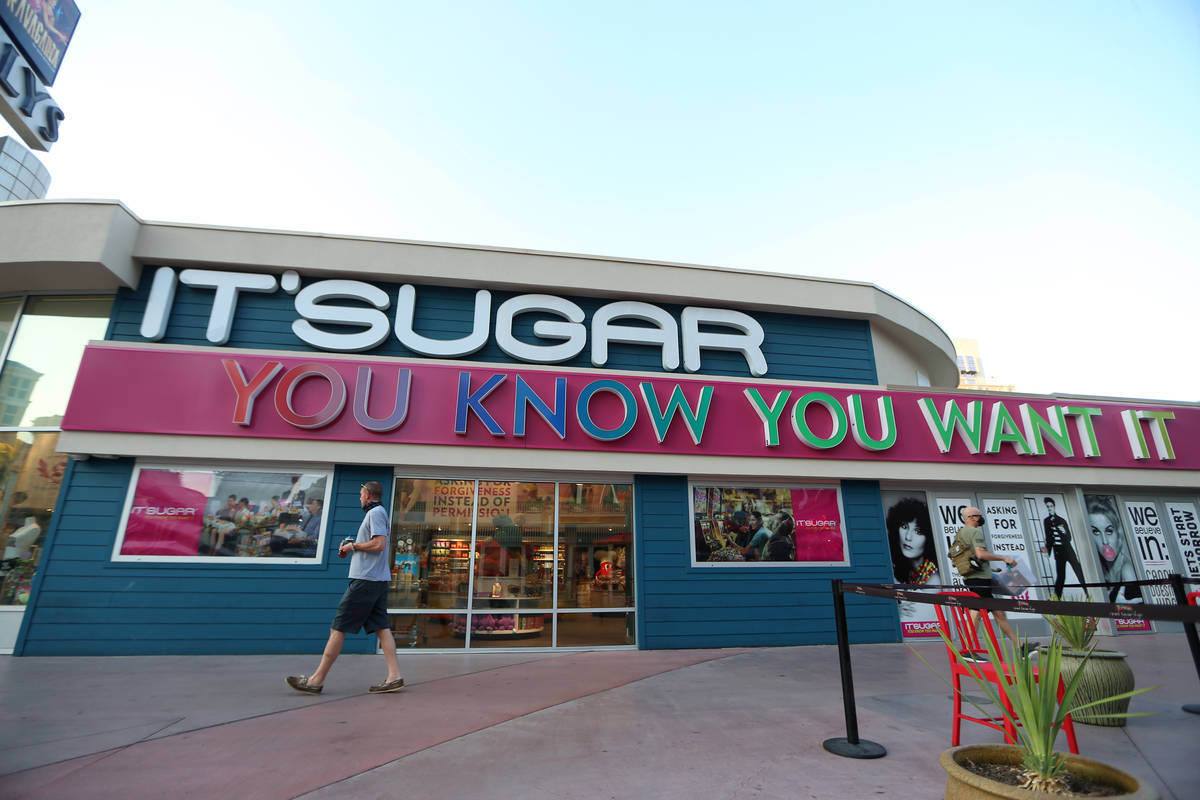 Candy store chain It'Sugar filed for Chapter 11 bankruptcy protection Tuesday, citing its inability to make up for sales amid the COVID-19 pandemic.
It'Sugar, a Florida-based company owned by BBX Capital Corp., said its four locations in Las Vegas, including its U.S. flagship location on the Strip, will remain open while the company goes through bankruptcy proceedings.
The retailer shuttered its approximately 100 locations nationwide in March because of the pandemic and opened in June and July, but sales haven't improved. It'Sugar said 60 percent of its annual sales are related to travel and tourism.
It'Sugar's four Las Vegas stores are at Town Square Las Vegas, Downtown Summerlin, the Grand Canal Shops inside The Venetian and at the Grand Bazaar Shops at Bally's Las Vegas, where the company opened a flagship store in May 2019.
According to court documents, most of It'Sugar's unsecured debt claims are from landlords, including $502,973.28 in rent money owed for the Grand Bazaar Shops store and $458,238.36 to the Grand Canal Shoppes.
"Unfortunately, lots of retailers have been impacted by COVID. The flagship location at the Grand Bazaar Shops has always been one of their most visited and productive stores in the country. We look forward to their continued operation at the property for a long time to come," Connie Stankivicz, general manager at the Grand Bazaar Shops, said in a statement.
Kristina Bello, spokesperson for Grand Canal Shoppes, declined to comment.
The company said it has received notice of default from landlords for 49 of its roughly 100 locations across the U.S.
"The effects of the COVID-19 pandemic on demand, sales levels, and consumer behavior, as well as the recessionary economic environment, have had a material adverse effect on IT'SUGAR's business, results of operations and financial condition," said BBX Capital President Jarret Levan in a statement.
The company stopped paying rent or has only made partial payments as company executives tried to negotiate deferment or abatement deals with its landlords, according to Levan. "This has not occurred and resulted in the decision to file bankruptcy proceedings," he said.
It'Sugar said it has about $500,000 in cash, $6.2 million in secured debt and $10.4 million in unsecured liabilities, including unpaid rent obligations.
A Chapter 11 protection allows a company to continue operations while reorganizing its obligations, said Andrea Gandara, a shareholder and commercial bankruptcy attorney at Holley Driggs Law Firm.
The filing also gives the company time to assess their finances and negotiate with creditors to resolve outstanding debt. Those can include landlords, vendors and employees who are owed wages.
Nationally, there has been an uptick in Chapter 11 commercial filings since the pandemic, according to analysis from the American Bankruptcy Institute, an national organization that does research on insolvency.
Between March and August, 3,600 U.S. companies have filed for Chapter 11 protection, according to ABI's data. That is more than the 2,677 filings from the same period in 2019 — a nearly 35 percent increase.
Companies on the Strip, like It'Sugar, have taken a beating in revenue after a plunge in foot traffic since the pandemic.
It'Sugar's recent filing "is indicative of how long term the recovery process in Nevada is going to be," said Bryan Wachter, senior vice president for government and public affairs for the Retail Association of Nevada.
Businesses are struggling to keep afloat, said Wachter, even at 50 percent occupancy.
"There's certainly fiscal stimulus that Congress can act to help Americans and businesses to survive, but what we need most is to address the health crisis so that we can get folks who have the resources and want to travel. That's when we're truly going to see an economic rebound in Nevada that we desperately need."
The Review-Journal is owned by the family of Las Vegas Sands Corp. Chairman and CEO Sheldon Adelson. Las Vegas Sands operates The Venetian.
Contact Jonathan Ng at jng@reviewjournal.com. Follow @ByJonathanNg on Twitter.