SpeedVegas, other US racetracks have seen fatal crashes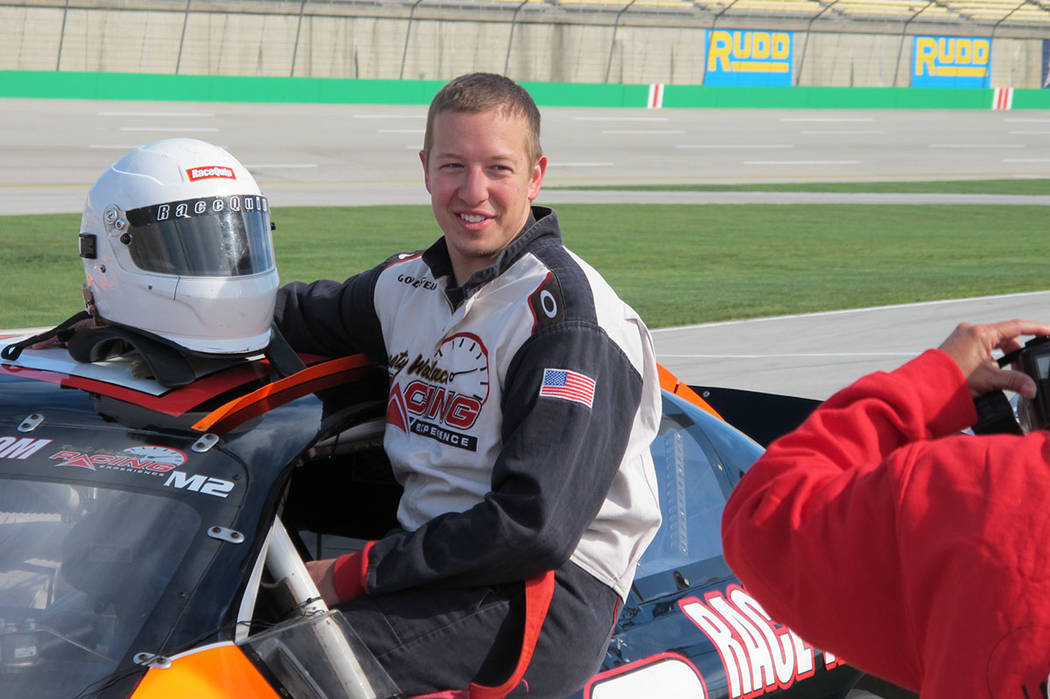 When a tourist and driving instructor died in a fiery crash Feb. 12 at the SpeedVegas racetrack south of Las Vegas, it was not the first time for a fatality or serious wreck involving everyday drivers on a racetrack.
In the Las Vegas incident, 37-year-old real estate agent Craig Sherwood from Thornhill, Ontario, drove an orange Lamborghini Aventado with his instructor, Gil Ben-Kely, a 59-year-old, two-time breast cancer survivor, who was in the passenger seat.
On one of the laps, the car, after traveling at more than 100 mph on the track's longest straightaway paralleling Interstate 15, failed to negotiate an S curve, spun out and slammed into a barrier, where the car burst into flames, killing both occupants.
At least four similar cases exist nationwide. The common thread: no post-crash additional oversight or rules on events and so-called driving experience attractions that put an everyday motorist inside a powerful vehicle.
The families of some of the dead and injured drivers have expressed interest in greater regulation and more changes in the industry. Others have called the loved one's death an unfortunate result of chance or fate.
As the Las Vegas Valley awaits results of an Occupational Safety and Health Administration investigation into SpeedVegas and talk of further litigation against the company, here is what resulted from four other speedway deaths.
May 15, 2010, Texas Motor Speedway, Fort Worth
Driving instructor Andre Vandenberg spent three months in a coma and after seven years continues therapy for the unresponsive left side of his body.
In May 2010, Vandenberg was driving a 2003 Chevrolet Corvette owned by Texas Driving Experience. Vandenberg worked as a contractor for the company.
His passenger was Fred "Don" Krusemark, 87. The ride was a token of appreciation from a blood center nonprofit for how much blood Krusemark had donated over the years, according to media reports at the time.
Driving on the Texas Motor Speedway, Vandenberg's car struck a barrier surrounding the track. Krusemark died. Vandenberg sustained permanent injuries.
In November 2010, Andre and Belinda Vandenberg filed a lawsuit against Texas Driving Experience. Vandenberg accused Texas Driving Experience of not providing proper safety equipment or maintaining the car.
His court case following his crash ended in 2013 with a confidential settlement, though a letter from Vandenberg attorney Andrew Payne said the family sought $3.95 million in insurance coverage from Texas Driving insurance provider National Casualty.
The Krusemark family's case also settled out of court. Attorneys representing the driving experience did not return requests for comment.
Responding to questions by email because, he said, it is difficult to speak, Vandenberg said he misses driving and has owned 58 motorcycles over the years. He said no local lawmakers or law enforcement showed interest in his case, but a soft barrier system was installed at the track.
"I refuse to go sit in a corner and cry," Vandenberg said. "I would rather make myself enjoy the life I have."
June 7, 2014, Summit Point Motorsports Park, Jefferson County, West Virginia
As Wes Novinger puts it, he and his father raced cars like some people collect baseball cards.
Each had a C5 Corvette and had raced numerous times, from Pocono to the Summit Point Motorsports Park where Kenneth Wayne Novinger, 67, raced for the last time.
The elder Novinger was the instructor in the passenger seat of Eric Joseph Vonreichhenback's 2006 Pontiac GTO. It was a HyperFest OG Racing HyperDrive event, where drivers race their own cars on the raceway while accompanied with a driving instructor.
The car spun after a sharp left-hand turn. Vonreichhenback tried to correct the car, slid on the grass and hit a tree. Novinger died, but Vonreichhenback survived.
Attempts to reach Vonreichhenback were unsuccessful. Representatives with Summit Point Motorsports Park did not respond to a request for comment.
In the three years since the crash, Wes Novinger, 39, has not been on a raceway. His Corvette is now used to carry groceries.
"It gets in your blood," he said. "It drained my bank account when I was a kid. It's fun, like any other hobby."
Though he'll drive on a raceway eventually, for now it doesn't feel right knowing how raw the crash still feels for his mother. Novinger said he'll never stop missing his dad. He never likes when people tell him his dad died doing what he loved, believing that his dad had a long life ahead of him.
Novinger said he emailed an editor at Road & Track magazine after an article published mentioning his father and the popularity of events allowing non-racers on race tracks. He felt the magazine underestimated his dad's driving prowess. Kenneth Novinger had been a professional truck driver, logging 3 million accident-free miles.
He said he feels no ill will toward the track and its staff. He knows the event's goal was fun and safety.
The track has since cut down the trees where his dad crashed. The younger Novinger was never approached by any lawyers or lawmakers about the event.
According to OSHA records, Summit Point Raceway Associates was fined $17,100 for violations including deficiencies in the maintenance building, noise exposure and the employer failing to report the fatal injury. Summit Point settled with the government for $10,000.
"When you get down to the basics of it, it was a terrible accident," Wes Novinger said. "Accidents happen."
Sept. 14, 2014, Kentucky Speedway, Sparta, Kentucky
A confidential settlement almost two years after his death ended the courtroom saga following Stephen Cox's fatal crash at a Rusty Wallace Racing Experience.
But his family is still interested in states adding regulations for driving experiences.
"Losing Stephen has been like losing part of our identity," his sister, Sarah Miller, said. "In our hearts we still count six, though now there are only five at the family table."
Cox, 30, went with his father Doug to a speedway billed at the time as the "roughest track in NASCAR" because of its bumpy road. The trip was a birthday present to the younger Cox, a pharmacist, according to the lawsuit filed by his family after the incident.
Cox would drive a fourth-generation Chevrolet stock car. He received a full face helmet and fire-resistant suit.
Driving around 100 mph at around 10:45 a.m., Cox and the Chevrolet veered left. He struck a concrete wall, then a barrier. Cox broke his skull, spine and other bones.
A helicopter took Cox to a Cincinnati hospital. Medical records said he bled from his mouth, ears and nose. His skin was pale, cool, dry. Emergency responders wrapped him in a blanket to keep him warm.
Cox lived for another week before succumbing to his injuries, surrounded by his family. The cost of trying to save Cox and to bury him added up to about $425,000, according to the lawsuit.
His parents hired Ohio attorney Gary Leppla to represent Cox's estate in litigation. Named as defendants were the Rusty Wallace company, the Kentucky Speedway and even the employee who strapped Cox into the car.
Leppla argued in court filings that the car Cox drove was outdated with faulty parts, that Cox would never have driven and signed a liability waiver had Rusty Wallace made clear of prior instances in the country where a steering wheel came loose in the cars.
"It's as if you let kids play peewee football without helmets," Leppla said in an interview.
The lawsuit allowed the family to combat rumors that Cox had a medical episode in the car by airing concerns in public.
Miller, the sister, said that if she could speak to the families of the two men who died at SpeedVegas, she'd tell them to grieve but continue living in their roles as parent, child and professional.
To lawmakers and regulators in the valley and Nevada, she said she hopes they don't take the crash lightly.
"It could happen again," Miller said. "State and local governments need to take a stand to protect tourists and their local economies."
The Kentucky Speedway repaved its track in 2016. An attorney for the Rusty Wallace company and Kentucky Speedway declined to comment outside of what was said in court filings.
April 12, 2015, Walt Disney World Speedway, Lake Buena Vista, Florida
The lawsuit over the death of driving instructor Gary Terry continues to play out in a Florida circuit court.
Terry died when a guardrail pierced the 2011 Lamborghini Gallardo driven by customer Tavon Watson, who survived.
Terry's widow, Katherine, has sued the driver as well as the operators of the attraction, the Richard Petty and Exotic driving experiences, seeking at least $15,000.
Florida-based attorney Tony Sos, representing the Terry family, declined to comment on ongoing litigation. Attorneys for Watson, Exotic Driving Experience, Richard Petty Driving Experience and Petty Holdings did not return requests for comment.
On May 30, Pacific Indemnity Insurance Co. filed a document saying it would pay $84,000 in workers' compensation benefits to the Terry estate.
In legal filings, Watson and the companies have denied the Terry family's charges of negligence against them. They said Terry understood the risks of instructing amateur drivers on a high-speed track.
In April 2015, OSHA fined Petty Holdings $7,000 over the guard rail and record-keeping violations. Petty contested the fine and reached a settlement agreement for $6,685 in February, according to OSHA records. The case is still open because Petty has not yet paid the fine.
Contact Wade Tyler Millward at wmillward@reviewjournal.com or 702-383-4602. Follow @wademillward on Twitter.
Related
Regulations scrutinized after SpeedVegas deaths
Settlement reached between SpeedVegas operators, instructor
Clark County officials hesitant to regulate 'extreme' attractions because of cost, lack of expertise
SpeedVegas reopens, CEO gives first interview since fatal crash