Las Vegas business leaders predict trends in tourism, real estate and employment
January 26, 2018 - 6:32 pm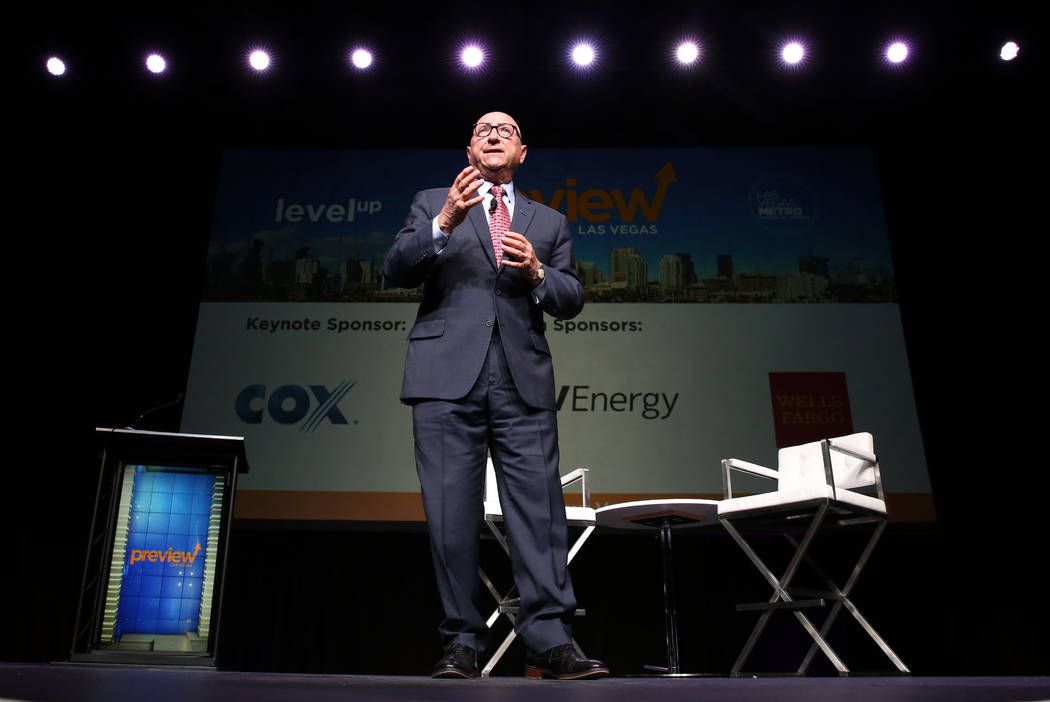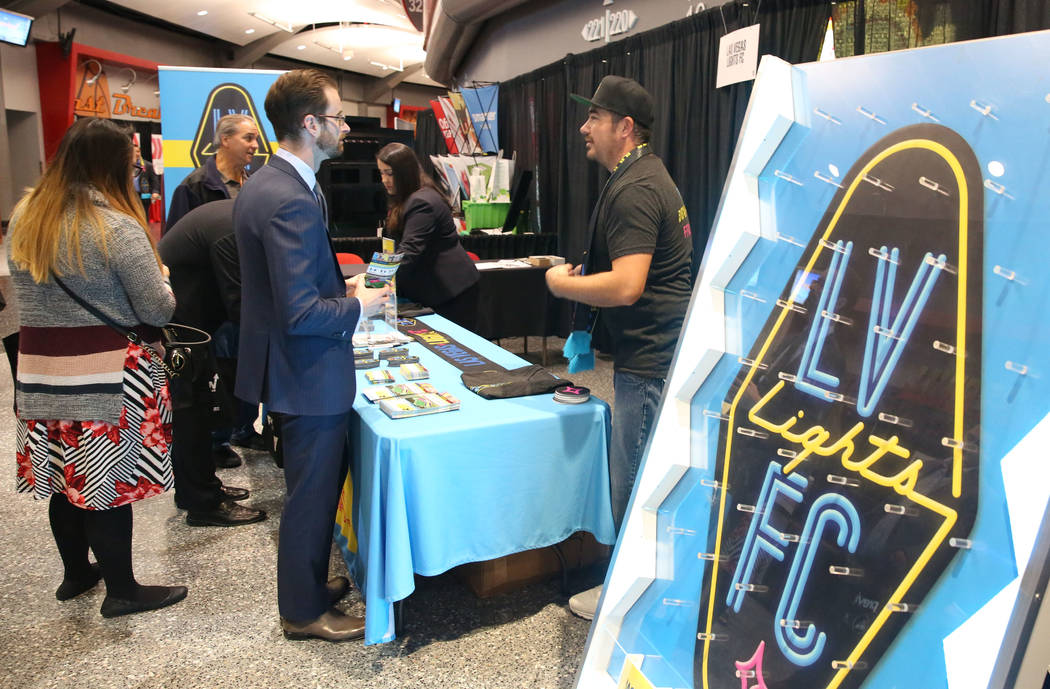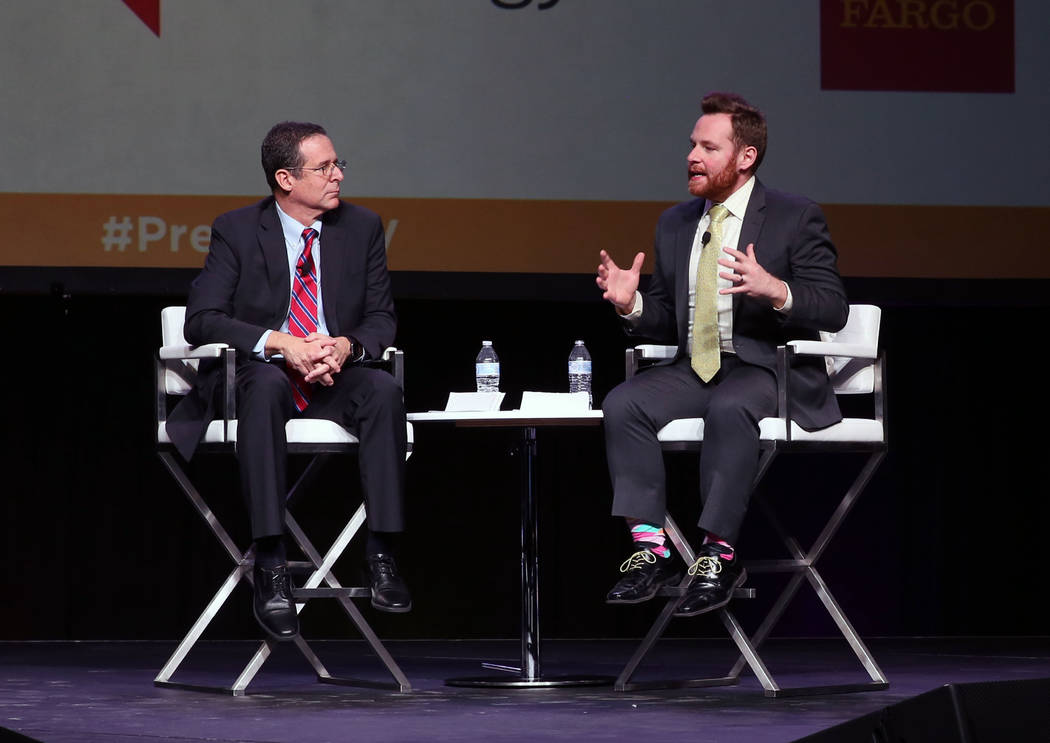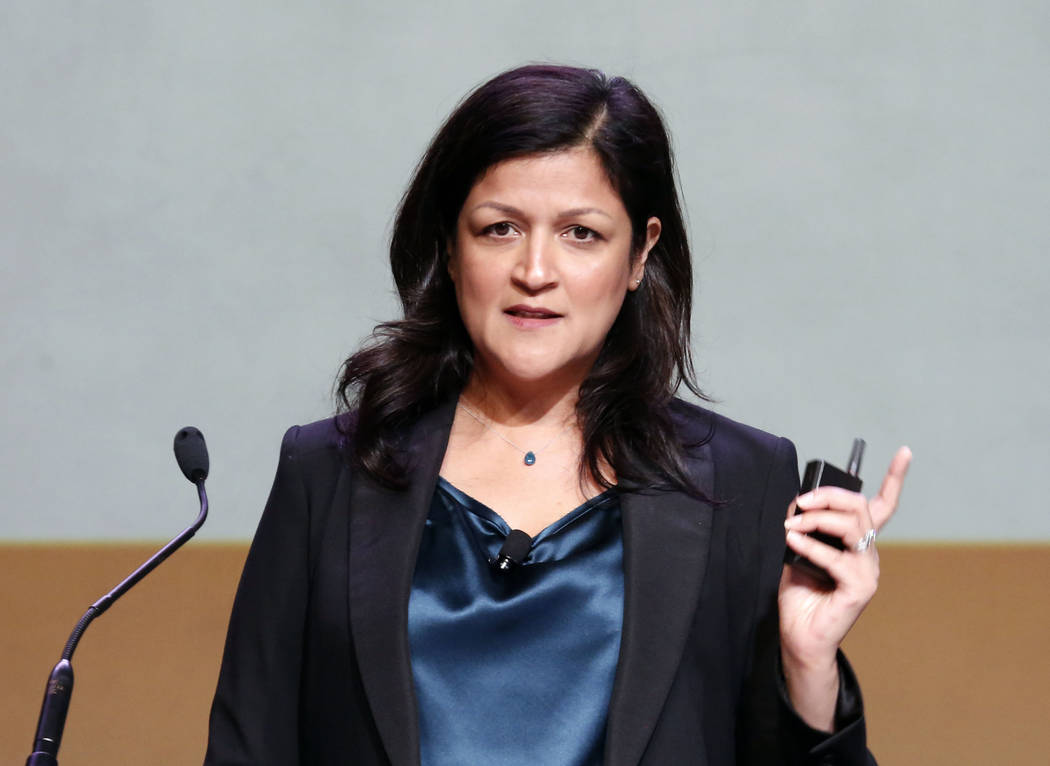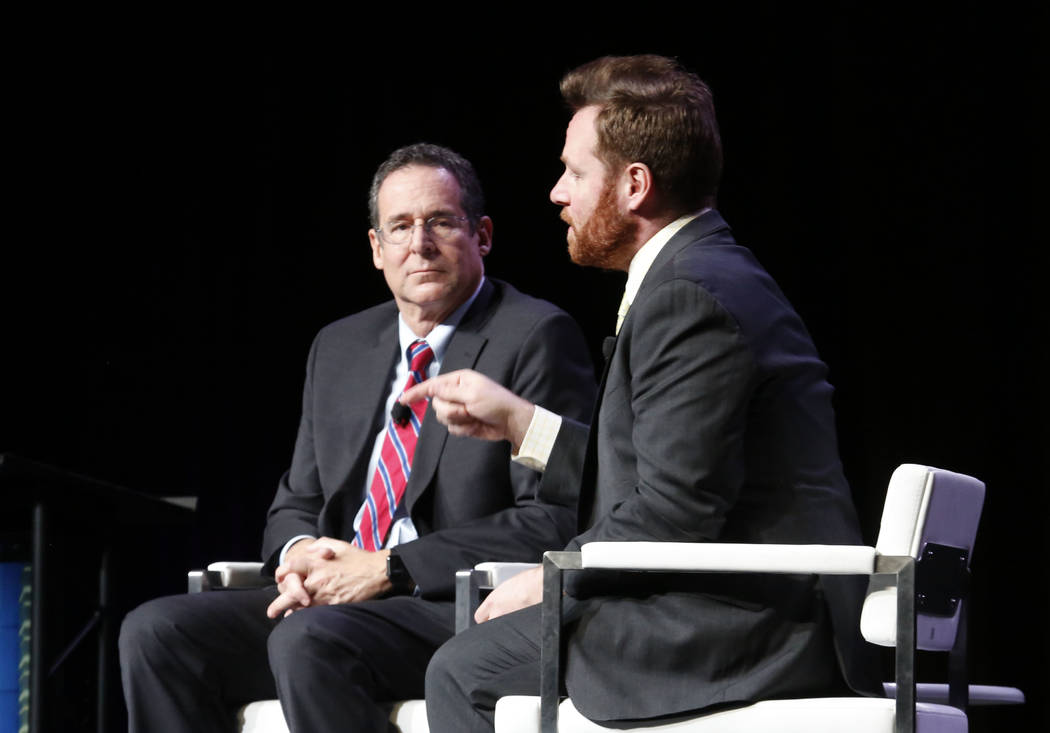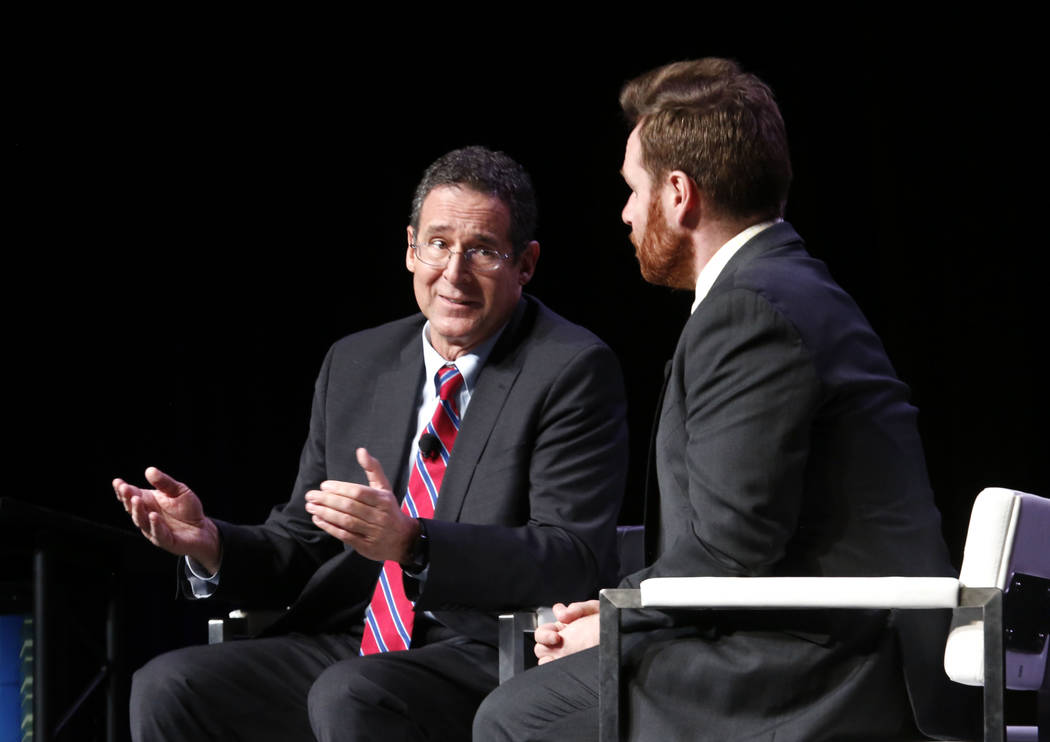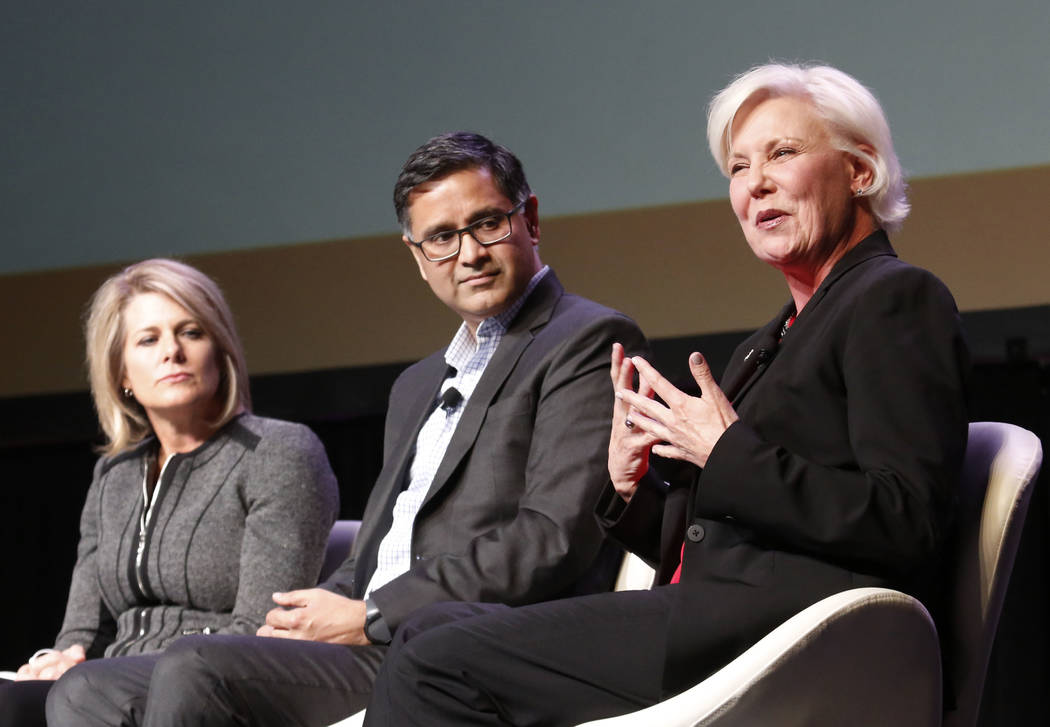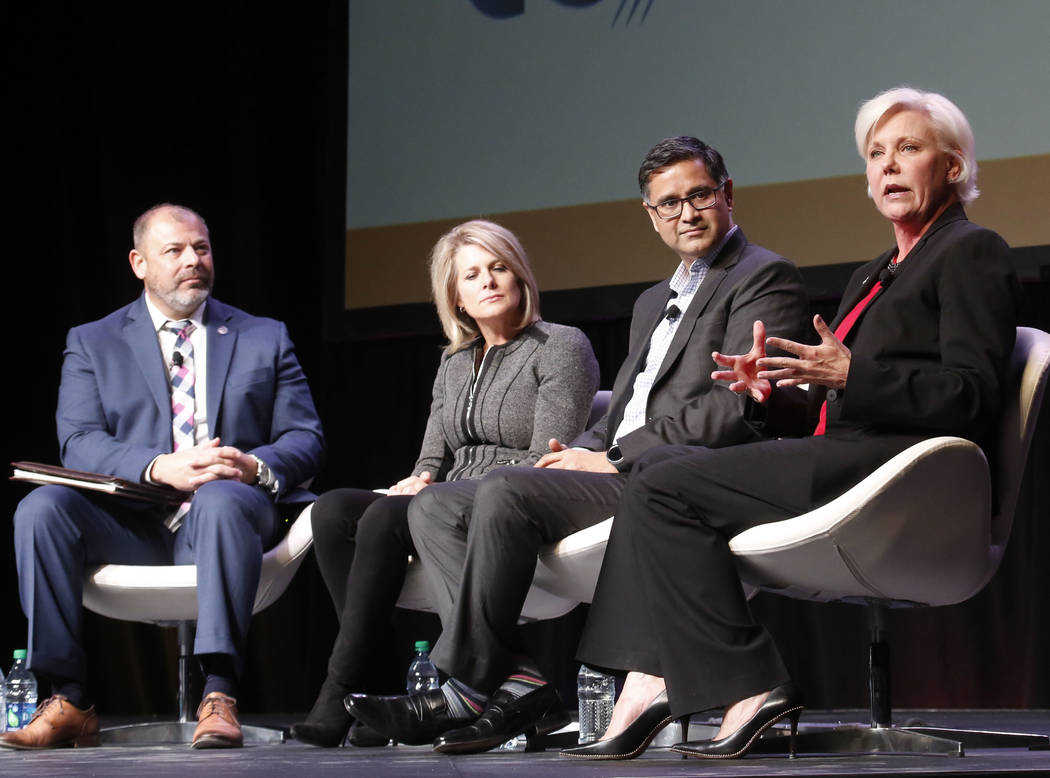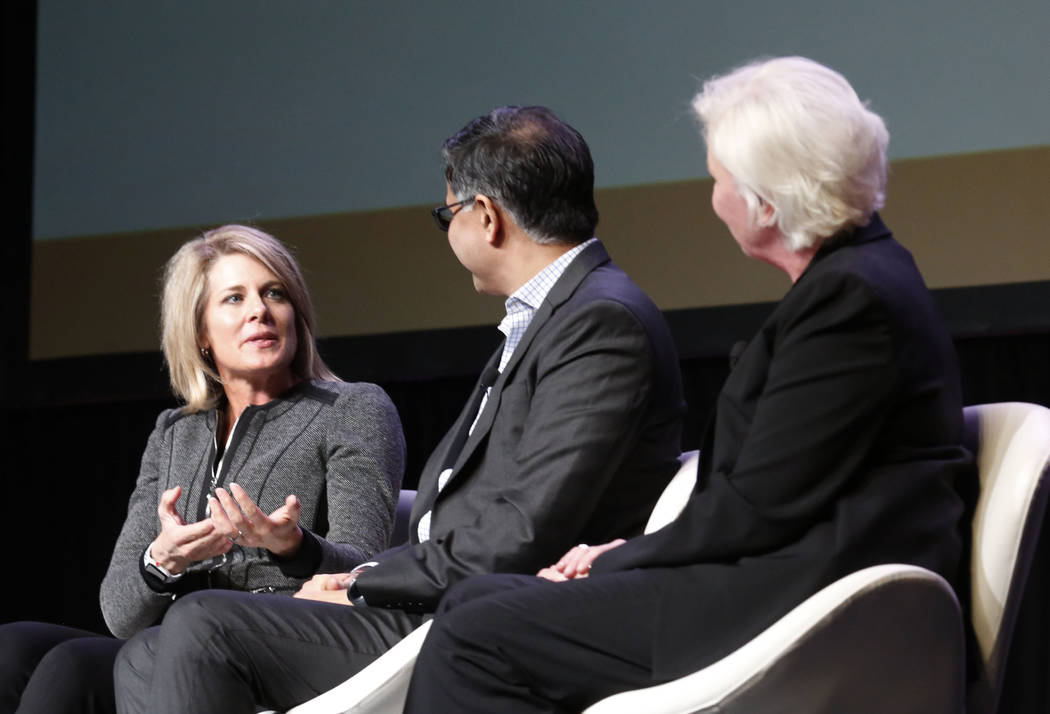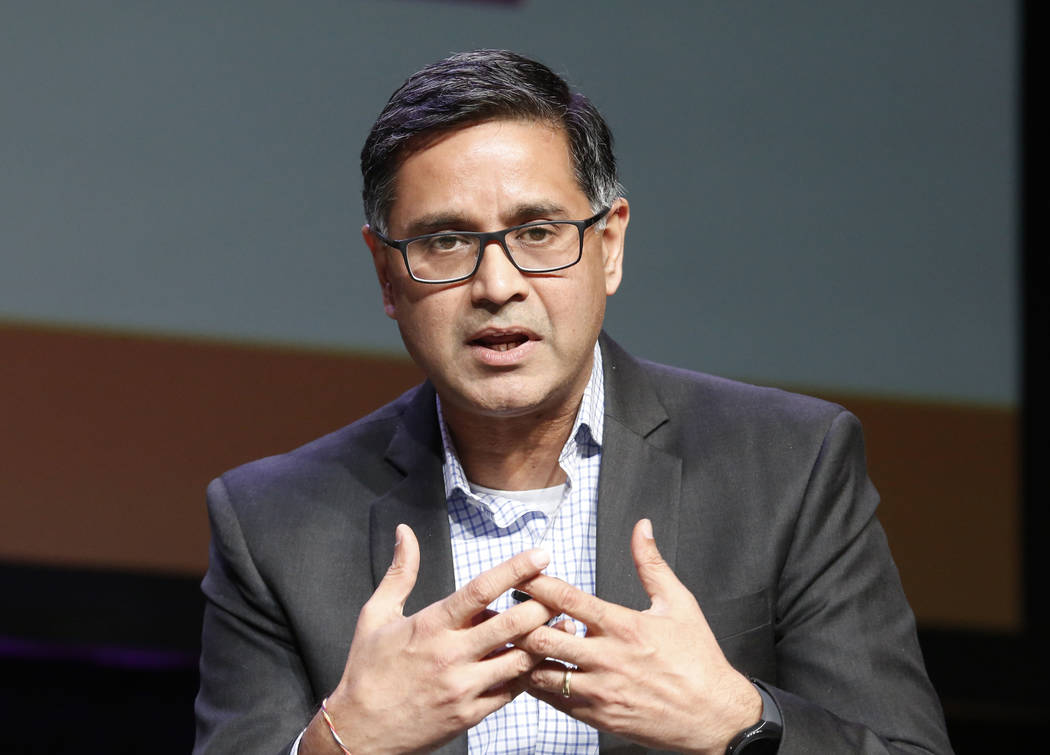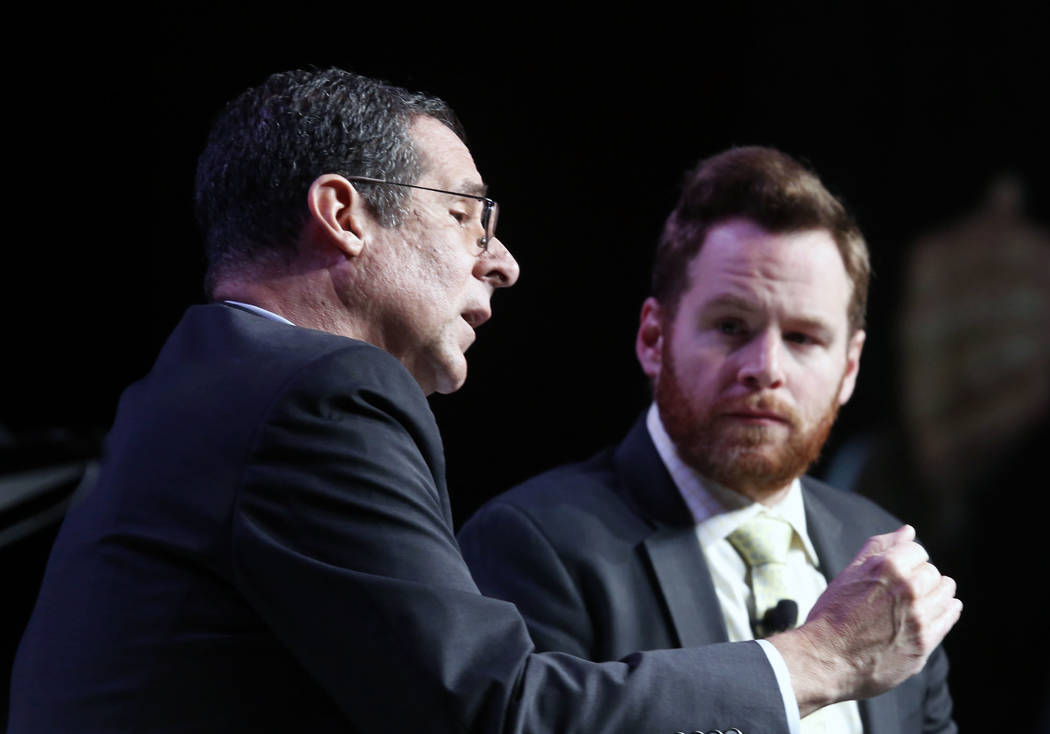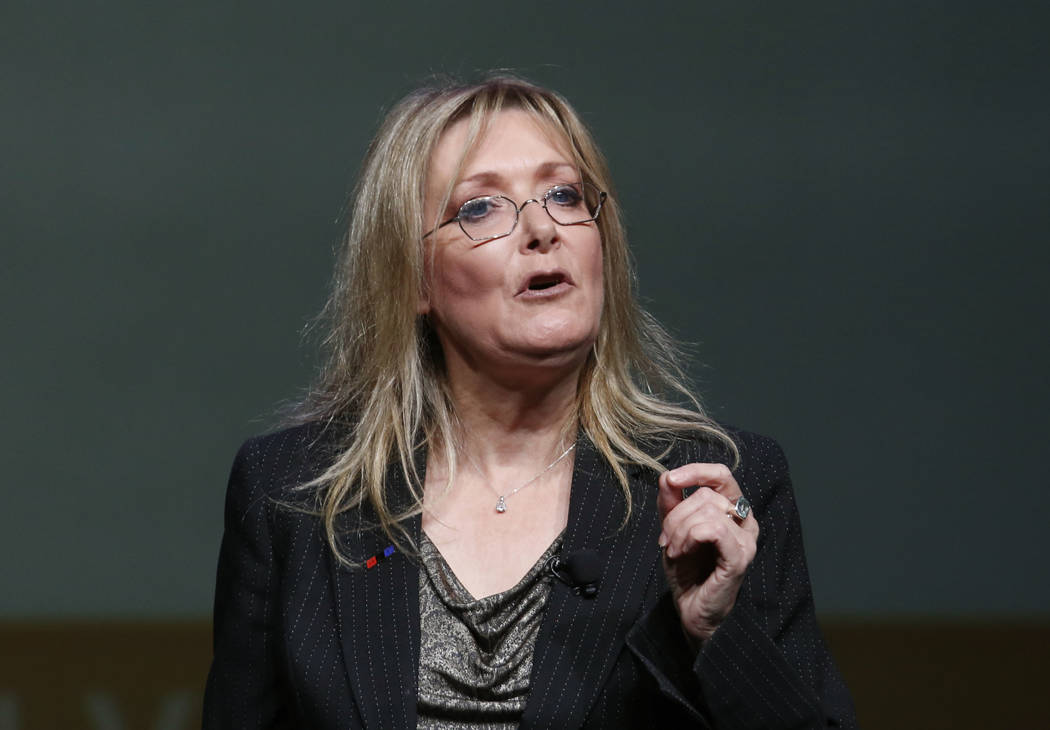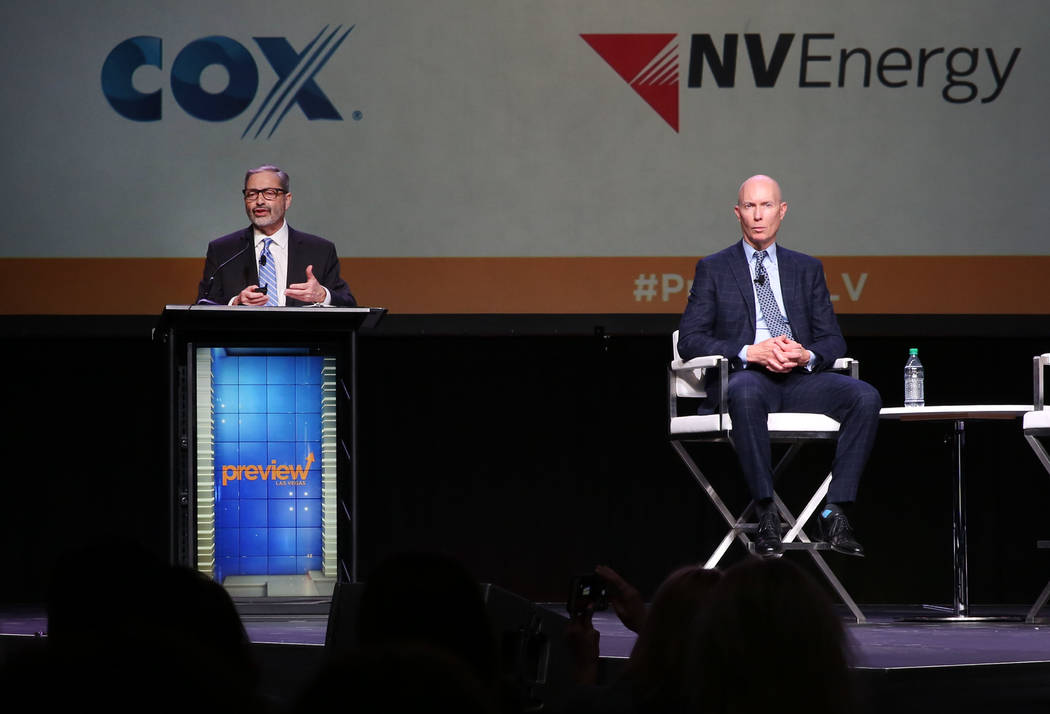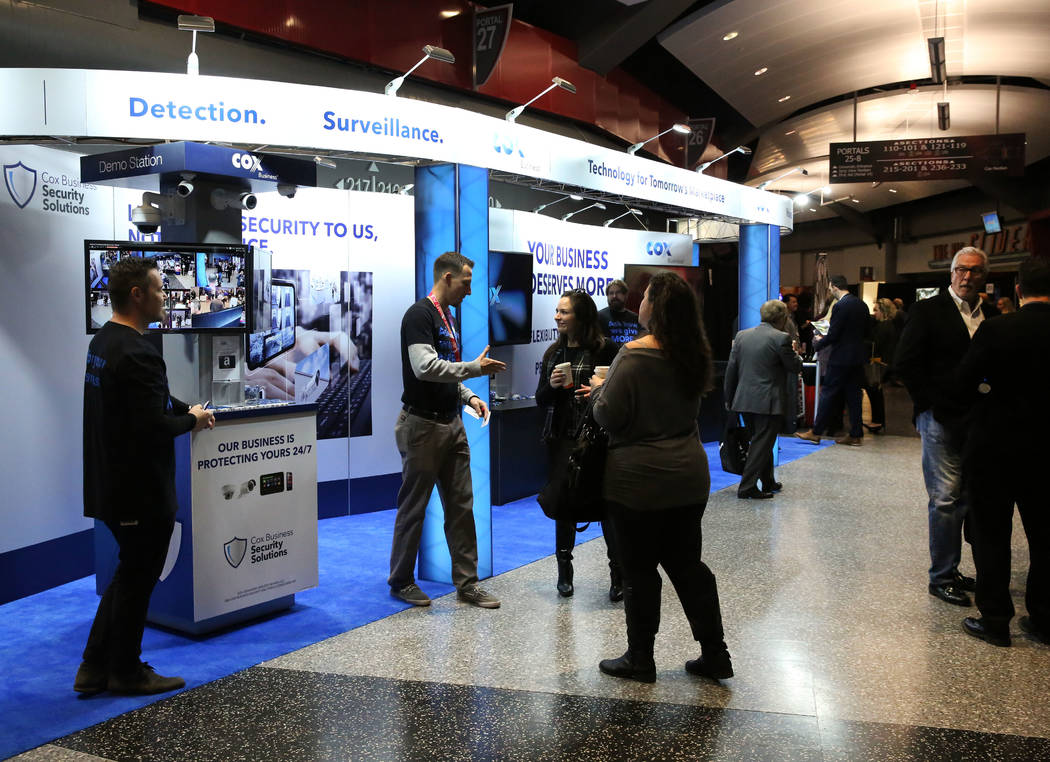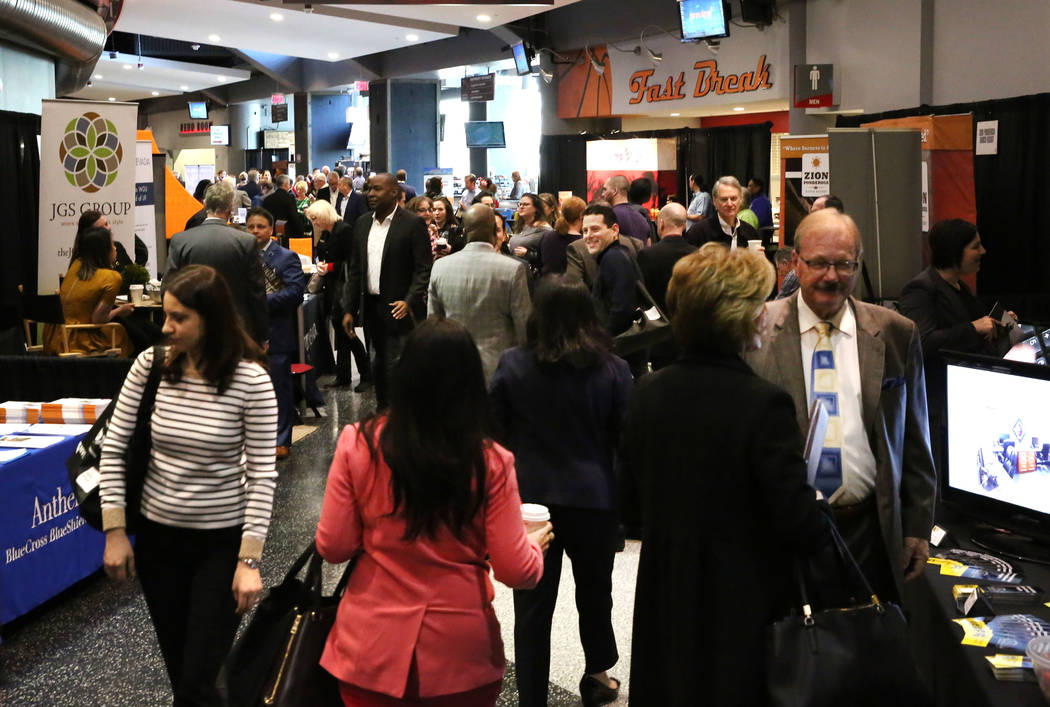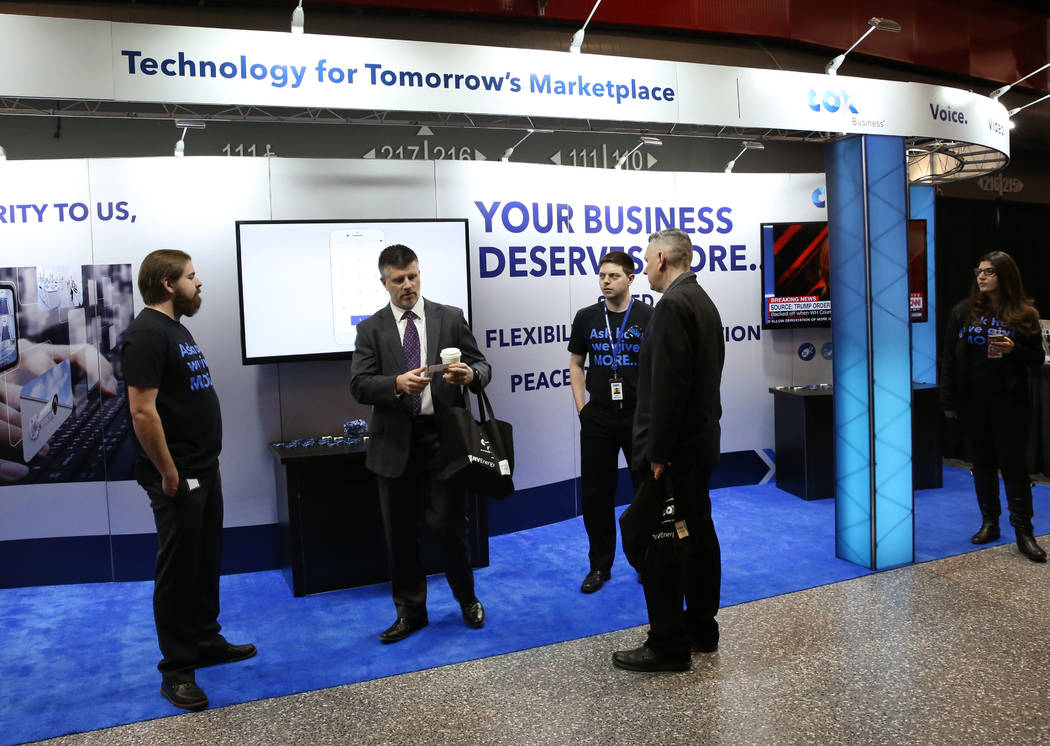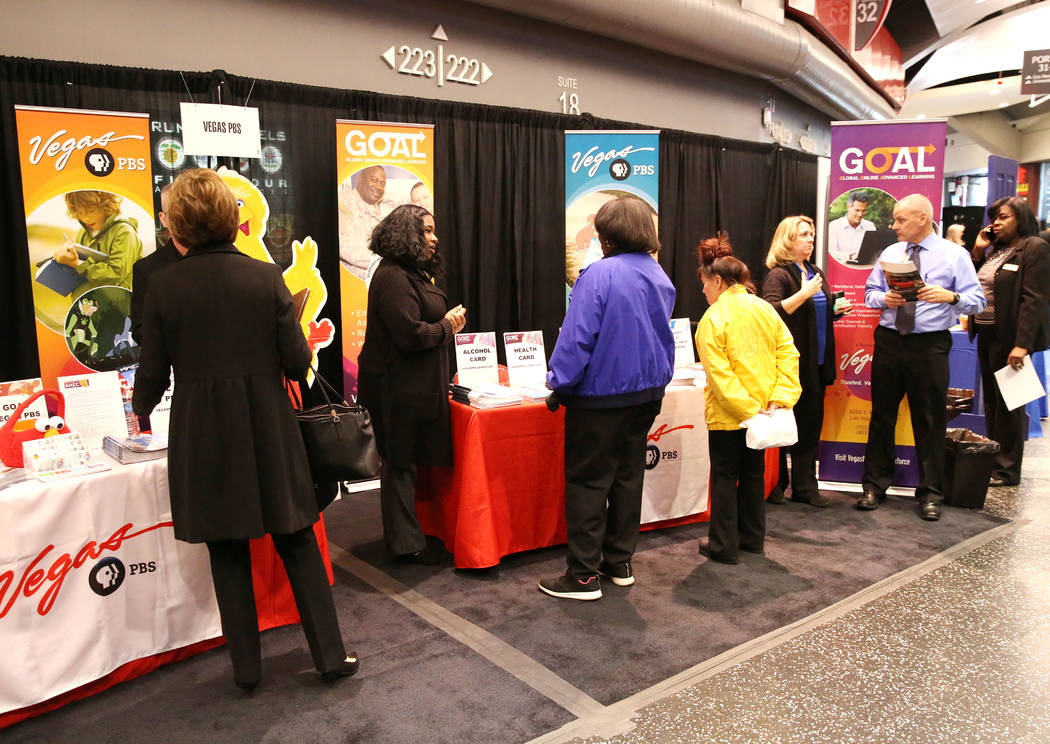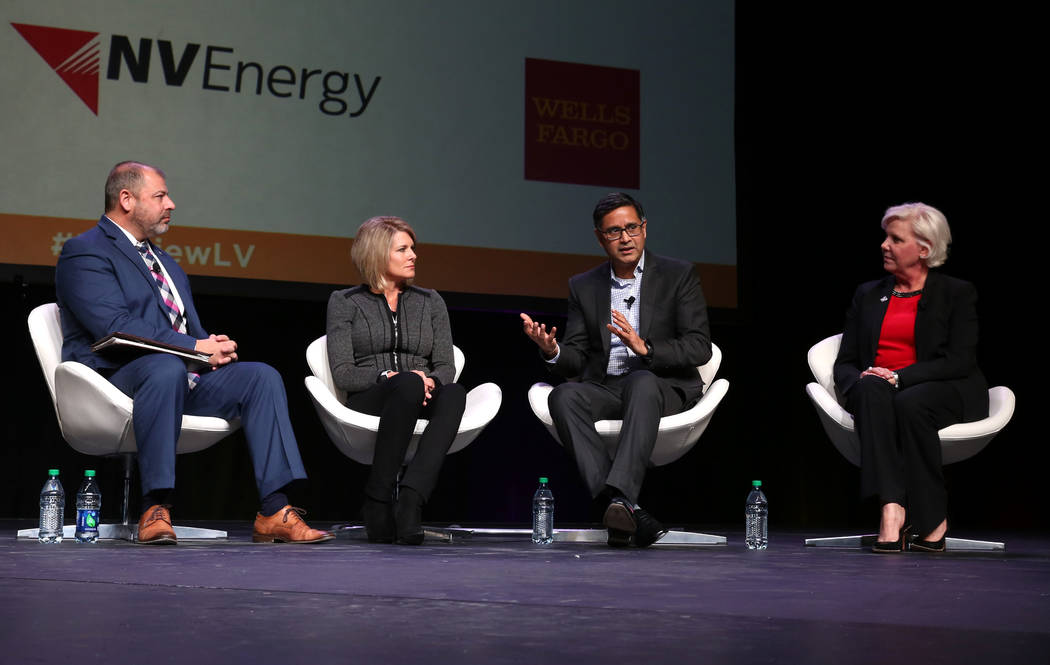 Las Vegas' business elite gave the bad and the good of expectations for 2018 and beyond Friday.
About 2,000 business leaders gathered at the Thomas &Mack Center for the Las Vegas Metro Chamber of Commerce's annual Preview Las Vegas event. Here is a recap of the highlights.
Tourism: The bad
Las Vegas Convention and Visitors Authority CEO Rossi Ralenkotter blamed a 1.7 percent decrease in annual visitors to the Las Vegas Valley in part on the Oct. 1 shooting.
He also credited a strong U.S. dollar for the decrease.
The valley saw 42.2 million visitors in 2017, fewer than the 43.2 million visitors predicted earlier on, he said.
Ralenkotter expects 42.7 million visitors this year.
Tourism: The good
Clark County saw $3.44 billion in taxable retail sales in October 2017, a 3.8 percent increase year over year, with a large percent of those sales from tourist spending, RCG Economics' John Restrepo said. The county hit a 10-year low in October 2010 with about $2.3 billion in taxable retail sales.
Ralenkotter said the valley saw a 5.2 percent increase in convention attendance last year and a 2.1 percent increase in revenue per available room.
Real estate: The good
Las Vegas' growing trade show season has led to investments in new convention space, rooms and related properties, Restrepo said.
He expects $1.3 billion of hotel construction investments in 2018 and $12.4 billion between 2019 and 2023. Restrepo said he predicts investments made in 2018 will go toward 572,000 square feet of new convention space, 1,194 new rooms and four new properties.
He predicted construction from 2019 to 2023 to produce 1.2 million square feet of new convention space, 7,260 new rooms and nine new properties.
Last year $429 million was invested in three new properties and 151,199 square feet of new convention space, he said.
For local industrial property, the vacancy rate shrank to 5.5 percent in the third quarter of 2017, compared to a 10-year high of about 15 percent between the third quarters of 2010 and 2013, he said.
Real estate: The bad
The same could not be said for the local vacancy rates for retail and speculative office space.
Restrepo's data showed the retail vacancy rate at 10.4 percent in the third quarter of 2017 and speculative office vacancy at 19.5 percent in the same period. Both rates roughly doubled from 2007's third quarter.
"It's becoming a big issue for us," he said.
On the residential side, Restrepo worries about a growing gap between average new home prices and average existing home prices, as well as the volume of new home sales compared with existing homes.
The price gap has widened in the past decade. In November 2017, the median price for a new home was $343,588, while the median for an existing home was $225,900 — a difference of $117,688. In November 2007, the median price for a new home was about $325,000, versus $275,000 for an existing home — a difference of about $50,000.
December 2007 saw sales of about 2,000 existing homes and about 1,500 new homes. Restrepo's data for last month showed 4,163 existing home sales, compared to 767 new home sales.
Employment: The good
Multiple speakers said they hope President Donald Trump's tax bill leads to higher wages.
Restrepo said job increases in sectors like education and business services show the local economy is diversifying to include more than gaming.
Employment: The bad
Restrepo said he believes wage stagnation has played a part in local reluctance to buy new homes and the popularity of renting apartments.
The Las Vegas area apartment vacancy rate for the third quarter of 2017 was 7.5 percent, compared to 10.5 percent around 2010.
Wages still lag nationwide, Restrepo said. Inflation-adjusted average weekly earnings in the Las Vegas area were at $669 for November 2017, versus a nine-year high of over $700 in November 2008.
In November 2017, the average employee's work week was 33.9 hours for the Las Vegas Valley, 34.1 hours for Nevada and 34.4 hours for the United States. In November 2009, the Las Vegas and Nevada averages were around 36 hours, and the national average was around 34 hours.
Restrepo says the stagnation is linked to automation, the continued use of recession-sized staffs and a preference to work with contractors, rather than full-time workers.
Though the tax bill and optimism about regulation reductions during the Trump administration have sent the stock market up, employees have not yet seen benefits, he said.
Restrepo believes 65 percent of Las Vegas jobs will be replaced with robots by 2035. The least protected jobs include telemarketers, cashiers, administrative staffers and servers. The most protected jobs include doctors, social workers and surgeons.
The Las Vegas Review-Journal is a Gold sponsor of Preview Las Vegas.
Contact Wade Tyler Millward at wmillward@reviewjournal.com or 702-383-4602. Follow @wademillward on Twitter.
Amazon run worth it
A local expert on urban growth who spoke at Preview wasn't saddened by Las Vegas' snub for Amazon's next headquarters.
Rob Lang, a professor in the Greenspun College of Urban Affairs, executive director of The Lincy Institute and director of Brookings Mountain West at UNLV, said the competition taught Las Vegas what it still needs to recruit large, diverse companies.
The proposal sent to Amazon, which local government agencies have kept secret, also provided the e-commerce giant with much proprietary information on Southern Nevada, including best spots for new buildings.
Lang predicts Amazon will make more investments locally in the future. Last year, Amazon opened a new fulfillment center in North Las Vegas.
"We made a pretty good impression," Lang said.
Marijuana pays for now
Between July 2017 and October 2017, Nevada made $19.1 million in total marijuana excise taxes, most of that from retail sales, John Restrepo said.
Restrepo, a principal at RCG Economics, predicted $82 million in marijuana taxes by the end of June. Cannabis will prove to be a meaningful economic driver for Nevada because of regulatory demand for the entire supply chain to stay within the state, he said.
In 2018, the industry could face new hurdles at the federal and local levels.