Regents authorize COVID-19 vaccination mandate for NSHE employees
Updated September 10, 2021 - 3:46 pm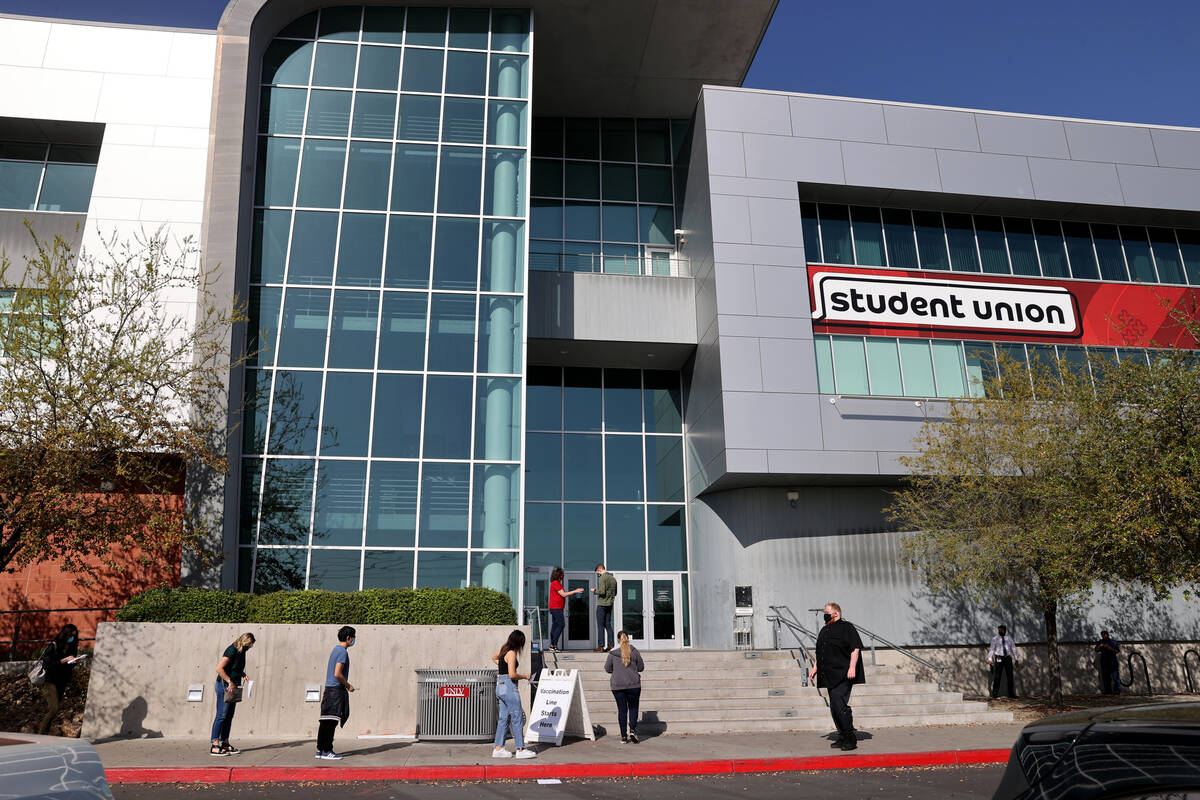 Nevada's higher education system will require employees to be fully vaccinated against COVID-19.
The Nevada System of Higher Education's Board of Regents voted unanimously Friday in Las Vegas to authorize Chancellor Melody Rose's office to draft policies and procedures to implement a mandate.
Employees will have to be vaccinated on or before Dec. 1. Medical and religious exemptions will be considered.
Rose had urged regents to approve the mandate, noting she believes it's "necessary to our collective health and to maintain in-person learning."
The policy will come back to the board for final approval before Oct. 1.
NSHE employees, part of the state's workforce of approximately 27,000, currently are required to either be fully vaccinated or undergo weekly testing.
Last month, the State Board of Health voted to require all public college and university students to be fully vaccinated in order to enroll for the spring 2022 semester. Medical and religious exemptions also were allowed, as required by federal law.
A businesslike proceeding
Unlike at a recent Clark County School Board meeting when trustees were considering a vaccine mandate for employees, the proposal presented to the regents meeting drew little opposition. Few spectators attended and only two members of the Nevada Faculty Alliance made public comments about the proposal, with both speaking in favor.
An overflow room was set up, but it wasn't needed. Attendees went through a metal detector and there was a police presence at the meeting.
NSHE Chief General Counsel Joe Reynolds said that every NSHE employee, regardless of whether they're working in person or remotely, would be covered by the mandate barring an exemption.
The proposal includes a provision that any new independent contracts that are entered into going forward will include a requirement that those employees be fully vaccinated, he said.
The employee vaccination requirement is only fair, given the State Board of Health has already mandated COVID-19 vaccinations in order for students to enroll for spring semester, Rose said.
She said she understands the employee vaccination matter will be controversial and will present some challenges, including the possibility that some employees will "voluntarily separate" as a result.
Regent Patrick Boylan asked how the higher education system would handle the situation if an employee seeks a religious exemption.
Narrow religious exemption
Religious exemptions are recognized by the U.S. Supreme Court and there's a precedent in Nevada law as it pertains to student vaccinations, Reynolds said.
"The standard is a sincerely held religious belief," he said.
He said the intent is that it be a narrow exemption. And even if one of those exemptions was granted, there still would be mitigation measures the individual would be subject to, Reynolds said.
Reynolds said employees who decide they don't want to comply with the policy change "can work somewhere else."
Regent Mark Doubrava, who also is an M.D., applauded the policy, saying it's good medicine and public health policy.
Regent Jason Geddes said medical organizations and an NSHE task force also had recommended the vaccine mandate as part of the state's overall public health effort.
Contact Julie Wootton-Greener at jgreener@reviewjournal.com or 702-387-2921. Follow @julieswootton on Twitter.