Audit to call for tighter spending at Las Vegas tourism agency
October 24, 2017 - 6:15 pm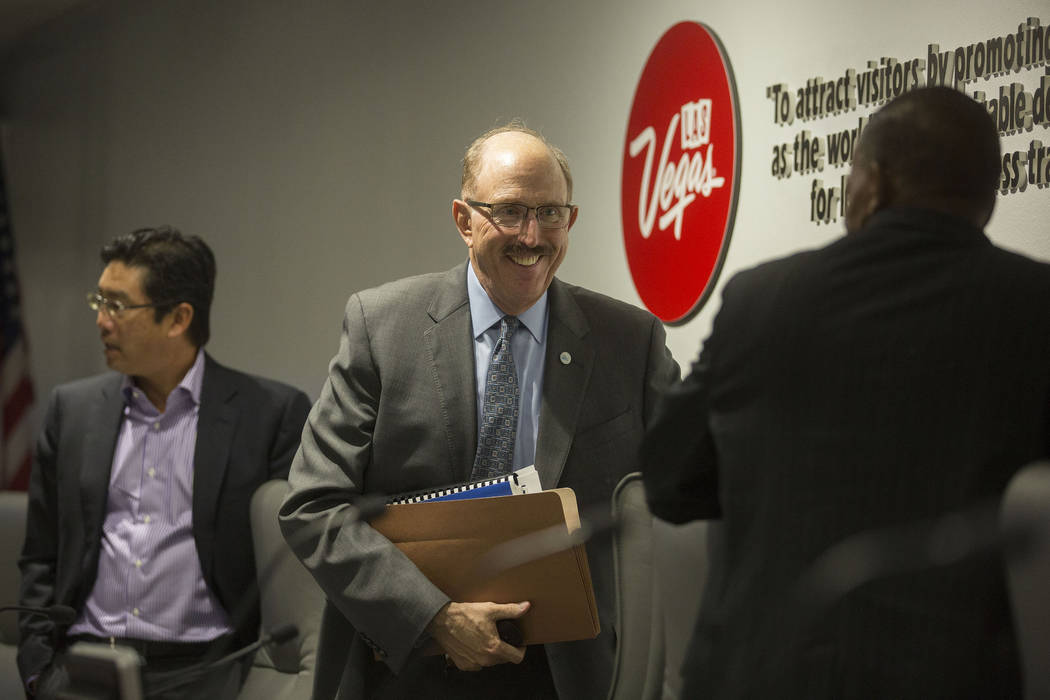 An external auditor next month will make recommendations on how to rein in gifts and travel costs at the Las Vegas Convention and Visitors Authority after a Review-Journal investigation identified excessive spending by the agency.
The auditor "made some good recommendations on how we could be more efficient and how we can firm up our policies and we will expect the staff of the LVCVA to act on those recommendations," William Noonan, the convention board's audit committee chairman, said Tuesday.
Las Vegas Review-Journal stories found the tourism agency spent $50,000 in tax money on luxury jewelry and rings for convention staff, including a $3,600 ring to commemorate CEO Rossi Ralenkotter's 40 years with the organization, as well as lavish spending on meals, alcohol and travel for board members.
The auditor, Ralph Piercy, praised the stories, saying public scrutiny will "keep people on their toes."
Noonan and Piercy, who is putting the finishing touches on an audit of board policies, declined to discuss specifics until the findings are released in November.
But Piercy said Review-Journal stories that uncovered questionable spending are changing the publicly funded authority's culture.
"I think it's a great thing," Piercy told the Review-Journal outside the audit committee meeting. "I don't agree with all the things you put in the paper (but) I think it's a good thing to hold people accountable."
"Everything you cited was probably accurate (but) some of it wasn't very important in the big picture," said Piercy, a partner in the accounting firm Piercy Bowler Taylor & Kern. "But it certainly created what I think is a good environment to keep people on their toes, so I thank you for that."
The authority's board approved a $15,000 contract in August for Piercy's firm to review the agency's spending policies.
In April, Noonan, a senior vice president at Boyd Gaming Corp., said it was worth reviewing the gifts to employees.
At the time, Noonan said the committee would review the questionable spending in an audit plan for the coming year. But Noonan said Tuesday that review was done in the policy audit.
"The external auditors made some recommendations to the management staff on how they could shore up any areas that were discussed previously in the last six to nine months," Noonan said after the meeting.
He said the recommendations are not final and could be changed before auditors present findings to the board.
The Review-Journal is owned by the family of Las Vegas Sands Corp. Chairman and CEO Sheldon Adelson. Las Vegas Sands Corp. operates the Sands Expo and Convention Center, which competes with the LVCVA-operated Las Vegas Convention Center.
Contact Arthur Kane at akane@reviewjournal.com or 702-383-0286. Contact Jeff German at jgerman@reviewjournal.com or 702-380-4564. Contact Brian Joseph at bjoseph@reviewjournal.com or 702-387-5208. Follow @ArthurMKane, @JGermanRJ and @bjoseph1 on Twitter.
Related
Ex-Las Vegas Mayor Oscar Goodman rides on the backs of taxpayers
LVCVA lawyer gets 7.5 percent salary boost, 25 percent bonus
After RJ investigation, LVCVA hires firm to review spending policies
LVCVA security officers diverted to drive Rossi Ralenkotter, Oscar Goodman
LVCVA spending justifies creation of inspector general, lawmakers say
LVCVA committee chairman says auditors need to look closer at gifts
LVCVA officials make vigorous defense of agency spending
LVCVA spends millions to wine and dine but some question spending
Las Vegas picks up the tab on some serious parties
Convention authority chairman gets most perks