Las Vegas hospital workers applaud as COVID-19 patient discharged
Updated April 9, 2020 - 8:43 pm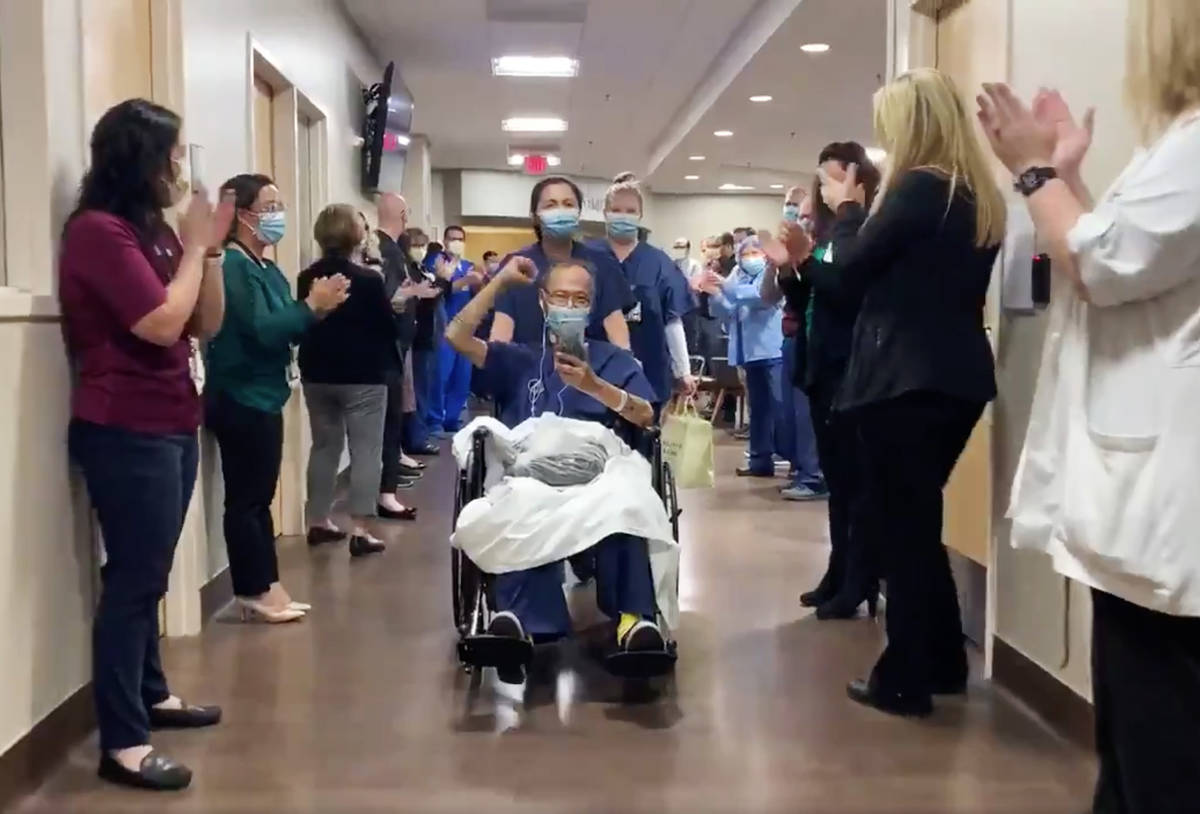 A man who had been near death from COVID-19 was discharged from a Las Vegas-area hospital Wednesday to the cheers of hospital staff.
The man, identified only as "Alfred," is shown in a video giving thumbs up, fist pumps and waves to the dozens of staffers who lined the hallways of Southern Hills Hospital and Medical Center as he was wheeled out in a wheelchair.
The occasion "reminded us of why we do what we do," said Dr. Christopher Voscopoulos, medical director of the hospital's intensive care unit.
Alfred, whose full name was withheld to protect his privacy, was admitted to the hospital about three weeks ago. He is in his 60s with an unspecified lung condition.
Voscopoulos first saw him when he was being intubated and put on a ventilator.
"At one point I wasn't sure if Alfred were to survive," Voscopoulos said Thursday. "It was very close."
But information shared from medical staff in COVID-19 hotspots such as Seattle and New York may have saved Alfred's life. From there came reports of dramatic benefits from "proning," placing a patient on his stomach to relieve pressure on the lungs from the weight of the heart, allowing the lungs to open up.
"The tide turned when we proned," Voscopoulos said. "He began to get better. He was proned for several days, to where he progressed to where we could take the breathing tube out."
Alfred also benefited from the standard treatments provided in the intensive care unit by nurses and other staff. "The patient's body will have to mount an immune response," Voscopoulos said. "We can supply a tremendous amount of support and buy that individual time to ultimately heal."
A Southern Nevada Health District official said Thursday that an estimated 727 COVID-19 patients in Clark County — or more than one-third — had recovered from the respiratory illness so far.
Alfred declined a request for an interview. However, in a video clip, he said it was "total happiness" to be home.
"I never expected that I'd be with my family again," he said, thanking God.
Alfred's family in a statement thanked the hospital staff, saying, "Without their quick thinking and thoroughness, we wouldn't have had a second chance with our dad."
The family also provided a video clip of Alfred in his home on Thursday. In it, he is dancing.
Contact Mary Hynes at mhynes@reviewjournal.com or 702-383-0336. Follow @MaryHynes1 on Twitter.