Sisolak orders closure of Nevada schools to slow coronavirus spread
Updated March 15, 2020 - 8:20 pm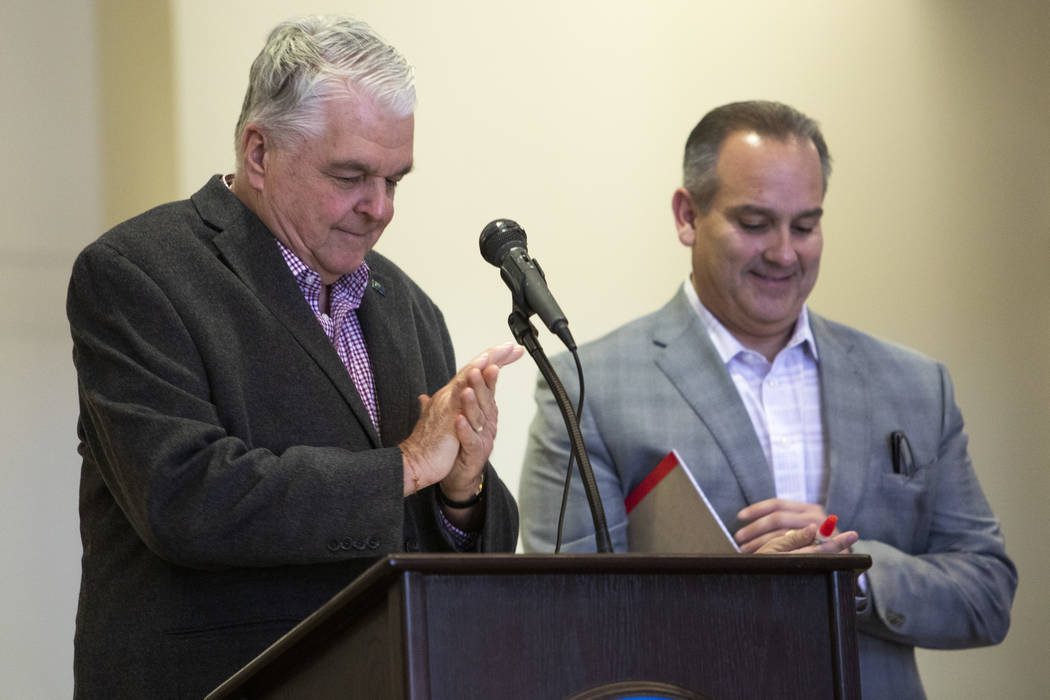 Gov. Steve Sisolak on Sunday directed all public, private and charter schools in Nevada to close beginning Monday in order to mitigate the impacts of COVID-19, but said free-meal programs for low-income students would resume as soon as possible.
"We have concluded that all of Nevada's K-12 schools will close for students starting tomorrow, and will remain closed at a minimum until April 6," the governor said. "… Schools may not be open until the state chief medical officer evaluates a public health risk and determines it is safe for each school district to reopen."
April 6 is the scheduled start of the one-week spring break at the Clark County School District, meaning district schools would not reopen until April 14 at the earliest. Schools in Washoe County, the state's second largest district, went on scheduled spring break Friday for two weeks.
Sisolak issued no guidance on whether make-up days would be scheduled or whether preschools and day care operations should also shut down, saying only that further directives on those topics are forthcoming.
Sisolak said he made the decision to close the schools after consulting with top state school and health officials.
"I realize that this will caused hardships and complications for our families, our students and our school status," he said. "I assure you we have not reached this decision lightly.
"We are a state with shift workers employed in our largest industries of gaming and tourism. These workers face unique challenges that aren't faced by parents and guardians and school districts in other states, particularly when it comes to child care. That's why it's critical that each school district across the state has the flexibility to implement plans that are tailored to their unique student population."
At a second evening briefing, Sisolak said that the state Department of Agriculture was working with education officials and school districts to resume the free-meal program for low-income students as soon as possible.
'Children … will not go hungry'
"Rest assured our children who rely on these programs will not go hungry during this closure," Sisolak said.
The district announced soon afterward that free meals for CCSD students would be available for pick-up Monday at 15 sites throughout the Las Vegas Valley, with rural locations to be announced soon.
Clark County School District Superintendent Jesus F. Jara, who also attended the earlier briefing at the Sawyer Building in Las Vegas, said officials were considering whether make-up days would be scheduled.
"This is unprecedented waters for us," Jara said.
CCSD does not have the capacity to offer online education, Jara said, though that may differ in other school districts across Nevada.
A message to CCSD staff sent Sunday indicated that Monday would be a day off for all staff except essential personnel, who would be contacted by their supervisors.
The message also said that administrators, support professionals and school police on the 11- and 12-month work calendars would be expected to report to work locations on Tuesday and throughout the closur
Across social media, public opinion fell largely in favor of the closure decision, with the notable exception of substitute teachers, who say they worry that they will not be paid during the closure period.
Jara said Sunday that the district would follow its bargaining agreements and that employees would be paid, with Sisolak also adding that school employees will receive specific directions from their schools.
At Thursday's School Board meeting, Jara said the school district had asked for guidance about how to pay groups such as substitutes, who are not paid when students aren't in school.
"Especially when considering that thousands of substitutes were affected by the (district payroll system) issues, which still haven't been fixed, many will be facing the most difficult economic hardships of their lives," said substitute Fernando Valenzuela.
Trustee Danielle Ford, who had been calling for school closures much of the weekend, said the district still needed to address how it would handle paying substitutes, as well as whether principals would still need to report to work at their school sites, as outlined in their bargaining agreements.
Ramp-up to closures
The decision to close came after Jara sent messages to parents as recently as Saturday that schools would be open on Monday, though he acknowledged that short-term closures were still on the table.
Over the weekend, a petition to close schools reached over 60,000 signatures, while three unions representing district employees — the National Education Association of Southern Nevada, the Education Support Employees Association and the Clark County Education Association — all sent messages urging CCSD to explore a closure.
John Vellardita, executive director of the Clark County Education Association, said Sunday that the union had advocated for the governor to intervene in the decision because it requires a commitment of resources to address issues like student services and employee pay.
"This is not exclusively a school district issue," Vellardita said. "Funds and resources are a key factor in making this decision."
Vellardita said the union is now looking at how the district will handle any make-up days scheduled in regards to teacher pay, adding that the state may have to waive a requirement that all students have 184 instruction days.
The school district has previously indicated that federal money freed up by emergency declarations might be available to cover teacher pay during make-up days, should they take place.
The National Education Association of Southern Nevada also issued a statement in support of the closure.
"While we understand this was a difficult decision, it was the right decision to put the health and safety of our kids and educators first," the statement said. "We appreciate the focus on keeping our educators paid during the closures, as well as the reassurance by the governor that food security plans will be in place for our kids who need them the most."
Michael Skolnik, CEO of the Teachers Health Trust, the health plan for CCSD teachers, said the group also supported the decision.
"This is the strategy that we need to implement when we don't know how bad the infection is in the community because we can't test people," Skolnik's statement said. "Social distancing is a critical strategy right now to help mitigate the virus."
New York City, the largest school district in the nation, announced Sunday that it would close. Clark County is the fifth largest and had been the only district in the top five not to have closed before Sisolak's announcement.
Other states closing schools
About a dozen other states already had ordered the closure of all schools, and have been grappling with questions of how to provide meals for students, services for special education students and learning for all.
Many of Nevada's higher education institutions have chosen to close and move to online classes, including UNLV and UNR, as well as Nevada State College, Touro University and Roseman University. The College of Southern Nevada issued a message acknowledging a directive from Nevada System of Higher Education Chancellor Thom Reilly to be ready to transition to online learning by April 3, but the college has not set a date to transition online yet.
Sisolak said Sunday that students should not think of the closure as a holiday, but rather as a precautionary measure to protect their health and that of their families.
"This is not an extended spring break," he said. "Take this seriously."
Contact Aleksandra Appleton at aappleton@reviewjournal.com or 702-383-0218. Follow @aleksappleton on Twitter. Contact Capital Bureau reporter Bill Dentzer at bdentzer@reviewjournal.com. Follow @DentzerNews on Twitter.
Free meal pickup locations
Student food distribution pods will be set up at 15 school locations throughout the valley from 8 a.m. to 11 a.m. Parents can also pick up academic resources at these sites. A school-age child must be present for food to be distributed.
— Basic High School, 400 Palo Verde Drive, Henderson.
— Canyon Springs High School, 350 E Alexander Road, North Las Vegas.
— Centennial High School, 10200 Centennial Parkway, Las Vegas.
— Chaparral High School, 3820 Annie Oakley Drive, Las Vegas.
— Cheyenne High School, 3200 W Alexander Road, North Las Vegas.
— Cimarron-Memorial High School, 2301 N Tenaya Way, Las Vegas.
— Clark High School, 4291 W Pennwood Ave., Las Vegas.
— Desert Pines High School, 3800 E Harris Ave., Las Vegas.
— Las Vegas High School, 6500 E Sahara Ave., Las Vegas.
— Mojave High School, 5302 Goldfield St., North Las Vegas.
— Shadow Ridge High School, 5050 Brent Lane, Las Vegas.
— Sierra Vista High School, 8100 W Robindale Road, Las Vegas.
— Silverado High School, 1650 W Silver Hawk Ave., Las Vegas.
— Spring Valley High School, 3750 S Buffalo Drive, Las Vegas.
— Veteran's CTA, 2531 Vegas Drive, Las Vegas, NV 89106