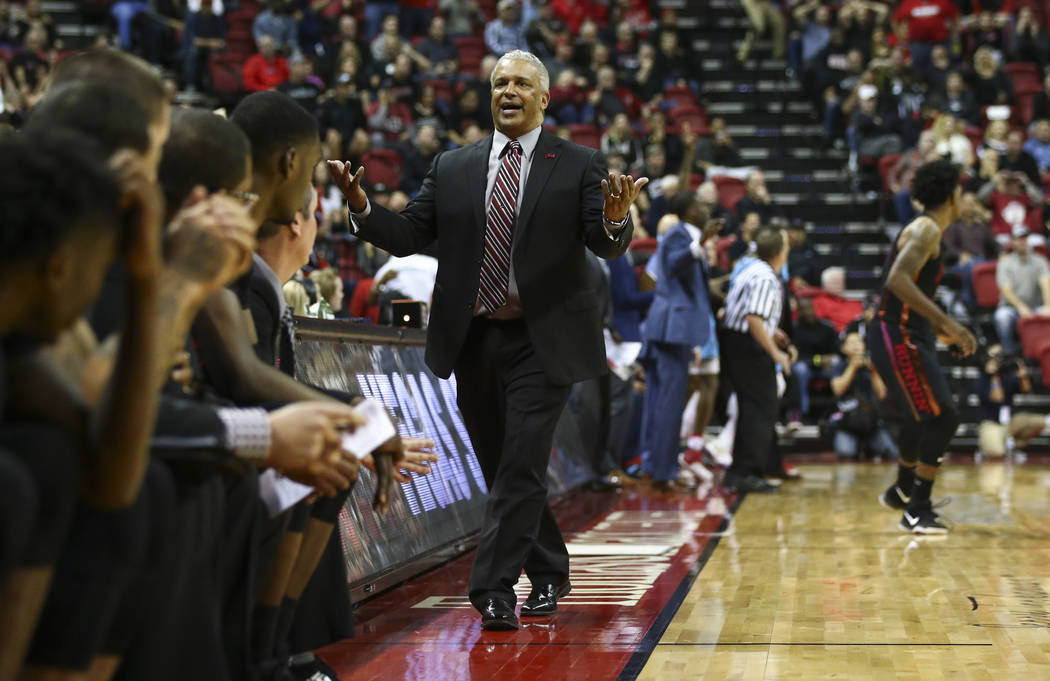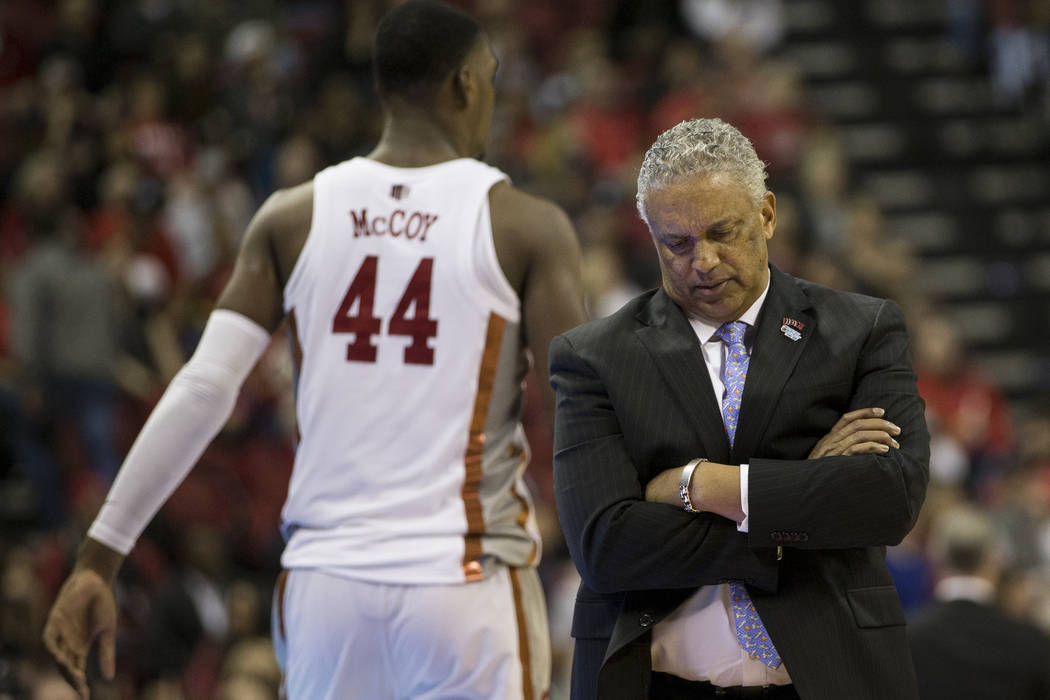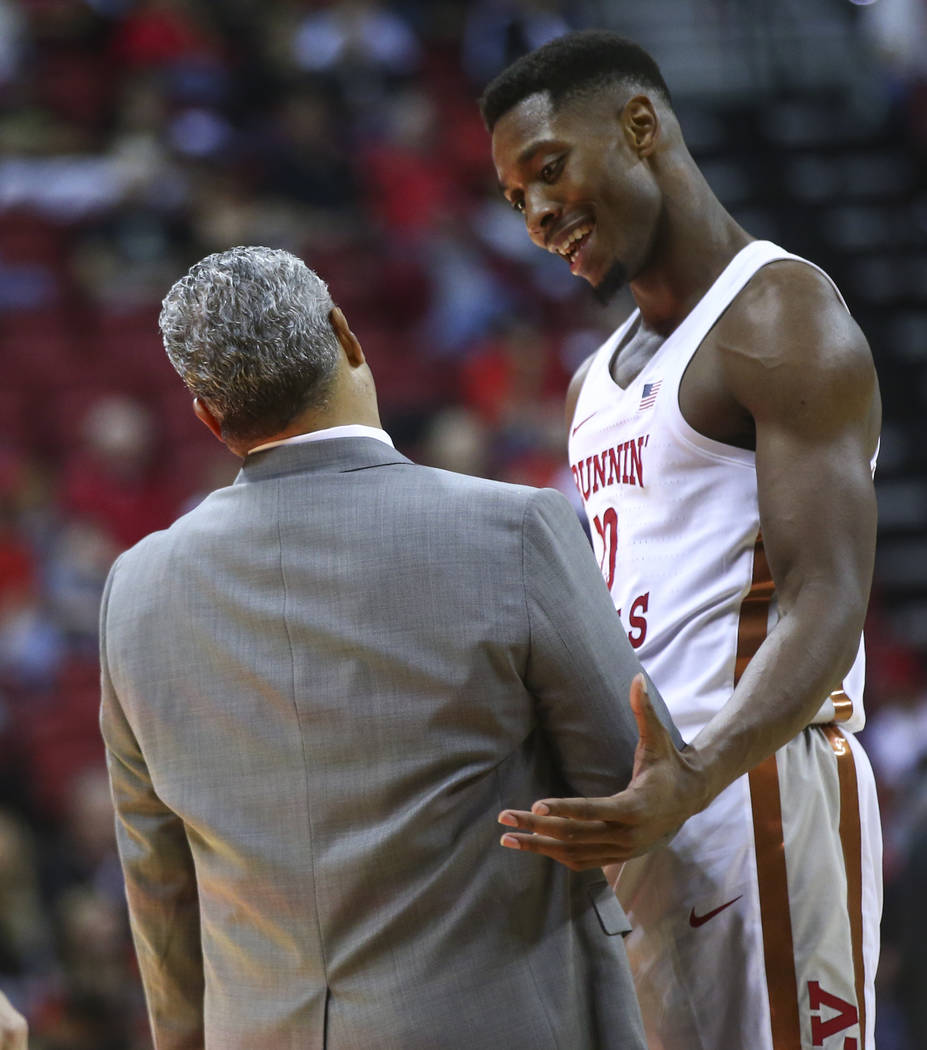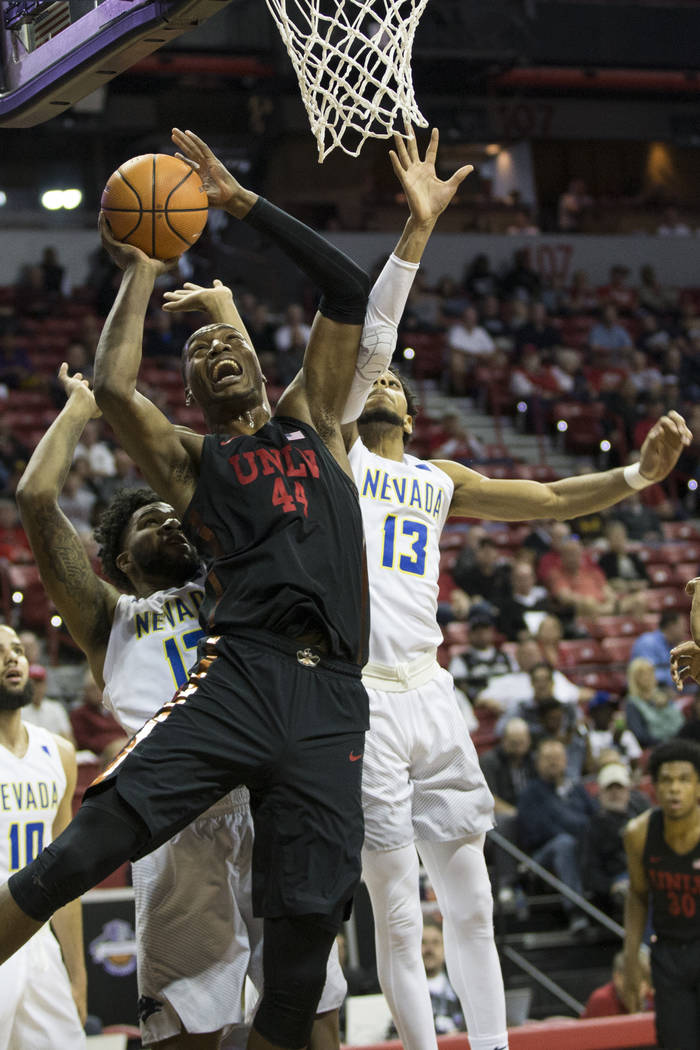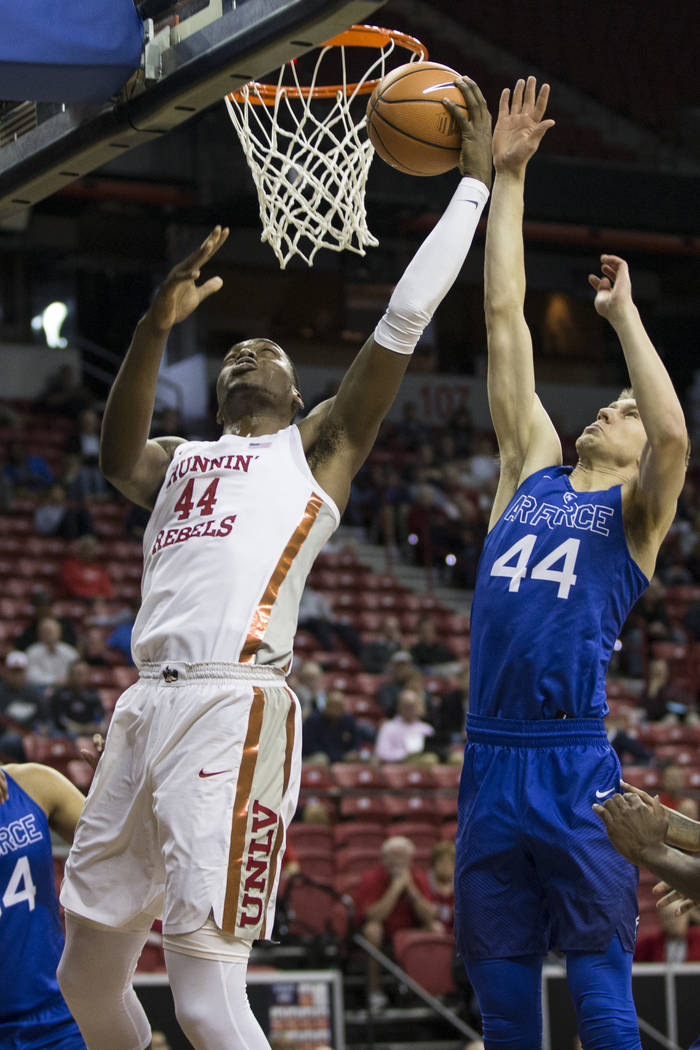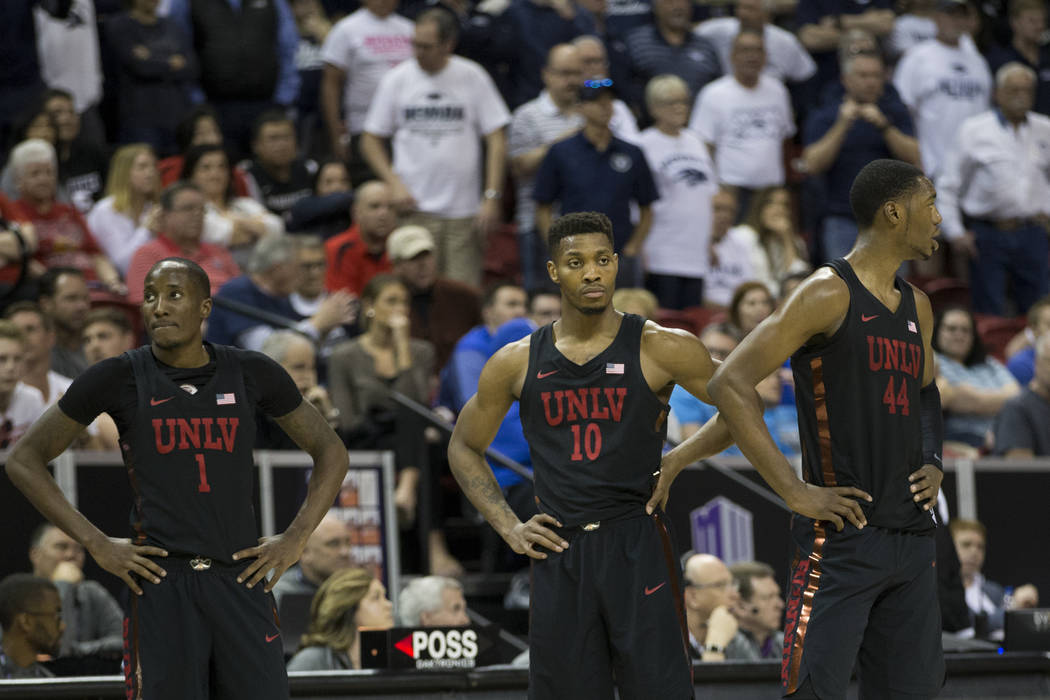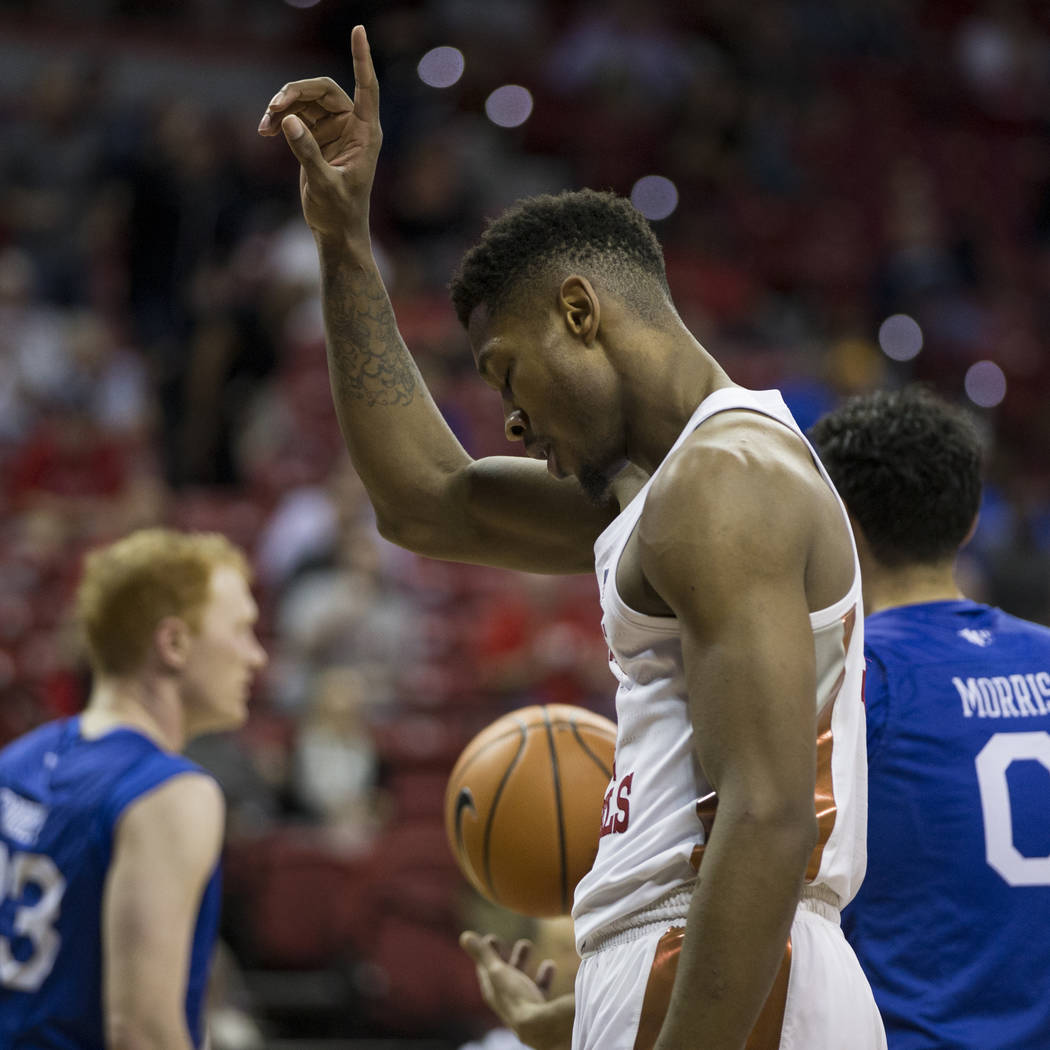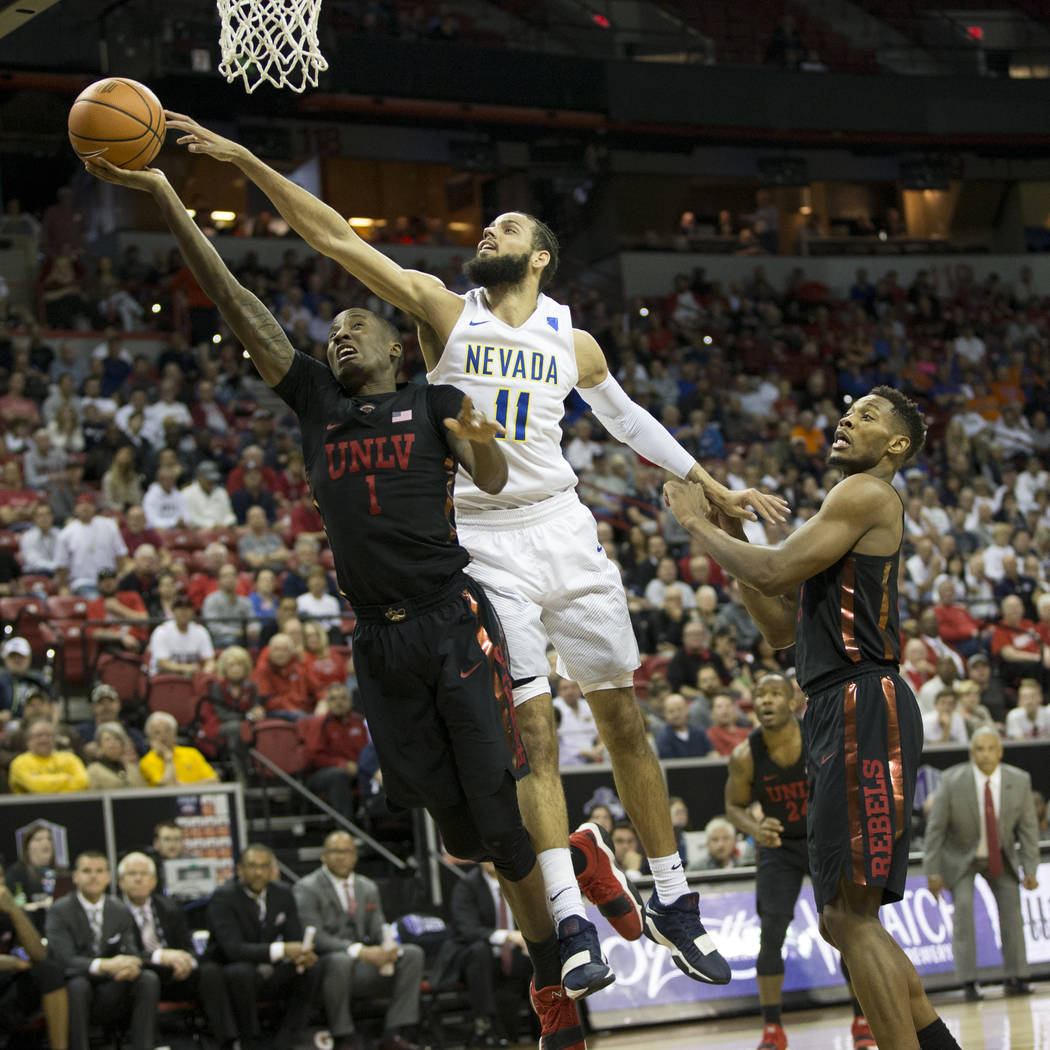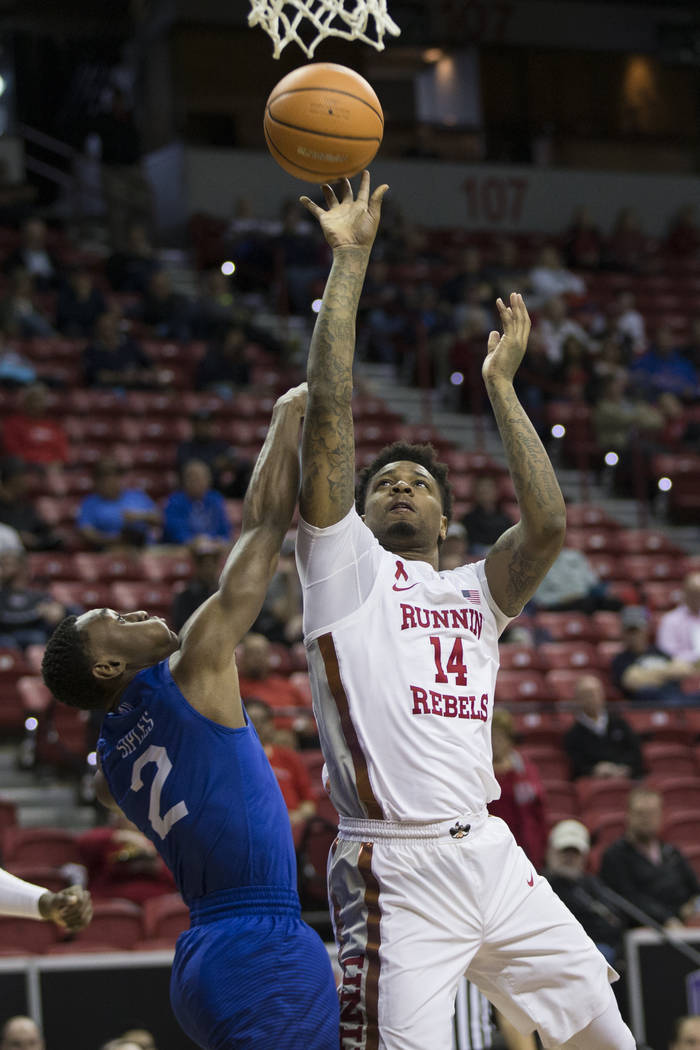 Coming off a nine-victory improvement and with most of the team expected back, Marvin Menzies is optimistic after concluding his second season as UNLV's basketball coach.
But he also should be concerned about what the top of the Mountain West might look like next season.
■ UNR, the regular-season conference champion and in the NCAA Tournament's Sweet 16, could bring back a top-15 team.
■ Gonzaga, also in the final 16, could leave the West Coast Conference for the Mountain West.
■ San Diego State, which won the conference tournament and made the NCAAs, will have to overcome the loss of guard Trey Kell. But especially if forward Jalen McDaniels doesn't go pro, the Aztecs should contend again.
■ New Mexico made a surprising run to third place in the regular season and the tournament title game and appears to be on the rise under first-year coach Paul Weir.
"I think competition is good for business," Menzies said. "I think as you grow your own program, hopefully other programs are growing as well to gain the national recognition that we need in order to advance to the (NCAA) tournament."
Menzies has talked often about the time needed to build his program for long-lasting success, but this also is a period of transition for the university and athletic department.
Desiree Reed-Francois has been the athletic director for less than a year, and president Len Jessup released a statement last week that he was looking for another job. New leadership almost always raises questions about the futures of coaches of the most high-profile teams.
"I feel comfortable that when you're doing the right things the right way and you experience success, then I think that's what any boss is going to want," Menzies said.
Reed-Francois said she was encouraged by the program's direction.
"In the 23 months that (Menzies has) been here, all the indicators are positive," she said. "He's taken this team from 11 wins to 20. They have a 3.0 cumulative GPA. And the student-athlete conduct has been solid. As long as he does it the right way, we're going to do all that we can to give him the resources that he needs to be successful."
Reed-Francois understands the expectations that come with UNLV basketball, and said the Rebels' 91-88 overtime loss to Pac-12 Conference champion Arizona on Dec. 2 before more than 14,000 fans at the Thomas &Mack Center proved to her the program's potential.
That was one of the high points in the 20-13 season, which ended with six defeats in the final seven games.
"When you build anything that lasts, it's a process, it takes some time," Reed-Francois said. "Coach Menzies knows and shares my expectations. Those expectations are pretty simple. You want to build a championship program the right way. That includes playing in NCAA Tournaments and conference championships."
As for expectations for next season, such as at least making the National Invitation Tournament, Menzies and Reed-Francois talked more in terms of general progress.
Both, however, said it was important to play a more competitive nonconference schedule. Marcus Bowman, hired in November as the senior associate athletic director/chief financial officer, works with coaches to develop the schedule.
The Rebels' nonconference strength of schedule ranked No. 303 this past season, according to Kenpom. Next season, UNLV will play at Illinois and in the Diamond Head Classic with a field that includes Texas Christian, Rhode Island, Bucknell and Colorado. Some power-conference teams could be added to the schedule as well.
"Scheduling is a bit of an art, and I pretty much share the expectations we want a schedule that our fans want to see," Reed-Francois said. "We have some revenue realities, and we also have to look at where we are as a program. We're not going to have them go play an ACC schedule on the road in year one, right? But we want to position ourselves as we look at the strength of the schedule so that we can be poised for the NCAA Tournament. We want to prepare ourselves in the nonconference so that when we're in the conference schedule, we're ready to go."
UNLV opened Mountain West play by losing its first three home games.
The Rebels lose senior guards Jordan Johnson and Jovan Mooring and most likely junior forward Anthony Smith, who was suspended Jan. 23 and didn't return. Sources also said it was unlikely that freshman forward Brandon McCoy, who is showing up in the first or second round of mock NBA drafts, would return.
If McCoy leaves, Menzies has one scholarship to offer. He has signed guards Trey Woodbury of Clark High School and Bryce Hamilton from Pasadena, California. The Rebels also have an oral commitment from forward Joel Ntambwe from Louisville, Kentucky.
"I'm excited about the future," Menzies said. "We achieved some things we wanted to. We fell short in a couple of areas, but from the bird's-eye view, I think we moved the program forward from last season to this season. I think the future's bright."
More Rebels: Follow all of our UNLV coverage online at reviewjournal.com/Rebels and @RJRebels on Twitter.
Contact Mark Anderson at manderson@reviewjournal.com. Follow @markanderson65 on Twitter.
UNLV roster
Expected 2018-19 UNLV basketball roster:
Player Pos Year Ht
Tervell Beck F So. 6-7
Nick Blair F Jr. 6-5
Kris Clyburn G Sr. 6-6
Ben Coupet Jr. F So. 6-7
Cheickna Dembele F Jr. 6-11
Mbacke Diong F So. 6-11
Jay Green G So. 6-5
Bryce Hamilton G Fr. 6-4
Amauri Hardy G So. 6-2
Shakur Juiston F Sr. 6-7
Joel Ntambwe F Fr. 6-8
Noah Robotham G Sr. 6-1
Djordjije Sljivancanin F So. 6-10
Trey Woodbury G Fr. 6-4