Experts take on challenges of mass transit in Las Vegas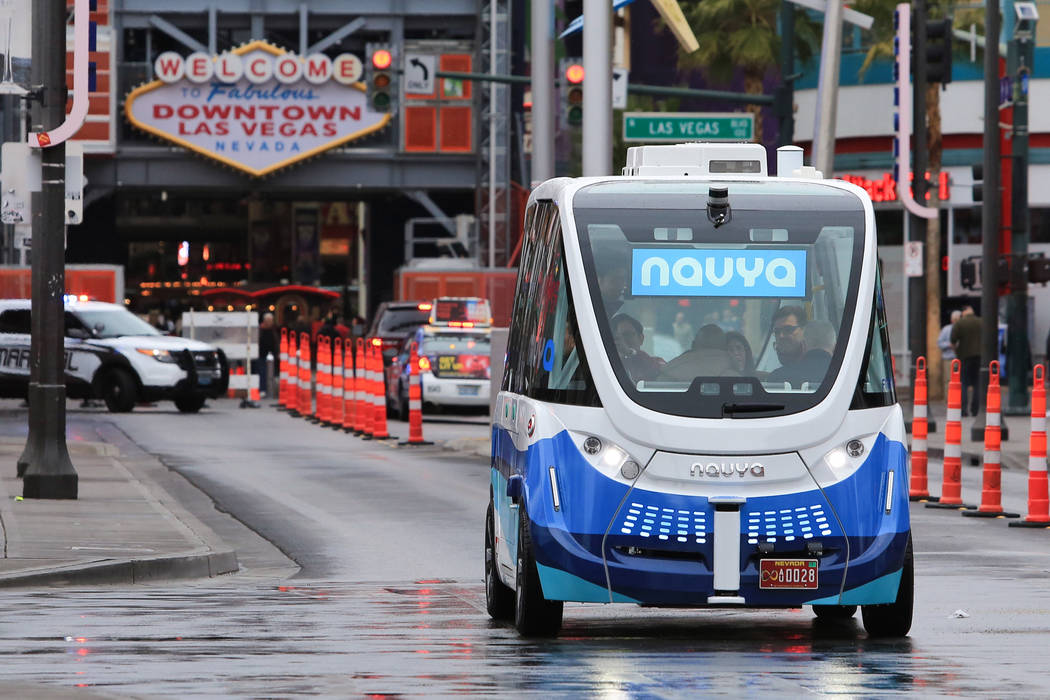 Las Vegas has not missed the boat when it comes to implementing a mass transit strategy in the city.
Mass transit in large cities is always going to be a need, even with technological advancements and the explosion of ride-share and other multimodal options.
A group of transportation experts tackled the subject Wednesday during a Future of Urban Mobility event at Zappos headquarters downtown.
"There is a severe problem with thinking that technology can solve what is essentially a geometry problem," said Dr. Joshua Schank, chief innovation officer of Los Angeles County Metropolitan Transportation Authority. "You can have as many AVs (autonomous vehicles) and electric vehicles as you want all over town, but if there's too many of them trying to go to the same place at the same time, you're going to have the same congestion problem."
Options like Lyft line, where multiple riders can hail a ride from the same driver and share a trip, help. But having larger vehicles transporting a large number of people in adjusted corridors is a must, Schank said.
Bus lanes, light rail, or even a monorail are more important than dedicating space to high occupancy vehicles so they can bypass traffic, he said.
For the last few years, the Regional Transportation Commission of Southern Nevada has been gauging interest from community members and stakeholders about a possible light rail system running along Maryland Parkway. The rail line would run from the airport, through the university, past Sunrise Medical District, to downtown and through the University Medical District, where the planned UNLV School of Medicine campus is slated to be constructed.
A public meeting about the project where community members will give their feedback on light rail and the alternatives, including a dedicated bus lane through the route, is set for next month.
"It's an area where we will and do have a geometry problem," said Tina Quigley, RTC general manager. "New technologies are coming, but that still doesn't change our geometry problem. Some type of high-performance, high-transit system with dedicated lanes is something that we're always going to need in certain corridors."
Aside from high-density areas like downtown, Las Vegas suburbs create a whole other dilemma, because mass transit doesn't make as much sense in areas like Green Valley and Summerlin as it does along the Strip corridor or Maryland Parkway.
Providing options
Providing residents several transportation options, including mass transit, ride share and bike share, will allow residents who do not own a personal vehicle to seamlessly travel around the city. To that end, Lyft has begun to incorporate the ability to reserve not only rides in cars but bus rides, bike share and scooters through a partnership with the Transit app, which launched in Las Vegas last week.
"We believe in order for people to give up their cars there has to be a strong backbone of a public transportation network," said Debs Schrimmer, senior transportation policy manager at Lyft.
Although the panelists agreed technology wasn't the only solution, they did concur it plays an important role in the future of transportation.
The Innovation District in downtown Las Vegas has been a hotbed for transportation-based projects, including autonomous vehicle testing, initiatives with Lyft, bike sharing and more.
The year-long autonomous shuttle pilot program between Keolis, AAA, the city and RTC, featured a self-driving shuttle traveling a 0.6-mile route in the Fremont East District downtown. During the program, which ended in October, the shuttle provided 32,000 rides.
The city plans to institute the program on a different route downtown, but Joanna Wadsworth, program manager for the City of Las Vegas, said negotiations about where that will occur are still underway.
Lyft instituted an autonomous driving program with partner Aptiv on the Strip corridor with over 20 self-driving BMWs. The vehicles are on autonomous mode, but have a safety driver in the driver's seat for precautionary reasons. They've given 25,000 rides, with a 4.96 out of 5-star customer rating.
Audi is testing a program in Las Vegas where drivers of its newer model vehicles receive a countdown-to-green timer on their dashboard, as RTC provides the car maker with data from traffic signals.
Additionally, RTC is looking to have an autonomous shuttle service of its own in operation from the Bonneville Transit Center downtown to the University Medical District.
Attention to curbs
An increasing amount of attention being paid to the value of curbs, as they are the first and last point of contact for consumers and commuters when they come and go from a business or area and represent valuable real estate.
"For such a long time the curb was a really unsexy, ignored asset that we gave away for free," Schrimmer said. "With the emergence of on-demand services — ride share, courier or delivery — the curb has become a very valuable asset and cities struggle with managing it."
Looking to take advantage of the curb downtown, Lyft jumped in and created a dedicated pickup/drop-off area in downtown called Lyft Park. The area, located on the northeast corner of Las Vegas Boulevard and Fremont Street, features art installations from Burning Man, games to play while riders wait for their ride and more.
The art park is more than an entertaining place to wait for a ride, it was set up to cut down on confusion of pickup and drop-off areas and increase safety for riders and drivers alike. It also cuts down congestion in the area, including curbside.
It's programs like those that has Las Vegas Mayor Carolyn Goodman enthusiastic about where the city is heading.
"It's (Las Vegas) the greatest place in the whole world," Goodman said. "It's where innovation happens. Where every day you can feel a part of some energy that is really moving forward and doing something exciting."
Contact Mick Akers at makers@reviewjournal.com or 702-387-2920. Follow @mickakers on Twitter.
Possible Maryland Parkway light-rail plan
Cost: $750 million
Operating and maintenance cost: $11.5 million
Route length: 8.7 miles
Projected daily ridership: 16,100
Average travel time: 32 minutes
Possible Funding Sources: Federal grants, sales tax increase
———
Alternative Bus Rapid transit
Cost: $335 million
Operating and maintenance cost: $7.2 million
Route length: 8.7 miles
Projected daily ridership: 13,300
Average travel time: 38 minutes
Possible Funding Sources: Federal grants, sales tax increase
Related
New app feature combines ride share, bus trips in Las Vegas
Sandoval: Nevada on track to be leader in smart-city tech
Nevada to help driverless car industry
Fleet of self-driving cars launches in Las Vegas