Lines form, crowd cheers for reopening of Arizona casino Friday
Updated May 15, 2020 - 7:31 pm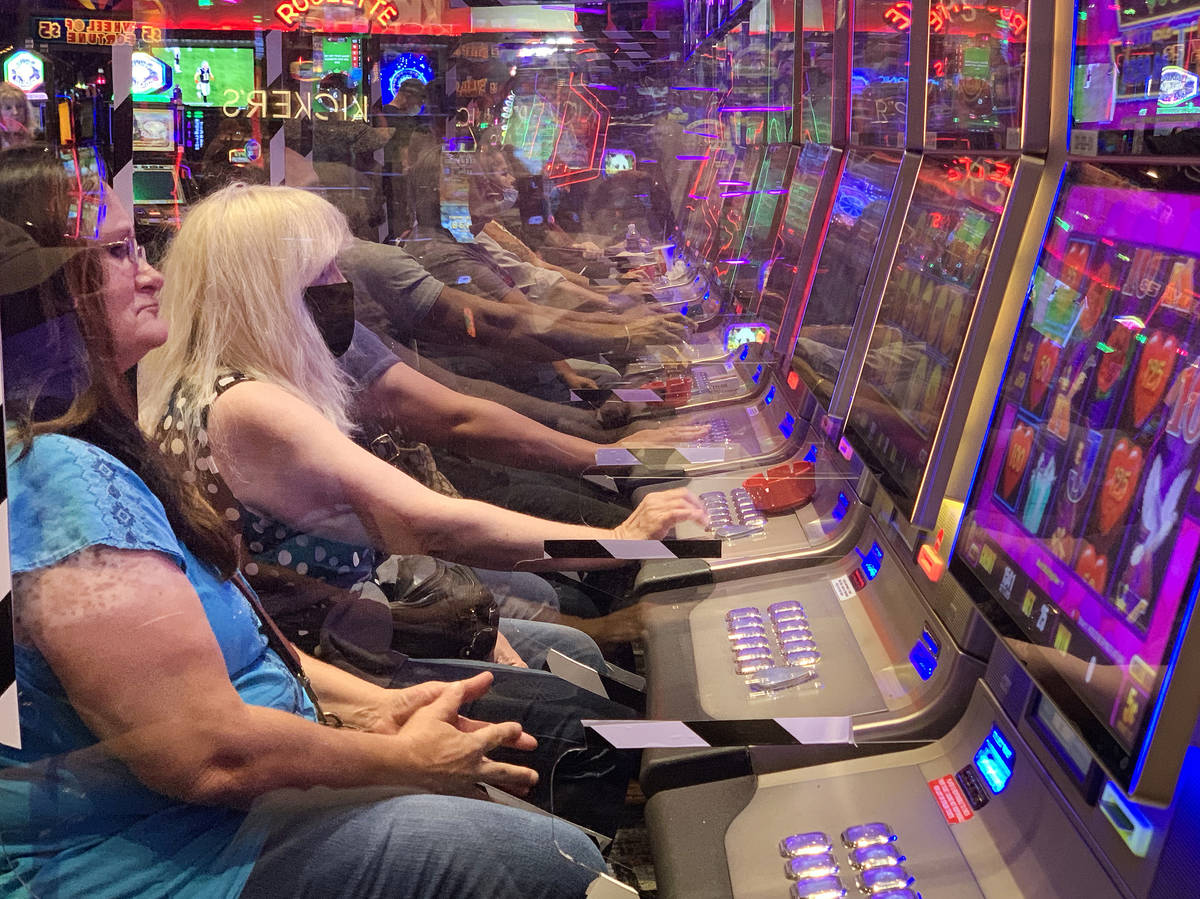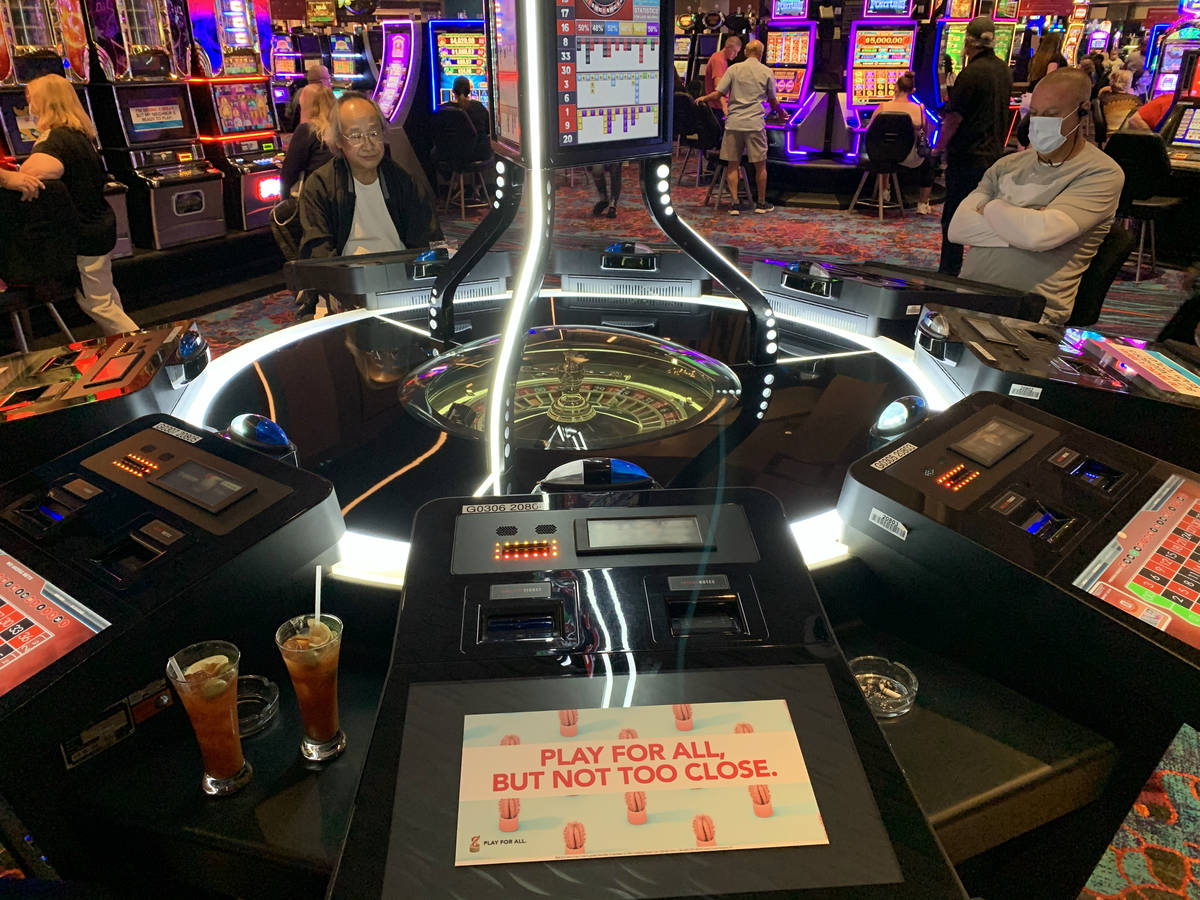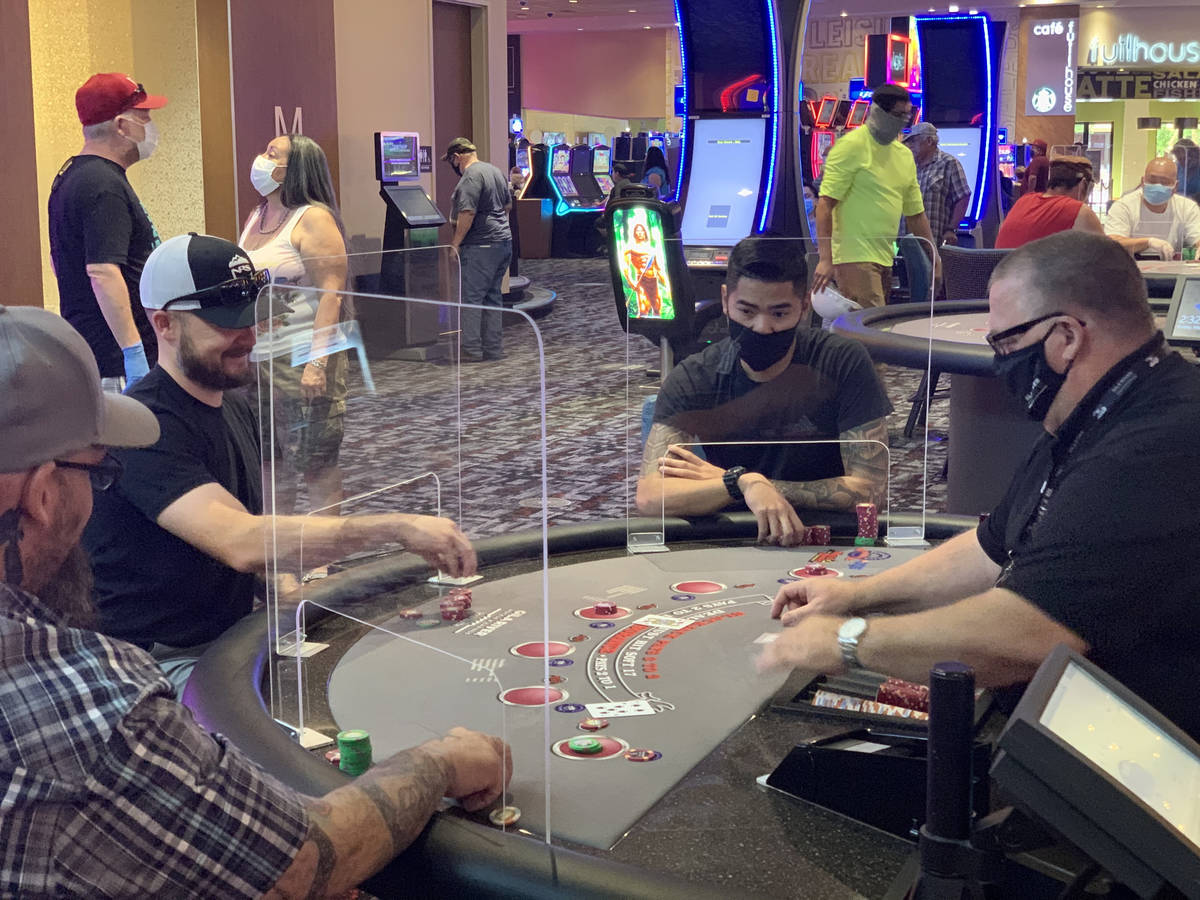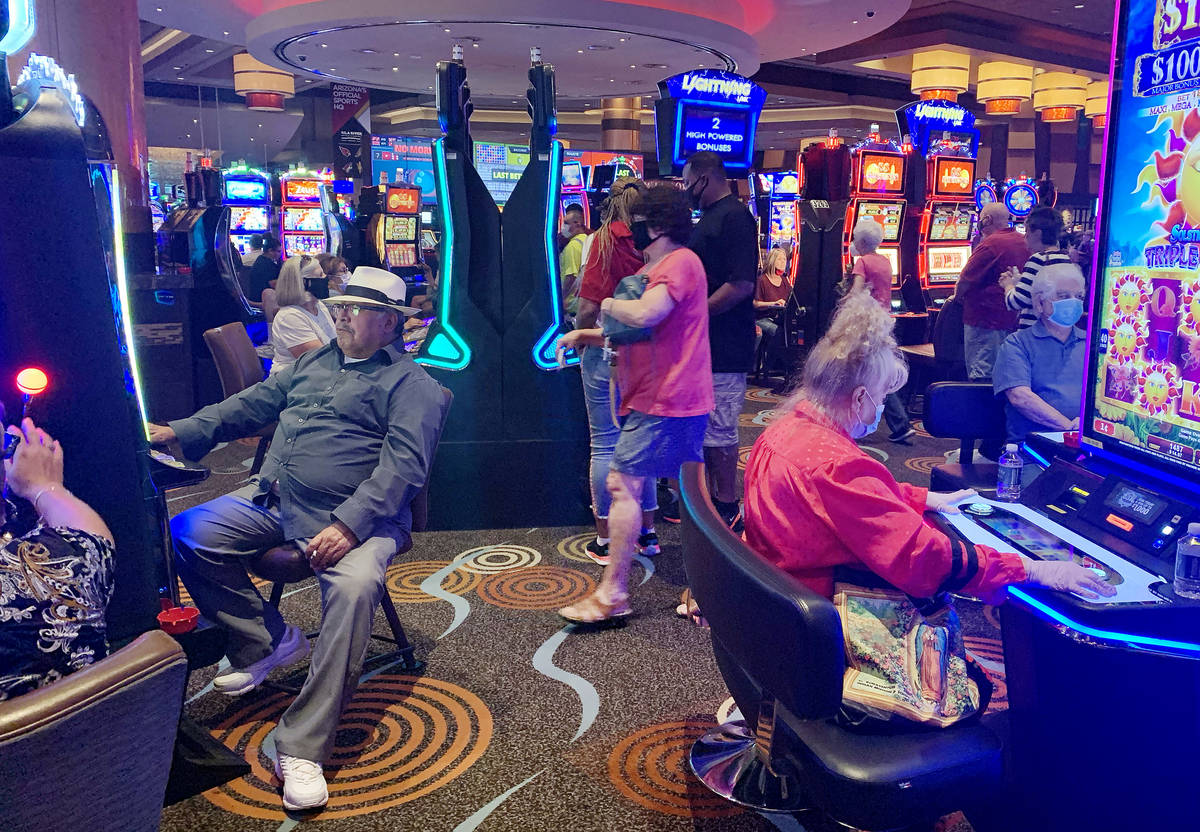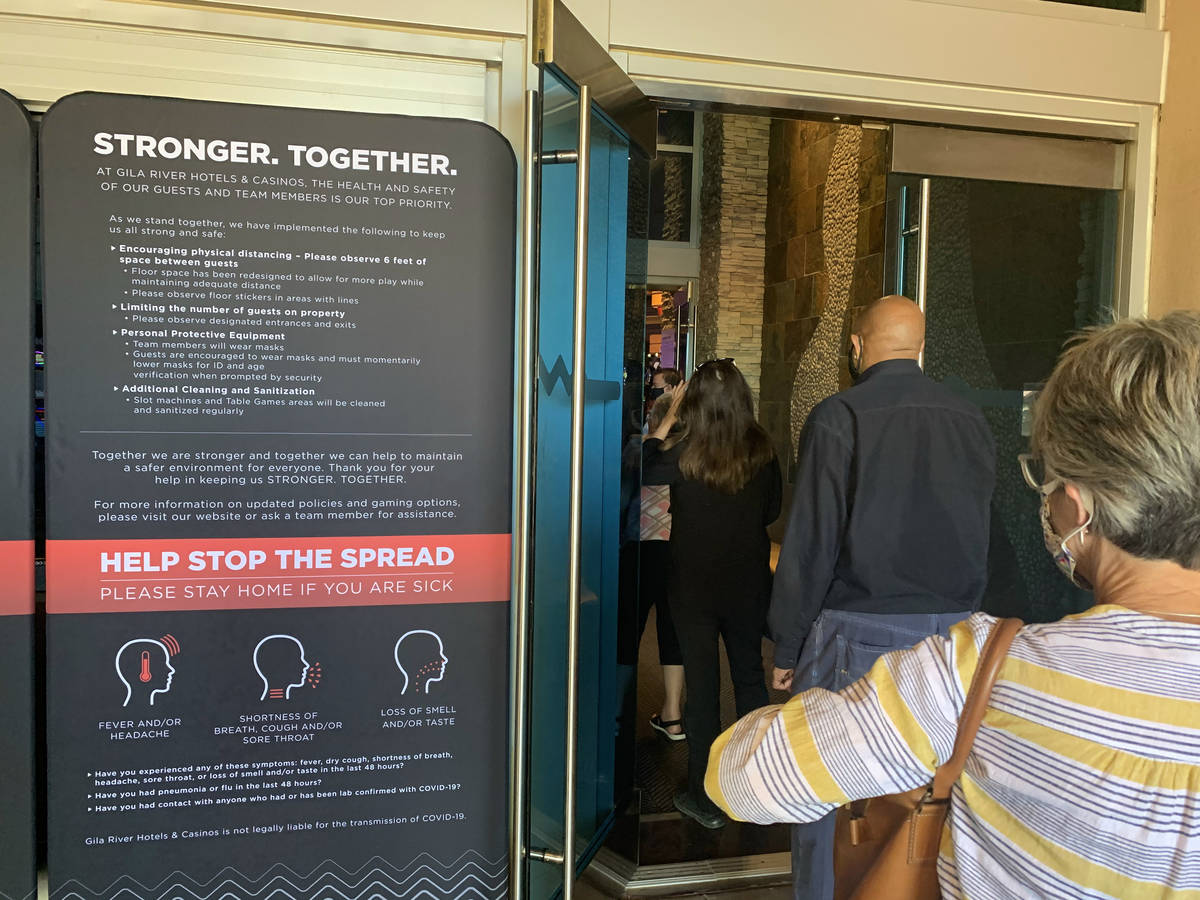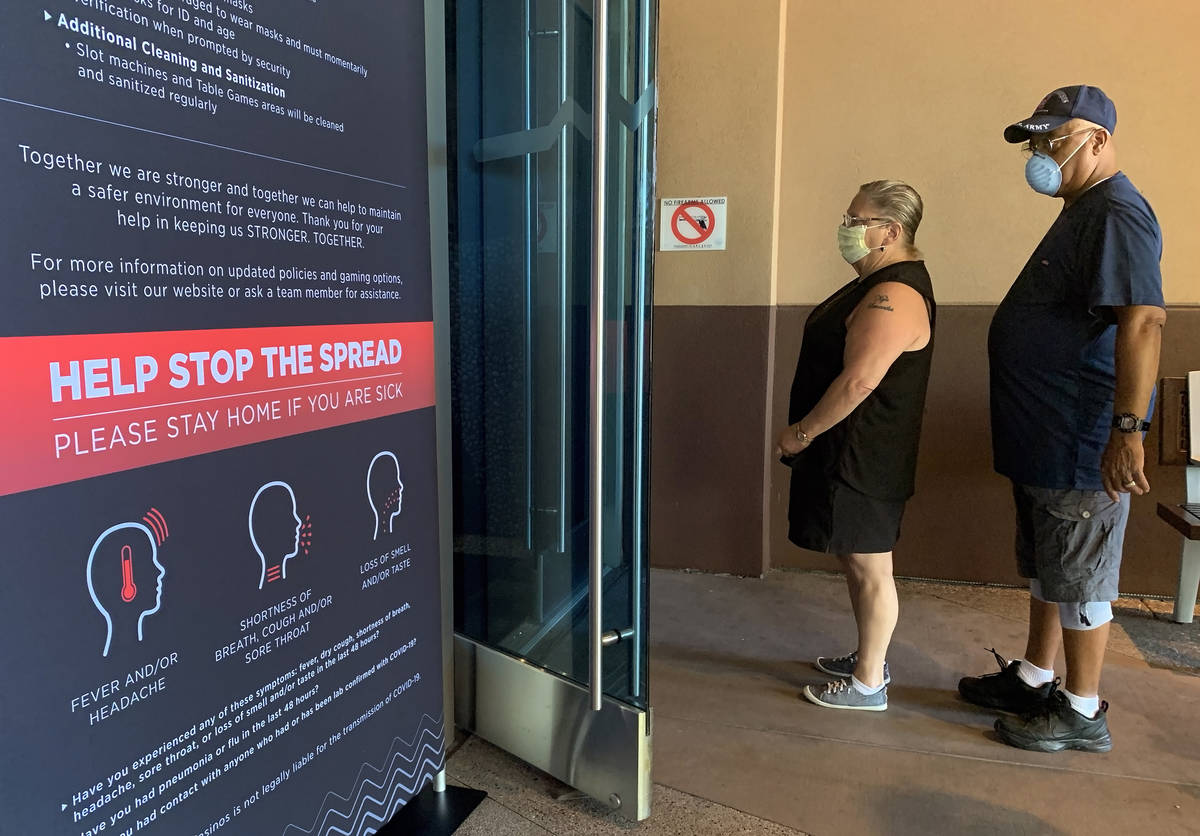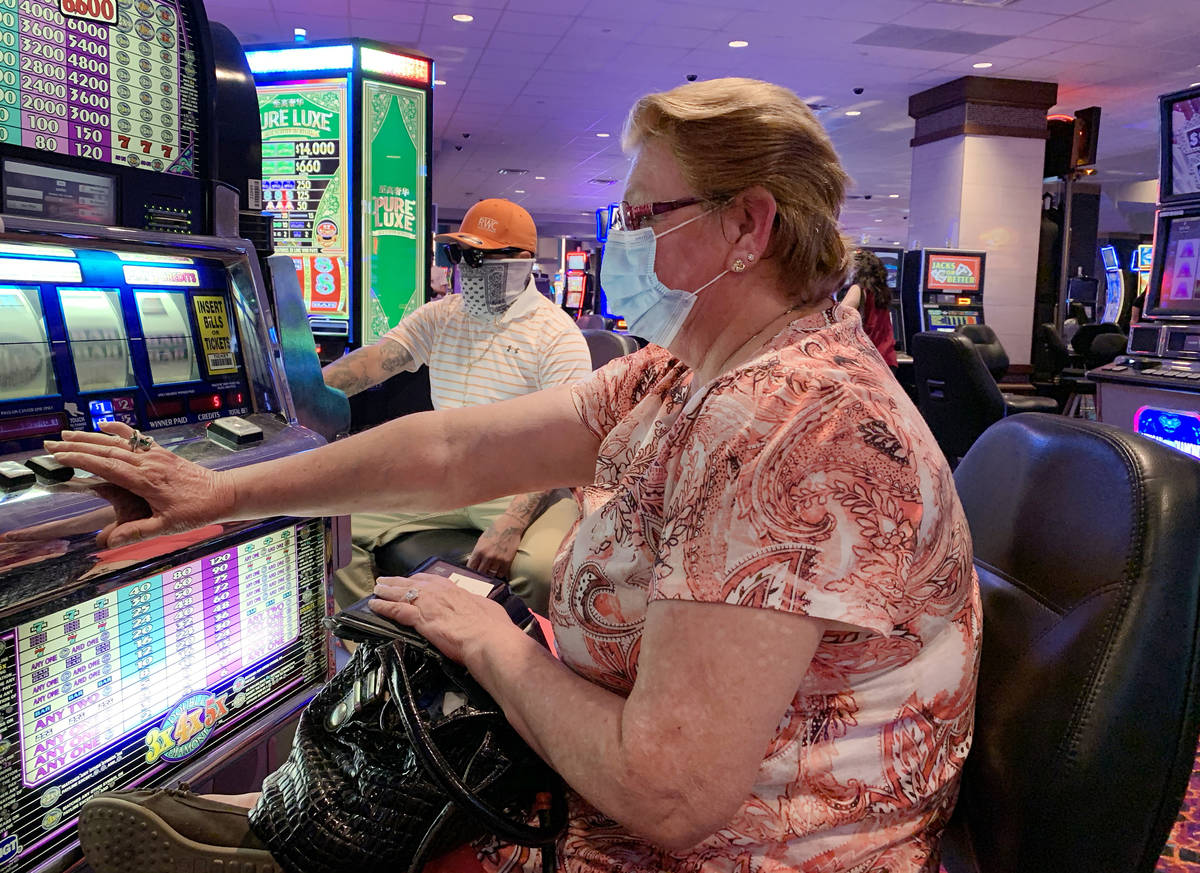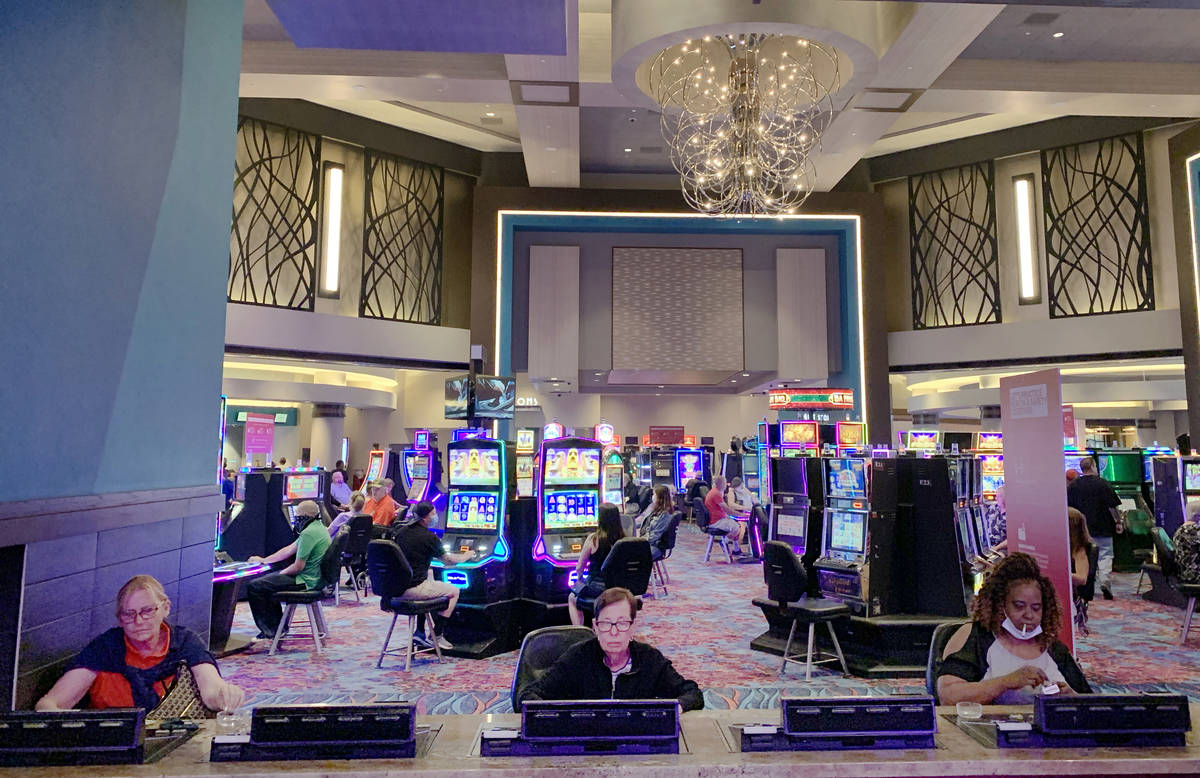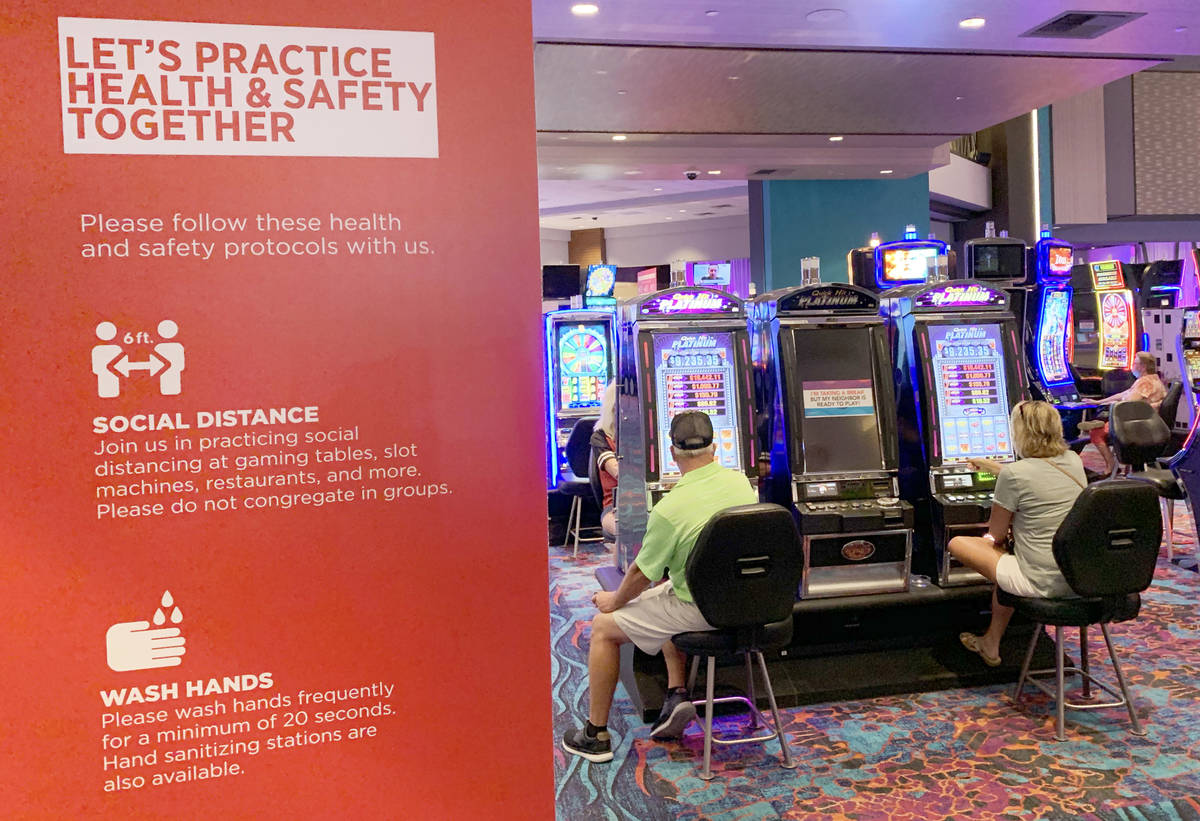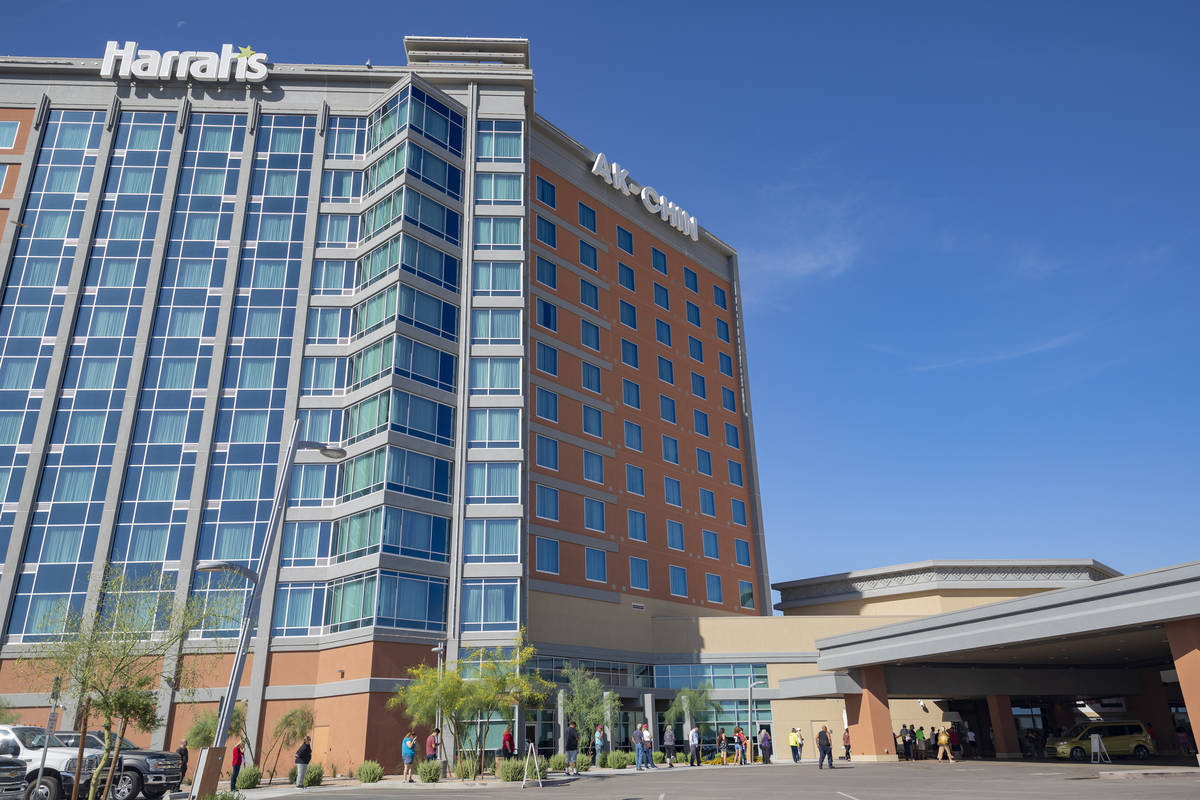 MARICOPA, Ariz. — Five casinos in the Phoenix area opened Friday, offering a glimpse into what heightened health and sanitation measures — and pent-up demand — may look like in Las Vegas casinos in the weeks to come.
By 8:45 a.m. a long line of gamblers — some wearing masks, others not — wrapped around the Harrah's Ak-Chin casino, eager for doors to open at 9.
The crowd cheered and people flooded into the casino, which had been closed since March 19. Staff members held open the doors, their faces hidden behind cloth face masks, and reminded guests to keep their distance.
"(The shutdown has) been hard," said Jennifer Duncan, of Surprise, Arizona, one of the first to re-enter the casino. "You're isolated and bored. … I was definitely excited to get in and be able to sit down at a slot machine."
Every other slot machine on the casino floor was unavailable for use, and signage throughout the floor reminded people to keep their distance.
One sign covering a slot machine screen read, "Don't get too close, you're turning me on." Other signs suggested that guests wash hands frequently and wear a mask. Stickers on the floor reminded them to keep 6 feet apart.
There was limited seating at blackjack tables, each with a $10 limit. The tables would normally be $5 at this time of the day, according to Alan Kay, a retired Maricopa resident who would visit the casino five times a week to play poker before the shutdowns. The property's poker room, as well as keno and bingo, remained closed.
Staffers diligently wiped down touch points, and hand sanitizer was available at multiple stations.
The property is managed by Caesars Entertainment Corp. and owned by the Ak-Chin Indian Community. According to Caesars' latest annual filing, the property normally has 1,150 slot machines and 30 table games spread across its 65,200-square-foot casino.
Las Vegans Mihaela and Tom Steyer drove down for the opening Friday morning, leaving at 2:30 a.m.
"Six hours is nothing," Mihaela Steyer said, noting that she and her husband had gone to a casino in Idaho last week, a 16-hour drive.
She said she does not have any safety concerns as the casino reopens amid the pandemic.
"I don't worry," she said, adding that she keeps her distance from others.
Neither she nor her husband wore a mask.
Karen Chappell, of Tucson, also decided to forgo a mask on Friday, saying that she's "not worried at all" about COVID-19.
"If that's God's plan for me to catch it and die, that's his plan," she said. "Obviously I'm not going to take any chances. I'm not going to lick your face or anything. But I can't live my life in fear."
Sal Mesa, of Gilbert, Arizona, did not have a mask but said he was taking other precautions, keeping his distance from others and sanitizing his hands often.
He and his wife would visit the casino roughly twice a month before the shutdowns. He said that the two were excited when they learned local casinos would be back in business, and they plan to make a Las Vegas trip once Nevada's casinos reopen.
"They say this (virus) will be around for a while. … I can only sit at home for so long," he said. "I'm in my 60s. I've been around germs. I was a police officer for 29 years; I was exposed to a lot of things. I'm still here."
While he believes that when "it's your time, it's your time," Mesa said the heightened health and sanitation measures at the casino made him feel safer.
"I know everyone's conscious (of the virus)," he said. "It seems like social distancing is working out the best they can."
Caesars spokesman Richard Broome said the company was pleased that guests were ready to visit Ak-Chin.
"We will continue to work hard to ensure they, and our employees, feel comfortable at the property," he said via email.
Gamblers can expect to see similar protocols in Caesars' Las Vegas hotel-casinos. Broome said Ak-Chin's heightened health and sanitation measures are "consistent with our other properties."
Wild Horse Pass
Roughly 20 miles north of Ak-Chin, Gila River Gaming Enterprises Inc.'s Wild Horse Pass was packed with players early Friday afternoon.
The casino in Chandler, Arizona, opened at noon on Friday. Signs inside and outside advised guests to keep their distance and wear masks, although many in the property were not wearing face coverings. Others had their masks pulled down as they smoked.
While some slot machines were shut down to enforce social distancing, others were separated by a plexiglass safety shield.
Dorothy Hernandez visited the property with her daughter while her car was being serviced in Scottsdale. She said she was surprised it was as busy as it was — it was hard to find an open slot machine by 1 p.m. — but she felt safe playing slots with her mask.
Security guards stationed near the front entrance handed out water bottles and warned guests to remain 6 feet apart inside the casino, but Steven Sandoval, of Mesa, Arizona, said he thought many people were choosing to ignore the new guidelines.
Sandoval's friend Peter D'Asaro pointed out a player who sat down at a slot machine immediately after another player left, not giving the staff a chance to wipe it down.
"People have to help out, too. It can't be all on the casinos," Sandoval said. "There are people without masks, people without gloves. … We have to bring it to another level of cleanliness."
A representative of Gila River did not immediately return a request for comment.
D'Asaro said the two visited to see what the new casino safety measures looked like in action.
He plans to visit Las Vegas soon after it reopens. The two usually visit at least once a month, and D'Asaro, who said he's been going to Las Vegas since he was a kid in the '70s, is working on a Las Vegas-themed tattoo sleeve. He pointed out a "Welcome to Fabulous Las Vegas" sign inked below his shoulder.
"This was a little trial run before we go to Vegas," he said. "We wanted to see how it is."
Lone Butte
Wild Horse Pass' nearby sister property, Lone Butte, also dealt with heavy crowds on Friday.
At 3 p.m., a line of roughly 100 people wrapped in front of the building under a shaded entryway. Security guards allowed two guests in for every two who left.
Pattie Fransen waited in line about 15 minutes with her husband before being allowed into the casino. This was their second casino trip that day; they left Wild Horse Pass because of the crowds.
"They're not doing a lot of social distancing inside," she said of Wild Horse Pass. "It's very packed. … You can't really find a machine."
But she harbored no ill will Friday, commenting on how friendly the staff was that day.
"I'm happy mostly for the people that work there," she said. "They haven't worked for two months, so we're tipping a little extra."
In the casino's parking lot, Maxine Mills of Apache Junction tied a pink scarf around her face before walking in the casino.
Mills said the scarf was uncomfortable and hot but said staff told her to wear a mask when she called in.
According to Gila River's website, guests are "encouraged" to wear masks.
"We're just trying to get out and about today," Mills said. "(It's been) really boring. We're just trying to have some fun."
Contact Bailey Schulz at bschulz @reviewjournal.com or 702-383-0233. Follow @bailey_schulz on Twitter.