Clark County District Court to suspend jury trials due to coronavirus fears
Updated March 13, 2020 - 10:53 pm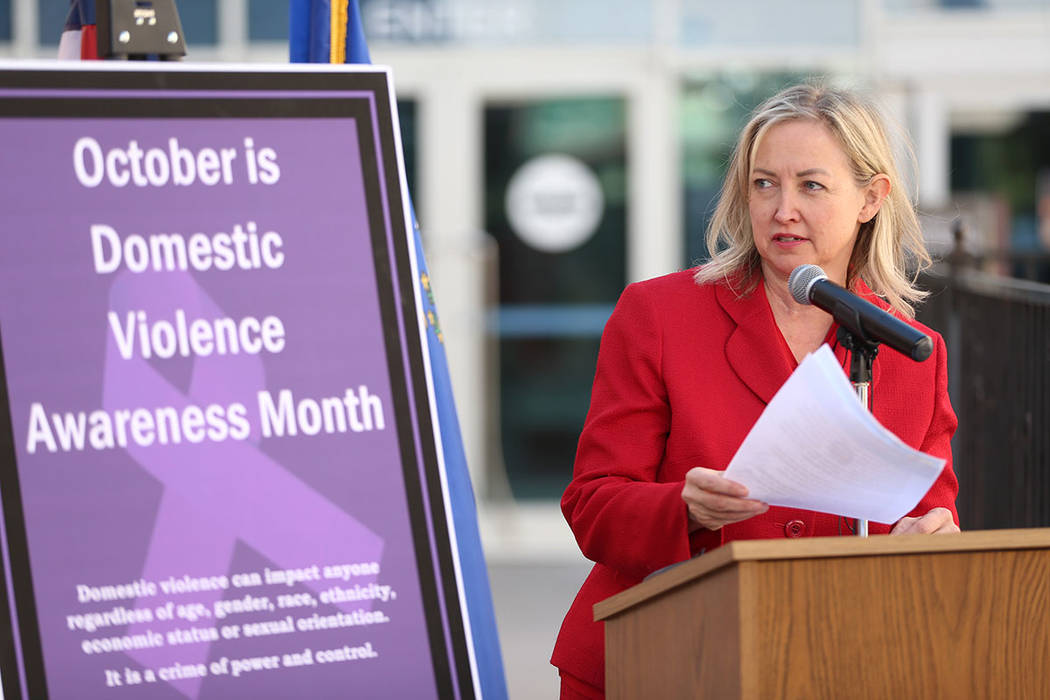 All civil and criminal jury trials in Clark County District Court scheduled for the next 30 days are being suspended as part of sweeping measures to reduce the spread of the coronavirus at the Regional Justice Center.
Chief District Judge Linda Marie Bell announced the action in an administrative order signed Friday with Nevada Supreme Court Chief Justice Kristina Pickering.
The order, which will be reviewed in a month, also says all scheduled, nonessential court hearings should be conducted by video or telephonic means or rescheduled.
"Given the severity of the risk posed to the public by COVID-19 … the chief judge of the District Court has determined that the alterations to the court procedure are necessary for the protection of the community," the order states.
A series of other measures aimed at addressing the threat also has been ordered.
That includes banning from the courthouse anyone who has traveled to more than 30 countries with coronavirus outbreaks, including China, South Korea, Italy and Iran.
People who have been diagnosed with COVID-19 or who had contact with anyone diagnosed with the virus also will be prohibited from entering the Regional Justice Center.
Anyone who has been asked to self-quarantine by a doctor, hospital or health agency also will be banned, as well as people showing symptoms of the virus.
Starting on Monday, people who can't enter the courthouse because of exposure to the virus can call 702-455-4472 for help rescheduling court appearances.
The same restrictions related to the virus apply to anyone attempting to enter Nevada appellate courthouses in Carson City and Las Vegas, according to an order signed Friday by Pickering.
District Court will continue to accept filings and manage cases within the new parameters, and all suspended jury trials will be rescheduled.
Essential case hearings "will continue to be heard through in-person appearances," according to the order. Those cases include in-custody criminal sentencings, arraignments, bail motions, and probation revocation hearings. High-risk protective orders, civil temporary restraining orders and preliminary injunctions and civil commitment cases also are on the essential list that will be heard.
Bell sent an email discussing preventive measures to all Clark County court employees on March 3.
She said the court administration made requests for hand sanitizer stations, disinfectant wipes, and other supplies that are now in high demand.
Bell also said courthouse employees sharing equipment such as phones, keyboards and copiers "should take extra care to wipe down those surfaces."
Signs in English and Spanish have been been placed on courtroom doors and around the Regional Justice Center reminding people about ways to prevent the spread of disease.
Bell also encouraged all deputy marshals to wear protective gloves when dealing with the public and judges to "liberally" take advantage of rules for video appearances in court.
Earlier this week, the Supreme Court posted a notice on its website indicating it will allow lawyers to make oral arguments by video conference in cases before the court.
"This measure is designed to allay concern and minimize COVID-19 exposure risks for our employees and those who attend and participate in oral argument," Pickering said in statement.
Chief U.S. District Judge Miranda Du stressed earlier this week that the federal system in Nevada is still in a planning stage and awaiting further guidance from health experts to determine responses at the courthouses in Las Vegas and Reno.
"We don't have a reason to think that we have to modify court operations," Du told the Review-Journal .
This came as the U.S. 9th Circuit Court of Appeals canceled March 23 oral arguments in Las Vegas in the government's appeal in the Cliven Bundy criminal case amid fears about the coronavirus.
The Nevada U.S. Attorney's Office is seeking to overturn a federal judge's decision to dismiss the Bundy case, which stems from an armed standoff in 2014 with law enforcement near Bunkerville.
Du said there were no plans to limit the number of proceedings in federal court in Nevada, but officials have encouraged staff who feel sick or may have ties to anyone with coronavirus symptoms to stay home.
Federal marshals providing security at the entrances to the courthouses have been instructed to take extra precautions when screening visitors, the judge said.
Contact Jeff German at jgerman@reviewjournal.com or 702-380-4564. Follow @JGermanRJ on Twitter. Contact David Ferrara at dferrara@reviewjournal.com or 702-380-1039. Follow @randompoker on Twitter.
District Court Order by Las Vegas Review-Journal on Scribd