10 best things to do in Las Vegas this weekend, June 23-25
Updated June 23, 2017 - 6:08 pm
It's officially summer, Las Vegas. The first day of summer on Tuesday brought a record-tying high of 117 degrees, and Las Vegas is showing no signs of cooling off any time soon.
Stay inside while you rock out this weekend with performances by The Shins, Mumford & Sons, and Queen with Adam Lambert. If the heat doesn't scare you, Warped Tour is back this Friday at the Hard Rock Hotel.
For a more bookish outing, pop into Amber Unicorn Books to peruse the aisles filled with tens of thousands of books. Alternatively, head over to the Las Vegas Convention Center for Amazing Las Vegas Comic Con.
Here are our top picks for what to see, do and eat in Las Vegas this weekend.
Grab a bite
When Turmeric Flavors of India opened downtown last fall, it was with the stated intention of doing things a little differently. Consider the starter of grilled eggplant ($10). What elevates the dish is a crisp coating of peanuts and sesame, which mellowed out the somewhat assertive flavor of the eggplant. On the other hand, garlic naan ($4) was about as traditional as it gets, characteristically light and crisp and sprinkled with lots of garlic. Read more about Turmeric Flavors of India here.
Biryani rice layered with lamb, spices, saffron, brown onions and raita on Thursday, June 8, 2017, at Turmeric, in Las Vegas. Benjamin Hager Las Vegas Review-Journal
Get a drink
From Bandito, the new Hughes Center Mexican spot, comes El Cazo, a summertime rum-based cocktail accented with flavors of grapefruit, orange juice and orange liqueur. Like all of Bandito's drinks, it's served with a card from the Mexican bingo-style game Loteria. Learn to make it yourself here.
The El Cazo, with Mt. Gay rum, Cointreau Noir, fresh sour, grapefruit juice, orange juice and seasonal fruit at Bandito Latin Kitchen & Cantina on Thursday, June 8, 2017, in Las Vegas. Benjamin Hager Las Vegas Review-Journal
See a show
Kathleen Madigan was headlining Las Vegas comedy rooms as far back as 1998 and is now one of the "Aces of Comedy" in the same Mirage theater as Ray Romano, Tim Allen or George Lopez, without TV-sitcom stardom. Madigan was maybe in the last wave of comedians whose big goal was to be on Jay Leno or David Letterman's late-night shows, and the first wave to care more about satellite radio and Netflix specials. See her Friday at 10 p.m. in the Terry Fator Theatre at The Mirage. Learn more here.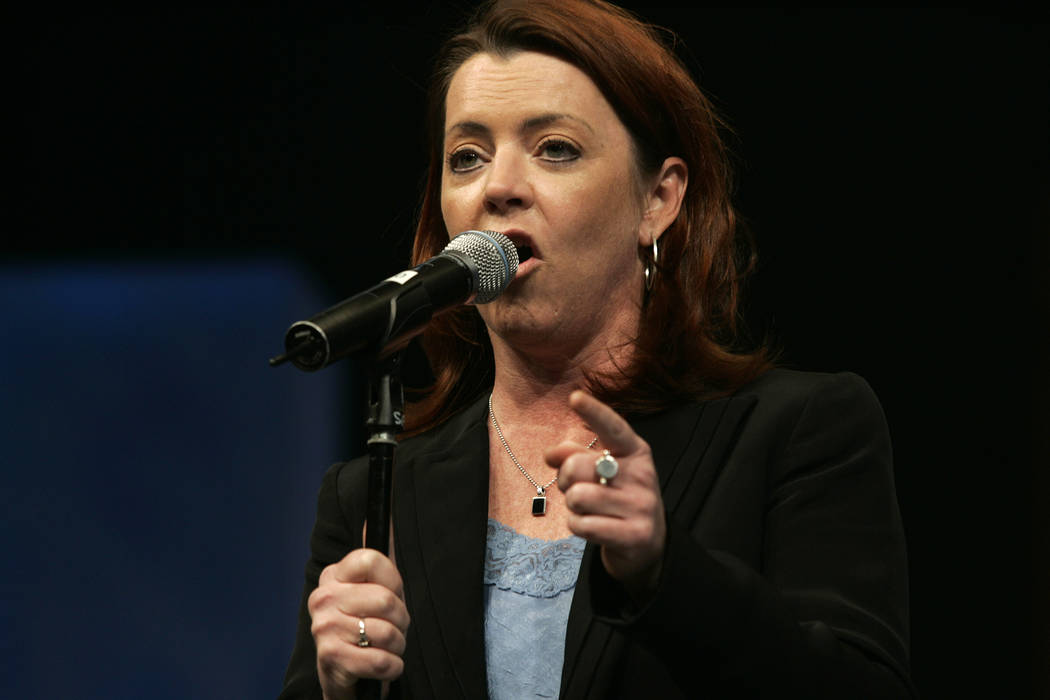 Comedian Kathleen Madigan during the NASCAR Nationwide Series awards banquet in Orlando, Fla AP Photo Reinhold Matay
Rock out
Last time Mumford & Sons were in town, headlining the first night of Life is Beautiful 2016, they demonstrated how much they were attempting to evolve from the neo-folk revival they played a large part in catalyzing, favoring expansive-sounding alt-rock tailored for big stages in place of vintage, banjo-based stompers. See them at 7 p.m. Saturday at The Joint at the Hard Rock Hotel.
Speaking of Life is Beautiful vets, next we have these emotionally effusive indie rockers, whose new album is arguably more wide-ranging than the four that came before it combined. The Shins' latest disc, "Heartworms," is a feisty mash of electronically enhanced pop, blissed-out rock 'n' roll, Americana undertones in places, even touches of Middle Eastern sounds on "Painting a Hole." See them at 8 p.m. Friday at The Chelsea at The Cosmopolitan of Las Vegas.
Recruiting former "American Idol" favorite Adam Lambert to give big, brassy voice and highly self-aware sex appeal to this band's seminal catalog, Brian May and Queen are demonstrating that "The Show Must Go On" for real. See them at 8 p.m. Friday at T-Mobile Arena.
Catch a movie
Fresh off a breakup, Lisa (Mandy Moore) takes her sister Kate (Claire Holt) on what was supposed to be a romantic Mexican retreat. Then they hook up with a couple of hot locals and the next thing they know, the sisters are being lowered in a cage into freshly chummed waters to swim with sharks. The cage is rusty, the chain is rusty, the crane is rusty. Even the boat is rusty. So it's really no surprise when the cage breaks free, sending Lisa and Kate to the bottom of the sea, 47 meters below. For a shark movie, "47 Meters Down" contains maybe five minutes — 10 tops — of the predators. Read the full review for "47 Meters Down" here.
Stay in
"Gorgeous Ladies of Wrestling" was filmed at the Riviera — the cast even lived there. The local women who starred in "GLOW" became a part of one of the strangest series TV has ever seen. Whether it was the novelty, the simplicity or the sex appeal, viewers from elementary schools to prisons couldn't get enough. Then, nearly as quickly as it took off in the ratings, "GLOW" was gone. The Netflix comedy, "GLOW" is based on the struggles of the show's original wrestlers. You can watch all 13 episodes starting Friday. See where the original Gorgeous Ladies are now.
Step into the ring, It's #GLOW time. All episodes on @Netflix now. pic.twitter.com/0BWrT9VEJ6

— GLOW (@GlowNetflix) June 23, 2017
Chumlee's candy store
Finally, after a delay that seemed to stretch as long as an Everlasting Gobstopper, Chumlee's Candy on the Blvd. is open for business at Pawn Plaza. "Pawn Stars" mainstay Austin "Chumlee" Russell and his brother Sage are co-owners of the new business. The brothers have hired a pair of full-timers to staff the store regularly. Chumlee will work the counter on a day-to-day basis. Read more about Chumlee's candy store here.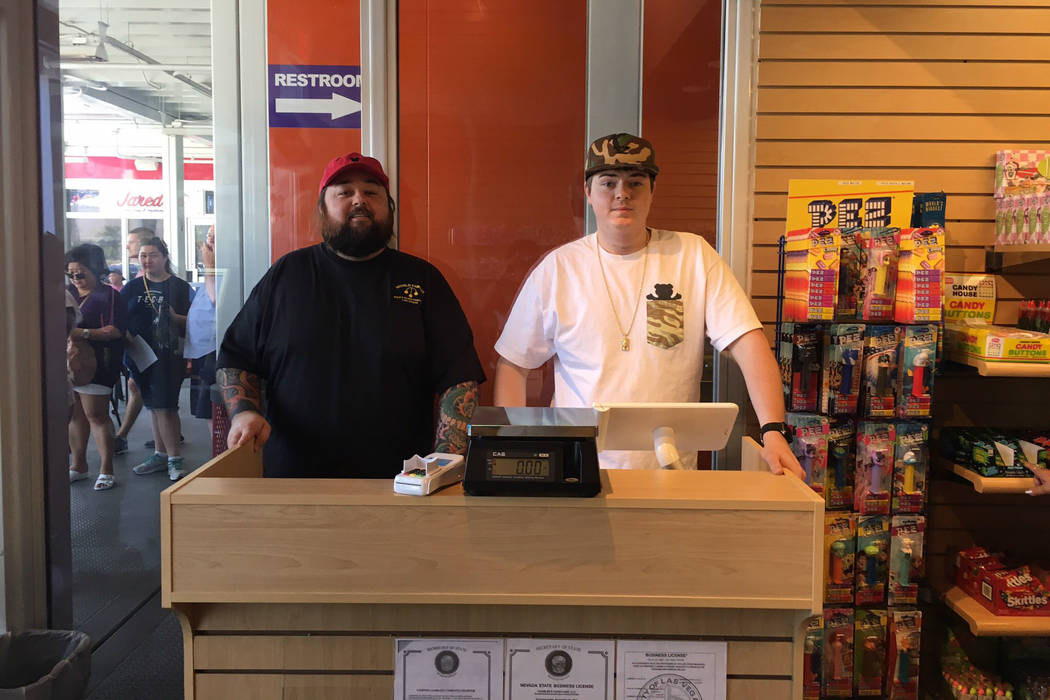 Austin "Chumlee" Russell and his brother Sage are co-owners of Candy on the Blvd. PR Plus
16,000 cookbooks
Pick a cuisine from classic French to classic down-home Americana, vegan to unapologetic carnivorous or midcentury housewife home ec to modern-day hipster haute, and not only will Myrna Donato have a cookbook for it somewhere among the 16,000 or so that she stocks, she'll probably be able to tell you, from memory, how legit the recipes in it are. Amber Unicorn Books is a mecca for such major culinary names as chef Mario Batali and food writer Ruth Reichl, who in 2012 wrote an appreciation of the Amber Unicorn for Saveur, as well as Las Vegas chefs and anybody else who has a passion for cooking or eating.
Warped Tour
Warped Tour is now the longest-running touring festival. This year, it's doing something different — revisiting it roots by pairing contemporary favorites like Falling in Reverse (fronted by Las Vegas native Ronnie Radke), Black Veil Brides singer Andi Black, metalcore troupe Memphis May Fire and others with acts that established themselves in the aughts, the '90s, or earlier, like hardcore stalwarts Hatebreed, emo survivors Hawthorne Heights, coed ska group Save Ferris, venerable punks The Dickies and the self-anointed "Scumdogs of the Universe," Gwar, who will be making their first appearance on the tour. Warped Tour kicks off at 11 a.m. Friday at the Hard Rock Hotel. Learn more about Warped Tour here.
We've been (im)patiently waiting for 297 days…WELCOME BACK, @VANSWARPEDTOUR #VansWarpedTour pic.twitter.com/7UPoe3i6fM

— Hard Rock Hotel LV (@HardRockHotelLV) June 23, 2017
Las Vegas Comic Con
It was going to be a "Batman '66" reunion of Adam West, Burt Ward and Catwomen Lee Meriwether and Julie Newmar. Sadly, fans will never get to see that following West's death June 9.
The other three are scheduled to attend the Amazing Las Vegas Comic Con, though, set for Friday through Sunday in the Las Vegas Convention Center's Hall N1.
They'll be joined by the great Stan Lee, Deadpool creator Rob Liefeld, Spawn creator and toy kingpin Todd McFarlane, Teenage Mutant Ninja Turtles co-creator Kevin Eastman, The Punisher creator Gerry Conway and "Star Wars" actors Peter Mayhew (Chewbacca) and Ray Park (Darth Maul).
Main floor hours are 3 to 8 p.m. Friday, 10 a.m. to 7 p.m. Saturday and 10 am. to 6 p.m. Sunday.
Admission starts at $25 for Friday and Sunday and $35 on Saturday. A three-day pass costs $60. Children 10 and younger are admitted free. Add-on VIP packages run from $30 to $175.
For more information, see www.amazingcomiccon.com.
Creator of #teenagemutantninjaturtles @kevineastman86 hangs with the fans @AmazingComicCon LAS VEGAS *this weekend* https://t.co/CVLOPfbr1D pic.twitter.com/DQ2UczUC2p

— AMAZING COMIC CON (@AmazingComicCon) June 23, 2017