Las Vegas hospital postpones elective surgeries amid COVID-19 surge
Updated July 9, 2020 - 6:13 pm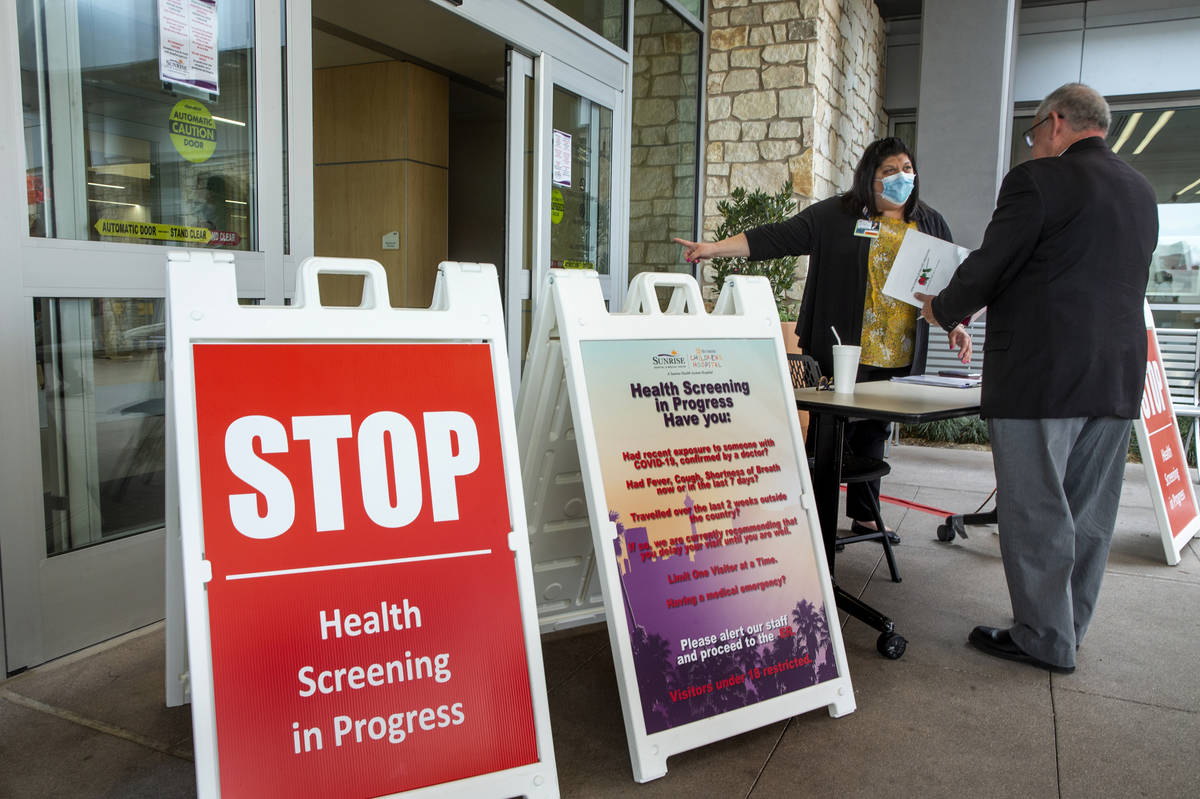 Sunrise Hospital and Medical Center on Thursday began postponing some elective surgeries to preserve capacity in the face of escalating numbers of hospitalizations for COVID-19.
The step comes at a time when hospital and intensive care unit occupancy rates in Las Vegas Valley hospitals are at their highest levels since the coronavirus outbreak began in early March.
In a statement, the Sunrise Health System described the postponement of certain elective in-patient surgeries for adults as a proactive measure.
"We are working diligently to ensure we have adequate capacity to address additional surges to serve our Las Vegas community," said Dr. Joseph Corcoran, chief medical officer for HCA's Far West Division.
Elective surgeries are not being postponed at MountainView Hospital or Southern Hills Hospital, the other two local hospitals in HCA Healthcare's Sunrise Health system.
In mid-March, elective surgeries in Nevada were postponed because of the pandemic but resumed in May as the number of cases of the disease caused by the coronavirus temporarily diminished.
Other hospitals across the Las Vegas Valley said that despite increasing occupancy rates, they are not canceling elective surgeries.
The situation remains "fluid," but there continues to be adequate hospital capacity, said Dr. Dan McBride, chief medical officer for the Valley Health System, which has six Las Vegas-area hospitals.
Despite their increasing numbers, COVID-19 patients represent only about 30 percent of total ICU patients, he said.
"We have a lot of other patients in the ICUs for other reasons: strokes, heart attacks, other surgeries," he said.
Most COVID-19 patients are not requiring intensive care and, of those who do, fewer are requiring the use of ventilators to help them breathe compared to the earlier surge in cases, in part due to new treatments.
"We're in no danger whatsoever of running out of ventilator capacity at this time," he said.
Intensive care unit occupancy in Clark County rose this week to a high of 89 percent, the highest recorded level since the local outbreak began. Data posted Thursday by the Nevada Hospital Association put current ICU capacity in the county at 87 percent. Of 540 occupied ICU beds, 205 were filled by confirmed or suspected COVID-19 patients. Eighty-one percent of all hospital beds were occupied.
Across the state, COVID-19 patients account for 19 percent of all hospitalized patients and 27 percent of those in intensive care units, according to the hospital association.
"Regionally, hospitals have sufficient capability and capacity to treat all cause hospitalization although some individual hospitals are experiencing near ICU staffed capacity levels," the association said in an update posted Thursday. "This specifically is occurring in the south where COVID-19 patients account for one-third of all intensive care utilization."
University Medical Center and the St. Rose Dominican hospitals are not canceling elective surgeries at this time, representatives said.
"We have daily discussions regarding our preparedness, capacity, caregiver and provider safety, visitation policies, and the need to postpone surgeries," said Dr. G. Rodney Buzzas, chief medical officer for the St. Rose Dominican hospitals.
University Medical Center continues to have "ample bed capacity, PPE (personal protective equipment) and testing resources to meet the health care needs of our community," spokesman Scott Kerbs said.
Staff writer Michael Scott Davidson contributed to this report. Contact Mary Hynes at mhynes@reviewjournal.com or 702-383-0336. Follow @MaryHynes1 on Twitter.