Nevada rings out 2020 with record number of coronavirus deaths
Updated January 1, 2021 - 1:02 pm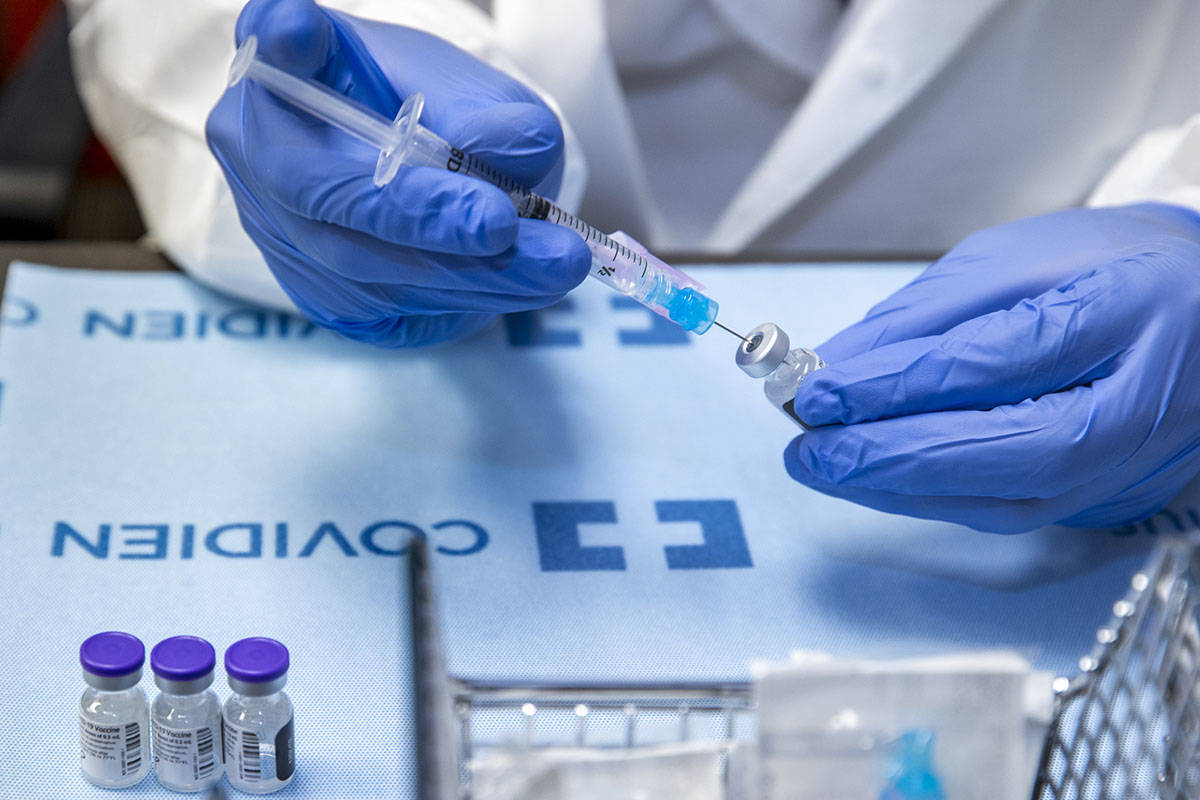 Nevada ended 2020 by reporting a record 59 deaths from the coronavirus in a single day, according to state data posted Thursday.
The number of fatalities recorded over the preceding day eclipsed the previous high of 57 reported on Dec. 16, data from the Department of Health and Human Services show. It also made December the deadliest month of the pandemic in Nevada, more than doubling the previous monthly toll of 475 in August.
The agency also reported 2,137 additional cases of COVID-19, the disease caused by the new coronavirus. Both figures are well above the 14-day rolling averages of 1,664 cases and 20 deaths, according to the data posted on its coronavirus website.
The updated figures pushed the totals for the state to 224,731 cases and 3,125 deaths.
The state's 14-day test positivity rate, which essentially tracks the percentage of people tested who are confirmed to have the disease, remained at 20.1 percent.
Gov. Steve Sisolak marked the grim record on Twitter by urging Nevadans to "remain vigilant" in stopping the spread of the virus.
"Today we mourn the loss of an additional 59 Nevadans due to COVID-19 — a record high for our state," he said. "I want to remind Nevadans that the actions of today, will determine our future for tomorrow."
Today we mourn the loss of an additional 59 Nevadans due to COVID-19 – a record high for our State. I want to remind Nevadans that the actions of today, will determine our future for tomorrow. We must remain vigilant and do our part in order to slow the spread. pic.twitter.com/GZU6TgbiRK

— Governor Sisolak (@GovSisolak) December 31, 2020
In Clark County, an additional 1,690 cases and 43 new deaths were reported, according to data from the Southern Nevada Health District.
The updated figures posted to the county health district's coronavirus website brought totals for the county to 170,032 cases and 2,379 deaths.
There were 1,927 people hospitalized throughout Nevada with suspected or confirmed COVID-19 cases, which is 61 fewer than the previous day, according to state data.
The virus continues to strain hospital intensive care units, with 74 percent of all Nevada adult ICU beds occupied, according to data from the Nevada Hospital Association. About 38 percent of licensed ICU beds are occupied by COVID-19 patients.
Southern Nevada hospitals are under more pressure than those of the state as a whole, with 77 percent of all ICU beds in the area occupied, about 41 percent of them filled by COVID-19 patients, the association said.
Getting the seriously ill to the hospital also is becoming a bigger challenge, with ambulances frequently being diverted to other facilities.
"Ambulances may divert away from an acute care facility to give hospitals the opportunity to decompress from instances of increased volume and patient acuity while ensuring there is still an effective EMS response within the community," said Gretchen Papez, a spokeswoman for Valley Health, which operates six local hospitals. She added that all the local facilities are accepting both emergency and walk-in patients.
"Clark County has seen an impact on ambulance arrivals at area hospitals," said Antonio Castelan, a spokesman for HCA Healthcare, which owns Sunrise Hospital and Medical Center, MountainView Hospital and others in the Las Vegas Valley. "Hospitals, including our own here in Las Vegas, are feeling the pressure of the most recent COVID surge with the highest numbers of hospitalizations that we have seen to date. Our team is doing everything we can to ensure that all patients are cared for, those with COVID and those without COVID."
Data released this week by the U.S. Department of Health and Human Services shows that the strain on local hospitals has persisted despite fluctuations in the daily case reports. In the week leading up to Christmas, the data shows, numerous Southern Nevada hospitals' intensive care units were at or near capacity.
While University Medical Center's ICU was at a 71 percent capacity last week, Sunrise, Spring Valley Hospital Medical Center and Henderson Hospital were at 100 percent or higher, according to the federal agency.
A previous version of this article had incorrect cumulative totals for COVID-19 cases and deaths in Nevada.
Contact Katelyn Newberg at knewberg@reviewjournal.com or 702-383-0240. Follow @k_newberg on Twitter. Review-Journal staff writers Aleksandra Appleton and Michael Scott Davidson contributed to this report.